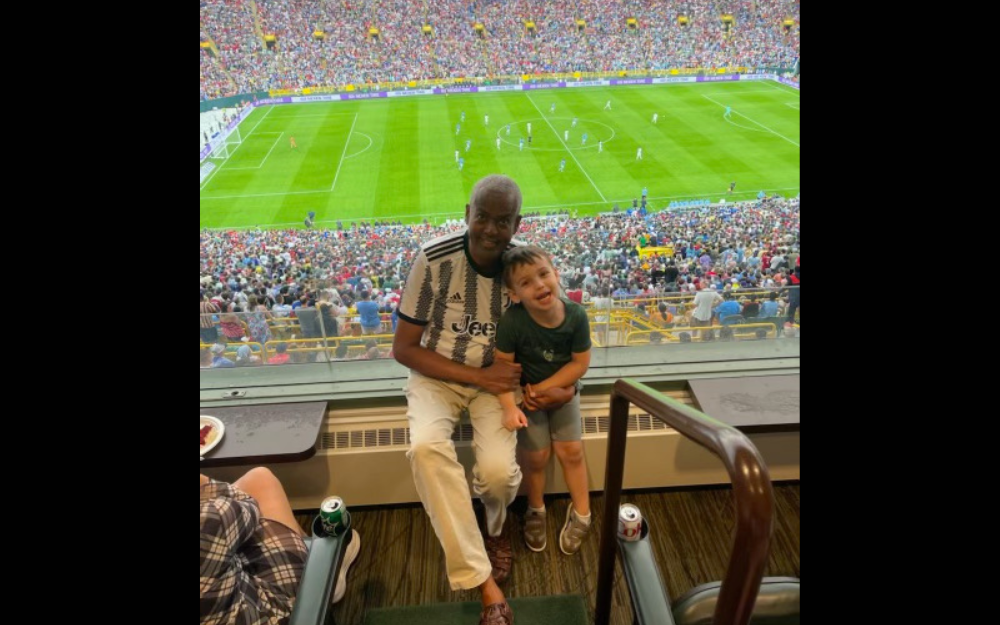 Abdulhamid Ali of  Whitefish Bay and his grandson Karem watched a match between Bayern Munich and Manchester City at Lambeau Field in Green Bay.
In the Sixties and Seventies, Abdulhamid Ali of Whitefish Bay played soccer on the streets of Mogadishu and at his Italian Catholic boarding school, where he was captain of the team.
"We all did," said the chairman and CEO of DAAR Engineering about his childhood friends in Somalia. 
Aziz Aleiou, Chihab Bilal and the late Ahmad Nasef of Brookfield, and Mouhammed Rihawi of Milwaukee played soccer in Syrian streets. Like children across much of the world, they grew up loving "futball."
Yet, until the Nineties, most American children had never heard of the most popular sport in the world by far. For them, American football, basketball and baseball ruled supreme. They had never seen the World Cup, the most-watched sporting event on the planet.
Now soccer is the fourth most popular sport in the United States, recently passing ice hockey and narrowing in on #3, baseball, according to a 2021 survey of U.S. sports fans, many of whom will join the 5 billion people worldwide expected to tune in to World Cup 2022. 
Much of the credit for soccer's rise in popularity goes to immigrant fathers who passed on their love of the game to their children. And many of those children now talk "futbol" with the same expertise as their cousins overseas.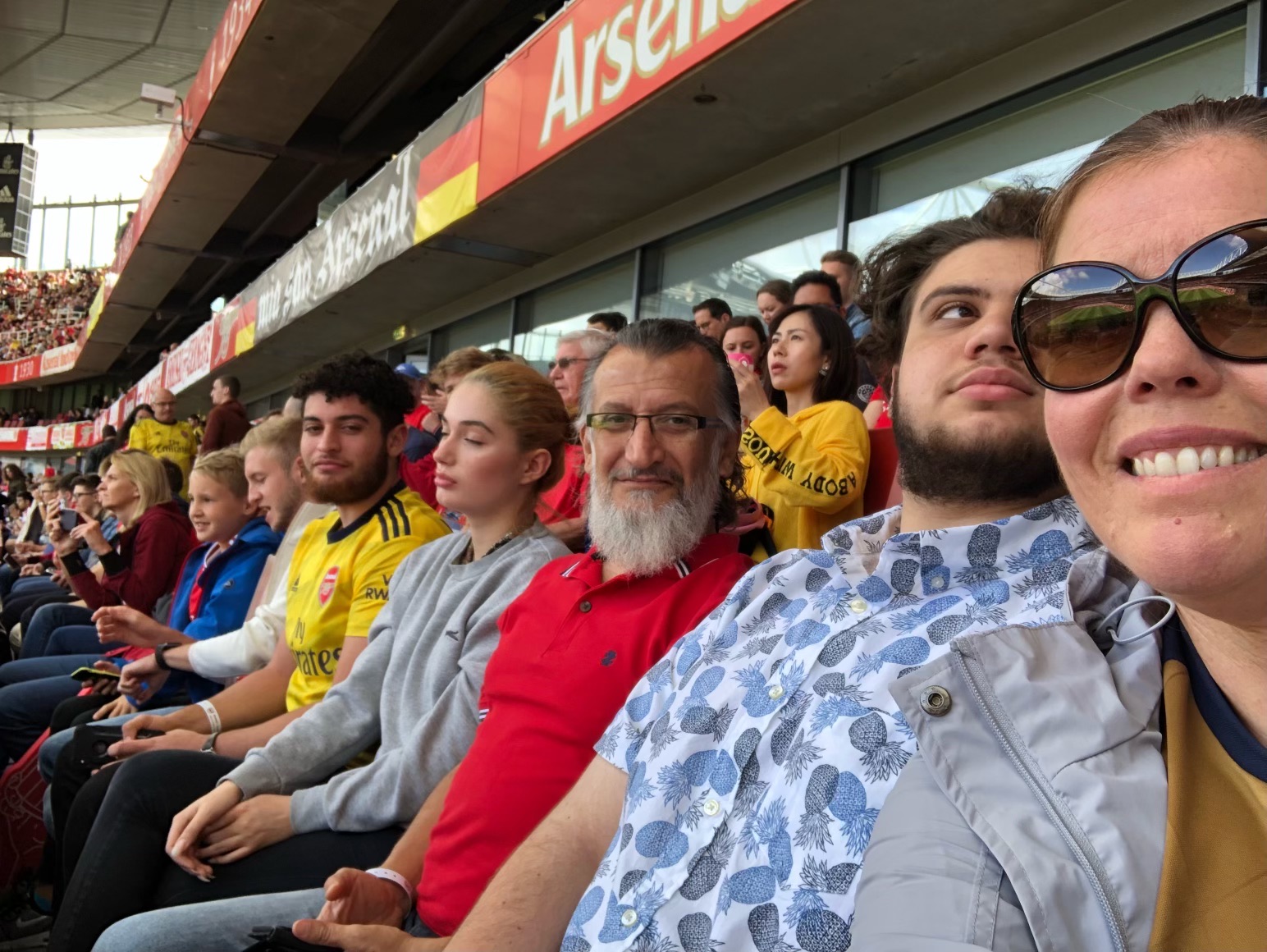 Many soccer fans from Brookfield's Muslim community credit the late Ahmad Nasef (center in red) with fueling their passion for the game. He is shown here with family and friends at a 2019 Arsenal and Burnley match in London. 
As we look forward to World Cup 2022, Nov. 20 – Dec. 18, some sons of immigrants and their fathers shared their excitement about the 22nd FIFA with Wisconsin Muslim Journal.
Passing down the passion
In his Italian Catholic boarding school, Ali called it "calcio," Italian for "kick," which is what soccer is called in Italy. A strong athlete, Ali played regularly with a couple of friends who eventually played professionally and went all the way to the national team. 
"I was quite good but my family was not happy about it," Ali recalled. In his high-achieving family, he couldn't tell his parents he wanted to be a soccer player. His father was in the Parliament from 1960 to 1969, serving as Minister of Industry and Commerce, Under Secretary of Foreign Affairs and Vice President of Parliament at different times.
"They would ask, 'Why are you wasting your time chasing a ball? They wanted me to study to become a doctor or an engineer. And in Somalia, you can't argue with your parents."
Ali hung up his cleats and hit the books, making his father proud. Nevertheless, like many Somalian fathers, he passed down his passion for soccer to his sons.
In 2010, he took Yousef, Ahmad and Adam to the World Cup in South Africa. "Omar was too small," he explained. "For clubs, I like Italian Juventus and all my boys are big fans. Omar and I went to see Italian Juventus play against Manchester. Juventus won 1-0 and we were very happy."
Off to Qatar
Ali is in Qatar today for the World Cup with his wife Barbara, son Omar and relative and business partner Frank D'Amato. They'll enjoy the festivity—the spectacle of flags of the 32 competing national teams, the stellar entertainment and pageantry around the games, Ali said.
Somalia's team didn't qualify or Ali would be rooting for it. "I will be cheering for all the African teams (Senegal, Cameroon, Ghana, Morocco and Tunisia) and the U.S. team. If Italy had qualified, Frank and I would support them.
"The player I am following is Sadio Mane, a very humble and generous Muslim," Ali added. Mane plays for Senegal.
Ali will be wearing his U.S.A. jersey, hoping "the U.S. team will bring honor," he said. "I enjoy it if my team wins. I'll brag about it. But I'm not sad if they lose. Life goes on."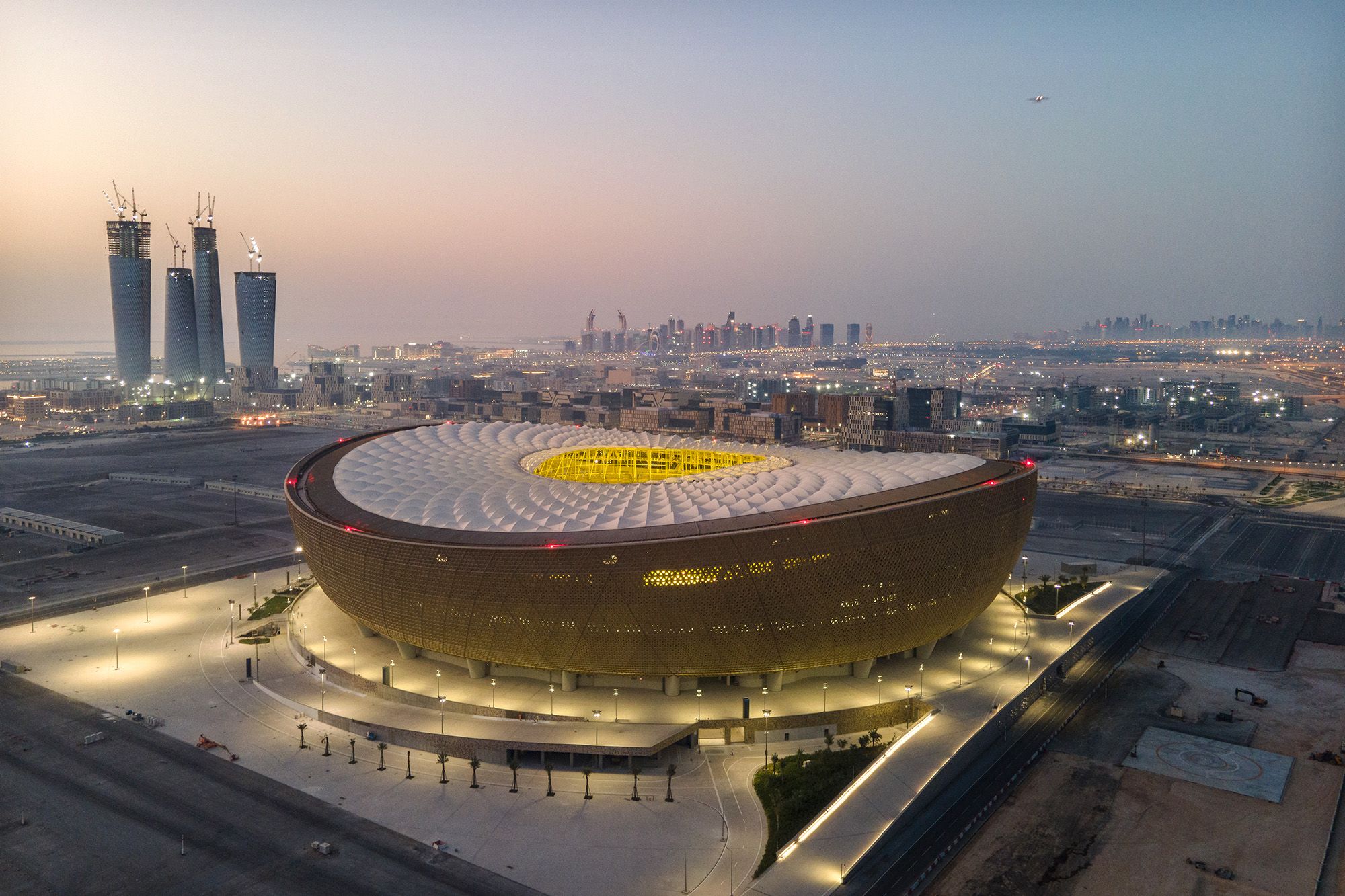 David Ramos/Getty Images
Like Ali, Mouhammad Rihawi, M.D., a Milwaukee pulmonologist, grew up playing pick-up soccer with friends and cousins, including his cousin, the late Ahmad Nasef of Brookfield. 
Rihawi is taking his son Tareq and Tareq's cousin Mohamed Nasef to Qatar for the 2022 World Cup to see six games. "This has been the focus of our fun for the last few months," he said. "I'm looking forward to the Qatar experience."
"This is my first time going to the World Cup," Nasef, 23, of Brookfield told WMJ. "I'm extremely blessed and lucky!
"I'm most excited to see Brazil play, and hopefully I can find a way to watch Messi and Argentina," he added.
The World Cup came at a good time for Nasef, after graduating from the University of Wisconsin-Milwaukee and before starting its graduate school in physical therapy in May. "That's when the real work begins," he said.
Mohamed Nasef (second row, second from left) and his University of Wisconsin-Milwaukee's intermural team won the past spring semester's championship.
"My dad, Allah yerhamo (May God have mercy on his soul), brought this love of football into my life. Watching him play and watching it with him on TV every weekend really drove me to love it."
Like his dad, Nasef began playing at a very young age "and loved every moment of it." He was a striker on his Brookfield East High School team. "Playing and having my dad watch me is something I will always carry with me," he said.
He will also never forget going to London to see Arsenal play. "I'm a huge Arsenal fan. My dad took me to two games in London: Arsenal vs. Tottenham in 2017 and Arsenal vs. Burnley in 2019. Arsenal won both games. "I fell in love with them just by watching my dad watch them."
Nasef said he could relate to Arsenal player Aaron Ramsey, "a midfielder who picked his moments and broke the last line of defenders, and scored a late or important goal to change the dynamics of the game." He also admired him for "fighting back after snapping his leg into two against Stoke. That was inspirational as I broke my hip in high school."
Soccer—a Syrian pastime
Like many youth in countries from Pakistan to Morocco and beyond, "Syrians grow up playing 'football,'" explained Aziz Aleiou, a retired civil engineer from Brookfield. His three children—Ali, Aisha and Adam all played soccer as children, and Adam has continued playing club and recreational soccer as a young adult.
Aleiou coached his son Ali's 5-year-old team in Wauwatosa, reminding players which goal was theirs and teaching them the rules. He was always on the sidelines for Aisha and Adam when they played for club teams.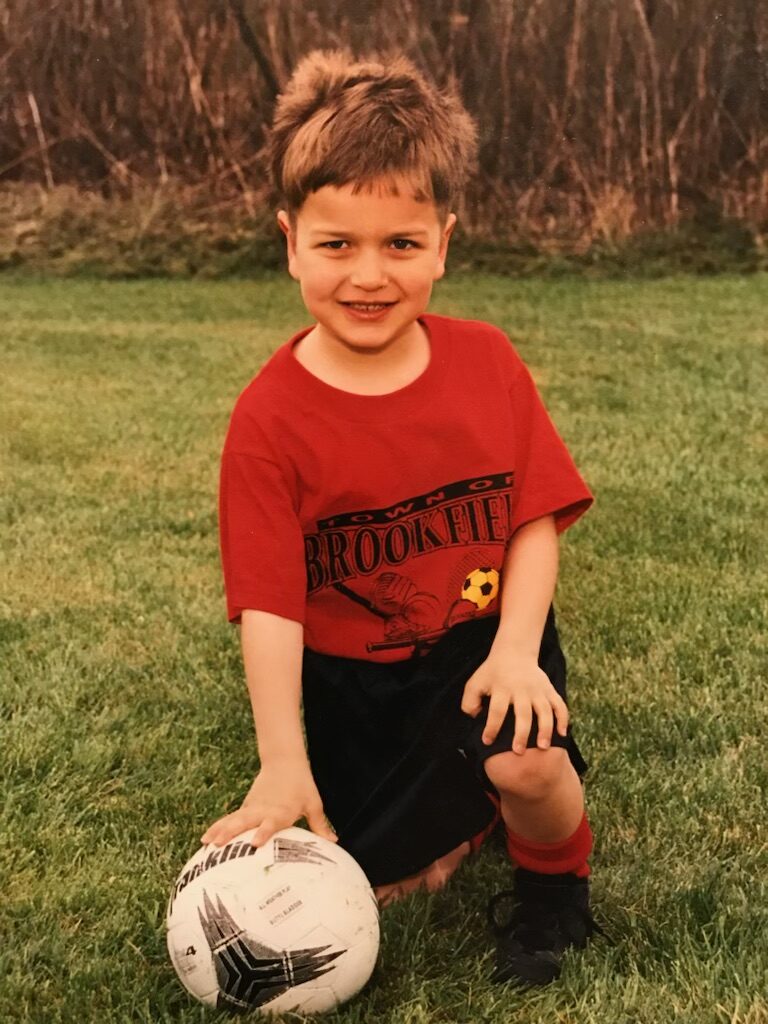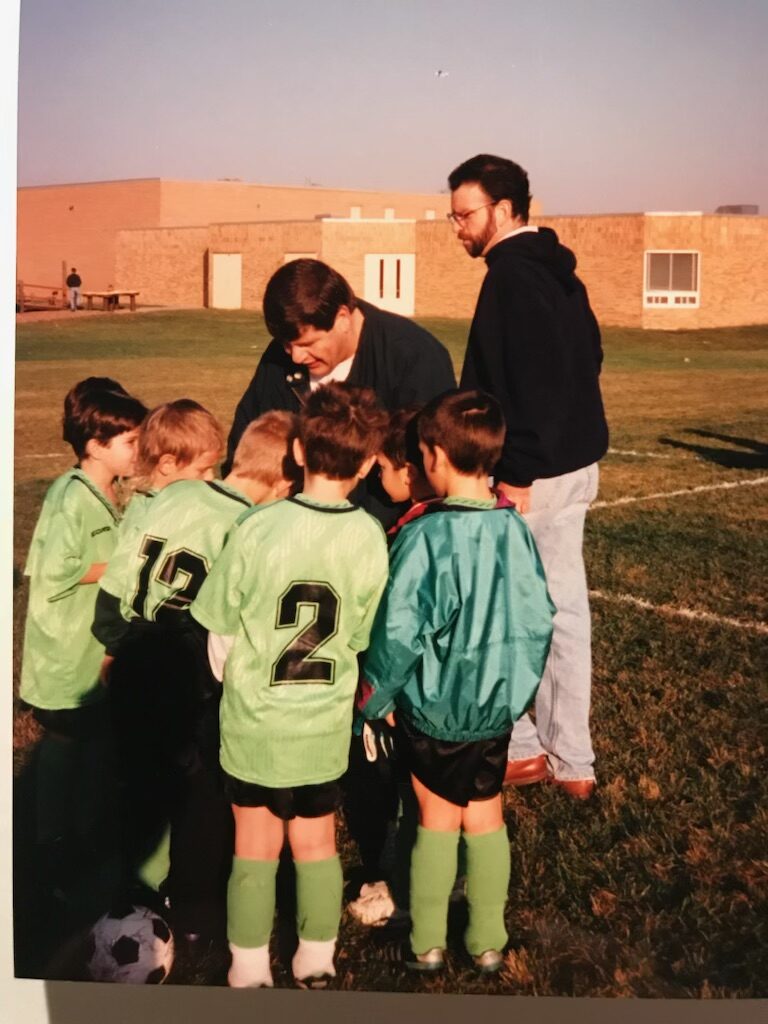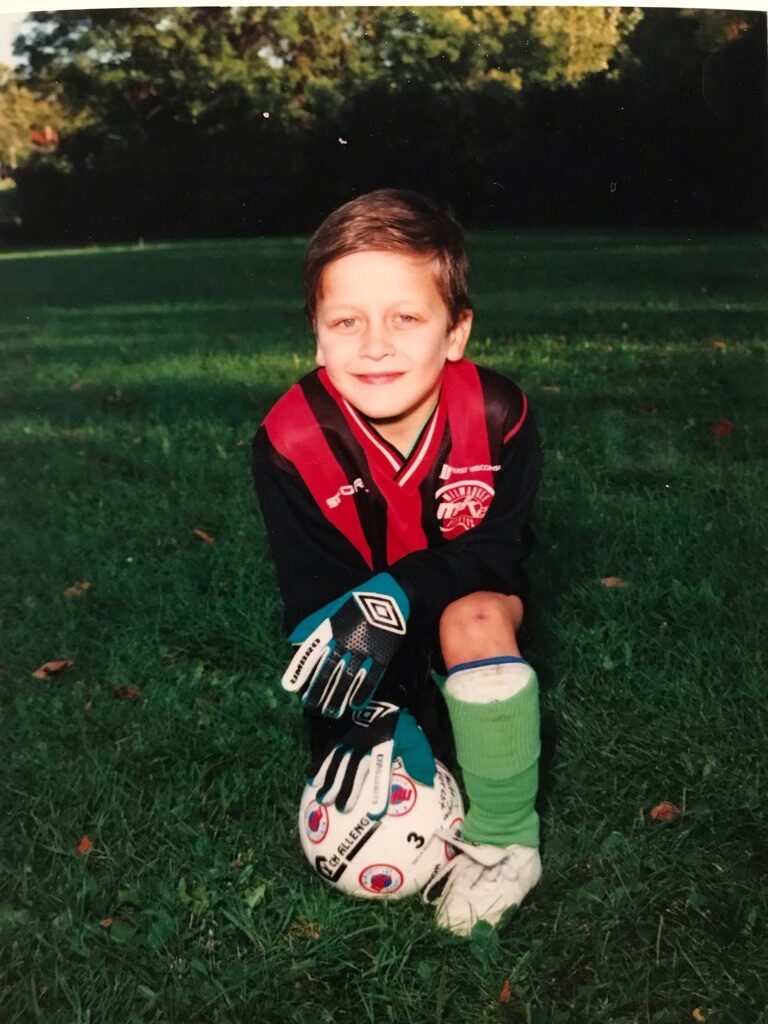 Aziz Aleiou (middle photo, coaching) encouraged his sons Adam and Ali to play soccer from an early age.
Annual summer trips to Syria added the influence of their cousins, all big fans. With family and friends, they began following international club teams. Then visiting Lebanon in 2010, they were swept up in World Cup excitement in a country where it seemed every house flew colors of their favorite team.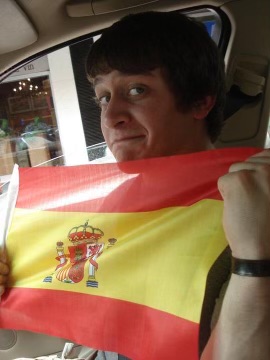 Ali Aleiou supported Spain in the 2010 World Cup.
Adam donned a bright yellow Brazilian jersey. Ali wore crimson for Real Madrid.
"Since I was very young, growing up watching and playing video games that involved the Brazilian national team, they captivated me with the art of ball control and skill," Adam said. "I first fell in love with soccer watching Rivaldo, Brazilian Ronaldo and Ronaldinho."
"My go-to team before they were good was Spain," Ali said. "I was cheering for them back in the 2008 European championships and then the 2010 World Cup. 
"I liked Spain because they had Fernando Torres as their striker and I liked playing FIFA on Game Cube with Spain. Plus, they were the underdogs in most all competitions up until that point. They found success in the years to come with players like Iniesta, Xavi and Casillas."
Chihab Bilal, M.D., of Brookfield, a family practice doctor in Greater Milwaukee, started playing soccer on the streets with neighbors and schoolmates as a child in Syria. Then he played in high school. 
He loved soccer, but his passion for the game grew even more when his children, Magd, Miya and Samer, started playing in clubs and schools here in the U.S. "I started playing again myself with a bunch of guys from different countries." 
One of his teammates was Ahmad Nasef. "We played together for a few years and he made me love the game more and more.
Mahmoud Alchamaa, 27, of Milwaukee, Mohamed Nasef's cousin, became a fan in Syria. "I got introduced to it by watching Read Madrid games with my dad since he's a big fan. 
In Syria, my soccer career was just playing street soccer till the age of 15. When I moved to the United States, I joined my first organized club soccer team. It was an awesome experience to play for a club team.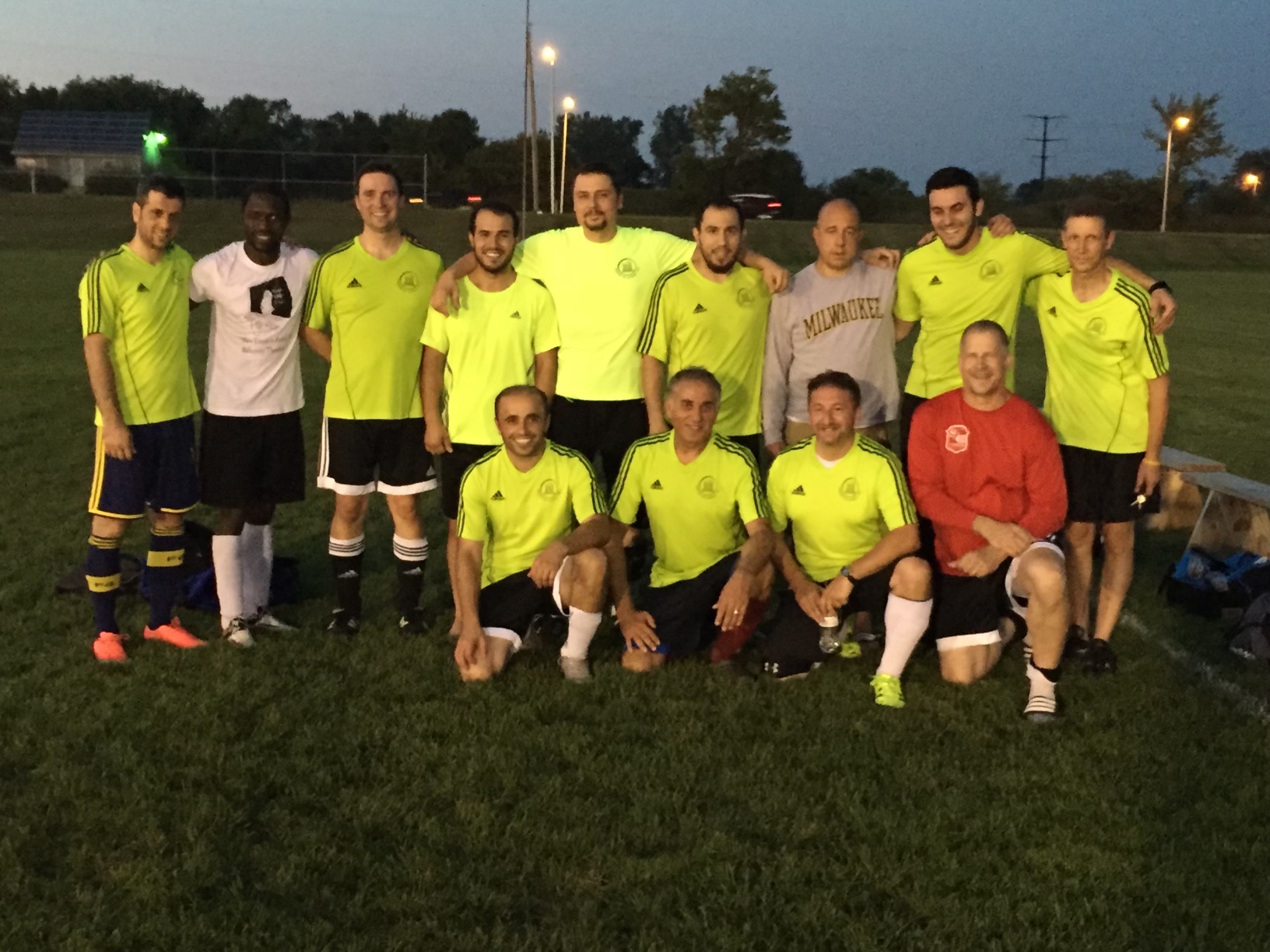 Inspired by his children, Chihab Bilal of Brookfield (front row, center) began playing soccer again as an adult.
"In high school, I played varsity soccer and then two years of club soccer at UWM. I'm currently playing in the major soccer league in Wisconsin for Elmbrook United. 
"My love for soccer is about coaching as well. I coached at Pewaukee Sussex United and now am a coach of Elmbrook United.
"My favorite team is Real Madrid and it's a love story for sure. I grew up watching every game and rarely miss one. 
"Mohamed and I will be supporting Argentina and I will be supporting Portugal. I am very excited to watch players like Neymar, Messi, Mbappe and Benzema."
Watching the games from home
"I am excited to watch the World Cup and will watch as many games as I can, especially the good matches," Chihab Bilal said. "In every match, you'll have a favorite to win and that will be based on a good team and good players and more importantly, a team you always rooted for during your teenage years."
"I'm cheering for Argentina and Portugal, and Belgium and Brazil to reach the semifinals. I like all these four teams. They have young talented players who have been doing very well playing at different major clubs.
I think Miya and Samer will watch some games with me. But probably will be rooting for their own favorite teams. 
Kevin De Bruyne from Belgium and Rodrigo De Paul from Argentina are my favorites. They are tenacious, skillful, respected players and are the dynamo of their teams.
Sharing predictions for World Cup 2022
Soccer fans for life, immigrants and their sons talk about World Cup 2022 with the expertise of a sportscaster.
"I usually support the Arsenal players and hopefully one of them wins the World Cup and brings that confidence back to Arsenal, and helps push on the rest of the season," Nasef said. "However, I would love to see Messi win the World Cup. Messi to me is the greatest to ever play. Just the way he plays keeps you engaged. He can turn nothing into something and make a simple pass a beautiful poetic moment in the game. 
"I enjoy watching Gabriel Jesus, Neymar, basically the entire Brazilian squad, Bukayo Saka of England, William Saliba, Kylian Mbappe, Karim Benzema of France, Granit Xhaka of Switzerland, Sadio Mane of Senegal, the Iranian squad is very underrated. 
"The Argentinians to me are the favorites. The game to watch for me is Switzerland vs Serbia. Switzerland has a lot of Albanian-born players and it brings that extra spice to the game."
Bilal agrees. "I think Argentina will win the cup because they have phenomenal players and they play together with beautiful style and harmony," he said. "They're a mix of older experienced players and younger kids on the team with great skills. 
"I like Di Maria and Rodrigo De Paul in addition to Messi," he added. "Argentina will win because they have a good squad this year and they had many previous experiences playing the finals against big teams in the past."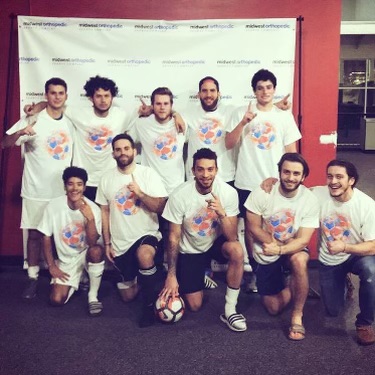 Muslim members of this 2017 indoor soccer team includes (front row:) Kareem Malas (second from left) and Adam and Ali Aleiou (far right); (back row:) Mahmoud Alchama and Mohamed Nasef (far right).
Adam Aleiou also hopes to see Messi win. "Most recently Messi announced that the World Cup in Qatar is most likely his last World Cup. Argentina this year has a very strong team overall. 
"There has been a very long, ongoing debate if Messi is the best player of all time. Without a doubt, people say he is the best player of this generation, but without winning the largest tournament, the World Cup, his legacy is still incomplete. Many people that know the quality of his skills and abilities to play on the field are rooting for his success to finish the final chapter of the story.
"My favorite players in this year's World Cup are Lionel Messi, Neymar, Robert Levendowski, Christiano Ronaldo and Vinicius Junior," Aleiou continued.
"Usually, Brazil is my favorite team to watch and support," he added. "Although the past few World Cups have been frustrating for the Brazilian national team, their nation always produces incredible talent. And now with talents like Neymar and Vini, Jr., the expectations still remain very high. 
"However, because of the international interest and growing support for the sport of soccer, success at the World Cup is never promised. Anything can happen."
Note: Writer Sandra Whitehead is the wife of Aziz Aleiou and mother to Ali, Aisha and Adam Aleiou, who are mentioned in this story.