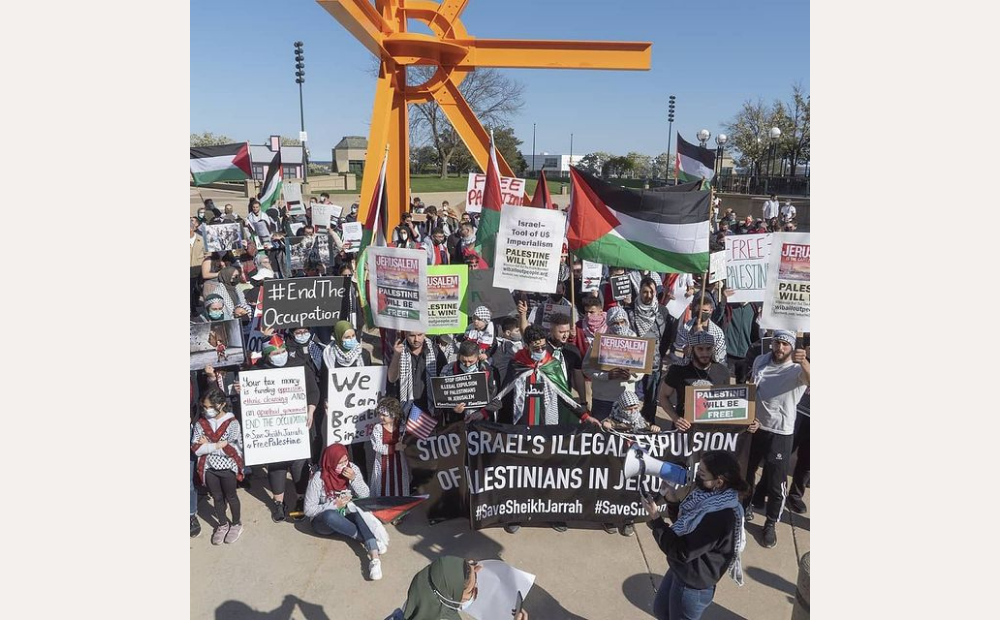 American Muslims for Palestine organized a rally last week in downtown Milwaukee that drew hundreds to show support for Palestinians.
"Feeling joyous on the Eid was not easy," said Yasmeen Atta, 22, of Franklin, about the celebration Thursday at the end of Ramadan.
"Our religion encourages us to celebrate, no matter what else is going on. Celebration is an act of being grateful to God, being happy even as we pray for those who are struggling." But this Eid, she was challenged as she had never been before, she said.
Just days before, reports were published of a police raid on Al Aqsa Mosque in Jerusalem, one of the holiest sites in Islam, and news video footage showed flashes of stun grenades, smoke and violence in the streets as worshippers prayed inside. Since then, at least 213 Palestinians, including 61 children have been killed in Gaza, while Israelis have reported at least 10 deaths, including two children.
The Islamic Society of Milwaukee has condemned Israeli attacks on Gaza, on worshippers in mosques and the forced displacement of Palestinian families from Sheik Jarrah.
Atta, who is graduating from Marquette University's College of Nursing in May, has been a leader in MU's chapter of Students for Justice in Palestinian, an organization that joined with American Muslims for Palestine's Milwaukee Chapter in a protest Wednesday in Milwaukee in support of the Palestinians. She was also interviewed on WISN 12 News about SPJ's opposition to the forced removal of Palestinian families from their homes.
Speaking out on the Palestinian-Israeli conflict "is risky," Atta admitted.  "I've decided to take that risk."
"Palestinian liberation is the ultimate goal."
Two years ago, Atta and a group of students decided to revive the Students for Justice in Palestine at Marquette University. The organization had been dormant for a couple of years after the leadership graduated and no one else had stepped up, she said. "We were able to re-start and we are proud of where we are today."  The chapter has grown to between 20 and 30 members, she said.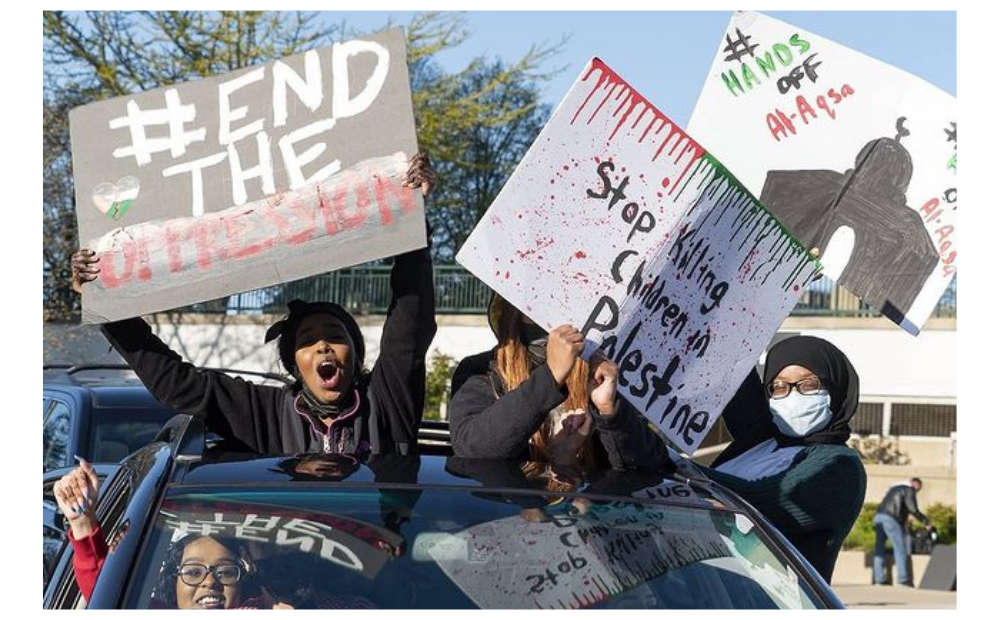 Palestinian supporters head towards a rally in Milwaukee on Wednesday.
"We wanted to let people know about Palestine, our culture and what is going on there, and to encourage people to be part of our fight for liberation," said Atta, a Palestinian-American whose grandparents on both sides had lived in Palestine prior to 1948.
"There are SJPs across North America, including at the University of Wisconsin – Milwaukee," she said. "We have been able to collaborate with other chapters. We had a big culture night in 2019 and brought in a debke group. UWM held one recently." Through these events, they share their culture and food with fellow students, she said.
"Palestinian liberation is the ultimate goal," Atta said. "It means Palestinians will live equally with others. They will be granted basic human rights. The right of return will be granted to families who were exiled in the Nakba (Arabic for "the Palestinian catastrophe," commemorated on May 15, 1948, the end of the British Mandate, when Israel declared statehood).
"Liberation means there is not an ethno-state. It is a country for all citizens. A country named Palestine for the Palestinians."
Although Atta is graduating and will no longer be a member of SPJ, as it is a student organization, she said she "will always be part of the struggle for Palestine solidarity."
Speaking as a Muslim, a Palestinian and an American
The Milwaukee Chapter of American Muslims for Palestine organized Wednesday's protest in Milwaukee. Atta and others from SJP answered their call and joined in.
"There were several hundred people there at least. I heard one estimate that we were about 1,000," Atta said. "I am happy we were able to mobilize a lot of students from Marquette to join us.
"Both sets of my grandparents were born in Palestine," said Atta, who has visited their homeland four or five times, the last time about six years ago. "We always stayed the entire summer, which is awesome because I really got to experience the culture there and was able to spend time with family.
"But I do experience the negative impacts of the occupation through more checkpoints than I can count. It makes you feel like a criminal in your own land," she said.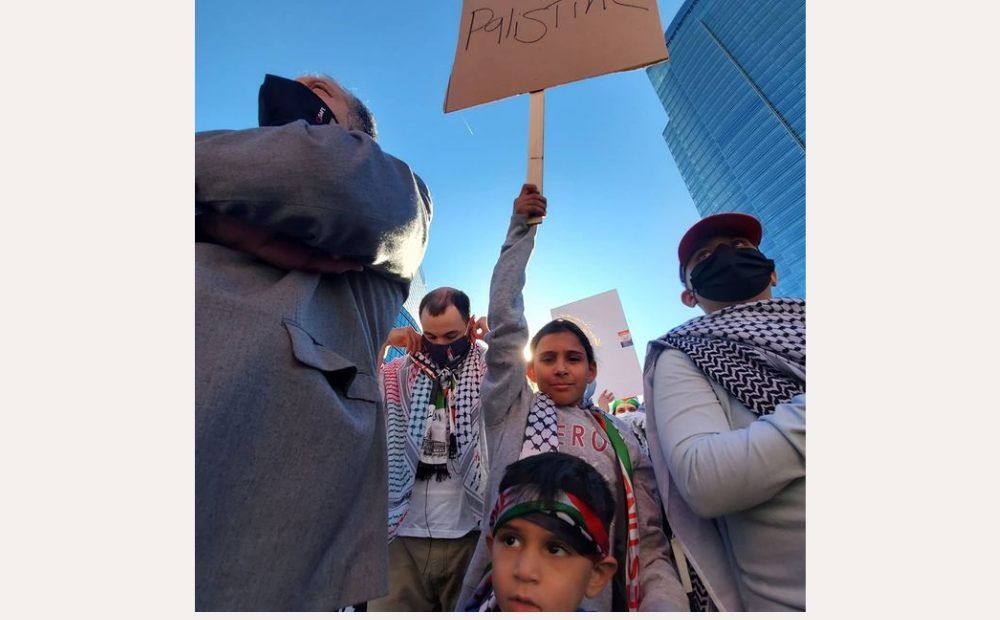 The black and white Palestinian scarf called the keffiyeh was widely seen at the rally Wednesday in downtown Milwaukee.
Being a Palestinian makes the suffering of Palestinians "something near and dear to my heart. I fight for Palestinian liberation because it means something to me personally.
"But I want others to understand, we are on the right side of history.
"As an American, it is ingrained in me to fight for the rights of the oppressed," Atta added. "It is part of my American values."
A rise in allies
In the United States, "we have definitely seen an increase in the amount of people who are not only aware about Palestine but are joining us in this struggle," Atta said.
She said she is grateful for Rep. Mark Pocan's advocacy. And supportive tweets from Lt. Gov. Mandela Barnes.
"I hope others will follow suit because at the end of the day we need political pressure to change what is happening," Atta said.
"As grateful as we are for the support, we hope the people supporting us now will stick with us. We are here for the long haul."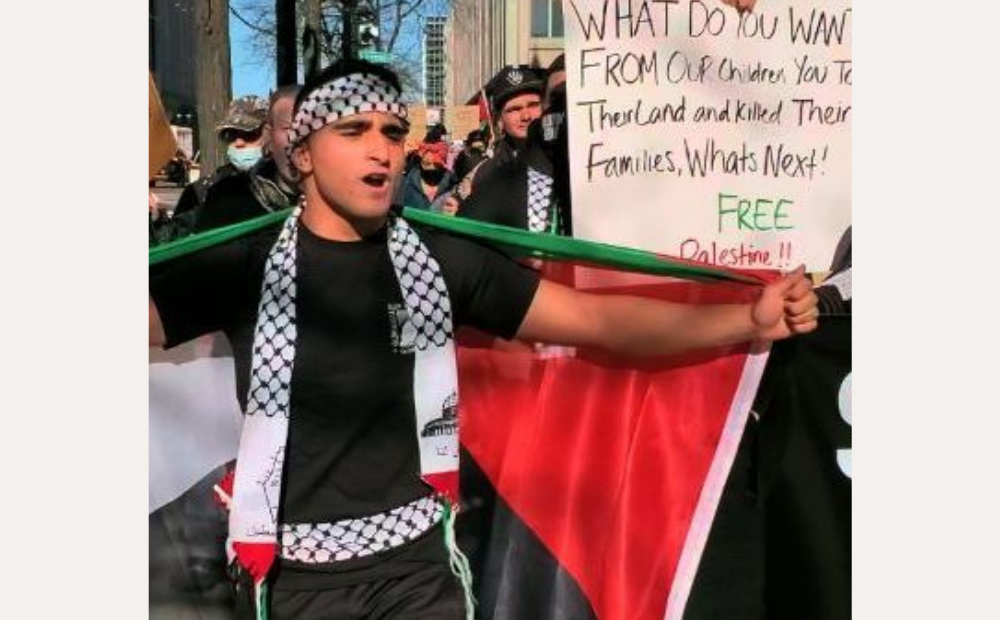 Demonstrators march and chant, "Free Palestine!"