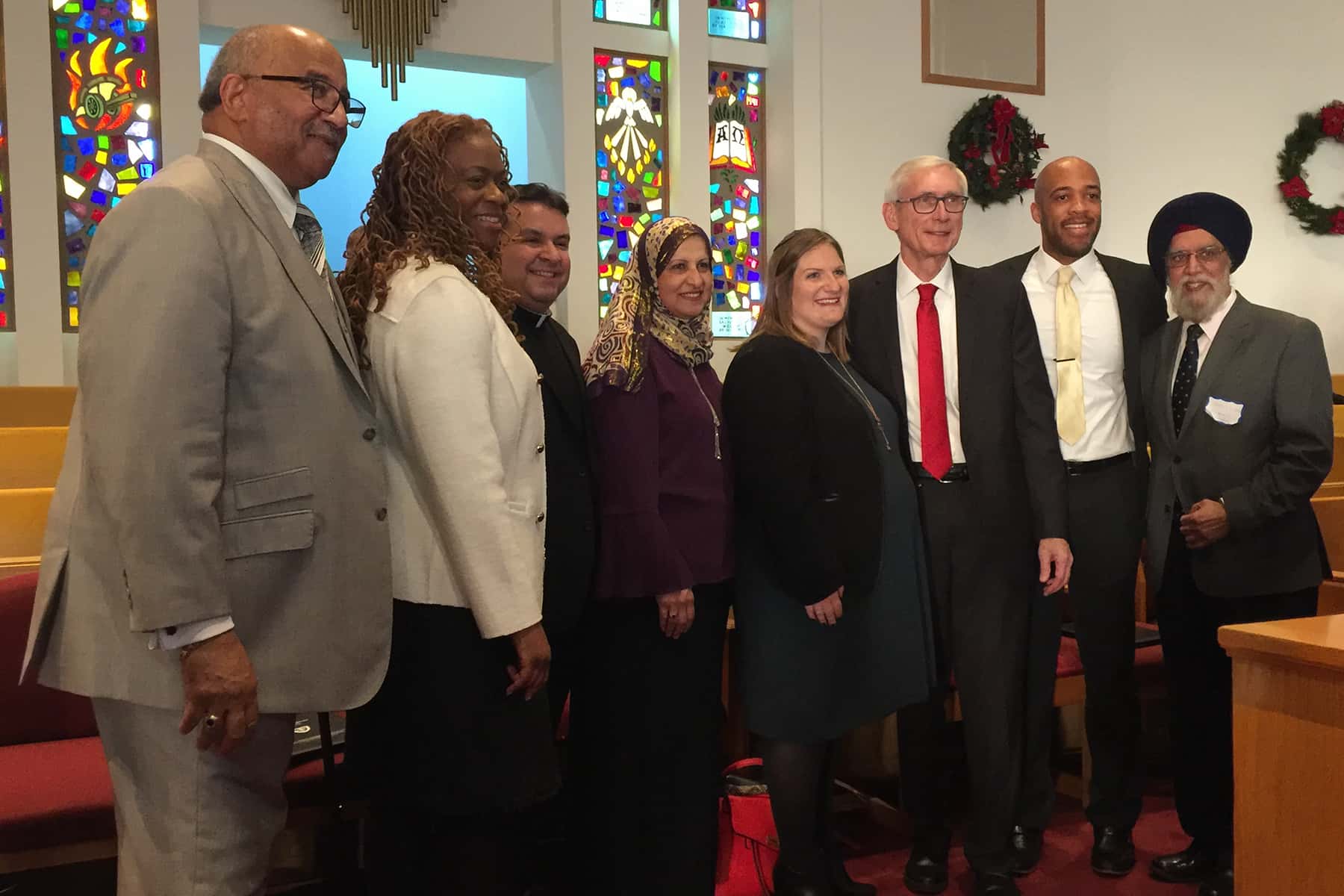 Faith leaders from across southeastern Wisconsin gathered on Saturday, January 5th at Mt. Zion Missionary Baptist Church in Milwaukee for an Interfaith Service with Governor-elect Tony Evers and Lieutenant Governor-elect Mandela Barnes.
The audience of more than 200 included many elected officials including Congresswoman Gwen Moore, Mayor Tom Barrett and County Executive Chris Abele, as well as many newly elected leaders such as Attorney General Josh Kaul and Treasurer Sarah Godlewski.
Lieutenant Governor-elect Mandela Barnes called Mt. Zion Missionary Baptist Church as his church for many years, and Senior Pastor Reverend Louis Sibley III, was his pastor and mentor. Five diverse faith leaders offered their prayers for success and challenged the incoming Governor and Lt. Governor to do what was just and right and to not leave any of Wisconsin's citizens behind. Many asked that divisive and polarizing politics be put aside for the sake of Wisconsin's citizens.
The Reverend Joy L. Gallmon, Senior Pastor at St. Mark African Methodist Episcopal Church served as the Master of Ceremonies as well as offering the closing prayer. The presenters also included Dr. Swarnjit Arora, Professor Emeritus from the University of Wisconsin-Milwaukee, Rabbi Rachel Kaplan Marks, Associate Rabbi at Congregation Shalom, the Very Reverend Javier Bustos, Vicar General at the Archdiocese of Milwaukee, Janan Najeeb, President of the Milwaukee Muslim Women's Coalition, and Host Pastor Reverend Louis E. Sibley, III.
Governor-elect Tony Evers and Lt. Governor-elect Mandela Barnes spoke to the enthusiastic crowd. Each one promised a new day for Wisconsin, a more compassionate administration that cared for everyone. Both Evers and Barnes addressed some of the many issues that concern Wisconsinites, including healthcare, the environment, dreamers and honesty in government. After the very uplifting service, the audience was invited to the lower level church hall to have lunch with the incoming Governor and Lt. Governor and all of the other officials in attendance.