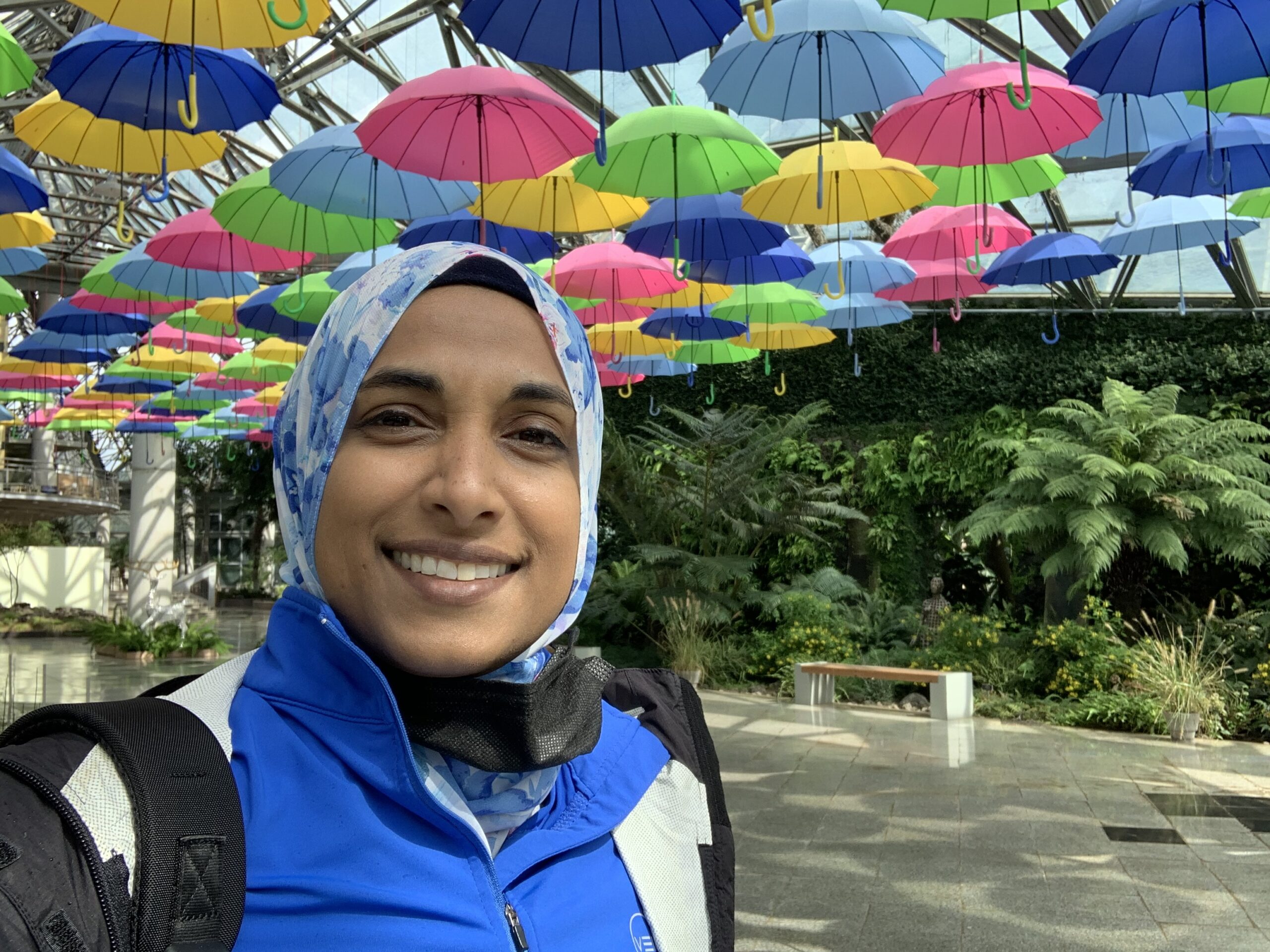 Photo courtesy of Dr. Aslam
Dr. Aslam visits Yeomiji Botanical Garden, Jeju Island, South Korea, 2022.
Dr. Aishah Aslam is a certified cardiologist with the Ascension Medical Group who was born and raised in Flint, Mich. She later graduated from the University of Michigan-Flint and Michigan State University College of Osteopathic Medicine.
She moved to Milwaukee three years ago to accept her current position. She finds great satisfaction in her medical work in Milwaukee, but is equally as fueled by her medical mission work that led her to Greece where she helped Syrian and Afghan refugees and to Bangladesh to work with the Rohingya refugees.
Dr. Aslam is on the board of directors of the Milwaukee Muslim Women's Coalition (MMWC) and with a passion for Muslim community development – particularly youth and convert programming and mental health. She was a driving force behind MMWC's first Muslim Mental Health Conference in 2021.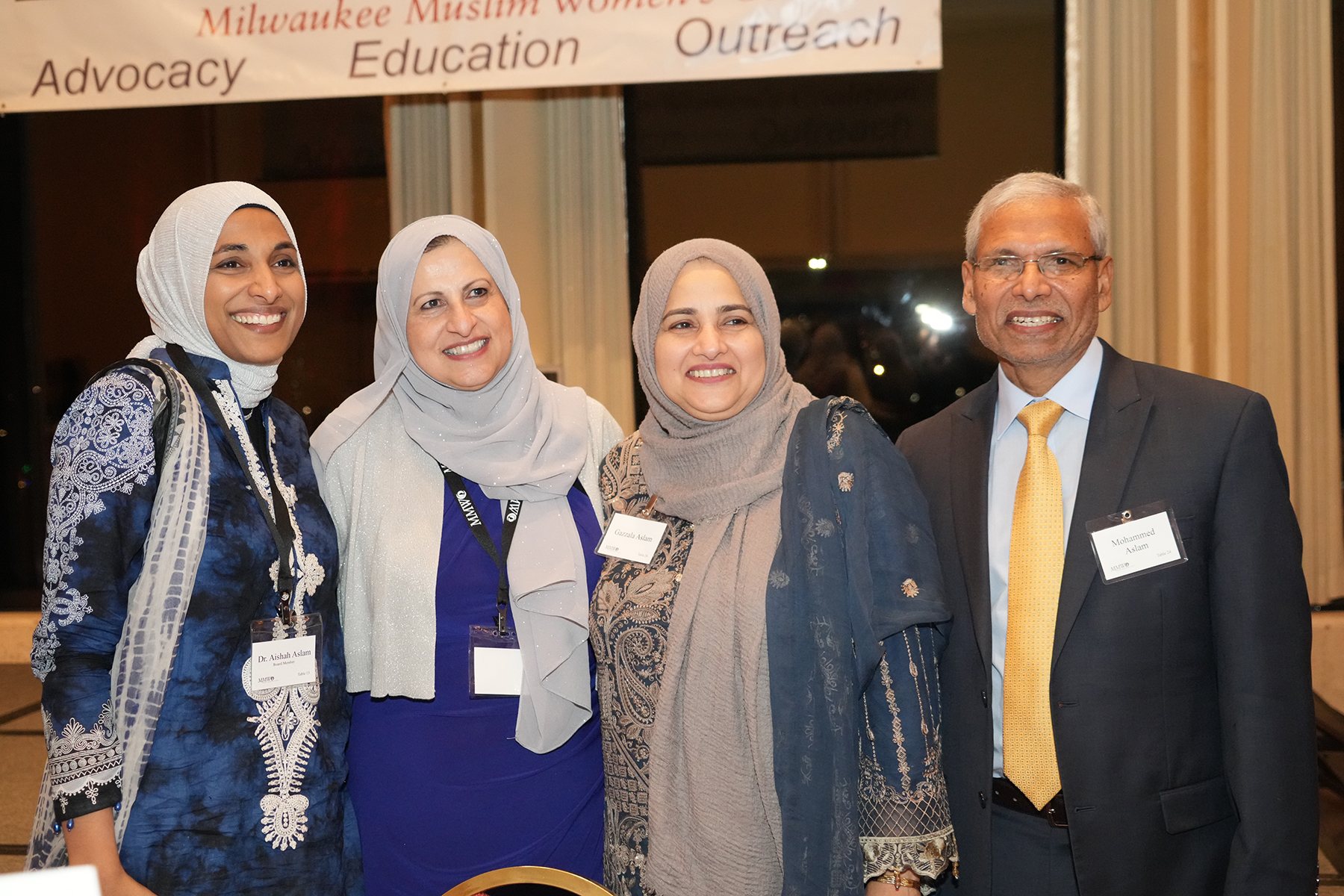 Photo courtesy of WMJ
From left to right, Dr. Aishah Aslam, MMWC board of directors, Janan Najeeb, MMWC president, Gazzala and Mohammed Aslam, parents of Dr. Aslam, attend the 2022 MMWC annual gala.
Recently, the Wisconsin Muslim Journal had the chance to chat with Dr. Aslam and ask her five questions to find out more about who she is as a person, professional and humanitarian.
1. What are your personal values? Who and/or what inspired them and how do these values affect your decision-making process? 
Dr. Aishah Aslam: To treat others with mercy and love, and to find ways of promoting that kind of conscientious interaction for the betterment of society and for our collective survival. Because without that collective humanity, the world becomes a much more difficult place for everyone to live in. 
Who inspired it? The prophet Muhammad (pbuh). One of his special talents was being able to make everyone around him feel valued to the point where everyone thought that they were loved the most by him.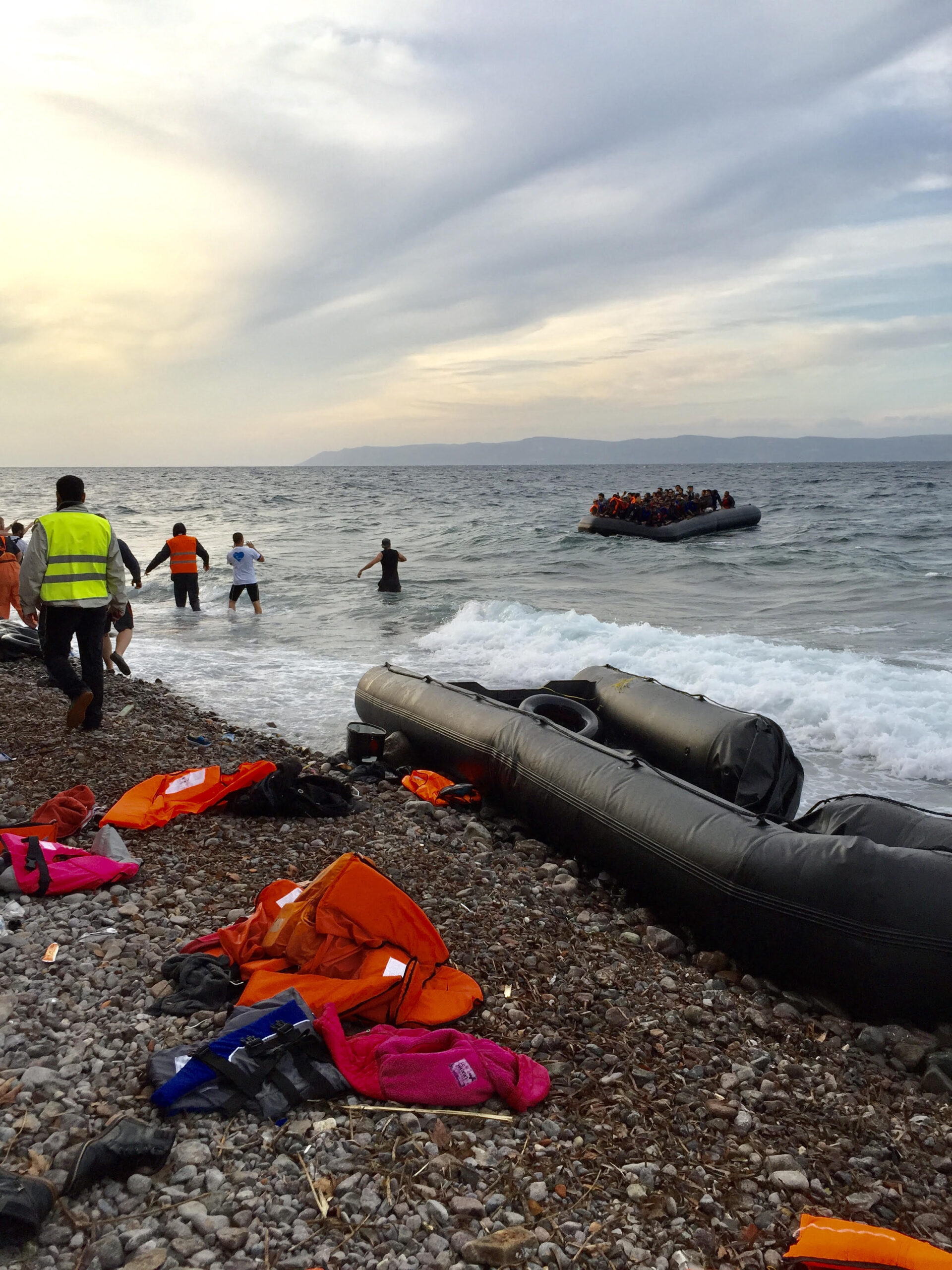 Photo courtesy of Dr. Aslam
Dr. Aslam on a short term medical mission with Salaam Cultural Museum, providing mobile medical care for refugees who landed on the coast of Molyvos, Lesvos, Greece. 
And of course, my mom. My mom taught my siblings and I to approach others with mercy and love, and she did so not just verbally, but by practicing what she preaches. From the handyman to the in-laws to the old aunties and uncles in the community, she always taught us how to go the extra mile to make those around her feel valued. 
2. Technology and on-line communication/meetings/social has definitely changed over the years. Do these things help or hinder your growth – or both?
Dr. Aishah Aslam: It helps to stay in touch, to share ideas, to stay connected – to some degree. But as we've learned it can also constrain us, remove critical thinking. Technology and the virtual world has also kept us confined to our own social and political bubbles where we no longer have the ability to develop our thinking through critical thinking. And I learned all too well the dangers of this when I went to work with the Rohingya refugees. The genocide they dealt with was fueled in large part by social media and fake news. 
For my own personal growth, I find that interacting with technology and communicating virtually can still be useful, so long as I am wary of their drawbacks and I do my best to try and compensate for those by getting myself out to social events where I interact with people in person, getting involved in the community and reading books more to try and maintain a certain level of critical thinking and personal development.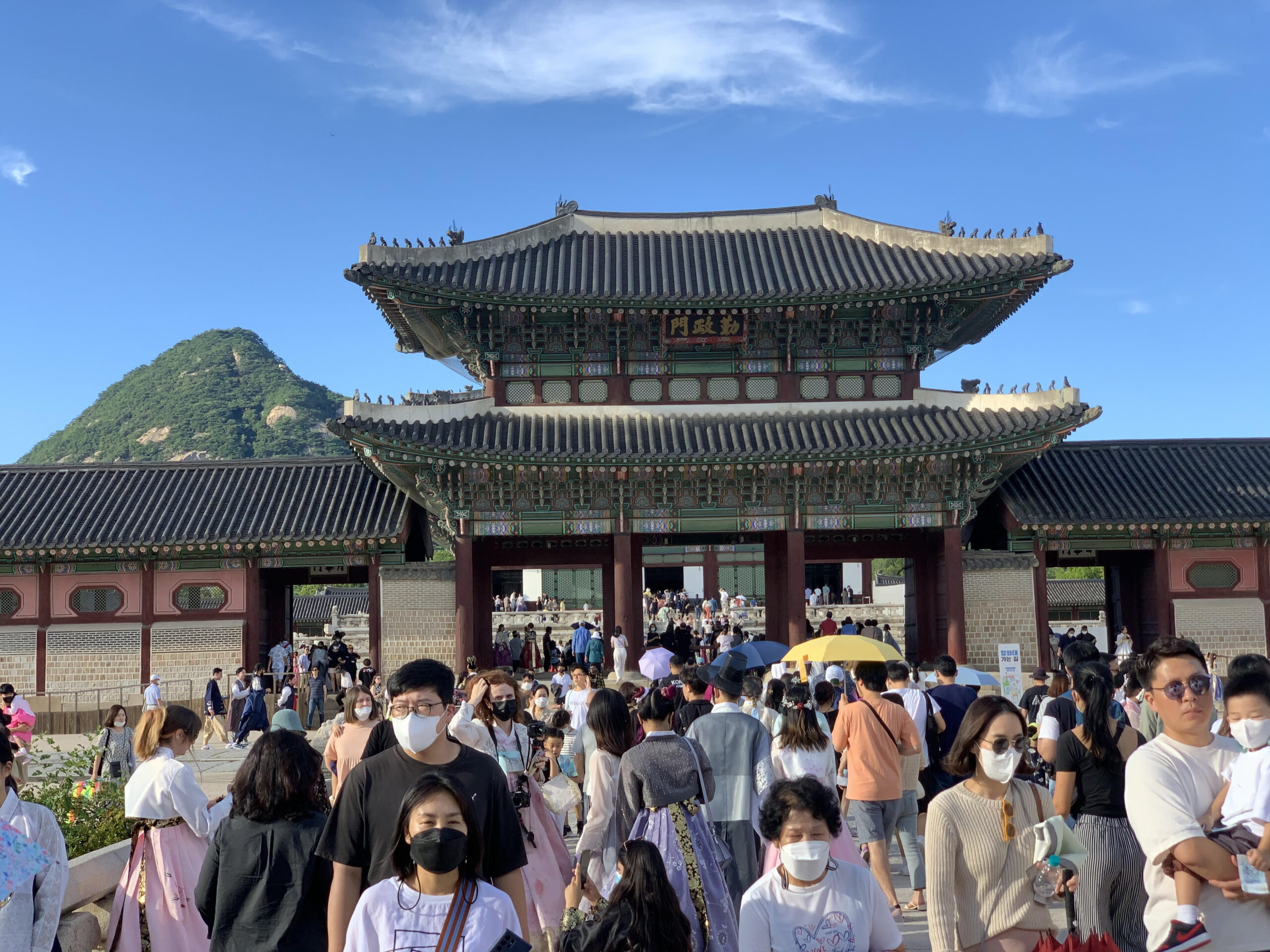 Photo courtesy of Dr. Aslam
Dr. Aslam travels to Gyeongbokgung Palace, Seoul South Korea, September 2022.
3. What are your favorite art forms? How do you challenge yourself to actively engage in the arts?
Dr. Aishah Aslam: I love cinematography/videography. My dream when I was younger was to be one of those National Geographic videographers or people who made films like "Blue Planet." Nowadays I am trying to slowly build my knowledge of the art by learning through YouTube. I feel like years of studying medicine left little room in my brain for my creative side, but I'm hoping in the future I'll be able to put more time and effort into putting these new skills into practice.
4. Where is the farthest you've traveled and what is a thing or two you learned from the experience? And what surprised you?
Dr. Aishah Aslam: Oh, I can talk to you all day about my travels. I love traveling internationally. The farthest I've traveled is South Korea. I fell in love with the place and visited twice so far. I loved my experiences there – I got to meet some amazing people who I've kept in touch with. I think we often take for granted how diverse certain areas of the US are and even the Hollywood representation of America is. Especially living in some diverse areas of the Midwest, I'm used to seeing people from different backgrounds intermingling. So I think it's always a little adjustment when you go to such a country as South Korea and they're so homogenous.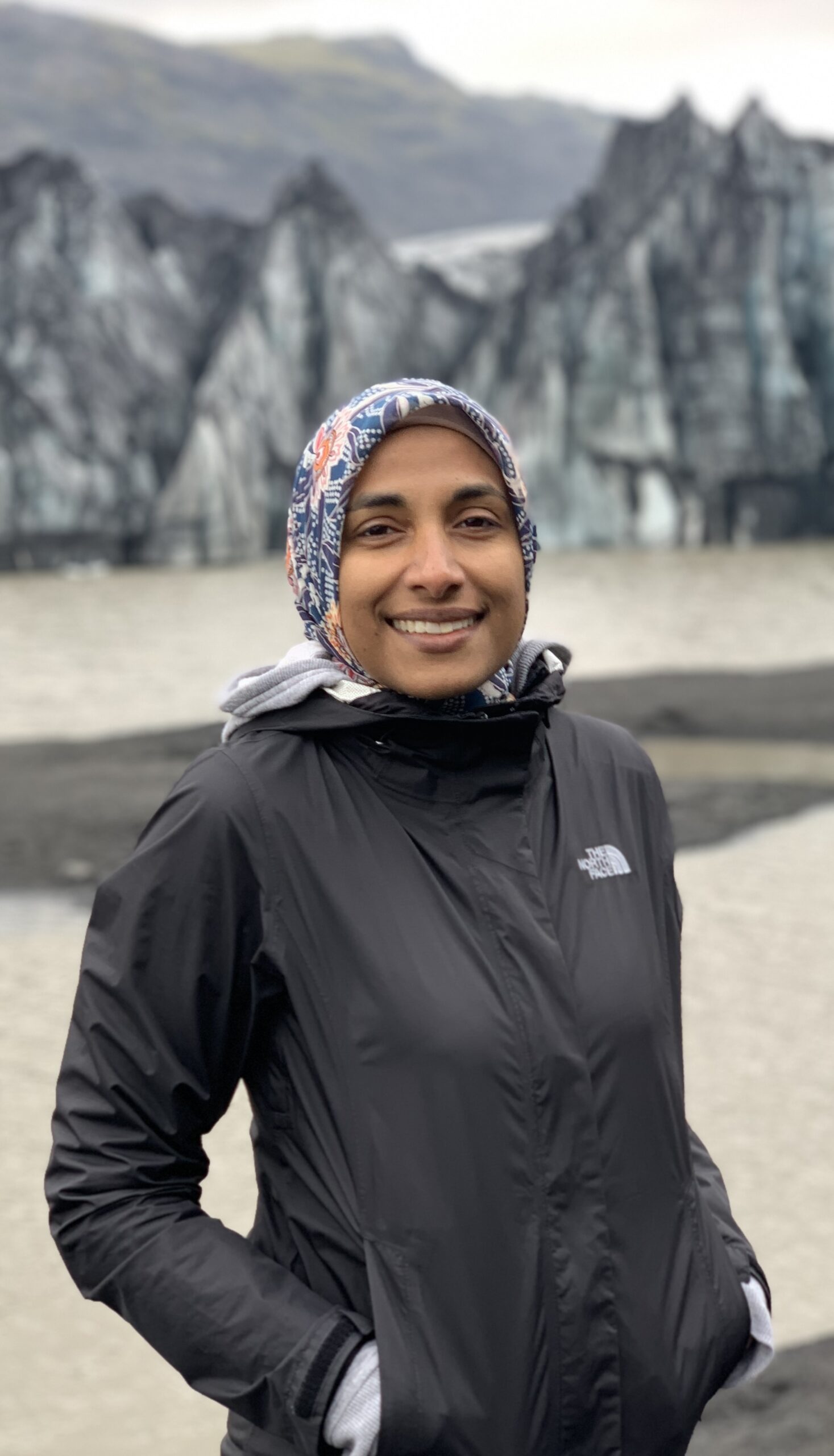 Photo courtesy of Dr. Aslam
Dr. Aslam in Iceland, 2021.
I traveled around the whole country and while I never had any negative interpersonal interactions, I sometimes did feel that I stuck out like a sore thumb, being an obvious foreigner with my headscarf and my brown skin. But nothing breaks the ice like attempting to speak to them in their own language. Once I was out hiking and an older Korean man I passed said "Marhaba" assuming I was Arab because of my headscarf. We got to talking and it turned out he had lived in Saudi working for many years and actually knew Arabic. Then another Korean man offered me his seat on a bus and he spoke fluent English. Speaking with him I learned that he's also fluent in French as he goes back and forth between France and Korea, and he was currently working on helping grow the Halal meat industry in Korea even though he himself wasn't Muslim, which I thought was pretty cool.
My favorite encounter was on my most recent trip to Jeju island just off the southern coast of South Korea. I met a retired Korean professor who had actually converted to Islam and had studied in the Middle East for over a decade and was fluent in Arabic and English and had a degree in Shariah law. He had to move back to Korea during the Gulf war and he said, "And that's when I realized I couldn't do anything with a Shariah degree in Korea, so I had to get my PhD in tourism." He was a funny guy, we could've chatted for hours.

5. What most fulfills you in your life's work?
Dr. Aishah Aslam: I moved here just under four years ago initially for work, but I've always had a keen interest in community development and projects that help bring people together. That's why I ended up joining the Milwaukee Muslim Women's Coalition and through this organization, I've been able to be a part of amazing work that seeks to pull different faith groups, cultures, politics together in a way that's unique to Milwaukee and its diverse population.
One of the first things that was mentioned to me about Milwaukee during my job interviews was that it was diverse, but that it was one of the most segregated cities in the country. I feel proud of the work I've been involved with at the MMWC and as a cardiologist in one of Milwaukee's safety net hospitals, because I feel that it's slowly helping to change that narrative, by taking down barriers, bridging gaps and getting people to talk to and learn more about one another.