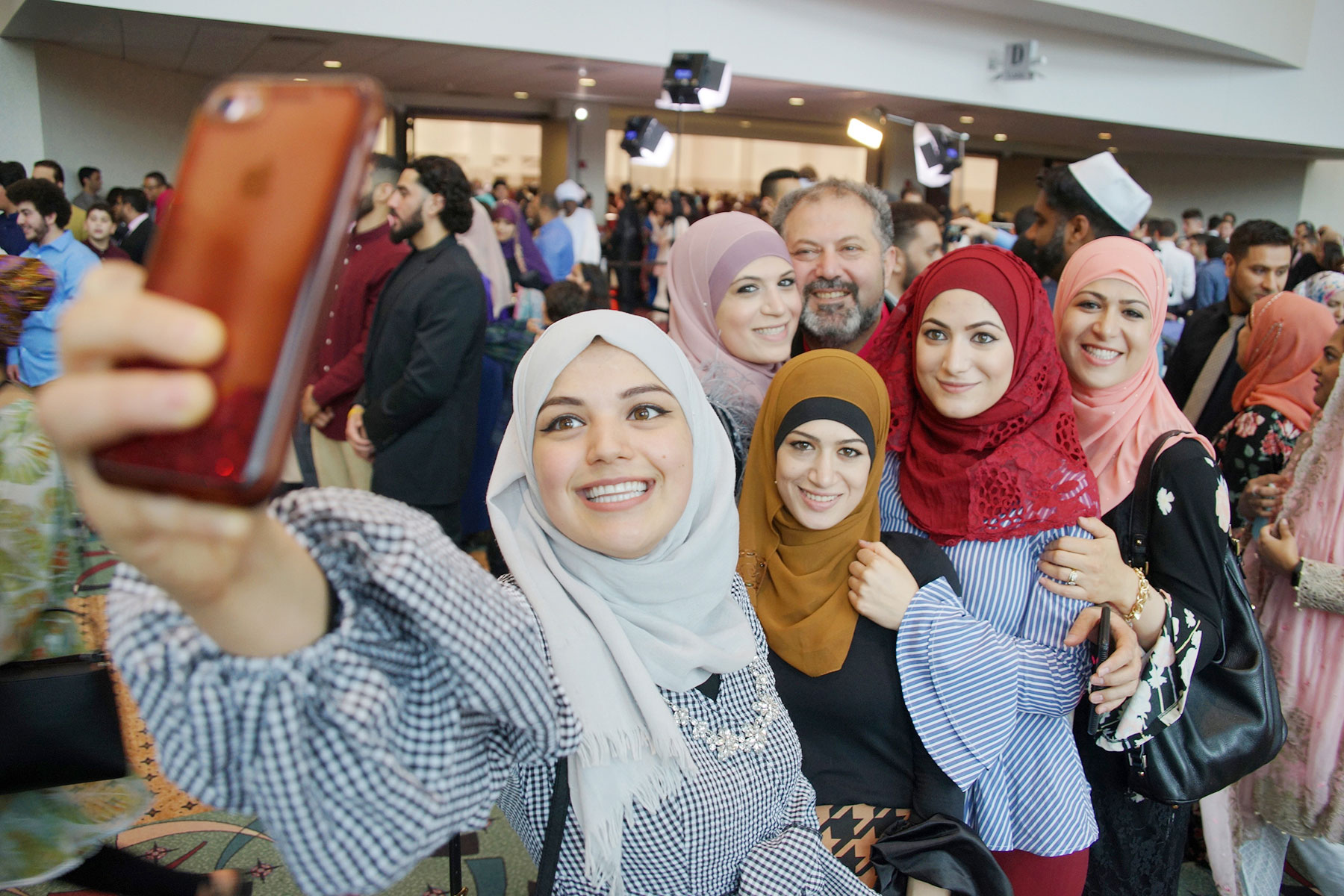 Thousands of faithful families navigated rain and downtown traffic to attend the Islamic Society of Milwaukee's Community Eid Al-Fitr Prayer on June 15 at the Wisconsin Center.
Muslims around the world gathered for the end of the holy month of Ramadan, Eid al-Fitr. In Milwaukee and across Wisconsin, people of the Islamic faith joined in prayer and celebration after a month of fasting from before sunrise until sunset.
With the conclusion of the month of Ramadan, Eid al-Fitr began the start of the month of Shawwal, with the three-day Festival of Breaking the Fast. At the community prayer service, many people wore traditional ethnic clothes of bright and beautiful fabrics that filled the Wisconsin Center's expansive floor, showing the cultural and ethnic diversity of the local Muslims. Wisconsin Center security estimated the crowd to be between 7000-8000 people. Early morning Eid prayers were also held at the 9 Mosques around Milwaukee for those that could not take off of work, or did not want to deal with construction and traffic. All of the Mosques reported packed attendance and some conducted a second prayer to accommodate the attendees.
"God is Greater (than anything), God is Greater, God is Greater, there is no God except the One God! God is Greater, God is Greater, God is Greater, all Praise and thanks are due to God." A special Eid chant could be heard throughout the hall as people gathered, following a tradition of the Prophet Muhammad to "decorate your holidays with the praise of God."
The prayer and sermon were conducted by Imam Noman Hussein, one of the Islamic Society of Milwaukee's resident imams, based mainly at the ISM-West branch in Brookfield. His message was that the month of fasting, prayer and charity is meaningless if Muslims don't work to carry the purpose of this month throughout the year and make it a normal part of their lives. The purpose is to build empathy and compassion for fellow human beings that are suffering, whether in our inner cities or around the world, and to turn that compassion into action.
These pictures share highlights from the morning's prayer event and show the warmth, love, and deep connections between the generations of participants.
© PHOTO NOTE: All the editorial images published here have been posted to the Wisconsin Muslim Journal's Facebook Page. That collection of photos contains the WMJ watermark for attribution, and may be used for private social media sharing.