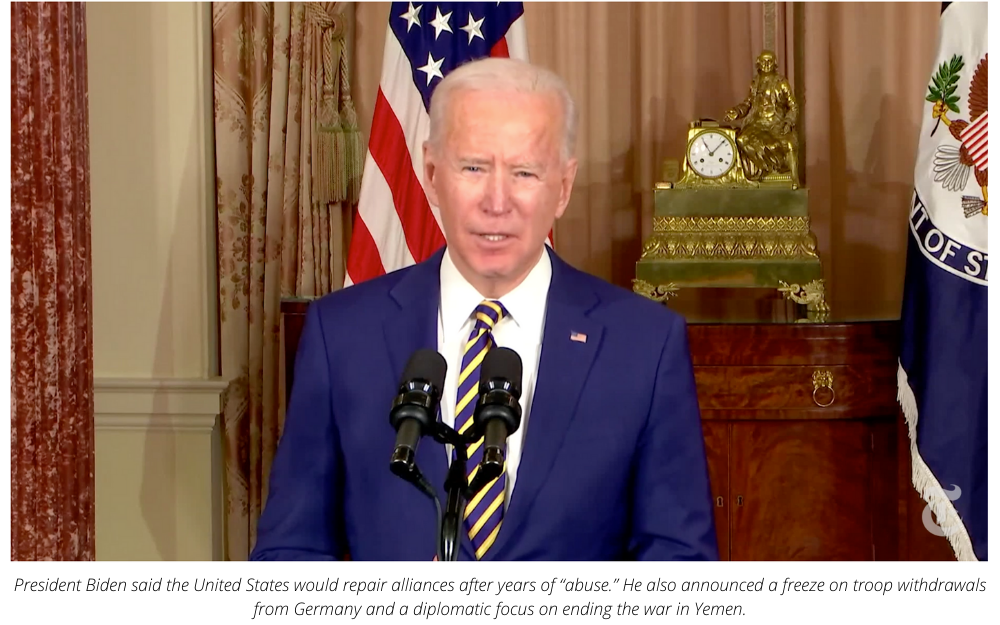 Photo©:
Stefani Reynolds for The New York Times
President Biden outlined a sweeping vision of restored American global leadership on Thursday, announcing an end to U.S. support for Saudi Arabia's military campaign in Yemen and vowing to confront Russia and China.
He also promised to work with allies to combat issues like the pandemic and climate change and announced a freeze on President Donald J. Trump's planned troop redeployments from Germany.
After two weeks of emphasis on domestic issues, Mr. Biden visited the State Department to turn his focus to foreign policy and make good on campaign promises to revitalize American diplomacy, alliances, and moral authority. Speaking to diplomats at the Harry S. Truman Building in Washington, Mr. Biden said he intended to "send a clear message to the world: America is back."
"We're going to rebuild our alliances," Mr. Biden said. "We're going to re-engage the world."
In the first foreign policy speech of his administration, the president said he would rebuild "the muscle of democratic alliances that have atrophied over the past few years of neglect and, I would argue, abuse."
In ending American support for offensive Saudi operations in Yemen's civil war — which he said had "created a humanitarian and strategic catastrophe" — Mr. Biden is delivering on a campaign promise, days after his administration announced a review of major U.S. arms sales to Riyadh that were approved by the Trump administration. The U.S. has also provided intelligence, targeting data, and logistical support for the Saudi intervention. Mr. Biden said he would work to revive dormant peace talks and announced the appointment of a special envoy for Yemen.
Mr. Biden announced he was "stopping any planned troop withdrawals from Germany," halting Mr. Trump's order to redeploy roughly 12,000 U.S. troops stationed in the country. National security experts from both parties had called Mr. Trump's order shortsighted.
The president struck a firm tone toward Moscow, vowing to stand up to Russian efforts to disrupt American democracy and saying he had made it clear in a recent call with President Vladimir V. Putin of Russia, "in a manner very different from my predecessor, that the days of the United States rolling over in the face of Russia's aggressive actions" were over. He called on Moscow to release the imprisoned dissident Alexei A. Navalny, adding: "We will not hesitate to raise the cost on Russia."
Mr. Biden said that strong alliances were key to deterring Moscow, along with the "growing ambitions of China to rival the United States." But he also stressed that he would cooperate with both nations when it served U.S. interests, citing his new agreement with Mr. Putin to extend the New Start agreement, which limits the size of the two countries' strategic nuclear arsenals, for five years.
Mr. Biden also acknowledged the damaged state of American democracy, saying that the United States will be "a much more credible partner" in the global effort to defend democracies from threats like authoritarianism and disinformation if it can shore up its own economy, politics, civil society, and racial equality gap.
"There's no longer a bright line between foreign and domestic policy," he said.
And in what may have been an implicit nod to the riot at the Capitol last month, Mr. Biden said of the military coup in Myanmar that "force should never seek to overrule the will of the people or attempt to erase the outcome of a credible election."
Mr. Biden also announced he would issue a presidential memorandum to federal agencies "to reinvigorate our leadership" on L.G.B.T.Q. issues worldwide.
Earlier, Jake Sullivan, Mr. Biden's National Security Adviser, said the president's visit would be the first of several to national security departments and agencies, including the Pentagon and the intelligence community. But even though many State Department officials were aghast at the policies under Mr. Trump, who derided their work as the "Deep State Department," Mr. Biden will face a diplomatic corps that remains skeptical of the new White House.
Some employees have noted with concern that political appointees, not career diplomats, are beginning to fill the top ranks at the department. While that is not particularly unusual — and is within any president's prerogative — it singes a staff that felt burned by Mr. Trump's efforts to install loyalists with little experience in diplomacy.