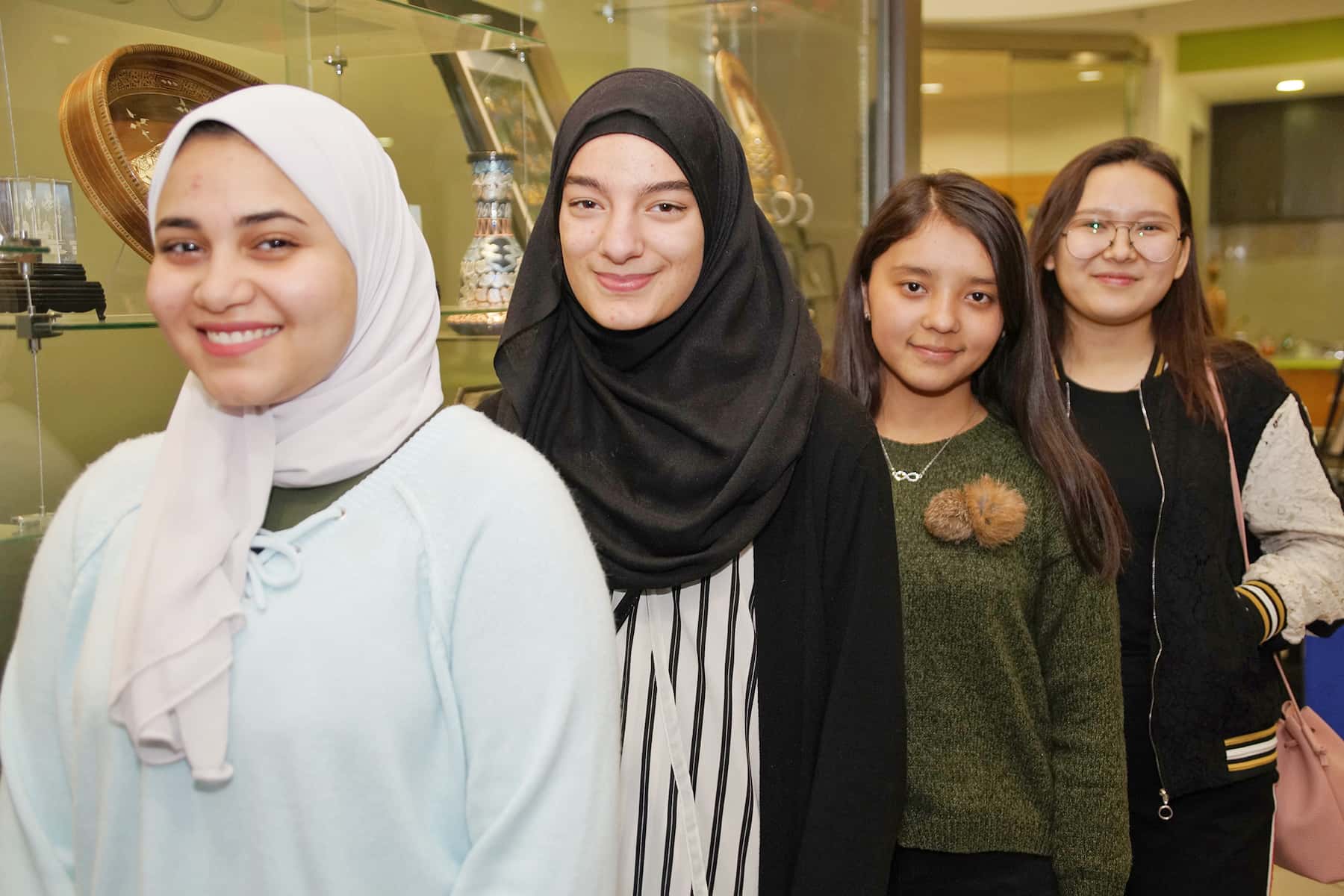 Beginning in 1985, Greenheart Exchange now sponsors an average of one thousand students annually who live with American families and study in high schools all across America. A handful of participants come to the Wisconsin for their overseas experience.
Foreign exchange programs can last a semester or a full year, and provide students with an opportunity to study in a different environment to experience the history and culture of another country. The programs became popular after World War II, and are intended to increase the understanding of participants, develop tolerance of other cultures, improve their language skills, and broaden their social experiences. Students who are accepted to attend an educational institution do not necessarily "exchange" with a counterpart.
As part of the 2018-2019 program, Noura Abdelrhman, Hanan Ghizzawi, Аяна Тлепова were placed in the southeastern Wisconsin area and agreed to share their ongoing experience with the Wisconsin Muslim Journal.
Q&A with Greenheart Exchange students
Wisconsin Muslim Journal: How did you decide to study in America as an exchange student, and how did you get placed in Wisconsin?
Noura Abdelrhman: My teacher encouraged me to apply for this program, and also my family supported me. I got placed by the Greenheart organization in Wisconsin through AFS Egypt.
Hanan Ghizzawi: The opportunity to become an exchange student and study in America is the biggest opportunity that I've ever gotten. I decided to try for it, because it provides many amazing benefits and opens many doors to success. My placement in Wisconsin was chosen by my placement organization, and it is definitely an outstanding and special state.
Аяна Тлепова: My cousin told me that we had opportunity to live in United States as exchange student. To be honest, I wasn't that person who really wanted to live here, but I just tried. My mind started to change about idea to live in America as I explored it more. I watched different videos and read blogs on the internet, about exchange students and life here. It motivated me more to be part of Flex, the exchange program. Zehra, my host mother, chose me because my host sister wanted an exchange student to live with them. And my host mother wanted to give Muslim girl an opportunity to live in such amazing country.
Wisconsin Muslim Journal: As someone of the Muslim faith, what were your perceptions about America before you arrived? Now that you are in Wisconsin, how is the situation matched your expectations?
Noura Abdelrhman: I didn't have any expectations or perceptions before I come here. Now I'm having a good time with my host family, friends in my school, and even the other exchange students from different countries – with greenheart.org and with my local coordinator. I'm enjoying my time here.
Hanan Ghizzawi: Being a young Muslim teenager, and seeing the stereotype about Islam spreading more in the last few years, I was concerned about whether or not people would accept me because I'm different. Coming to the United States changed my perception and made me look at things in a different way. I realized that a lot of people are accepting, welcoming, and tolerant.
Аяна Тлепова: I didn't know about America a lot. I was familiar with it only by movies. The only thing I knew exactly was that people here are very polite and outgoing. And that was true. I didn't have a lot of expectations because my mother also was the finalist of the Flex program, when she was as my age. So, she was very happy to share with me her knowledge and information about American life. My expectations matched a lot with my mother's too, especially about students at school.
Wisconsin Muslim Journal: What has been the biggest challenge for you about coming to Wisconsin?
Noura Abdelrhman: My biggest challenge here in Wisconsin, which I'm pretty sure I will like it, is that I will face a snowy winter and very cold days. I have never experienced such a cold season before.
Hanan Ghizzawi: The biggest challenge for me was leaving my family and the people that I love the most, adjusting to my surroundings, and stepping out of my comfort zone to try everything new.
Аяна Тлепова: Finding friends. I think nowadays people become nihilistic, so students at my school weren't really happy about me and Kazakhstan. But I'm worked very hard with this and I have friends now.
Wisconsin Muslim Journal: Since you have only been here a short time, do you have a memorable experience yet that you can share?
Noura Abdelrhman: I made many memories here even though I have been here for only a short time. I went to Michigan over summer vacation with my host family and their siblings there. We visited many historical places and natural sightseeings there. I also went to Lambeau Field in Green Bay with the same company, and had a tour and dinner there. Those definitely are really unforgettable memories.
Hanan Ghizzawi: One of the best experiences that I've had in America so far is the orientation in Washington DC, where I got to meet people from a variety of countries, bond with them, and make unforgettable memories.
Аяна Тлепова: I understood that we must enjoy every moment of our life and be polite. Also not judging people by their appearance.
Wisconsin Muslim Journal: What kind of impact do you think studying in Wisconsin will have on your life?
Noura Abdelrhman: I don't know yet!
Hanan Ghizzawi: I believe studying abroad will have a large impact on all aspects of my life, personally and academically. It will also open my eyes to new things, teach me valuable lessons, give me the opportunity to make many friends, and share many stories. Last but not least, it will give me the chance to teach people about the culture of my country that is halfway across the world.
Аяна Тлепова: Very positive. Because I gain knowledge not only about subjects at school but also the way teachers give us that knowledge and how students use it. Also, gaining the skill to combining both friendships and studying.