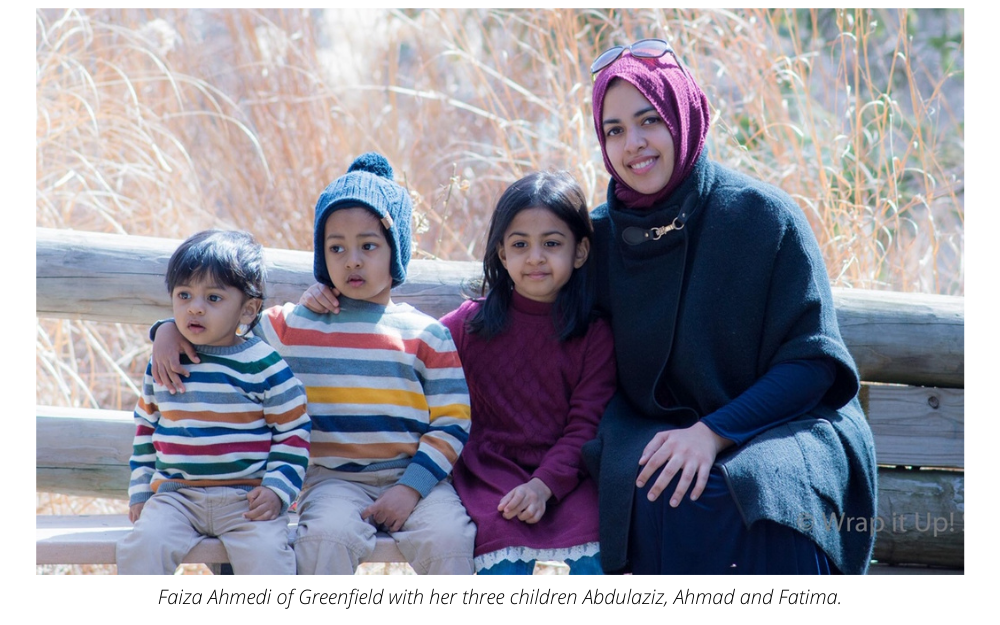 When Faiza Ahmedi in of Greenfield was a recent medical school graduate and a new bride in Hyderabad, India, she shipped some colorful shawls from Kashmir to her new husband in Milwaukee.  Business had always intrigued her and she thought the bright, high-quality shawls would be a hit in Milwaukee's cold winters. But they didn't take off.
Ahmedi joined her husband, Mirza Faheem Baig, in 2014, and tried selling the shawls herself. "They didn't sell well but people always asked for hijabs," she said. "I saw that the market was there."
That insight led Ahmedhi to partner with a friend three years ago to open Wrap it Up!, her home-based business selling hijabs, scarfs that cover the hair, head and chest worn by many Muslim women. She has recently expanded her product line to include holiday kits for Ramadan and the Eid, as well as some "fun items" for children.
What Ahmedi loves most about her business is the way it connects her with others. She meets customers "who want to come in to touch and see the fabric before they buy the hijab," she said.
She also began hosting bazaars three years ago, inviting other vendors from the community and across the country to join her. They include artists, interior designers, jewelry designers and merchants of a variety of unique products. Some are people Ahmedi met through Milwaukee's Muslim community and Facebook groups. Others are people whose work she admired on Instagram and reached out to through social media.
Among her featured local vendors are Sway Home Designs, artist Rida Fatima, Ramadan & Beyond and, of course, Wrap It Up!
"I got to know a lot of people in the community because of my business," Ahmedhi said. "I have made many friends through the business."
Since her first bazaar, Ahmedi organized three a year with up to 15 vendors until the pandemic brought large gatherings to a halt. This March, she brought them back – holding a Spring Bazaar on March 14 and a Ramadan Bazaar on April 10. She may organize one for the Eid, she said.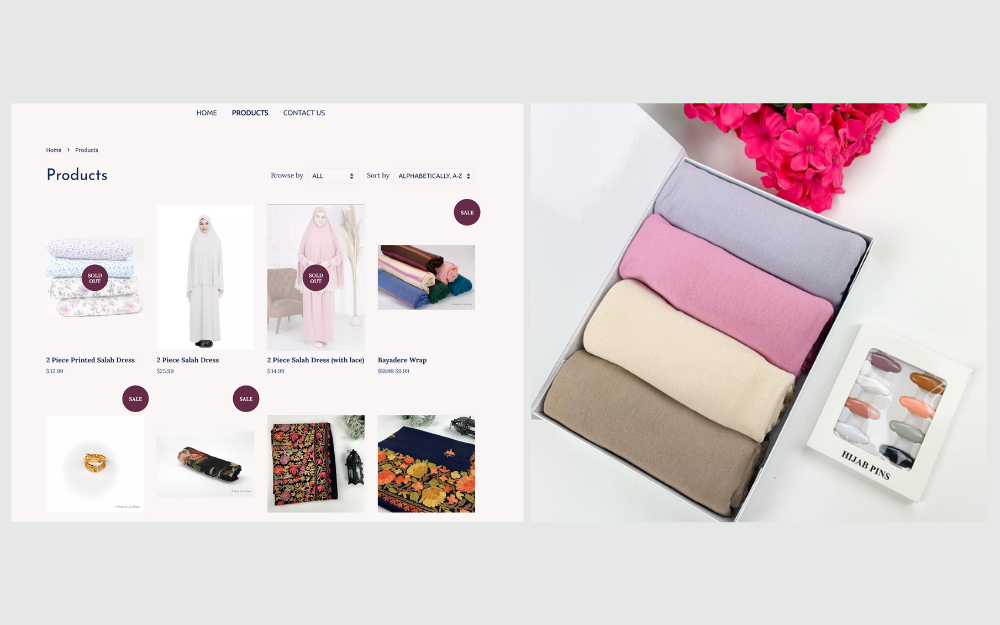 Building her business in the midst of her busy life
"Coming here from India, I found a very welcoming community," Ahmedi said. "I was able to blend in easily and I made some great friends. Many of them are like family now and I know I can count on them for help at any time of the day."
And Wrap It Up! received "a great response," she said. "Even people who don't wear hijab regularly need scarfs for prayer."
Ahmedi makes keeping up with it all look easy but it isn't, she admitted. With three children, ages 5, 3 and 1, "I have my hands full," she said. She plans to pursue her medical career when her children are all in school; for now, she is enjoying being a businesswoman.
In addition, she works part-time as an administrator for the Iqraa Foundation, a nonprofit religious organization with afternoon and weekend programs for memorizing the Quran and Islamic studies.
Her business partner moved to Chicago about a year ago. Since then Ahmedi manages Wrap It Up! by herself. Most of the time, it runs along steadily, but sometimes it gets hectic.
"None of this would have been possible without my husband's support," she said. "He's always been so supportive and encouraging even my silliest ideas. He watches the kids while I'm at work or hosting events."
New challenges
Wrap It Up! was doing very well locally, then the pandemic hit, Ahmedi said. "I realized I had a lot of competition online with many people selling hijabs and in person sales were nil.
"We had a website but before the pandemic, it was a status thing. People trusted you more if you had a website. Building online sales was like starting from scratch. I had to run frequent sales for people to buy online."
Inspired by her own children, Ahmedi also decided to explore new product lines. "For Ramadan, we created cute little mosque kits. It includes a wooden mosque that is like an easy puzzle children can paint and decorate. We also included stickers, temporary tattoos and crayons."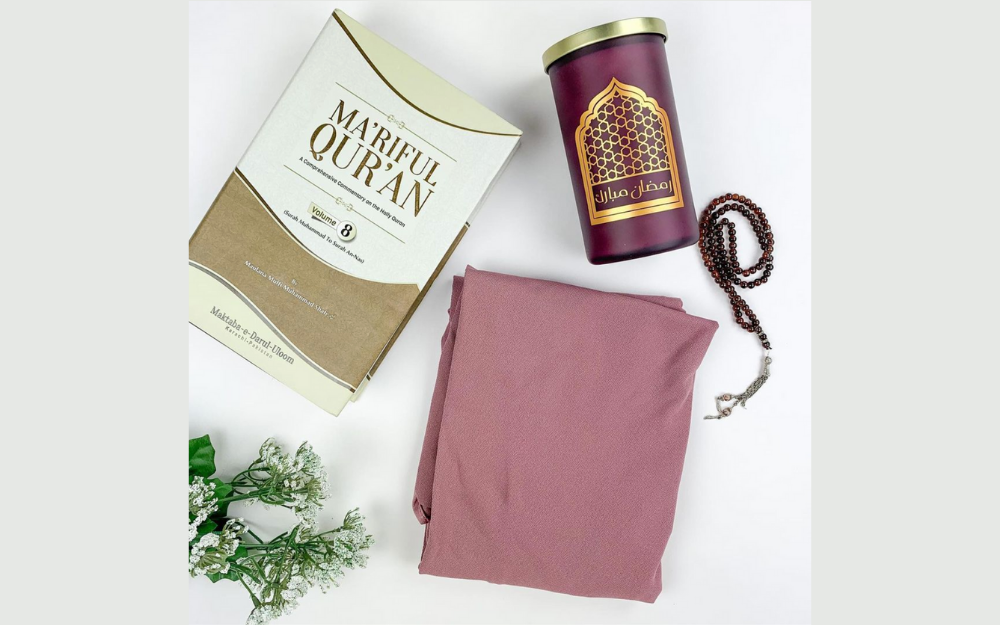 Products by Faiza Ahmedi
She created Ramadan and Eid boxes, buying soap "from another Muslim sister to add her product to  the box," Ahmedi said.
Ahmedhi involved her children in putting the kits together, putting items in boxes and assembling them.  With her oldest doing distance learning at home and her 3-year-old eager to help, it became a family activity, she said.
"Adding new product line did take a lot of time and effort and with Ramadan and two Eids coming, it is a very busy time," she said.
Giving back
Ahmedi also sees her business as a way to "give back." On "Giving Tuesday," for every hijab bought, she donated a hijab to the Hanan Refugee Relief Group and to Our Peaceful Home, a domestic abuse project of the Milwaukee Muslim Women's Coalition.
In March, for World Hijab Day, Wrap It Up! invited people to sponsor boxes for refugees. Over 85 boxes sponsored, she said.
Turning passion into profit
Roua Aljabali, owner of Sway Home Designs, participated in one of Ahmedi's bazaars for the first time this month.
"The Ramadan Bazaar was my first one. It was so amazing," she said. "I made trays and showed them for the first time. They were gone in 40 minutes. I had a few signs with me; they went so fast."
The designer, recently launching into business, was looking for the opportunity to advertise. her sales seemed to amaze her.
She expressed the same surprise at how quickly her remodeling business is taking off.
"Ever since I was a kid, I loved art," Aljabali said in a telephone interview.  "My brother and I would tell each other we were going to work in construction together."
The Oak Creek resident has been in the Milwaukee area for seven years. She was born in Chicago and grew up in Richmond, with two years during middle school living in Amman, Jordan. Her parents are Palestinians who grew up in Jordan.
"Living there helped me a lot with my Arabic," Aljabali said.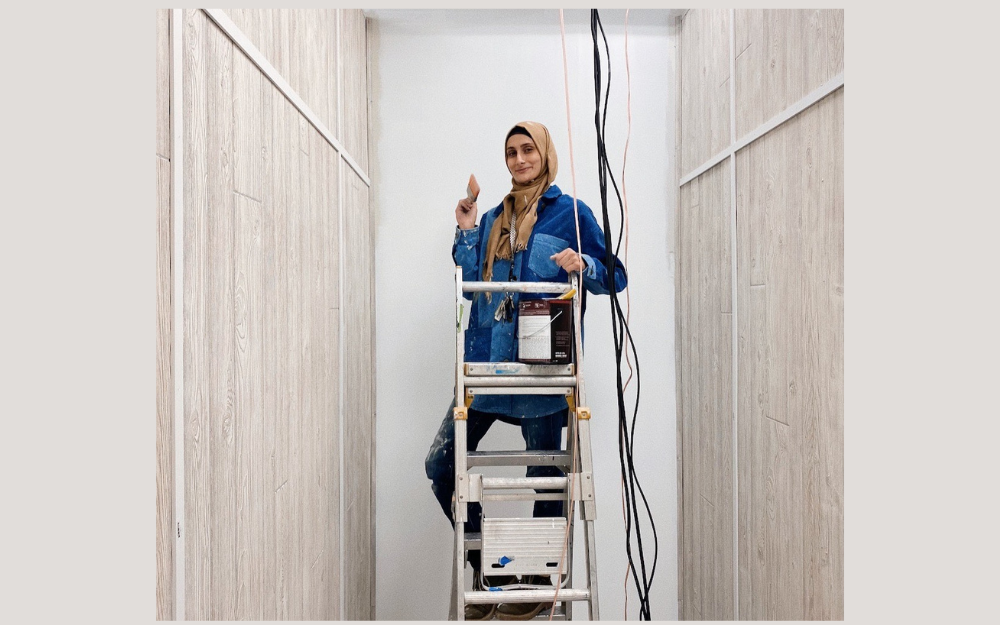 Roua Aljabali is the owner of Sway Home Designs.
Aljabali has studied architecture for two years. That is on pause for now but she hopes to continue. She married in July and is working part-time for the Muslim American Society (MAS), managing its building in Milwaukee. She had also worked as a youth director at the Islamic Center of Milwaukee until the pandemic put that program on hold.
She decided to use the time during the COVID pandemic to create a fire pit and seating area at her parents' home.
"Friends who saw it said I should do this as a business. I thought about it for a long time.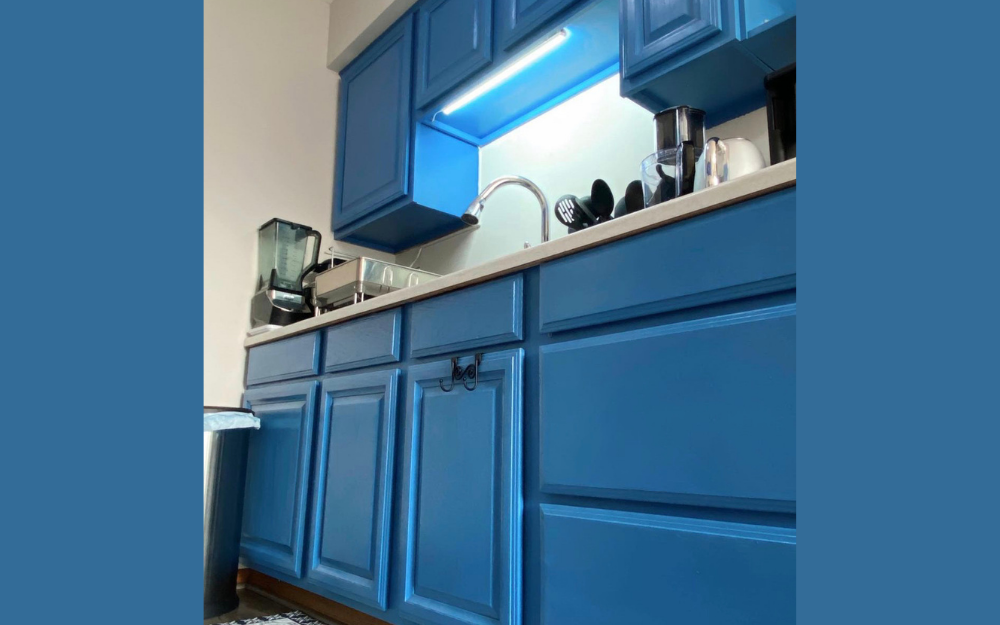 A fresh look for the kitchen by Sway Home Designs.
"I thought maybe people wouldn't hire me to do these things because I am a girl," she said. But that is not the case.
From the first day she opened her Instagram page at the end of November, "I got a job and have been busy ever since," she said.
"It started with painting walls and adding accent walls – simple stuff," Aljabali said. "I had the opportunity to do my parents' kitchen. A friend saw it and asked me to do hers."
Her mother's friend called to ask if she "could take a look at her basement and do something before Ramadan so she could use it. I built a wall," Aljabali said. "I am so proud of it."
In addition to home remodeling, Aljabali designs decorative and artistic items.
"I love art so much and love being creative. Making signs just comes naturally to me," Aljabali said. She started with "welcome" signs that included the family name. Then she made signs with verses from the Quran. "They are very popular," she said.
Creating her future
"I have really big visions," Aljabali said. "I dream my remodeling business can grow to a point where I can hire people. I do see a lot of potential in it. I am so busy now, I am considering hiring someone.
"I want to make my contracting business running smoothly and then I can work on signs and creative projects.
"I like art and how I feel when I am doing it. I am in a whole other universe when I am working.
"I'm a very imaginative person," she said. "I've been like that since I was a kid. I can imagine and be in another place in a second.
"Some people get tired when they do this kind of work. For me it gives me a burst of energy."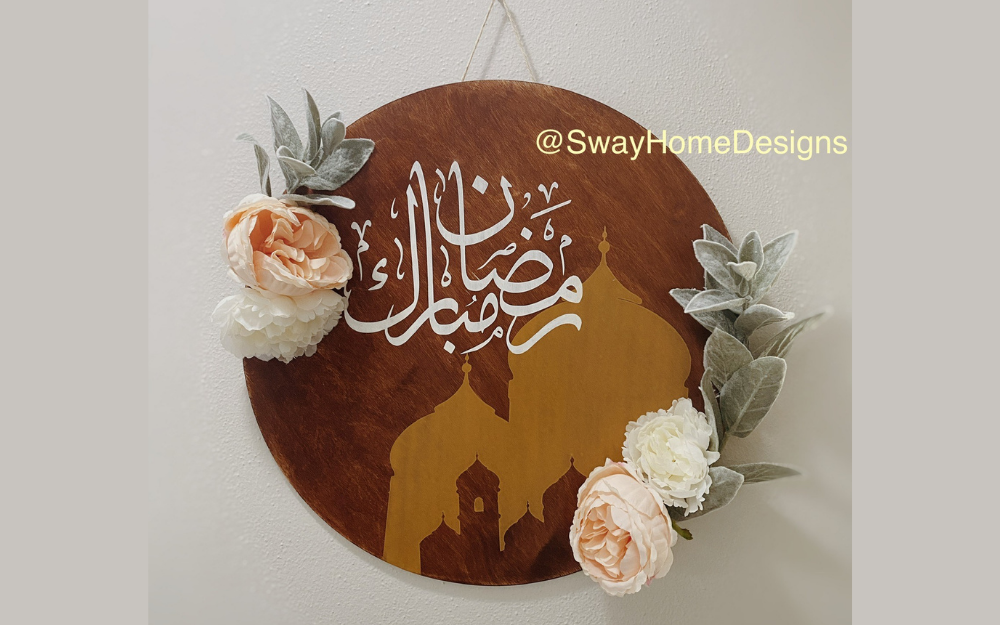 Made by Roua Aljabali, owner of Sway Home Designs.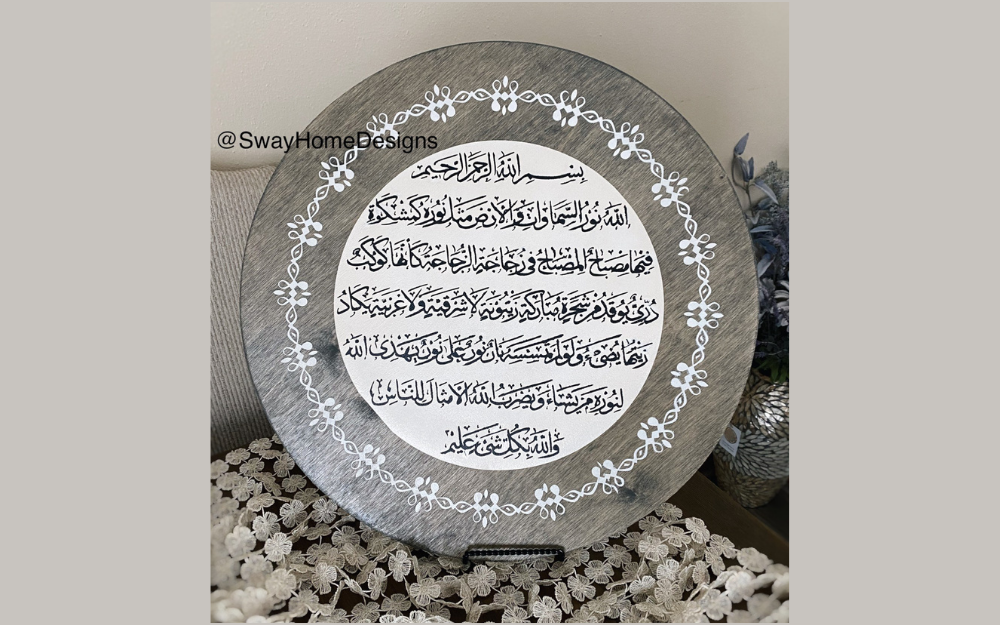 Roua Aljabali's decorative pieces proved popular at the bazaar.