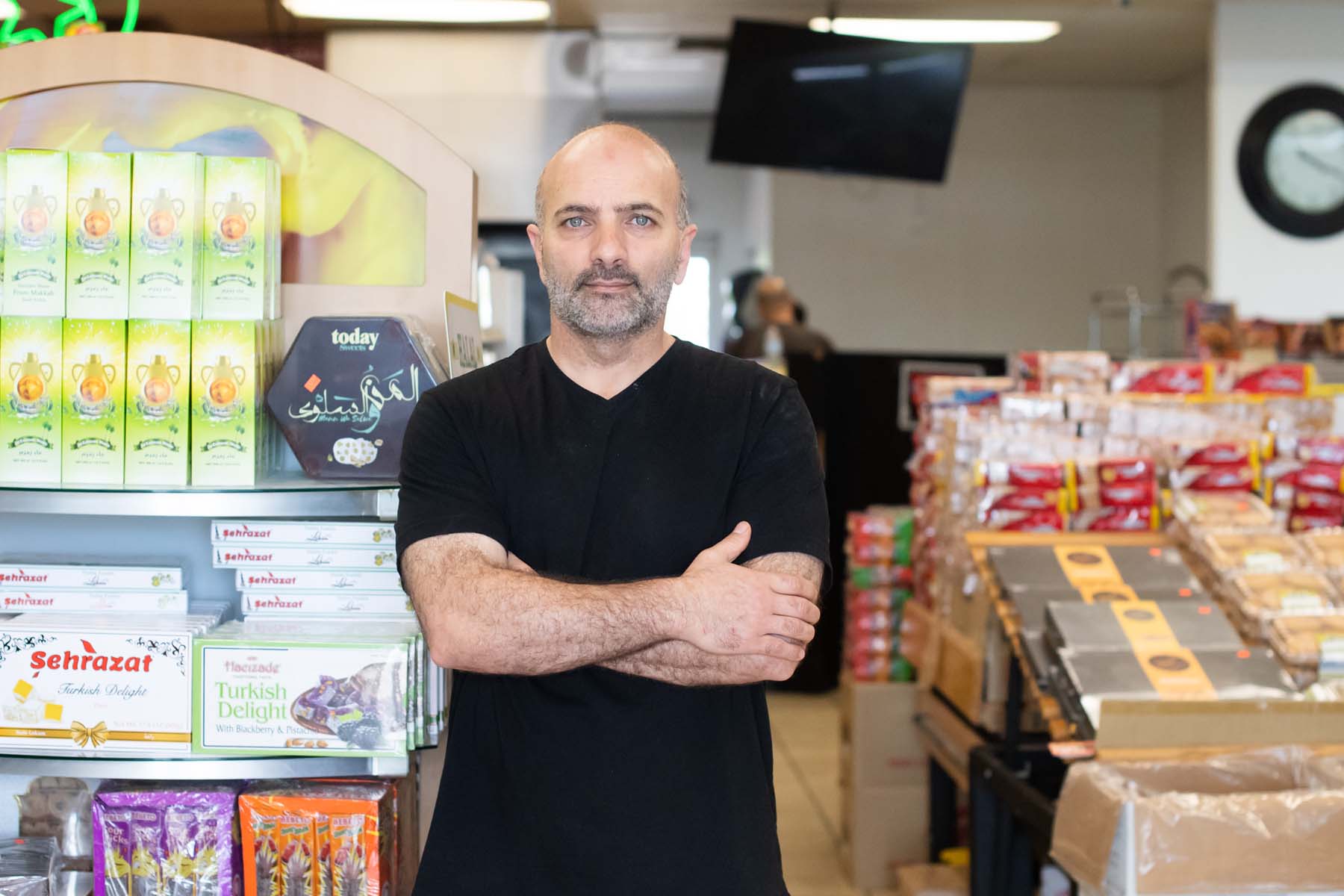 © Photo
Mouna Photography for the Wisconsin Muslim Journal
Entering the Al Asalah Mediterranean supermarket on 869 West Layton Avenue, almost the first thing you notice is the heavenly smell of baking bread.
From 5:00 a.m. until 2:00 p.m., four bakers are hard at work, making a batch of fresh bread every hour. Alaa Abed, the owner of Al Asalah, says they produce 500 bags of bread every day, selling it to individual customers at $2.50 a bag and delivering it to restaurants around the area. 
"It's hard to find fresh bread here," says Nida Jaber, Mr. Abed's wife. "It's very much in demand." The bakers also make cheese pies, zaatar pies, spinach pies, and a unique specialty, bread stuffed with hot dogs, she says.
Customers of Mr. Abed's baked goods and halal meats include Shawarma House, Pita Palace (right across the parking lot), Mama Gyros at Southridge Mall, and Gyros on Hwy 50 in Kenosha.
Mr. Abed, who is Palestinian, started out in the meat business in 2011, operating out of a small space next to O'Reilly's Auto Parts. He opened Al Asalah in 2016 at the same West Layton Street mall, which also houses Morjana Fashion and Ramallah Grille & Sweets. Crescent Learning Center, the ISM Community Center, Salam Elementary School, and MCHC Health Clinic and Sakina Center are located nearby. ISM is just a few blocks west.
Inside the supermarket, located right next to Mr. Abed's bread ovens, is the walk-up restaurant Chef Majed Bazaar. Packed every day at lunchtime and especially after Friday prayers at ISM, the restaurant and catering service features falafel, shawarma, spiced chicken rolls, and tabbouleh salad, among an array of specialties.
The Al Asalah grocery store itself is a treasure trove of delights. Entering the store, you'll see baskets of fresh fruit and vegetables, including cactus pears, lemons, clementines, grapes, zucchini, cucumbers, and eggplant. Syrian pistachios are hard to find in Milwaukee, but you can buy them at Al Asalah. At the front counter, Mr. Abed's cousin will sell you Turkish sweets or baklava. The front counter shelves are loaded with European and Middle Eastern candy and chocolate.
Open from 9:00 a.m. until 11:00 p.m. everyday, Al Asalah sells hookahs, flavored tobaccos, and Sultan charcoal as well as cooking pots, incense burners, tea and coffee sets, and a variety of toiletry items in addition to its wide variety of foods.
Whether you're looking for date-filled cookies, organic roasted chestnuts, Turkish delight, popkek with chocolate, date and walnut rolls, dried apricot paste, sardines, stuffed grape leaves, canned Baba Ghanouj from by the popular food products company Ziyad, Fava beans, a wide variety of spices, split green olives, tall cans of Zwan luncheon loaf, foule mudammas, mixes for korma and kabab– whatever it is, you can find it there.