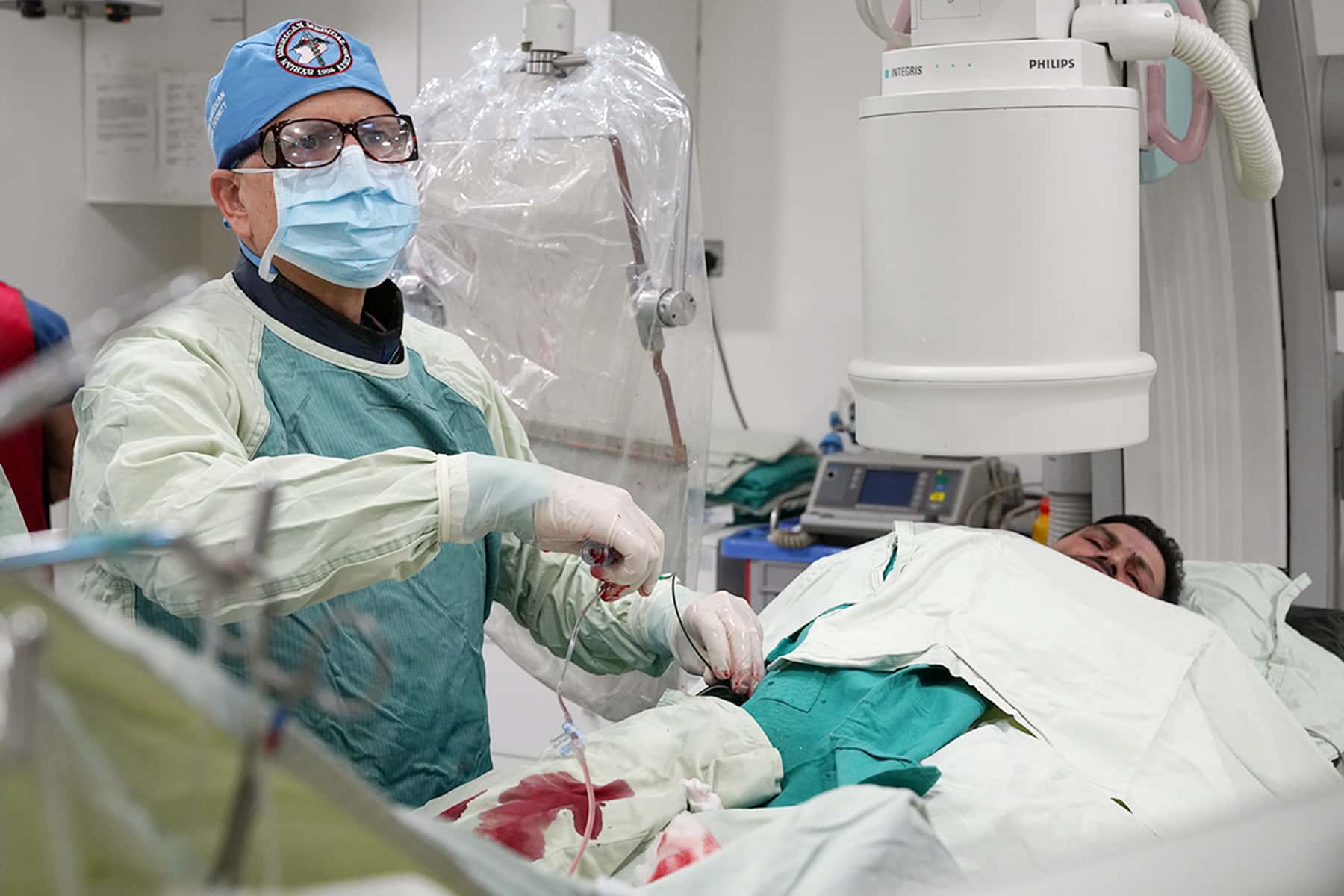 The Syrian American Medical Society (SAMS) began its November Medical Mission to Lebanon with stops in Tripoli, the Beka'a Valley, and at Rafik Hariri University Hospital in Beirut.
For this trip, 10 volunteers from Lebanon and 15 from the United States were able to provide pulmonary, cardio, psychosocial, and other vital health services to 983 patients. Hundreds of the beneficiaries were children, including cornea transplants for two patients. This was also the first time that SAMS was able to include speech therapist services, to work with patients who received hearing aids during the SAMS mission in October.
Over one million Syrian refugees are currently registered in Lebanon. SAMS operates multiple medical relief programs in the Beka'a Valley, Tripoli, Beirut, Akkar, and Arsal, ranging from primary care and reproductive health to mental health and dialysis. SAMS medical relief programs focus on vulnerable individuals, providing free and quality care.
"I've seen serious medical issues, which were ignored because there's no means to communicate with any medical facility or to be seen by a doctor," said Dr. Najeeb, a SAMS volunteer from Wisconsin and specialist in internal medicine, pulmonology, intensive care, and sleep medicine. "I've seen many psychological complains, which from the medical point of view are considered minor, but from the point of view of the patient who's been under stress for many years, it's making their life more miserable."
Refugees of all ages in Lebanon often experience new psychological difficulties after experiencing violence in Syria and adapting to life as a refugee in Lebanon. SAMS sponsors a psychosocial care program in Beka'a Valley to assist mothers and support healthy child-rearing practices, treat anxiety and speech disorders in children, and address the psychological wounds of victims of arrest and torture.
"I had the honor to join this mission and to meet these children and help them with their words," said Ibtisam, a psychologist and SAMS volunteer. "As part of our growing Mental Health and Psychosocial Services (MHPSS) work in Lebanon, continuation of these services and care is vital."
Around 55% of the 952,562 Syrian refugees registered in Lebanon are children, and very few have access to psychosocial or mental health support. According to the United Nations High Commissioner for Refugees (UNHCR) the average household income for refugees is $90 per month, and 75% of households borrow money to buy food.
Many of the patients seen in the first two days of the mission had symptoms and complaints that in other circumstances could easily be remedied. But without access to medical care, due either to being prohibitively expensive or difficult to obtain, SAMS was able to provide the services free of charge and have an incredible impact in patient health.
"I've heard so much about these doctors, and wanted to come see them, hoping they could help me," said Fatima, from the city of Homs. "I came because when we were in Syria, a barrel bomb hit our home, and the entire house was destroyed. I spent a whole year sitting on a mattress on the ground, I couldn't get up. I slowly recovered and am able to walk again."
Shadia, also originally from Homs, had a terrible cough for two months. She sought treatment but none of the readies helped. SAMS volunteer doctors found that she had an allergy to gluten and that it was affecting her health. She was given a stricter diet plan and medication for her cough.
"I brought my son who has asthma. Because of the humidity and crowdedness in the tent, his condition keeps deteriorating. He has difficulty breathing," said Sou'ad, also from Homs. "Given my current situation, I can't go outside the camp and rent a house. I can't afford it. I have four children. I'm a widow. I can't pay rent. I borrowed a sewing machine from a tailor. I sew curtains, cushion covers, pillows covers, whatever work comes to me, I do it to support my children. I work 12 hours for 10,000 lira."
Shaymaa was an 11-year-old in the 5th grade who had been living in the camp for 3 years. She came with her family through the mountains and spent a lot of money to make it to Lebanon. Her father stayed behind in Syria because of his illness, and her mother has been raising her and her 4 siblings on her own. Shaymaa came to the clinic with allergy problems, but the SAMS doctor also diagnosed her as malnourished.
"I like to play with my friends at school, and I hope in the future to become a doctor to help people like they are doing for me," said Zina, a young patient found to have sinusitis which blocked her breathing, SAMS volunteer doctors were able to provide her with the appropriate treatment so she can go back to school comfortably.
For Khairiah, she found the volunteer doctors "wonderful" and "benefitted from the treatment she received." The doctors discussed the impacts of her thyroid issues and how to better manage future complications. A consultation service like that might otherwise have cost her money she did not have.
"It was a very good and productive experience. In two days, I screened 55 patients, and I choose 20 cases in urgent need for hospitalization screening," said Dr. Katib, who first volunteered on a SAMS mission to Syria 12 years ago.
A cardiologist from Wisconsin, Dr. Katib felt grateful to be able to continue his support through SAMS. He said there was a huge need to contribute to the health care of the refugees in Lebanon. He was motivated to volunteer when he was able, to alleviate the pain and suffering of people, elevate their quality of life, and improve their health status so that they could better function in society.
SAMS is a nonpolitical, nonprofit global medical relief organization that has been working on the front lines of crisis relief in Syria and neighboring countries. Its mission has been to alleviate suffering and save lives, and it is one of the most active and trusted international NGOs on the ground in Syria. Founded in 1998 as a professional society, SAMS works to provide physicians of Syrian descent with networking, educational, cultural, and professional services.
Many Syrian refugees have common medical complications that the American volunteers often see at home, like asthma, diabetes, blood pressure, and heart and kidney problems. Although many Americans also face lack of medical treatment because they cannot afford it, the biggest difference is that people in Wisconsin have not had their neighborhoods destroyed and community services cut off due to aerial bombing.
"We didn't leave Syria because we wanted to. We didn't leave Syria voluntarily. We had a good life in Syria. But destiny led us to become refugees. The word 'refugee' is very difficult. No one would know that, only those who have experienced it," added Sou'ad. "The word 'refugee' makes you feel like you'll always be a stranger. Not like when you're in your country. I submitted my paperwork to travel somewhere else for my kids' education. My wish is for my children to go to school. For me, education is everything. But here, there's no education. Honestly, education for my children is unavailable here."