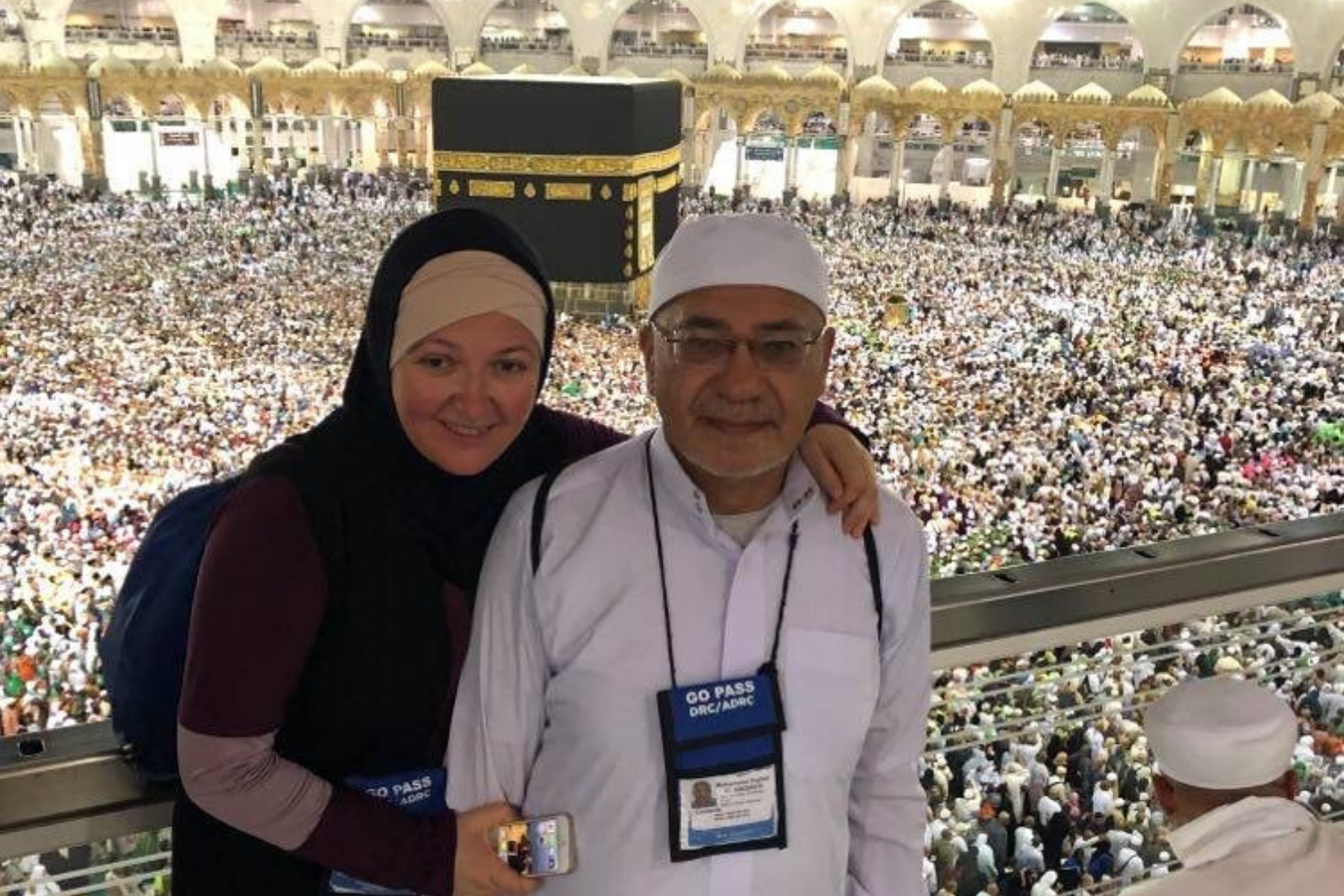 Albana and Mohammed Zagloul on Hajj in 2019
In early March, the Kingdom of Saudi Arabia cancelled Umraa, the optional pilgrimage for Muslims that can be made at any time, due to the COVID-19 pandemic. Travel restrictions prevented anyone from entering the holy cities of Mecca and Medina, whether from overseas or from inside Saudi Arabia. TV screens broadcasted images of the center of the Grand Mosque of Mecca, empty for the first time since almost anyone could remember.
One question was on many minds: What would happen to the Hajj, the once-in-a-lifetime obligatory pilgrimage for all Muslims, to take place this year from July 28 to August 2?
On June 22, Saudi Arabia limited this year's Hajj to only Saudi pilgrims and those from other countries who were already inside the kingdom. Disappointed would-be pilgrims from Wisconsin shared their stories of the 2020 Hajj that almost was.
Starting young
When Amin Phakhruddin's mother went to Hajj, he and his siblings were in high school. She told him about the difficulties of finding the money and the time to go when they had so many obligations.
"Go before you get busy with your lives," his parents told him and his wife, Sakina Schaub. The young couple from Waukesha are 23 and 21 respectively.
"That planted the seed," said Phakhruddin. A full-time internship in the summer and fall before graduating as a software engineer in December 2019 made saving money possible. In 2020, he landed a good position in a large international material handling, logistics automation and software supplier. "We decided we could do it this year," he said.
His parents, Phakhruddin Abdullah and Baya Wchik, also from Waukesha planned to go, too.
Shaykh Noman Hussein's 2019 Hajj group
"Our local imam, Qari Noman Hussein, would be taking a group. That was another piece of the puzzle," he said. They chose to go with Shaykh Noman, set up a payment plan and started putting money down.
As the coronavirus began to spread across the globe in February and March, they started feeling uncertain. "I was talking with my parents and we were thinking it would be better to plan for the following year," he said. That decision became concrete when they received an email Shaykh Noman informing them that only those inside Saudi Arabia could participate.
"My wife and I know we want to go, so we put half the money down this year and we will pay the remaining half next year," Phakhruddin said. His parents also plan to go next year.
"I keep personal notebooks and write a lot," said Phakhruddin. "Looking back at what we had hoped for the year and what we were able to do, I realized that in less than two weeks from now, we would have been leaving to Hajj. "Everything is Allah's plan. We have to accept it and be grateful."
The Breakfast Club
For the past two years, Mohammed Zagloul and his wife Albana of Franklin, Mahmoud Malas and his wife Rima of Menomonee Falls, and Aziz Aleiou and his wife Sandra* of Brookfield have been meeting for breakfast once a month. Conversations have centered on two main topics: retirement and the Hajj.
The Zaglouls went to Hajj in 2019 and shared their stories over pancakes and eggs. They initially planned to go in 2018 and paid the fees. At the last minute, they postponed because Albana's niece was getting married. When 2019 rolled around, they said to each other, "Something will always come up. This year we have to do it." And they did.
"Seeing what happened this year, I'm so glad we did," Albana said.
"Mohammed was always saying he felt guilty to travel when he still hadn't gone to Hajj," Albana explained. "Now he feels free."
The three couples gathered after the Zaglouls' Hajj to congratulate them. Mohammed and Albana brought gifts—prayer beads and rugs, hijabs and holy water from the well of Zamzam. They also enthusiastically shared how much the experience had meant to them.
"I grew up in a Communist country where if you practiced your faith and your neighbor noticed, you could go to jail," said Albana, who grew up in Albania. "We were Muslim, but we didn't really practice. Places of worship – churches and mosques – had been destroyed. After I married, I learned about Islam. I was 27 years old the first time I fasted during Ramadan.
"I heard about the Hajj and saw it on TV. As I learned more about my faith, it was a dream to go. I prepared to go through seminars at Islamic Society of Milwaukee— Brookfield and at ISM on Milwaukee's South Side. I learned all the steps. I wondered if I would go through a transformation? I wondered if it would feel special?
"Seeing the Kaaba for the first time—I can't express what I felt," she said. She saw it from the window of her room, where she stood for 20 minutes, "just making wishes and pouring out my heart."
She remembered family and friends in her prayers and saw other pilgrims' many expressions of love. She saw ISM President Iftekharuddin Khan, "who had just done a whole Umraa for Dr. Ahmad Nasef," a Brookfield physician who has been battling cancer for years. She recalled a woman who made space for her at a prayer.
Albana and Mohammed get together with the new friends from Milwaukee they made on the Hajj. "We get together and share videos, bringing back memories," she said. Their stories also inspired their friends to plan for the Hajj in 2020.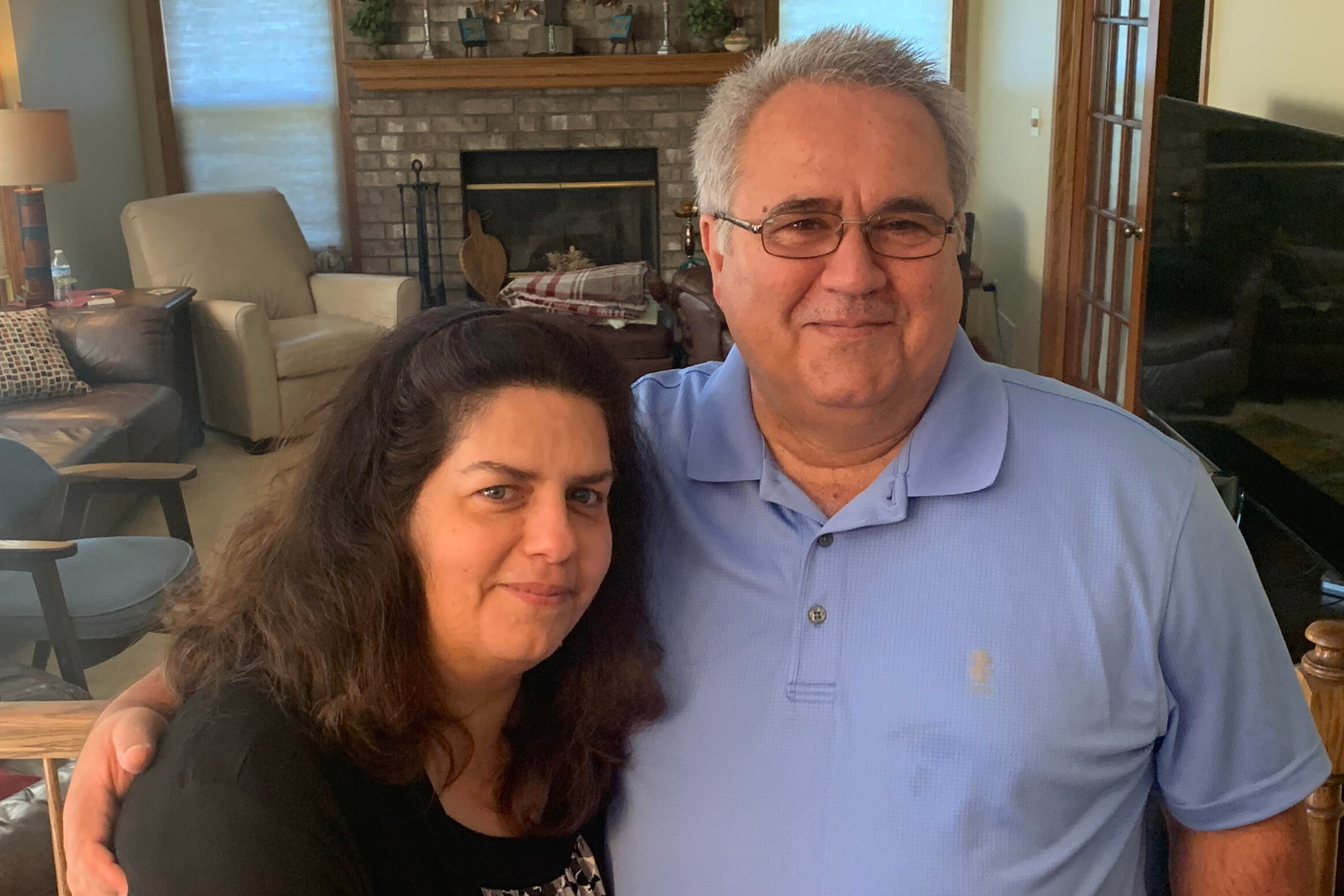 Rima and Mahmoud Malas
When the time is right
"We are talking a lot about Hajj these days," said Rima Malas.  "It's time."
"We were planning and I was seriously working with Abu Ali (Aziz Aleiou) to find the right opportunity," said Mahmoud. "It looked like this would be the year."
"We were thinking of this year or next year," Rima added. "I was concerned about my knee but we were told there is help there and wheelchairs for people who have difficulty walking."
In December and January, the couple started hearing about a mysterious virus in China that was spreading. "I talked with my family and they all thought we should wait," Mahmoud said.
They decided not to go this year and scheduled knee surgery for Rima. "I want to do the Hajj on my own and next year I can," she said.
Looking forward to next year, Mahmoud said, "I'm not disappointed about postponing the Hajj as much as I am saddened by seeing how the coronavirus has affected so many aspects of our lives. Nobody knows but God, but I think there will be another opportunity for us."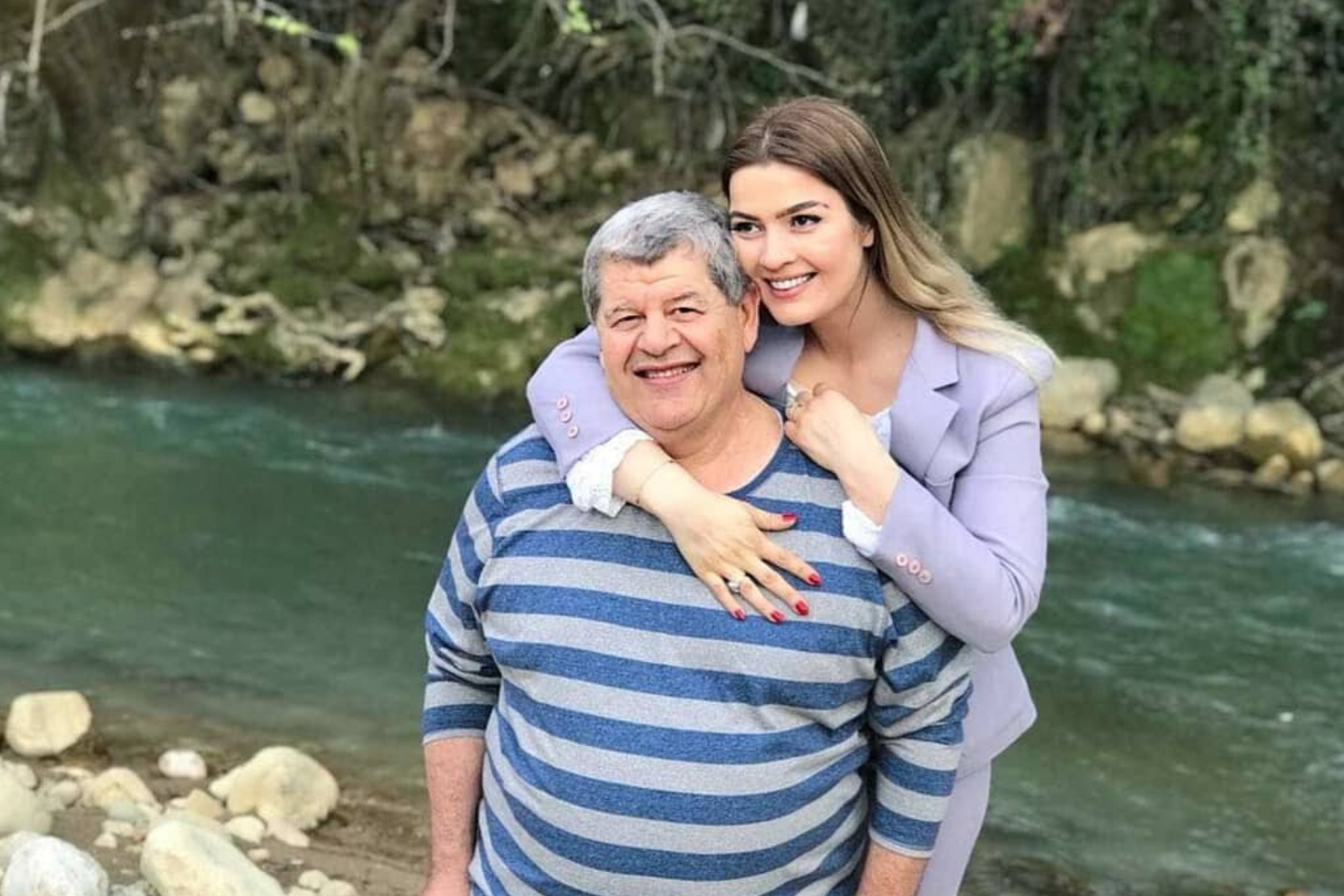 Aziz Aleiou with his daughter, Aisha
Holding out hope till the end
Thinking about the Hajj all his life and actively planning for the past three years, Aziz Aleiou thought he might be the lucky one.
Aleiou and his wife traveled to Saudi Arabia in February to visit their daughter Aisha and her husband Abdulaziz Kabalan. Shortly after they arrived, international travel to and from Saudi Arabia stopped. Their return flights were cancelled until further notice.
They were still in Riyadh on June 22 when Saudi Arabia's Ministry of Health announced the Hajj would take place but would be restricted to "the people of Saudi Arabia and foreigners in Saudi under 65 years old."
Aleiou saw the announcement right after Fajr prayer. He started searching the internet for more information and found that the Hajj would be limited to 10,000 pilgrims (much less than the usual 2.5 million plus pilgrims). Also, strident safety measures would be put in place, such as all workers being tested for coronavirus and social distancing strictly enforced. There would be one hospital solely dedicated to the needs of pilgrims. "It will probably be safer this year than in the next few years," he reasoned.
He read in news releases that 30% of the 10,000 pilgrims would be Saudi nationals and that 70% would be distributed across other foreigners in Saudi. He felt his chances were good.
He tried to apply through the website of the Ministry of Hajj and Umraa, but found he needed a Saudi National ID number or a residency permit number to apply online. Aleiou entered the country on a tourist visa.
He called the ministry, but did not get through to anyone. He sent an email to the United States embassy and requested their assistance. They replied they did not yet have information about this year's Hajj.
Still his hopes were high. "I was getting a lot of encouragement from family and friends," said Aleiou.
Aleiou received a message from his brother in Lebanon who had seen an article in Al Arabia, a Saudi-owend regional newspaper, about the restrictions. "It looks like you qualify," he said.
Mahmoud Malas also called. "Do you think it is really going to happen?" Aleiou asked him. "Believe it," Malas answered.
That evening, Aleiou visited his sister who lives outside Riyadh. A relative there told Aleiou he knew someone who was organizing groups for the Hajj. "Let me call him," he said.
Aleiou's daughter Aisha and her husband said they would like to go with him. "It would be a dream come true to do the Hajj with them," he said. He sent the tour company copies of their passports and IDs.
Everything seemed to be falling into place.
Aleiou waited, scanning the news daily. Then, on July 6, an update on the criteria in the Saudi Gazette brought bad news. It specified that "only expatriates (foreigners living in Saudi Arabia with residency permits) between the ages of 20 and 50 who are not suffering from any chronic diseases need to apply." They must not have performed Hajj before and they will maintain a 14-day mandatory quarantine before and after the Hajj.
It seemed that this news would dash Aleiou's hopes, but he still checks his email to see if, by some miracle, he might be invited to participate.
"I have one more day tomorrow before the self-quarantine for the Hajj starts," he said.
*Sandra Whitehead, the writer, is the wife of Aziz Aleiou