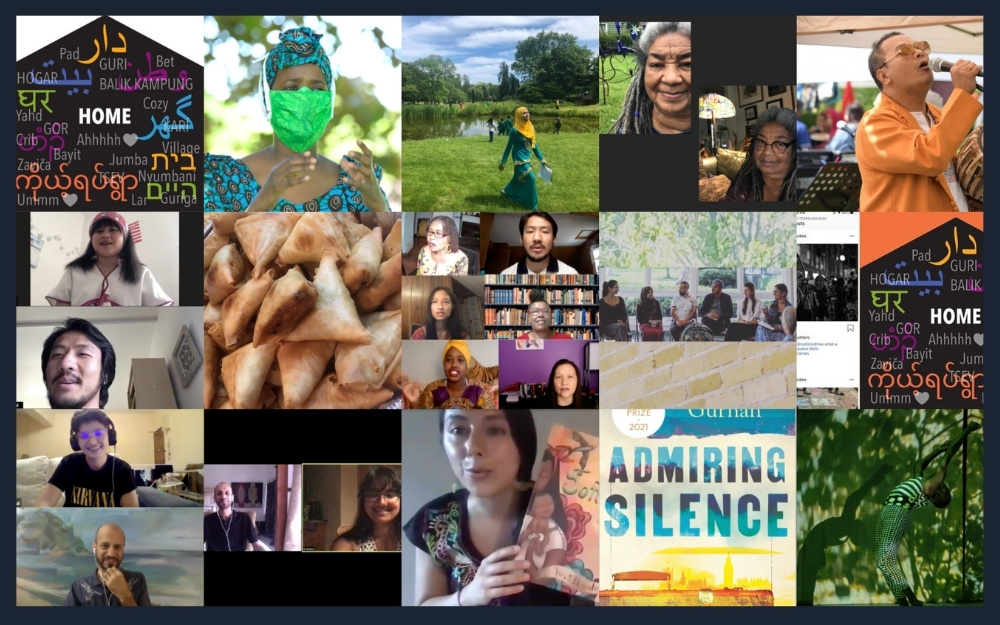 The HOME program at Lynden Sculpture Garden in River Hills hosts online conversations with and about refugees. Participants discuss the problems refugees  face and potential solutions.
News reports of the U.S. evacuation of Kabul, Afghanistan, in August after the Taliban's take-over included videos and photos of Afghans rushing on the tarmac, where hundreds of children were separated from their parents and people who had clung to the planes fell to their deaths. The horrible scene was a vivid reminder of the crisis of forced displacement.
The United Nations High Commissioner for Refugees reports that by mid-2021 global displacement of people fleeing their homes as a result of persecution, conflict, violence and human rights violations had surpassed 84 million and is still rising. Since January 2021, as the violence in Afghanistan intensified, more than 667,900 Afghans have been forcibly displaced. They joined the nearly 6 million Afghans already driven out by decades of violence and poverty.
Forced displacement causes a variety of problems. Where will the refugees live? How will they eat, work, educate their children, learn new languages?
HOME hosts conversations that aim to analyze the situation and develop solutions. The 2022 program series, hosted by Lynden Sculpture Garden, 2145 W. Brown Deer Rd., River Hills, brings together refugee community leaders, their allies, artists and interested members of the Greater Milwaukee community to solve problems of forced displacement.
"Issues can be potentially resolved when people come together and brainstorm, and bring their ideas and skills to the table," said Lynden Sculpture Garden community engagement specialist Kim Khaira, who coordinates the HOME program. "We saw that we could further the conversation by looking at the wider context and also deeper into the local context. What does displacement mean here in Milwaukee?" 
HOME's 2022 conversations tackle refugees' problems
HOME Conversations is part of the HOME program that includes panels, small group discussions and workshops at the intersection of nature, art and culture in collaboration with refugee and immigrant communities. The annual program culminates in live, outdoor events around World Refugee Day, June 20.
"With every series we put on, representation is vital to the way the program is run," Khaira said. "Our intention is to step back and to allow people to speak about their own community and about their own work." That happens in panel discussions.
Following each panel discussion, a small group conversation is held that aims to be action-oriented and solve problems on the ground, she said. It provides an opportunity for participants to learn how they can get involved in local efforts to aid refugee families and communities as they resettle among us.
The intensifying last year of the decades-long crisis in Afghanistan "pressed us to look at it," Khaira said. A panel discussion was held Jan. 15. "We wanted to cover the issue in a way that represented Afghan artists and Afghan activists themselves. We are privileged to have had quite prominent speakers, including internationally recognized women's advocate Maryam Durani, who resettled in Milwaukee during the crisis."
The line-up for the Jan. 15 panel on the Afghan Refugee Crisis included:
Maryam Durani

, an Afghan activist, elected official and an internationally recognized advocate for the rights of Afghan women and girls. In 2021, she fled Afghanistan and resettled to the United States with her family. She now lives in Milwaukee, Wisconsin.

Omaid Sharifi

is a curator, artivist, president of

ArtLords

and Wartists, and a Harvard University Fellow. Sharifi is also a Millennium Leadership Fellow with Atlantic Council, Asia Society 21 and American Foreign Relations Council/Rumsfeld Fellow. He also recently fled Afghanistan.

Khalid Naseri came to the United States in 2017 through the Special Immigrant Visas for Afghans program. He works in Madison as a Dar and Pashto interpreter with Jewish Social Services and Dane County. He also volunteers with the Madison Refugee Union.

Sheila Badwan is the cofounder of Open Arms, an interfaith group of women in Milwaukee, and is the lead for the Hanan Refugee Relief Group's Milwaukee chapter.

Paul Vang, civic engagement director at the Hmong American Women's Association and a member of the HOME Refugee Steering Committee, served as moderator.
Community members who attended the panel discussion are invited to participate in the small group, solutions-oriented discussion on Saturday, Feb. 19.
Future HOME conversations about forcibly displaced people (panel and small group) will take place on the following Saturdays from 11 a.m. – 12:30 p.m.: 
March 19 and April 16
May 21 and June 18
Registration is free but advance registration is required. Click here to register.
Bringing in the artist's perspective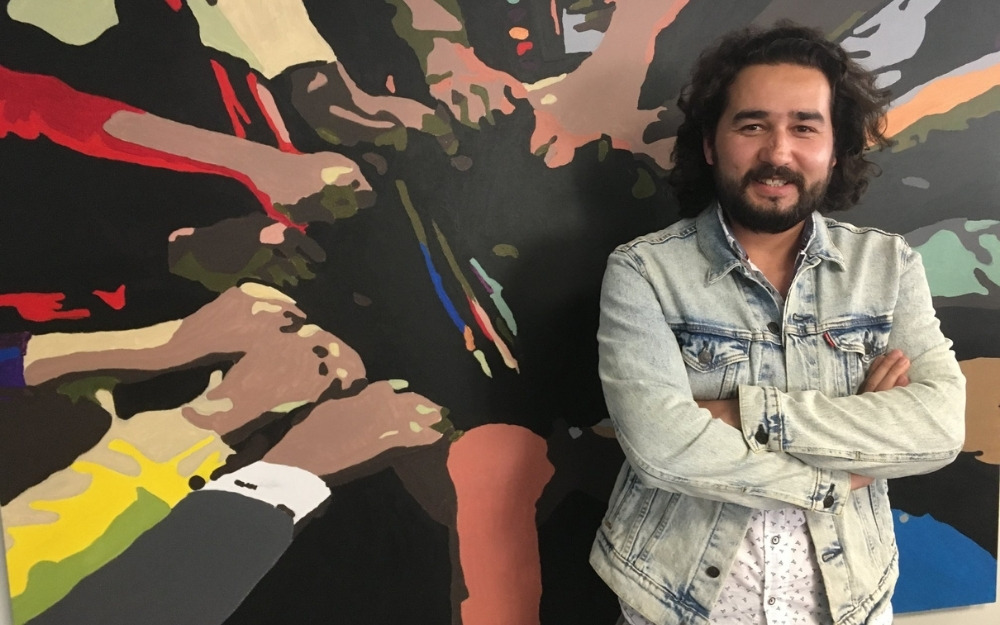 Omaid Sharifi is an art activist, curator, and president of ArtLords and Wartists.
An essential ingredient in all HOME conversations is the artist's perspective, Khaira said. "Art goes beyond aesthetics. Artists respond to what is happening in society.
"Art challenges and talks about these hard topics, usually in a nuanced and contextual way, but sometimes also quite directly.
"If you look at Omaid Sharifi and the ArtLords, they approach the Afghan situation in terms of soft power to address these issues that Afghans are facing every day."
Tackling key issues of the day
HOME began in fall 2020 with conversations about displacement and the arts. They included artists, activists and scholars. 
In 2021, HOME conversations focused on "the topic of the day: Black Lives Matter," Khaira said. Those conversations are available on the HOME platform. That year the small group discussions were added because participants wanted to do more than understand the issue; they wanted to take action, Khaira said.
The opportunity to engage in HOME conversations is unique because of the community we are able to bring together, she added. "Lynden already had a history of working with a diverse group of artists and people. Having the element of HOME enhances that through the connection we have with local and global communities."
To receive updates on HOME programs at the Lynden Sculpture Garden, sign up for the newsletter.