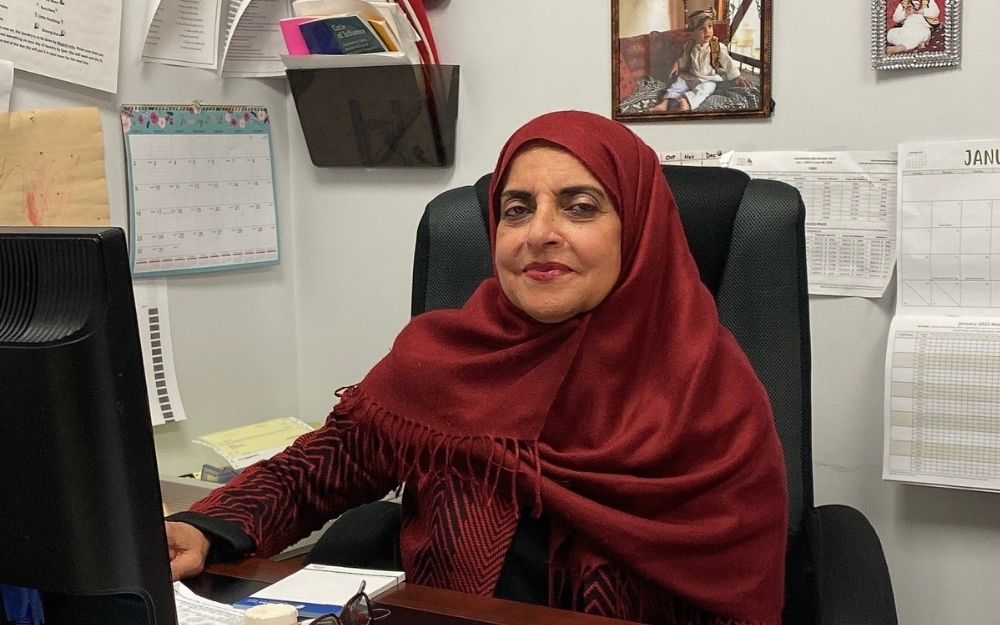 Rafat Arain, founder and director of Crescent Learning Center in Milwaukee
Enter Crescent Learning Center, 801 W. Layton Ave., Milwaukee, and you'll see a Qur'an prominently displayed in the foyer. Women wearing hijabs circulate. High ceilings, large rooms and natural light from skylights and windows, along with walls of turquoise, orange, blue, pink and green, give the center a cheery atmosphere. 
"As soon as you enter, you will know this is a Muslim daycare," said Rafat Arain, founder and director of Wisconsin's first Islamic childcare center and the only one officially registered as Muslim childcare in Wisconsin. It serves a variety of Milwaukee refugee communities, Muslim families and others seeking quality care in a multicultural environment.
Crescent Learning Center marked its 10th year in 2021. It also recently earned a four-out-of-five-star rating from the Wisconsin Department of Children and Families. In an interview Thursday with the Wisconsin Muslim Journal, Arain shared the 25-year story of this unique childcare center, which originated as a way to serve refugees resettled in Milwaukee.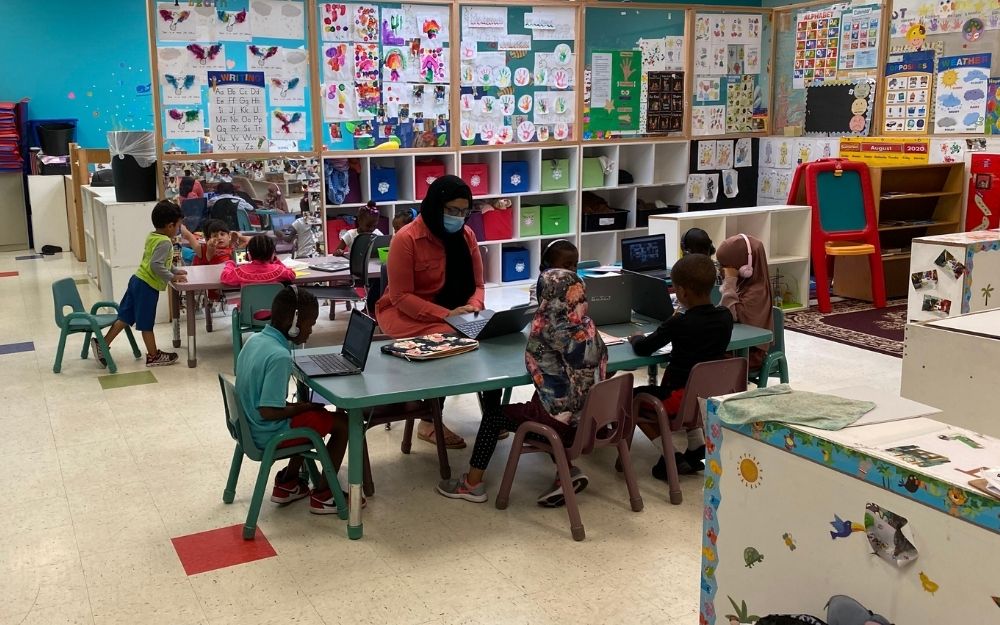 High ceilings, large rooms, lots of natural light and colorful walls give Crescent
Learning Center a cheery atmosphere.
Inside Wisconsin's first Muslim childcare center
Crescent Learning Center is in the heart of Milwaukee's Muslim community, near the Islamic Society of Milwaukee, Salam School and many Muslim-owned businesses on Milwaukee's Southside. 
The 7,500-square-foot center is licensed to provide care for up to 114 children (94 during the day and 20 in evening hours), ages 6 weeks to 14 years old, from 6 a.m. to 11 p.m. Currently 80 children and babies are enrolled, down a bit since the pandemic began, Arain said. Also, evening hours have been shortened to 8 p.m.
Its location is attractive to Milwaukee's ethnically diverse Muslim community, including students from the Salam School who need after-school care and refugees from a variety of ethnicities who have resettled in the area. About 80% of Crescent's students are refugees, she said.
"Being next to Salam School is a plus, especially for refugee children who don't know English well," Arain said. "They can come here where we have teachers qualified as afterschool teachers who can help them with their homework."
Its diverse staff includes Palestinians, Egyptians, Indians, Pakistanis, Moroccans, Burmese, Somalis, Rohingya and African Americans, including teachers who can support students who speak Arabic, Somali, Burmese, Urdu and French, in addition to English. 
The 20-person staff is made up of a lead and assistant teacher for each of five classrooms, a driver, a cook and people in food production, a dishwasher, cleaning staff, an assistant administrator and a newsletter editor. Evening staff is different from day-time staff.
Crescent Learning Center participates in the rigorous voluntary Wisconsin Department of Children and Families' YoungStar quality rating program, which includes monitoring and inspections that measure providers' education and training, the learning environment and curriculum, the program's professional and business practices, and how the program impacts children's health and wellbeing. Crescent's four-star rating indicates "an elevated level of care."
"My goal is for us to be a five-star center," Arain said.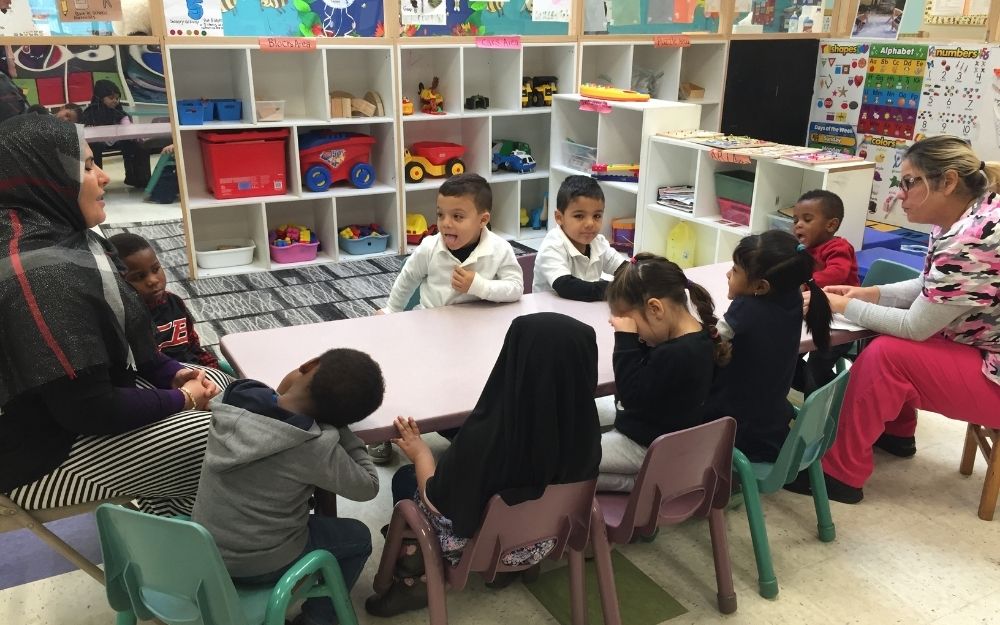 What it means to be an Islamic daycare
In its licensing application, Crescent Learning Center explained what it means to be an Islamic daycare:
"As a Muslim-oriented childcare facility, we give witness to the belief in the presence of God in our support of moral and spiritual principles of living. We have concern for the development of the child as a whole person. Therefore, the needs and capacities considered for growth as integrated persons include the physical, social, spiritual, cultural and cognitive. Based on these principles, all who come in contact with the center are to be treated and ministered to with fairness, dignity and respect."
What does that look like on the ground? "We teach Qur'an and use Islamic practices," Arain said. "The food is 100% halal. We pray before we eat, making our dua, saying, 'Bismillah' (In the name of God, the Most Gracious, the Most Merciful.)
"When teachers are putting infants to sleep, they recite Qur'an. Once children can start eating by themselves, around 18 months, we teach them to say bismillah. We play Islamic songs.
"We explain this to the parents and we tell them what the prayers say."
Pre-school students begin Qur'an classes. The Qur'an teacher will teach the Muslim students surahs while non-Muslims have other activities. However, some non-Muslim students (with their parents' consent) choose to participate in Qur'an lessons and even Muslim prayer, she said.
Recently, a woman called to make an appointment to bring her children to the center. Arain took her name and had everything ready for her to come. Then she didn't come. 
"I called to ask what happened," Arain said. "She said, 'I looked you up and saw you are a Muslim daycare so I did not come.' That was the first time in all these years that someone didn't come because it was a Muslim daycare."
A heart for service
Crescent Learning Center owner and director Rafat Arain, with her broad smile and contagious laugh, is a well-known leader in Milwaukee's Muslim community. She has served more than 20 years on the shura, the leading board, of the Islamic Society of Milwaukee, at 8th and Layton, Wisconsin's largest Muslim organization. She served on the ISM's task force that pursued the development of the Masjid al Noor, ISM-West, in Brookfield. She has served on the shura of the Dawah Center, 5135 N. Teutonia, Milwaukee, since the 1990s, and is a longtime member of the shura at Masjid Al Quran, 11723 W. Brown Deer Rd., Milwaukee.
Arain has also worked for years with Catholic Services and Lutheran Social Services to support refugees. She is an active participant in Milwaukee's interfaith community and is known for her devoted work to help refugees, the poor and underserved.
She and her family have been serving new refugees to Milwaukee since the Bosnia War (1992-1995) and its horrific ethnic cleansing. A Bosnian family lived with them in 1993 for nine months. 
Then, after 9/11, a wave of Afghans came in. Arain engaged in ISM efforts to serve them. She and her family had an Afghan family, a single mother with eight children, living with them for a short time. "That was a good time. My kids were all at home and they were helping with that," she remembered.
Next Somalis came. As an ISM volunteer, she donated dried food goods and spent her Saturdays distributing food essentials to single mothers in the Somali community. "People don't know the ISM has done that for years," she remarked. As ISM social chair, she also helped organize picnics and social activities for the Somalis. As Arain got to know Somali families, she also helped them navigate school issues and even became a guardian for several children. 
She took her own children and some of their friends to help some Afghan and Somali children with their math homework. "By the grace of God, my kids went to good schools so they could do that," she said. 
Then came Burmese and the exact moment that inspired her to start a childcare center. She delivered food and winter clothing to a household where she met a 9-year-old boy. His mother wasn't home. 
"He was in second grade in public school," she recalled. "He had been in America and going to school here for nine months. So, I asked, 'What's your mom's phone number?'  He could not tell me his mom's phone number in English. For 9 months, a 9-year-old was going to school and he did not know 1, 2, 3. That triggered the whole thing. 
"It was in 2007. I thought to myself, this is not going to do; this is how those kids will end up in gangs. They are the back bench. If they are going to be the back benches in schools, this is what is going to happen to them. 
"Their parents don't speak English and can't stand up for them. A 9 year old should pick up things fast. Obviously, he was not being given the attention he needed. How much can the teachers in public schools do in this situation? Then it came to me—I should start a school."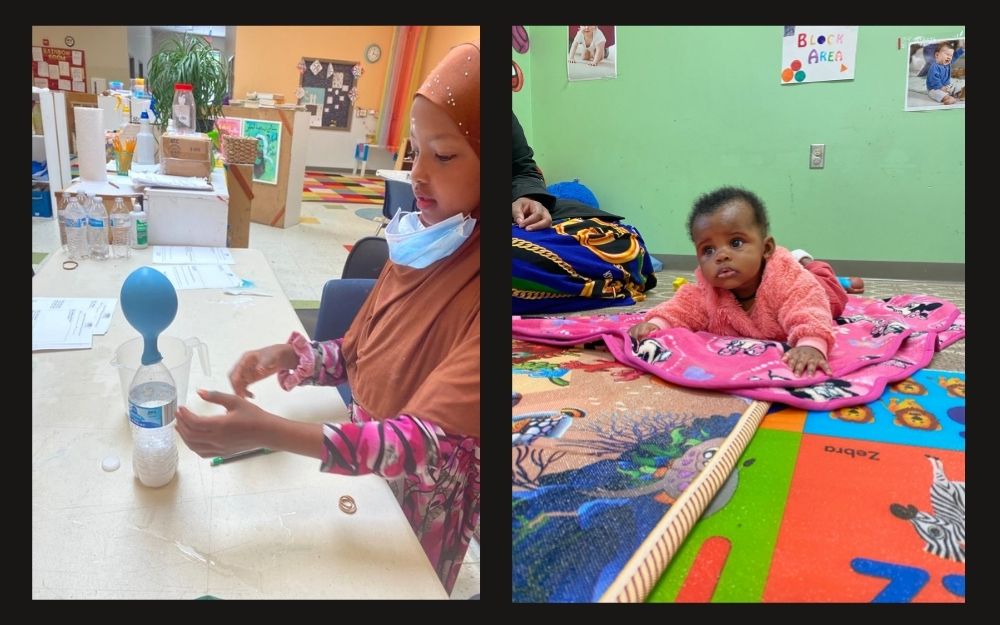 Opening Wisconsin's first Muslim daycare
From that moment of decision until she was able to open Crescent Learning Center on July 5, 2011, took about four years. 
"I had absolutely no experience in child care," Arain admitted. "My own kids had never been in child care." In 2007, she took courses in early childhood education and childcare, and did research on her own.
"It took me a long time to get my license. There are a lot of steps. You have to find a place and get it approved. We found a place in a church basement that was already set up as a daycare and they were renting it out."
She found a partner in a Somali woman who was working with Catholic Charities, a single mother with six children. They had worked together serving refugees. "She used to go with me to give packages to Somali families because I didn't speak Somali. She was able to talk to the families.
The two women decided to start the daycare on Milwaukee's Northside together. They opened in 2011 in a church basement at 8057 W. Appleton. When the warehouse became available near 8th and Layton, Arain moved to the new location by herself in December 2012.
Giving credit
"Now that I am telling you all this, I am thinking oh my God, I did all of this?" Arain exclaimed. "Al hamdulilah, Allah has chosen me to do all of this and I am blessed. I am blessed that I was in a position where I could do it. Not everybody has the time and facilities to do it. I am blessed I had all of that. This has been the work of the past 25 years of my life. 
"When I am wondering how I did this with my own four children and a house, I realize I did it all with my husband's cooperation and support. My husband, Dr. Rizwanuallah Arain, was a very busy physician, a neurologist, going to multiple hospitals. He found the way to help me both physically and financially.
"And our children participated every step of the way."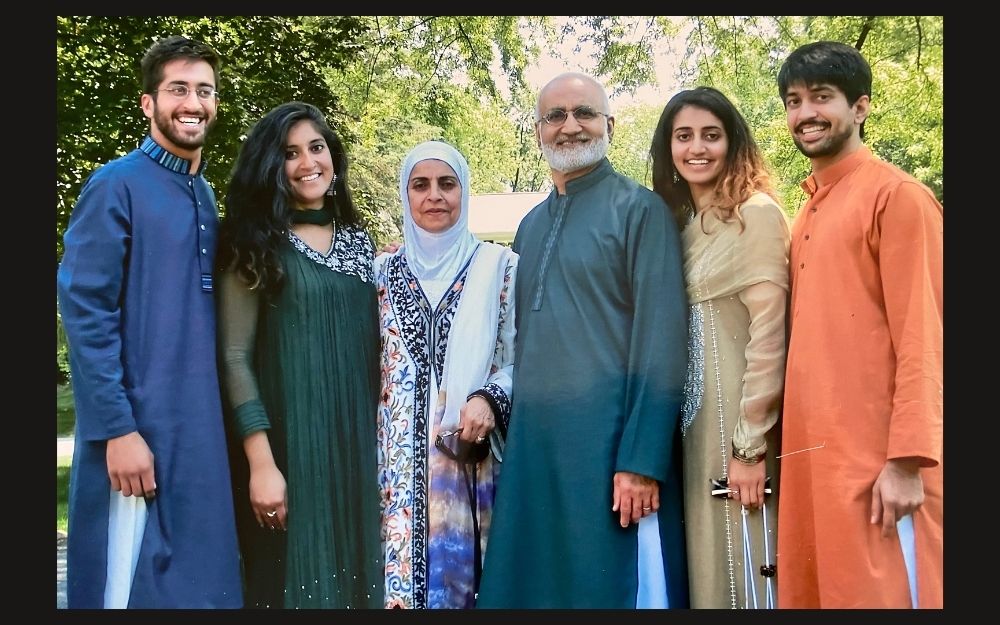 Rafat Arain (center) credits her family for supporting her work. (From left to right: Zaki, Fatima, Sr. Rafat,
Dr. Rizwanullah Arain, Maryam and Omar.