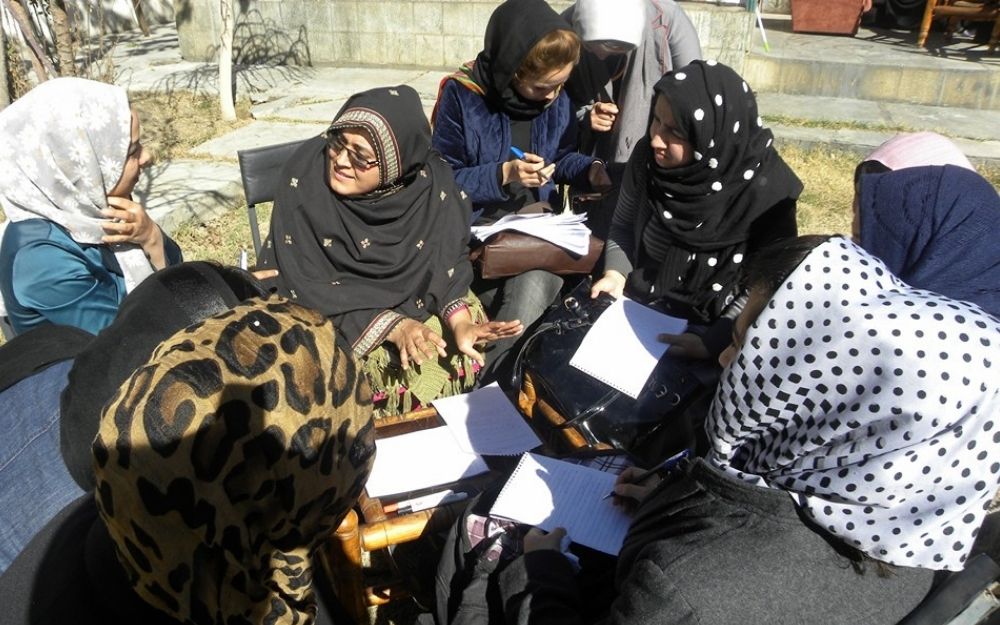 Women's rights activist Maryam Durani leading a workshop on gender equality with young women in Kabul, Afghanistan, in 2014.
Among the Afghan evacuees relocated to Wisconsin after the fall of Afghanistan to the Taliban in August is acclaimed women's rights activist Maryam Durani.
Time Magazine named Durani one of The World's 100 Most Influential People in its 2012 list. "As the owner and operator of a radio station that focuses on women's issues and as a member of the Kandahar Provincial Council, Durani stands up for the region's women with remarkable bravery. She is, inevitably, a target for the Taliban," Time Magazine stated.
That same year,  the U.S. State Department gave Durani the International Women of Courage Award, which recognizes "exceptional courage and leadership in advocating for peace, justice, human rights, gender equality and women's empowerment, often at great personal risk and sacrifice." 
Durani received her award from first lady Michelle Obama and Secretary of State Hillary Clinton in a ceremony in Washington, D.C. "Kandahar Province, where Maryam lives, is one of the most dangerous – but that has not stopped her from speaking out for women's rights from her seat on the provincial council," Clinton said. "She is with us today having survived several attempts on her life. Yet, she pushes forward undeterred."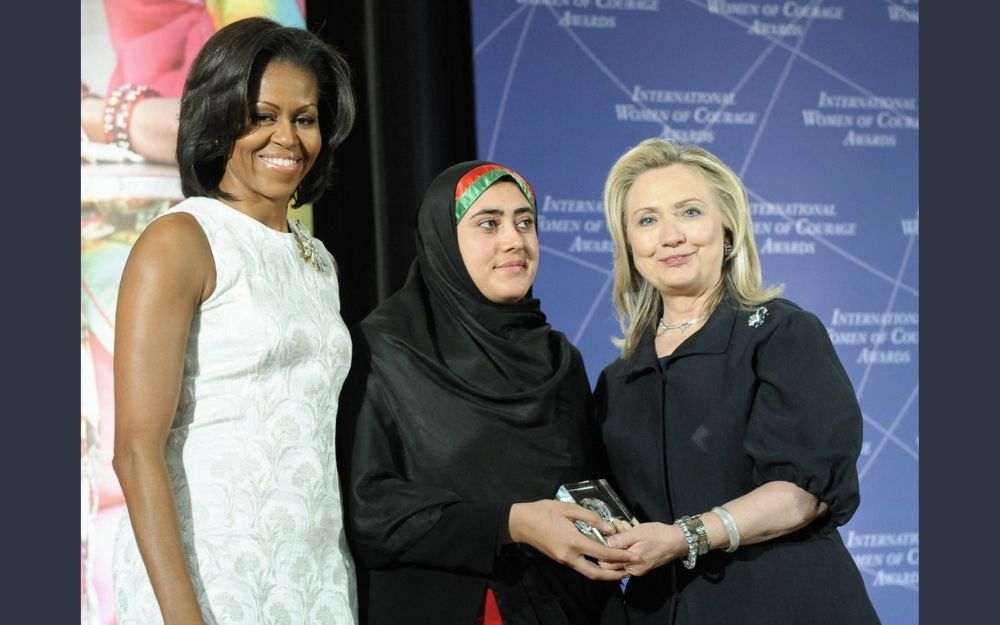 Maryam Durani, center, received the U.S. State Department's International Women of Courage Award at a ceremony in Washington, D.C., in 2012. Left: First Lady Michelle Obama.  Right: Secretary of State Hillary Clinton.
The New York Times took note when Durani opened Kandahar's first health club for women in 2019. It called her "an indomitable women's rights advocate who has survived two suicide bombings, an assassination attempt and countless death threats — not to mention harsh public condemnation for opening the club."
Milwaukee's TMJ4 News celebrated Durani recently in its "Women Who Inspire" series for Women's History Month.
Every year on March 8, people around the world celebrate International Women's Day to acknowledge the accomplishments of women and call for women's rights, defined by Amnesty International as  "the right to live free from violence and discrimination; to enjoy the highest attainable standard of physical and mental health; to be educated; to own property; to vote; and to earn an equal wage."
To mark IWD 2022, Wisconsin Muslim Journal shares this story about Milwaukee's newest and most famous women's rights activist. In an interview last week, we sat down with 37-year-old Durani to learn what makes this brave advocate for women tick.
Working for women's rights in Afghanistan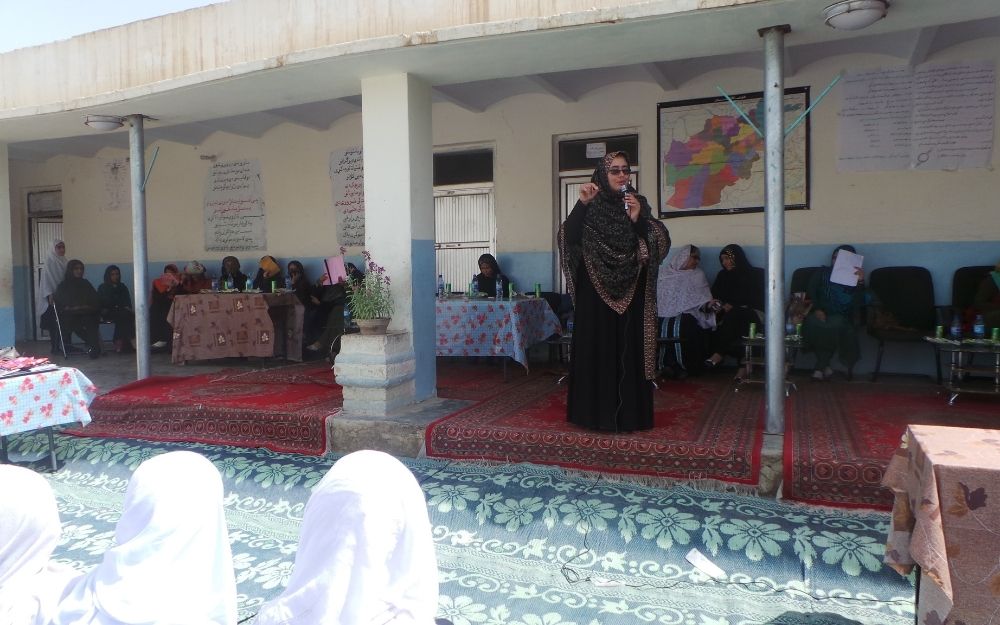 Maryam Durani spoke on opening day 2016 at a high school in Kandahar, Afghanistan, about the importance of education for girls.
When the Taliban ruled Afghanistan from 1996 until the U.S.-led invasion in 2001, they forbid most women from working, banned girls from education, restricted access to healthcare, required women to wear the burqa and imposed social restrictions such as prohibiting women from appearing in public spaces without a chaperone, which the Brookings Institution called, "de facto sentencing widows and their children to starvation." 
After the U.S. invasion, women's situations in Afghanistan changed dramatically. "The post-Taliban constitution in 2004 gave Afghan women all kinds of rights, and the post-Taliban political dispensation brought social and economic growth that significantly improved their socio-economic condition, including access to health care, education and jobs," according to Brookings. Even women's life expectancy grew from 56 years in 2001 to 66 in 2017.
Durani started her work in 2004, shortly after moving to her family's homeland. She was born and grew up in Iran. 
"I came to Afghanistan for the first time when I was 18," she said. "I saw the women in Afghanistan had problems and those from outside Afghanistan who were coming had other problems. I decided to make a group to work on them and find solutions, and change people's minds about the role of women in society. That's how my NGO started."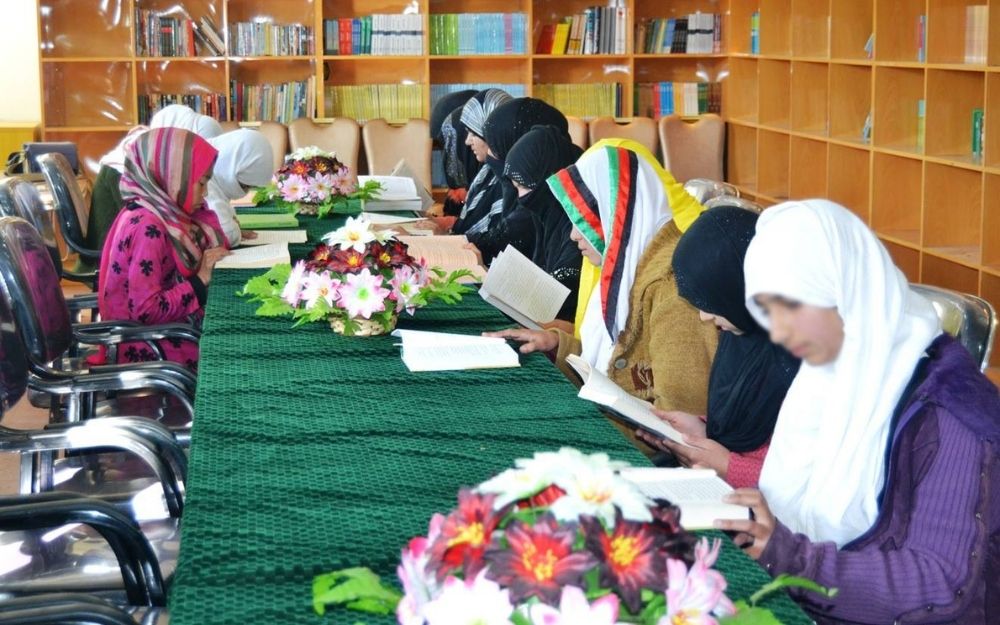 Young women and girls read in the library at Khadija Kubra Women's Association, a non-profit that aimed to improve the condition of Afghan women, founded by Maryam Durani.
She created the non-profit Khadija Kubra Women's Association to improve conditions for women in the Kandahar province. Among its initiatives were:
A lending library with about 4,000 books, many which Durani had purchased herself;

Kandahar Women's Network, an advocacy platform launched in 2013, supporting women's empowerment;

Afghanistan's first internet café, opened in 2013 to create a safe place for women and girls to find educational material and information about current affairs;

Institute of Modern Studies, which provided more than 600 women with education in business management, information technology, English and communication skills;

Kandahar's first health club for women, opened in 2019.
She launched Merman Radio in 2010 to bring women's voices to the forefront in exploring "sensitive issues of gender, human rights, good governance and rule of law, in addition to addressing economic and social issues," she said.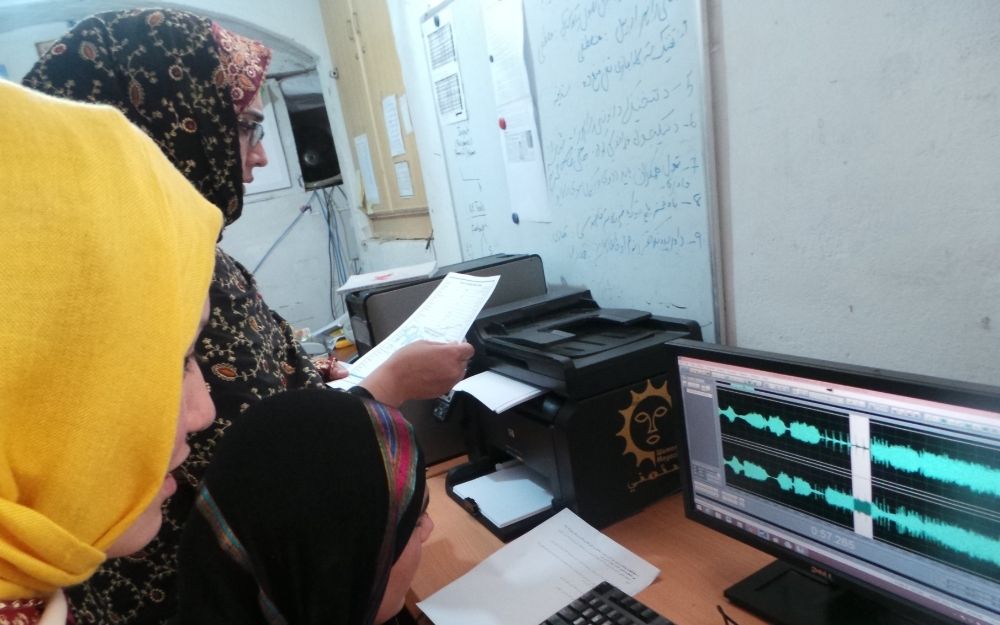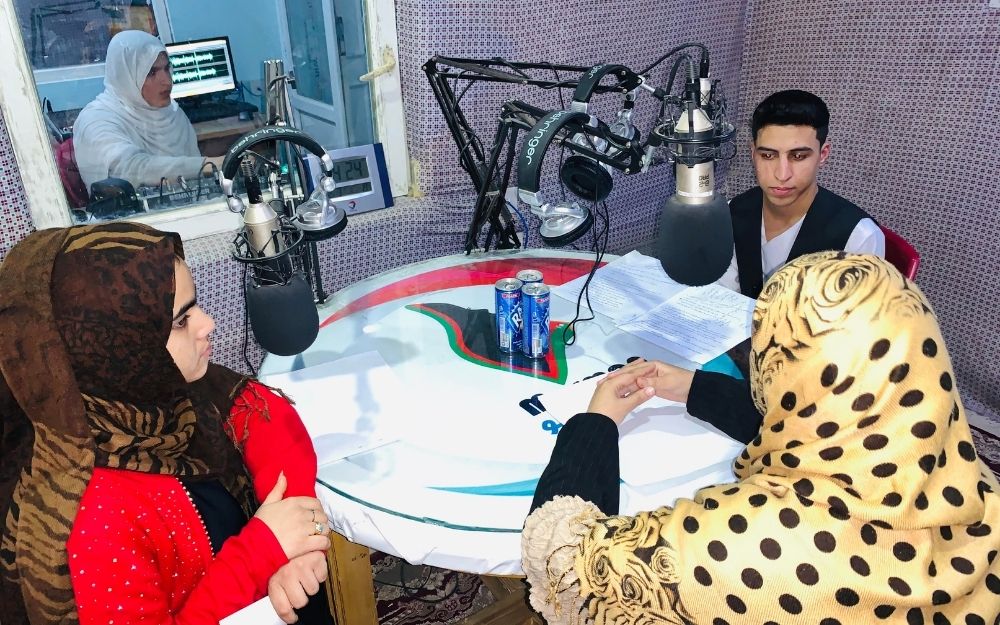 Maryam Durani launched Merman Radio in 2010 to amplify women's voices in Afghanistan.
Durani was first elected to the Kandahar Provincial Council in 2005 at the age of 21 and re-elected in 2009. In that role, she spoke up for the concerns of women in the conservative, male-dominated culture of the region.
On the Khadija Kubra Women's Association's Facebook page, it notes: "Ms. Durani understands and accepts the risks to herself and her immediate and extended family of being a visible, young woman in such powerful and meaningful roles." 
The Khadija Kubra Women's Association had 135 employees when Durani and her family fled Afghanistan in the fall of 2021.
Leaving it all behind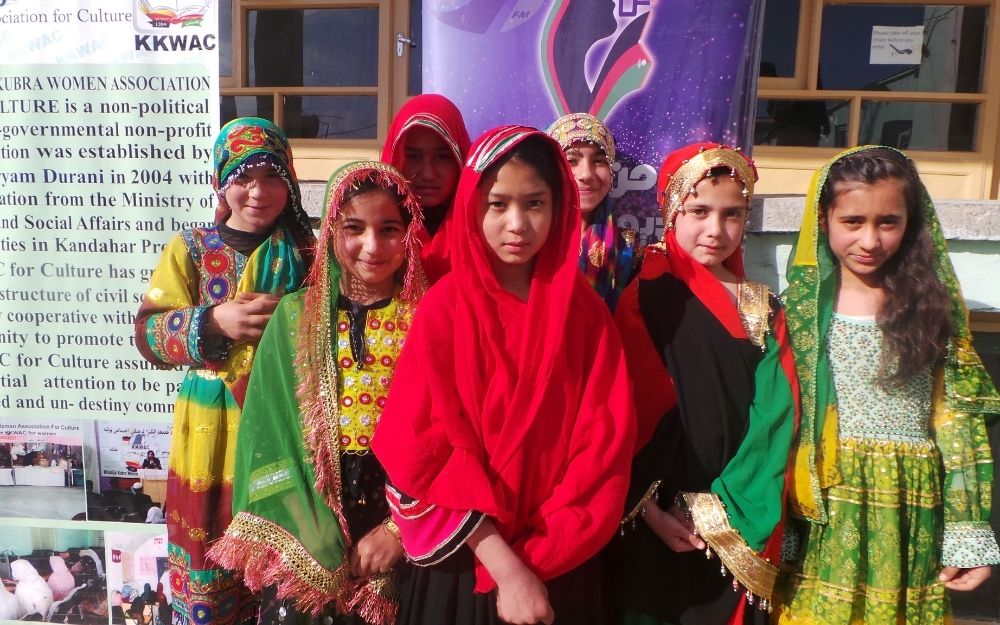 A group of young girls sang and recited poetry for Merman Radio's fourth anniversary celebration in 2014.
Durani and her family made a harrowing escape from Afghanistan. Her father fell ill and she took him in July from their home in Kandahar to a hospital in Kabul, the capital city. Fifteen days later, Kandahar fell, she said.
In Kabul, Durani tended to her father while trying to make arrangements to get her family out of Afghanistan. She received WhatsApp messages from friends and international organizations warning her to be careful. They stayed at home, in hiding, for about two weeks.
"The day Kabul fell was a very bad day. An international organization was calling me to say, 'Where are you? You need to go home fast because the government may fall any minute.'"
On the streets, it was chaos, Durani said. Students from colleges and universities all poured into the streets. People rushed. Men carried guns but weren't wearing uniforms. No one knew if the men were from the government or the Taliban. 
"I couldn't find the car and make my way back home for more than an hour," she said. "Everyone was worried. My brothers finally found an ambulance to bring my father home after three or four hours."
Durani told the Journal Sentinel U.S. friends helped them get on a list and they took a military flight to Qatar. After several delays, they finally boarded a flight to Virginia. They were later relocated to Fort McCoy, a U.S. army base between Sparta and Tomah, Wisconsin.
Durani, her father, two brothers and their families were relocated to Milwaukee in November. They live in an apartment building that houses several Afghan families. They study English at Milwaukee Area Technical College. Her brothers attend in person and she takes classes online so she can take care of her father. She hopes to find work.
One door closes and another opens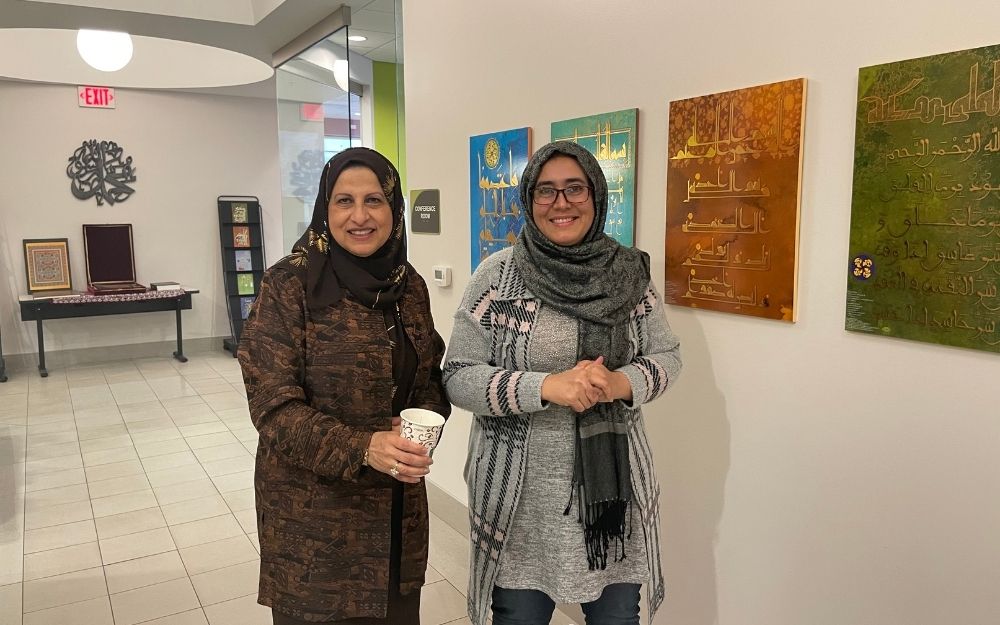 Left to right: Milwaukee Muslim Coalition President Janan Najeeb and women's rights activist Maryam Durani at the Islamic Resource Center in Milwaukee. Durani is finding like-minded women in Milwaukee where she plans to continue her work.
"Now my organization in Afghanistan is closed because most people working with me were women," Durani said. "We had 20% men and 80% women working in the association. The Taliban don't let women work."
Durani communicates with her former employees and other friends in Afghanistan, asking about their lives and what problems they face, she said. Some young women have moved to different cities or gone into hiding, Durani said. They can't leave Afghanistan because they don't have a passport. "The passport office in Afghanistan is closed. Afghanistan is now closed." 
"Now my goals are here," Durani said. When she arrived in Milwaukee, she did not plan to stay. She thought she might move to Virginia, where she had a friend. 
"But after I saw my people, Afghan refugees, coming to Milwaukee, I understood it is better to stay here," Durani said. "They need help with education, finding healthcare, shopping, many different things.
"The most important thing the Afghan refugees need now is kindness. They left everything behind. Here everything is different. They feel dizzy with change. They need to feel another person is there to help. 
"I can speak English. I speak Pashto and Dari, the two most common languages in Afghanistan. I know some things about culture in the U.S., about laws and social rules. I am learning about resources here."
Durani began volunteering as a translator with Hanan Refugee Relief Group and other organizations helping Afghan refugees. She helps translate when they see doctors or go to the hospital, register children in school or go shopping. 
"As more Afghan families come to Milwaukee, they all know me. When they have a problem, they call me," she said. The groups working to help the Afghan refugees also have questions about Afghan culture. "They are calling me, too," she said. 
Beyond assisting Afghan refugees, Durani said she sees that she will be able to continue her work for women in Milwaukee. "Everywhere in the world, women face the same problems – violence, abuse. I have been working on these issues; I believe I can do this work here.
"I had a very hard time leaving my country and starting over in the U.S. but, I am thinking, life cannot stop. It is better to find the way to help other people. When you help other people, you feel better about yourself and your own life."