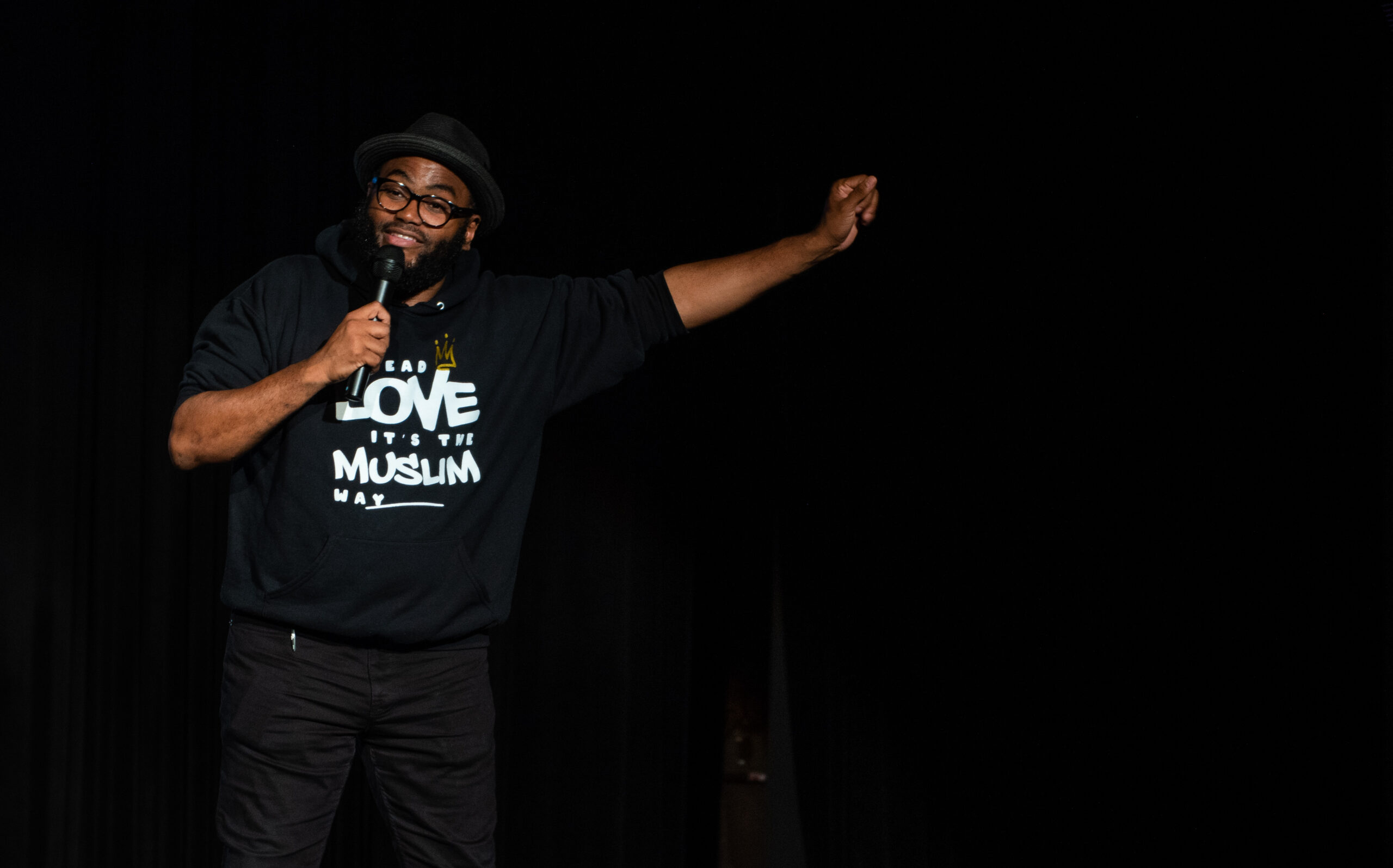 Moses the Comic hosts CAIR's GET OUT THE JOKES Comedy Tour this Saturday at the Marcus Center's Todd Wehr Theater.
CAIR's Get Out the Jokes Comedy Tour brings internationally acclaimed Muslim comics who use humor to subvert Islamophobia and the bigotry of racism, and to encourage civic engagement to Milwaukee Saturday.
Milwaukee's Marcus Center's Todd Wehr Theater is the next stop on the  Council on American Islamic Relations' multi-city comedy tour. The tour is part of CAIR's efforts to increase Muslim voter participation by 200,000 in the upcoming election to reach a total of 1.2 million Muslim American voters, according to a CAIR press release. 
 "Get Out the Jokes" is hosted by renowned comedian Moses the Comic, and features an all-star cast, including Sabeen Sadiq, Atheer Yacoub and Preacher Moss. 
"Exercising our right to vote in America is a serious matter," said Nihad Awad, National Executive Director of CAIR. "But there's certainly no reason why we can't use a little humor to persuade people, especially young voters, to exercise that right." 
Janan Najeeb, founder of the Wisconsin Muslim Civic Alliance and president of the Milwaukee Muslim Women's Coalition, said in an interview today, "I feel strongly about this opportunity to encourage people to vote in an entertaining way. It is important to us not only because of the great work CAIR does as an advocacy group for American Muslims, but also because it features Preacher Moss, a nationally known comedian who lived and worked in Milwaukee, and headlined entertainment at many of our events. 
Saturday night's show will be held at the Todd Wehr Theater, 121 E. State St. Showtime: 8 – 11 p.m. 
Click here to purchase tickets.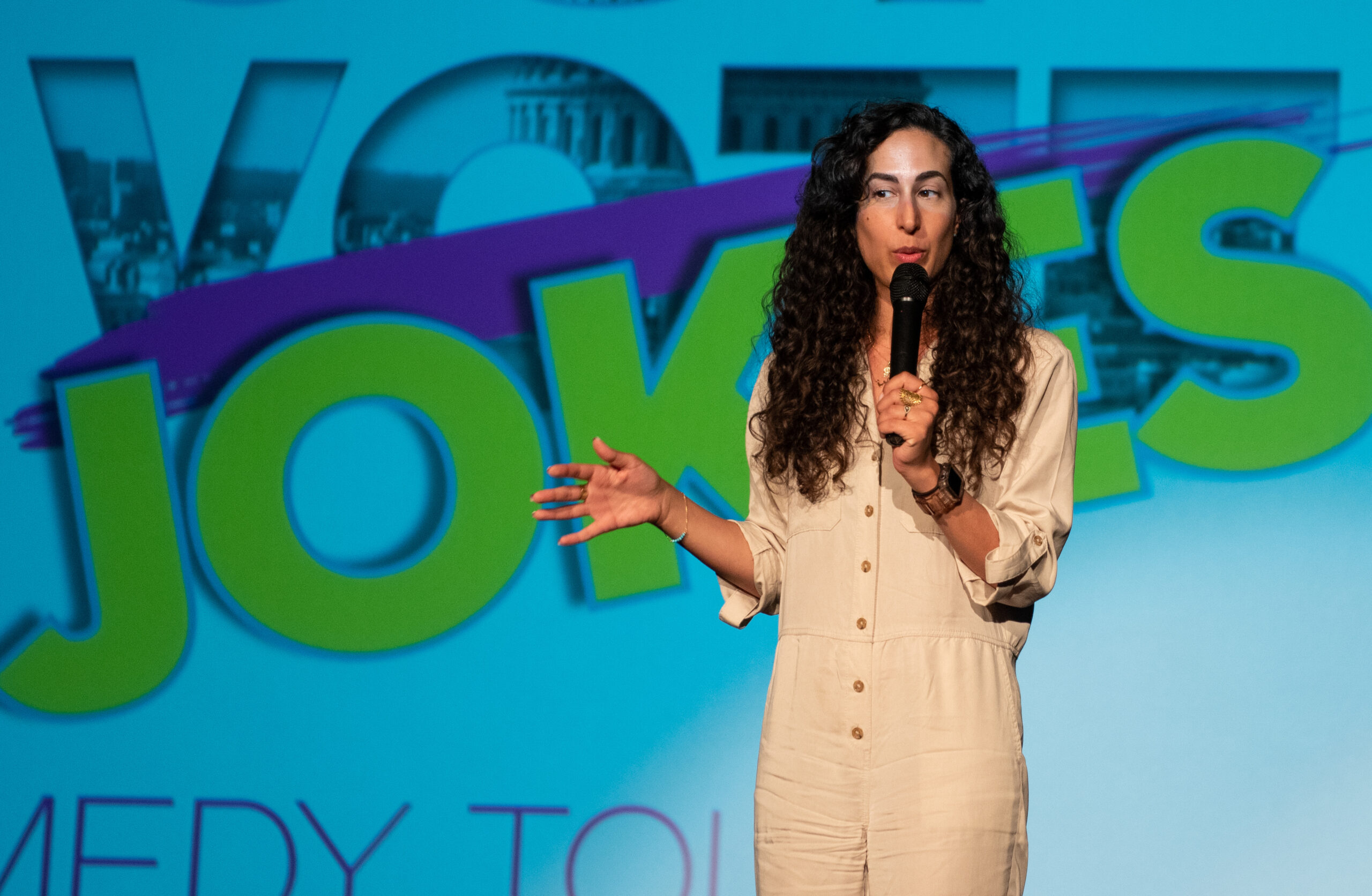 Brooklyn-based comedian and writer Atheer Yacoub says her comedy is inspired by her Palestinian-Muslim upbringing.
WMJ interviews comedy tour host Musa Sulaiman, aka "Moses the Comic"
Musa Sulaiman, an international comedian, writer, producer and actor from Philadelphia, has performed with some of the biggest names in the industry, including Kevin Hart, Steve Harvey and Sheryl Underwood. He also co-teaches "From Malcolm X to Dave Chappelle: Islam, Humor and Comedy in America" at Haverford College in Pennsylvania. 
In an interview Thursday with WMJ, Sulaiman talked about his career as "Moses the Comic," the contributions of Black Muslims and using comedy to subvert bigotry and empower people.
How did you get started in comedy?
My first time on stage was June 30, 2010, at the world-famous Laff House in Philadelphia. I just celebrated 12 years in comedy. It started as a double dare from my siblings. I come from a family of entertainers, singers and musicians.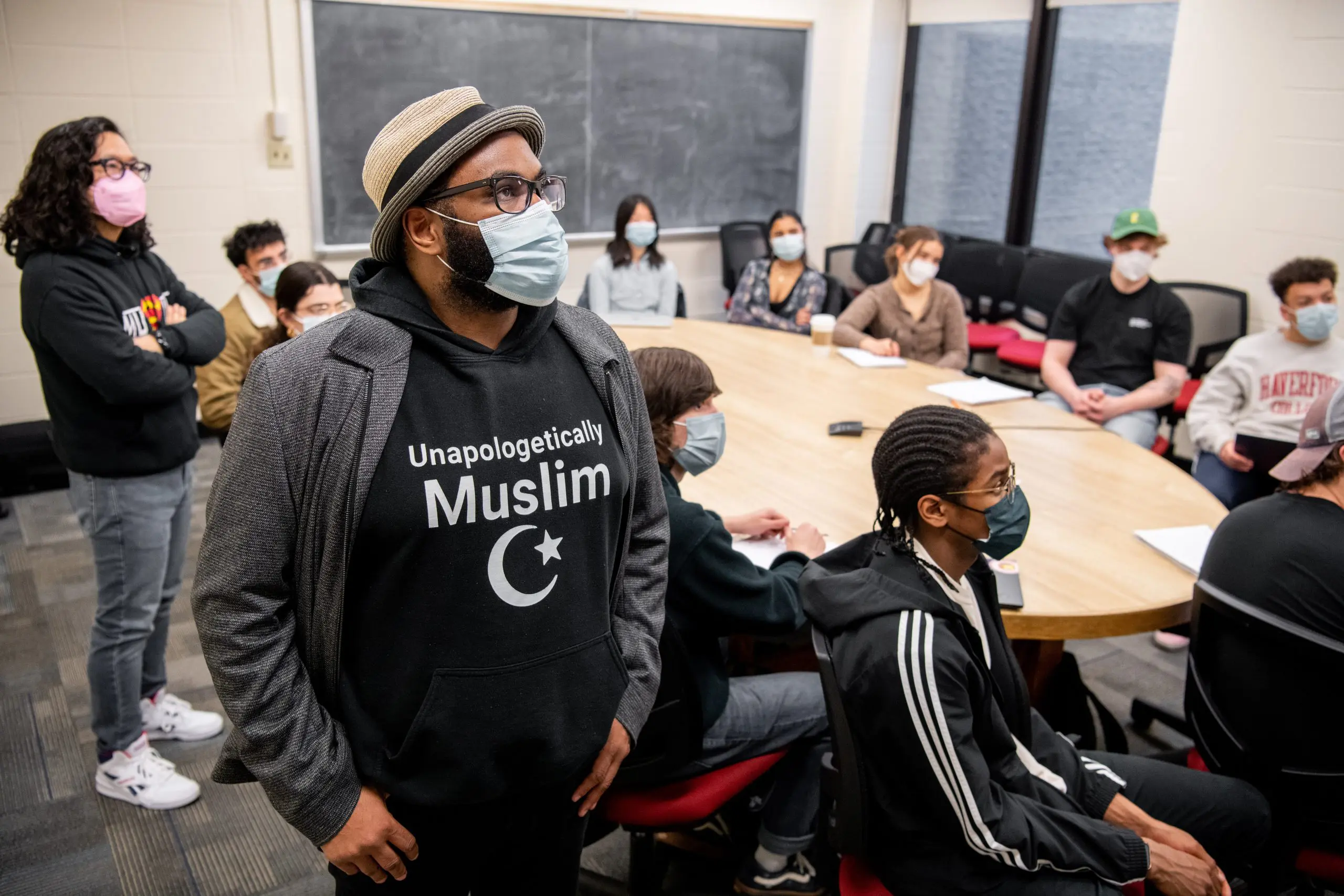 Photo by HKB Photo
Musa Sulaiman and his students at Haverford College in Pennsylvania talk virtually with comic Preacher Moss in the class "From Malcolm X to Dave Chappelle: Islam, Humor and Comedy in America"
After that, I couldn't get booked because I was so new. You know how it is, you can't get hired until you have experience. So I started my own company, Let My People Laugh Productions. We created the Let My People Laugh Comedy Shows and that gave me the opportunity to curate spaces for artists like me who were just starting out. I was doing more mainstream comedy then and wound up touring with Kevin Hart, Steve Harvey, Cheryl Underwood and other Black comics.
Now you are doing Muslim comedy. How did you make that transition?
When I first started, I was trying to find my voice and figure out what lane I wanted to be in. I used profanity on stage. But I was inspired by Preacher Moss; we call him the "godfather of Muslim comedy." He paved the way with his Allah Made Me Funny tour in the early 2000s. Before that, you could be a comedian that was Muslim but you couldn't be a Muslim comedian. Preacher Moss broke that stereotype and made it no longer taboo.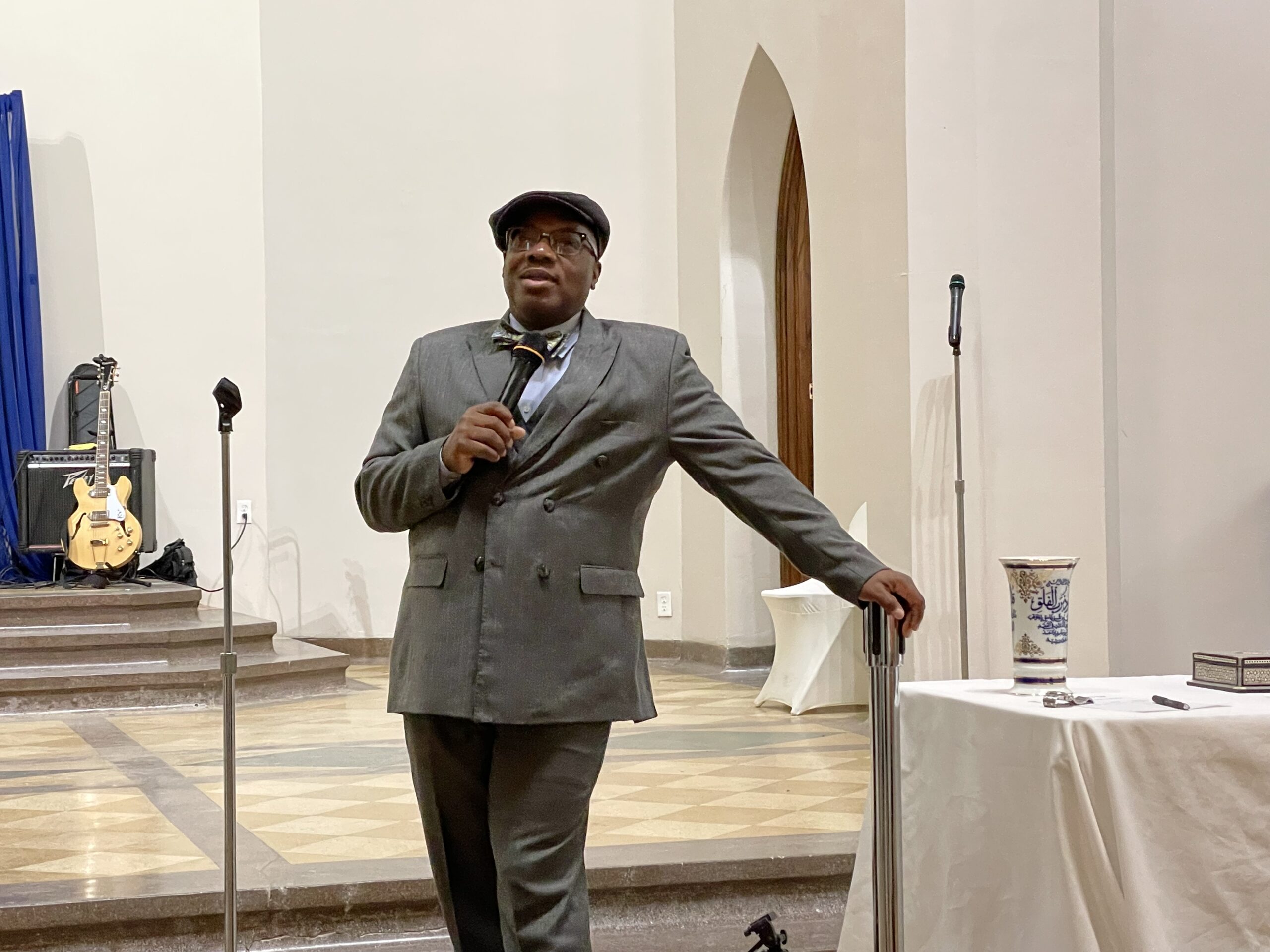 Preacher Moss, a popular American comedian and writer from Washington, D.C., performed for the Milwaukee Muslim Women's Coalition's 2021 fundraising gala and again at its "Thank the Donors" Dinner, both in December.
But, even then, it wasn't until 2015 that I pivoted from mainstream comedy. Omar Regan, who is also on this tour, and I created the Super Muslim Comedy Tour. We couldn't get anybody to bite; it was like just starting out again. We took it over to the UK and toured 10 cities.
Did you grow up Muslim?
Born and raised. My parents were born Christian but converted maybe in the 1960s. My siblings and I were raised with traditional Sunni Islam. 
How has your identity as a Muslim played into your comedy?
W.E.B. Dubois, the famous American sociologist and historian, coined the phrase "double consciousness" about how African American people are always cognizant of the perceptions other people have of us. A gentleman named Basheer Jones, who became Cleveland's first Muslim council representative in 2017, coined the term "triple consciousness," the idea that I'm a Black American who is also Muslim.
That awareness matriculates into my experiences. For example, I always wanted to create environments I'm comfortable in. A few months after I started comedy, my father advised me, "Never sacrifice your integrity for success."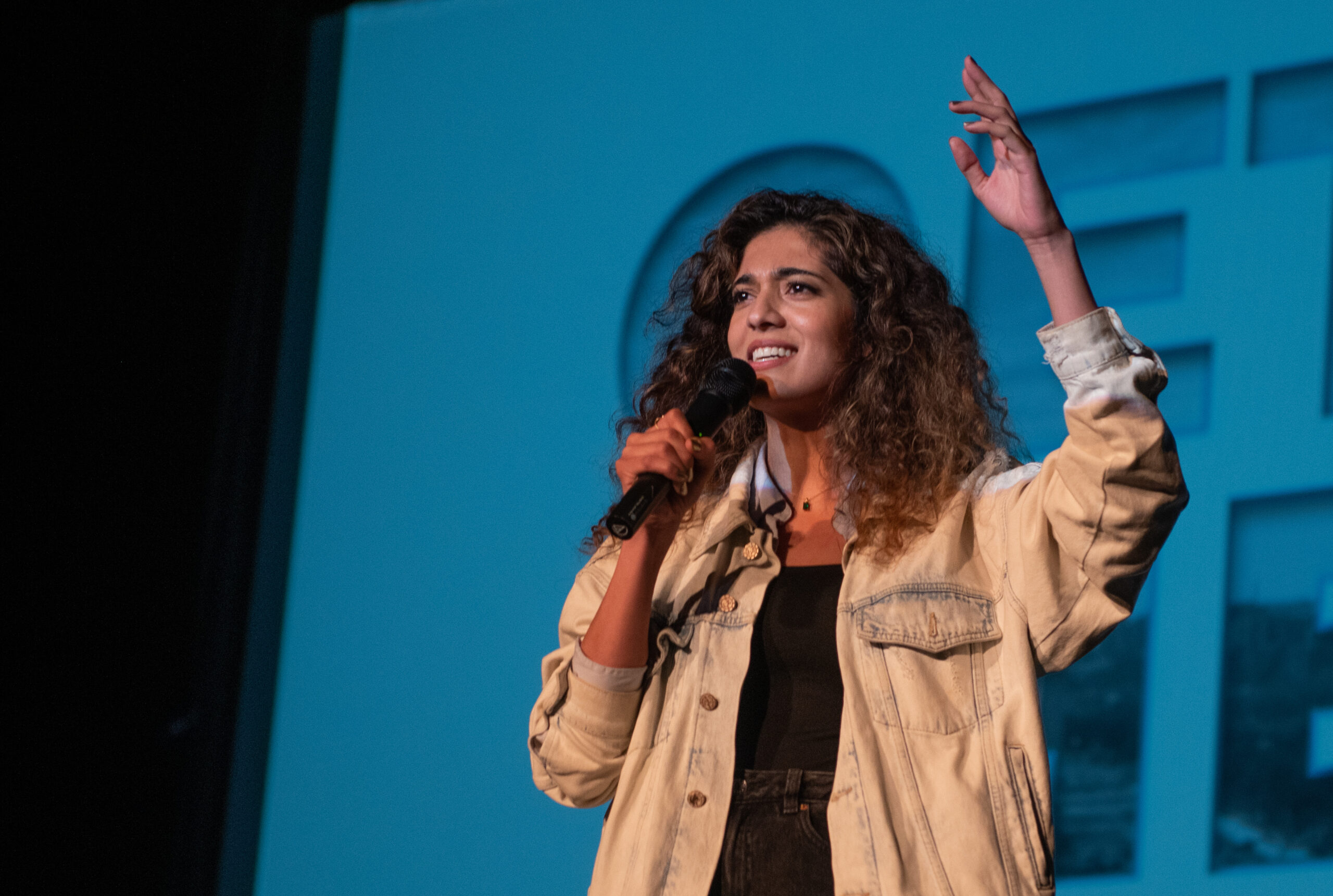 Comedian, actor and writer Sabeen Sadiq leads the popular digital series "Codeswitched."
A lot of times, Muslims go places about which they have a lot of reservations because the environment sells alcohol or a lot of profanity is used. We wanted to create environments where we feel comfortable having the whole family come out for a good night of family entertainment, where we see generations in the audience.
This tour is booked in great venues, theaters and auditoriums where you don't have to worry about the atmosphere, where people can feel empowered and comfortable.
Since I made my pivot into this market, the halal Muslim market, there are only four Black Muslim international comedians operating within this space—Preacher Moss, Omar Regan, Azeem Muhammad and me, Moses the Comic.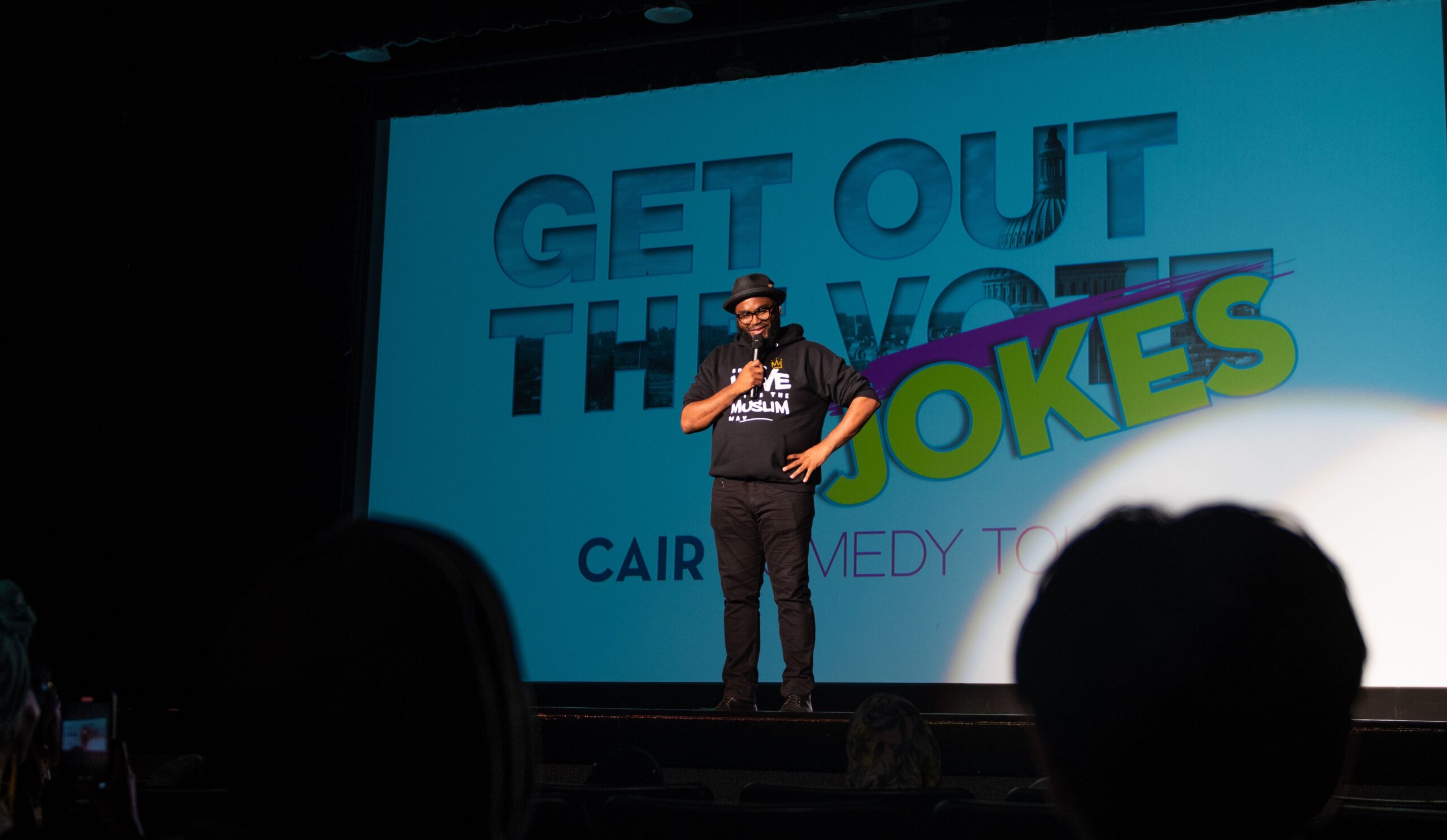 Musa Sulaiman, aka Moses the Comic, is making his first trip to Milwaukee with the CAIR Comedy Tour.
I began to conceptualize what brand of humor and what brand of artistry I want to encapsulate during an experience I had coming through Egypt. The Egyptian customs official sees my passport and asked, "You are Muslim?"
I said, "Yes." 
"Where are you from?" he said.
"America."
"No, where are you really from?"
"Pennsylvania."
"How are you Muslim?"
I had to start naming recognizable Black Muslims in America. I started with Muhammad Ali and Malcolm X. That showed me the Black contribution to Islam. When you see representations of Muslims within the media, it's the Arab Muslim man or woman. You don't see Black Muslims presented across different landscapes. That became my mission.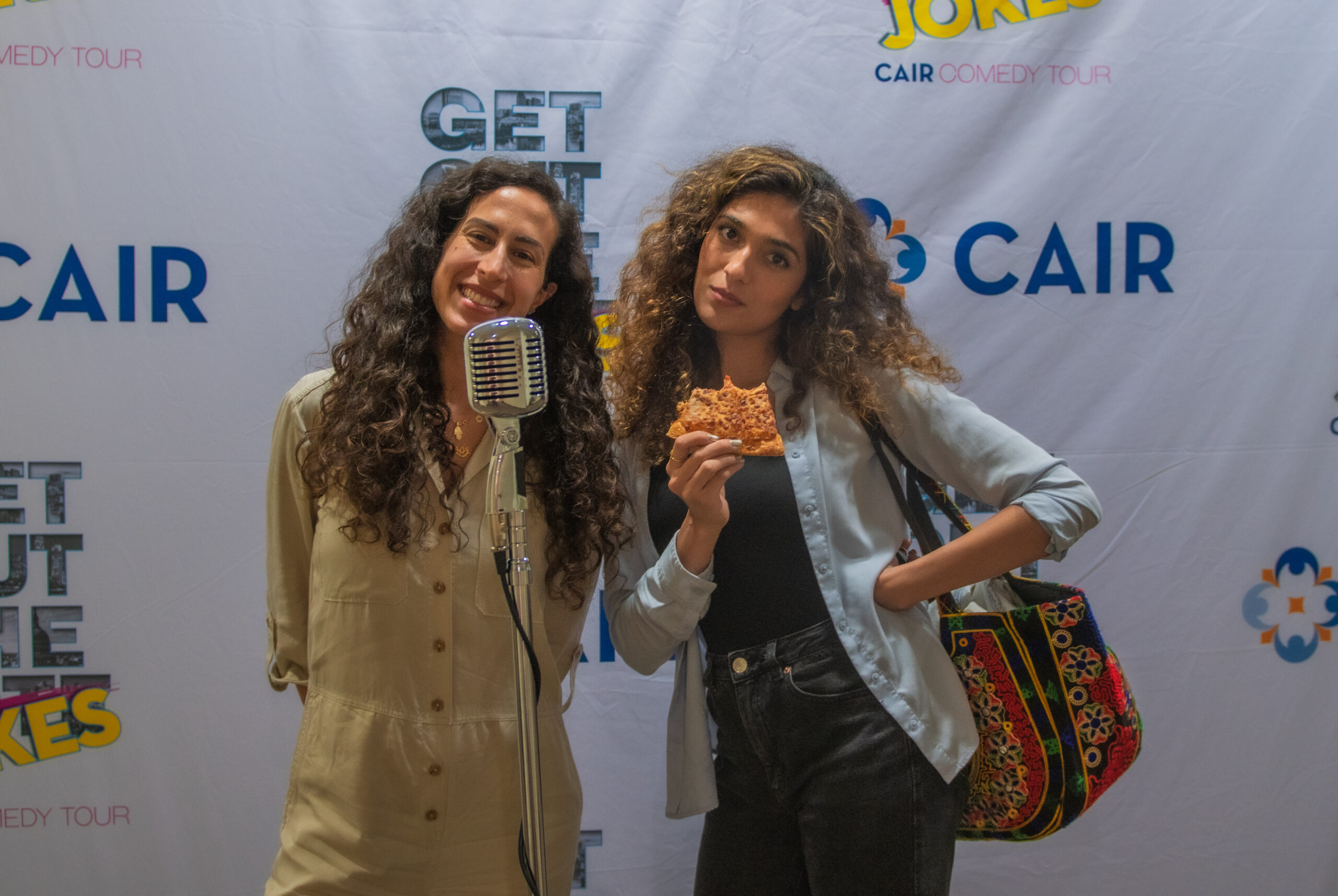 Two of America's leading female Muslim comics, Atheer Yacoub and Sabeen Sadiq, perform this Saturday in Milwaukee.
When I made my pivot in 2015, I created the trademark "Unapologetically Muslim" (and the female version, "Unapologetically Muslima") and we started the Super Muslim Comedy Tour. The whole concept was that we don't have to apologize or make concessions for what we believe in. We wanted to address the sociopolitical issues facing our communities. It is important to subvert the stereotype of Islamophobia and the bigotry of racism. We use comedy and humor as the vehicle to have these uncomfortable conversations.   
Tell us about the class you are teaching at Haverford College.
I was always fascinated with how Black people were exposed to Islam around the world. How was Islam introduced to African people? How did it make it to the shores of America? What is the Black Muslim contribution on the landscape of Islam? What about the political sector, with the Nation of Islam, Elijah Muhammad, Ilhan Omar and Keith Ellison, and, in our industry, Dave Chappelle and Preacher Moss, and in every other industry.
I didn't come up through the Nation of Islam but it played a huge role on the fabric of Black Islam, with its focus on economics, community development and leadership development. The core tenants from discipline to business acumen have been applied in traditional Sunni Islam.
What can we expect in your comedy?
Richard Pryor used to say comedy is tragedy viewed from across the street. Most of the people attending his shows were white. He said his comedy was like a safari for them. He put them into a protective vehicle and I took them through the cultural nuances, discrepancies and traumas of the Black experience, but in a protected way.
With the underrepresentation of the Black Muslim in the media, I want to use my comedy to paint the picture that Blacks, that Muslims and that Black Muslims are just like everybody else. 
I think it was Van Jones who said the best neighbor that you can have is a Muslim neighbor. The tenants for being neighborly, kind and generous are built into Islam.