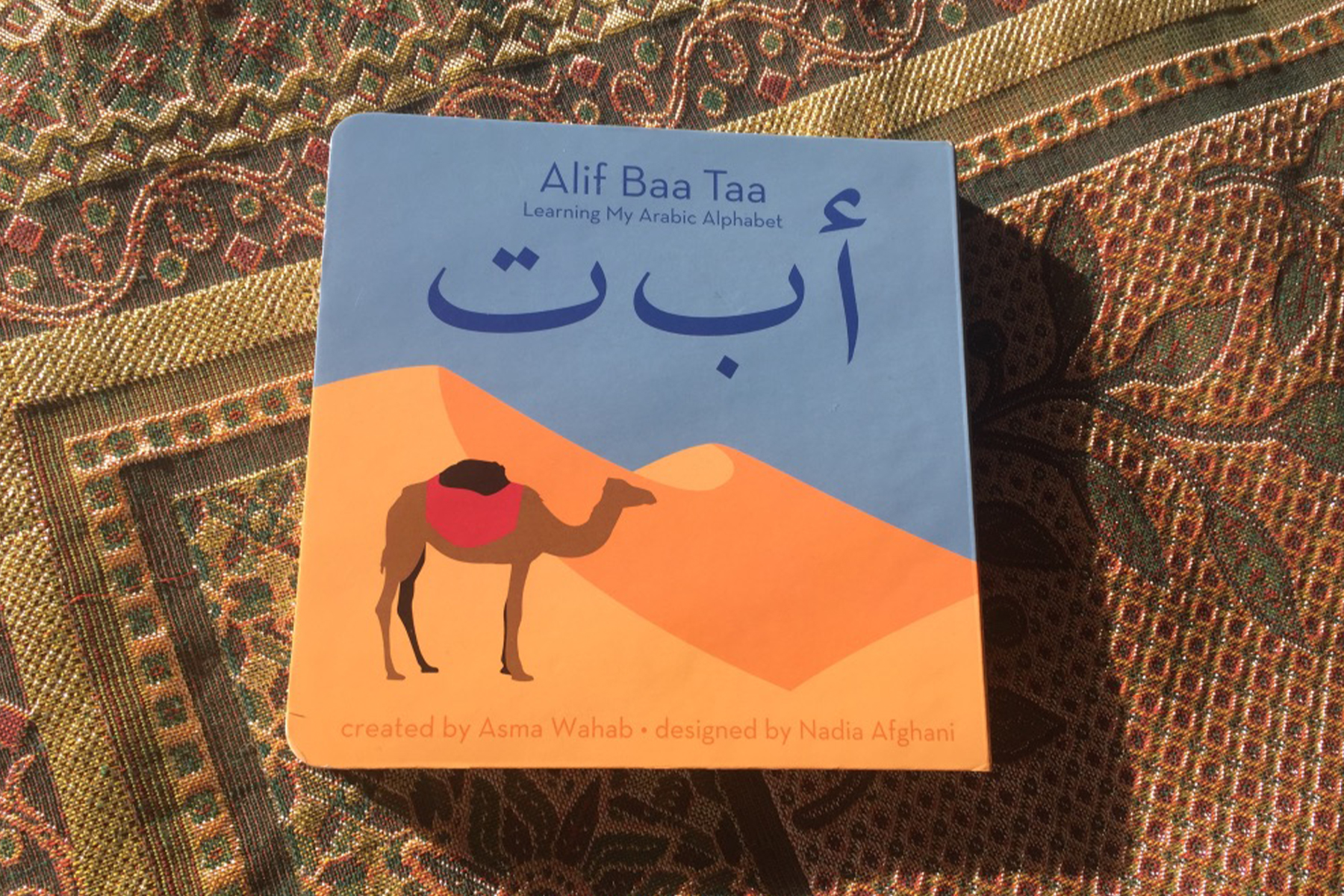 Elise Bellin, Librarian of the Islamic Resource Center, wrote this book review as part of an ongoing series that focuses on a range of books within the IRC collection as a service to the community.
Alif Baa Taa: Learning My Arabic Alphabet by Asma Wahab
Alif Baa Taa: Learning My Arabic Alphabet by Asma Wahab
ISBN: 194855500x, 9781948555005 (2019)
Finding high quality Arabic materials in the US or the Western world in general, especially for younger individuals, can be tricky. Finding and bringing them over from the Middle East is almost as difficult. One mother, determined to introduce her children to Arabic early enough in their development that they would be willing to keep up with that skill throughout their lives but finding nothing that suited her purpose, decided to create her own. She wrote and illustrated a book with the Arabic alphabet's primary letter forms, started a Kickstarter page, and made arrangements with a major printing/publishing company for creation. Thus was born the Alif Baa Taa Arabic alphabet board book. It was so well received that it completely sold out of its initial print within a couple of months and went  into a second printing with enough backing for Wahab to write and publish a second book as well for young learners and donate some books to the underprivileged.
With clear, borderless illustrations and large, recognizable script, this board book brings the basics of the Arabic alphabet to young Western audiences. Paired with each basic letter form, Wahab has included the transliterated sound, a common Arabic word in standard script, and the word's transliteration. A simple illustration of that word brings understanding to the audience as well.
One small difficulty I see is that of clearly showing what the letter looks like in a word. For those of you that don't know, Arabic letters change shape depending on their location in a word (start, middle, end). In illustrating and naming the words used for each letter, the creators did full words, much like you would find in an English alphabet book. However as letters sometimes change significantly when attached to others, it isn't always as clear what letter is what in the word if not introduced by someone who can already read the alphabet and therefore point this out. This is an issue that would come up with any Arabic alphabet book regardless of how well it is constructed, and this one is very well constructed.
Founded in 2010, the Islamic Resource Center (IRC) is the first Islamic public lending library in Wisconsin. The IRC aims to provide resources to educators, students, health professionals, interfaith groups, and any members of the Milwaukee community that want an accurate understanding of the Islamic faith, its practices, and its people.