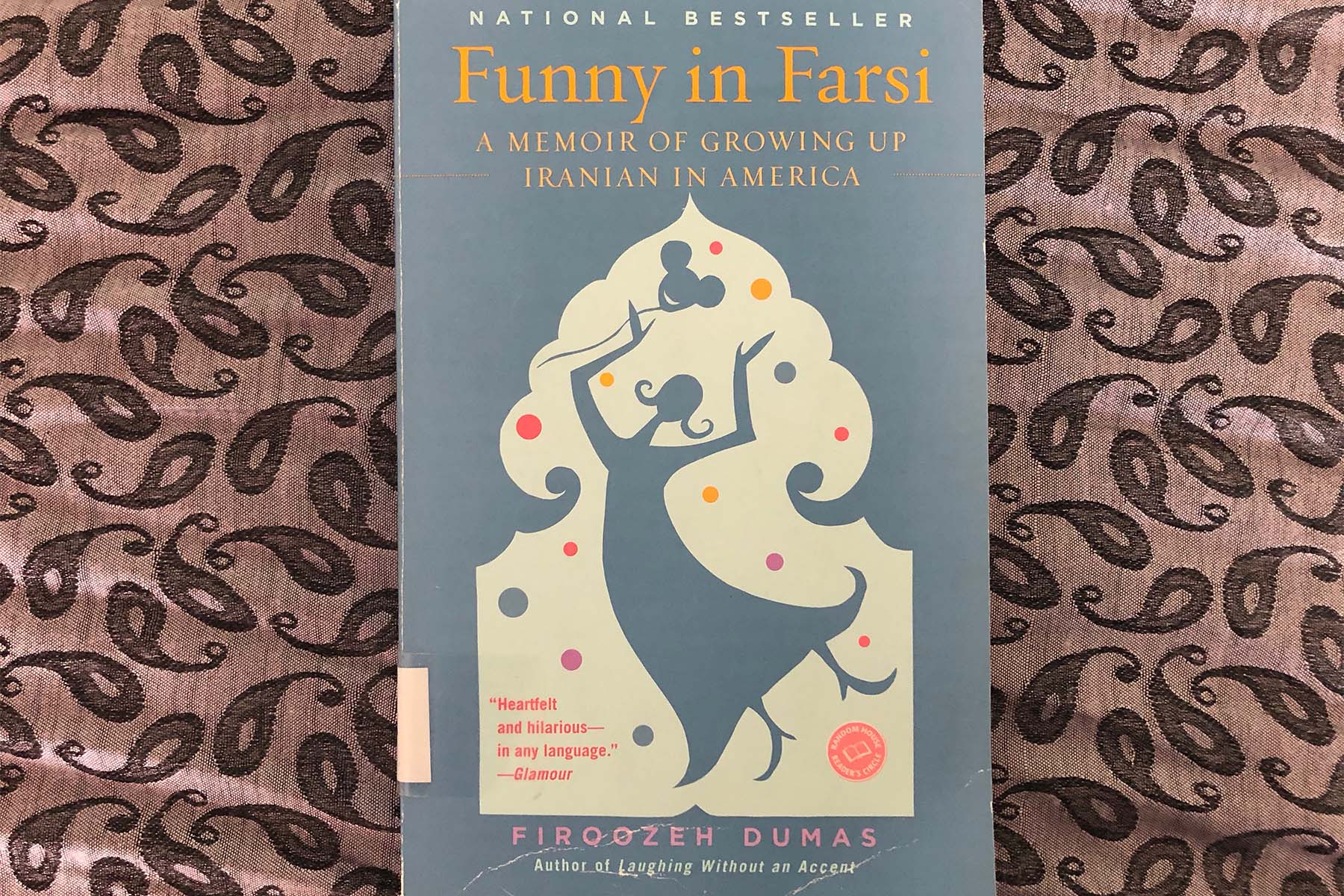 Elise Bellin, Librarian of the Islamic Resource Center, wrote this book review as part of an ongoing series that focuses on a range of books within the IRC collection as a service to the community.
Funny In Farsi : A Memoir of Growing Up Iranian In America
Funny In Farsi : A Memoir of Growing Up Iranian In America by Firoozeh Dumas © 2003 – ISBN: 9780812968378
In 1972, Firoozeh Dumas moved to the US at age seven, her family following her father to his new job with an Iranian oil conglomerate at their international offices in Whittier, California. Unlike Ansari from My Dream of Stars, Dumas didn't learn the English language until after she started school. Neither did her parents, or at least her mother didn't while her father claimed otherwise but was proven despite protestations to have a limited understanding of the modern English tongue.
From the heart-in-throat start to her American elementary school experience where not only was language something of a barrier but no one, not even the teachers even knew where Iran was on a map, to her father's absolute obsession with the American Dream even in the face of the growing unrest and bigotry following a then well-known hostage crisis, Dumas' story could have easily become a depressing look at the problems immigrants face. And yet, through it all Firoozeh Dumas manages to maintain a light-hearted voice, poking fun at the situation, herself, her family, and outsiders, and mostly managing to stay away from politics and political positions – if you exclude her father's stance on civic duty being stated as "They (US citizens shirking said duties) need to be sent for six months to a nondemocratic country. Then they'll vote." Like in Ansari's My Dream of Stars, Dumas and family showed a fundamental sense of optimism and bravery in the face of environmental transplantation. A sentiment both truly American and yet completely their own.
Now, while she is a bestselling novelist, this was her debut book. As such there are some stylistic and structural issues that occasionally get in the way of really telling her story. Some readers have come away feeling like her avoidance of discussing the Iranian revolution (1978-79) can seem slightly disingenuous and I have heard complaints that a couple of the descriptions she uses for some of the Muslims she knew as being slightly stereotypical. Again, as a first book this was very well done, but it does have some rough spots. Later works by her would prove to iron out some of these wrinkles, but for a first book, and a look at the American immigrant experience, an excellent read.
Founded in 2010, the Islamic Resource Center (IRC) is the first Islamic public lending library in Wisconsin. The IRC aims to provide resources to educators, students, health professionals, interfaith groups, and any members of the Milwaukee community that want an accurate understanding of the Islamic faith, its practices, and its people.