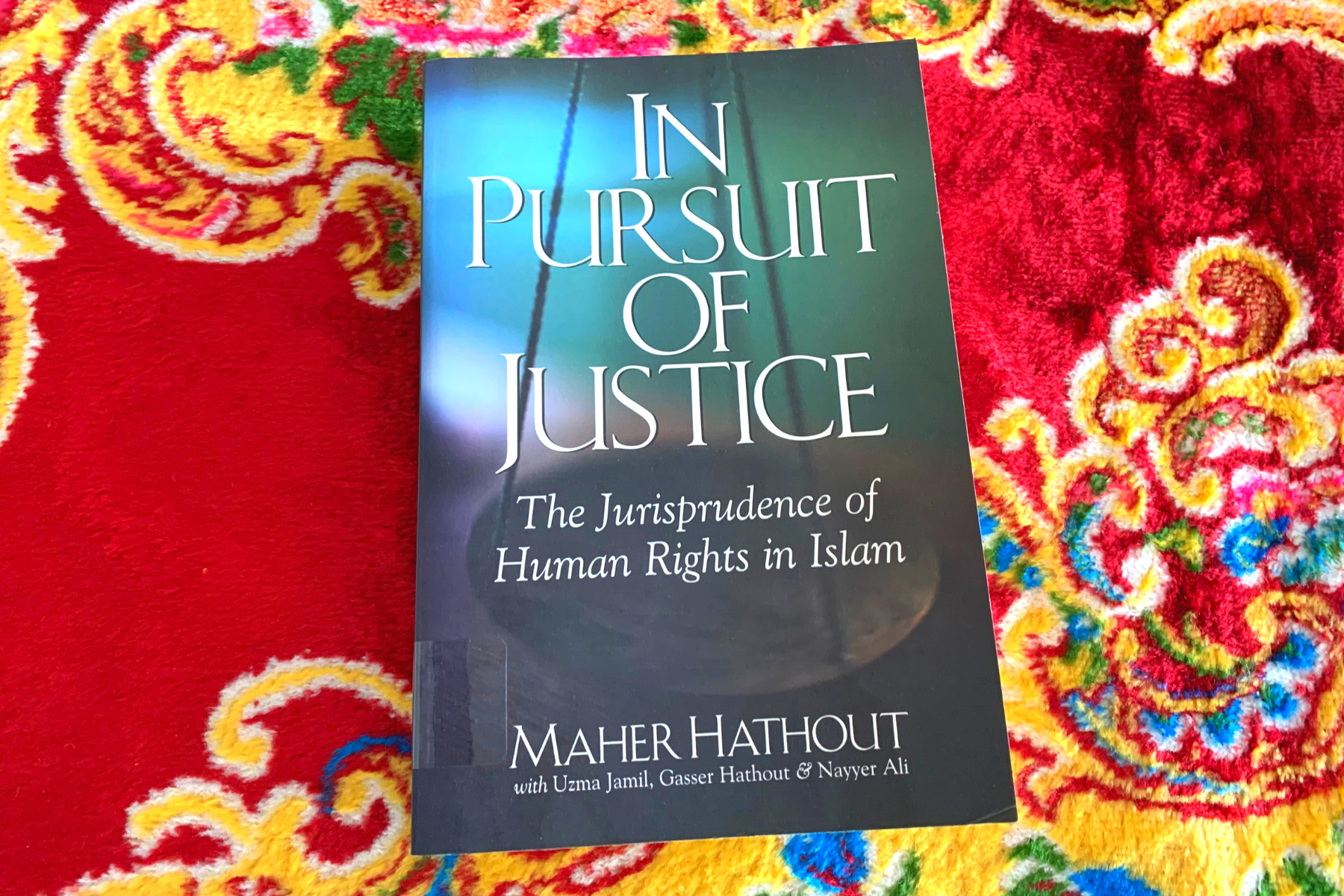 Elise Bellin, Librarian of the Islamic Resource Center, wrote this book review as part of an ongoing series that focuses on a range of books within the IRC collection as a service to the community.
In Pursuit of Justice: The Jurisprudence of Human Rights in Islam
In Pursuit of Justice: The Jurisprudence of Human Rights in Islam by Maher Hathout, with Uzma Jamil, Gasser Hathout & Nayyer Ali
ISBN: 0977440400
We are living in a time of great change, one in which people are again raising their voices to be heard about many issues of justice, ecological stewardship, equality (racial, economic, gender and religious), and many others all fighting for space on the global stage. That comes at the same time as the world is undergoing a pandemic that has been compared to the hundred year plague and has in places seen denialists and alarmists, caused shortages in so many fields, some of which would surprise you, and has drastically changed our way of life. Time will tell if we return to something resembling the pre-pandemic norm or not, but one thing is for certain. Change is coming. Change is here.
Now all of this might sound scary, but all it means is that we must adapt, perhaps look to the major changes of the past or what our ancestors have done to evolve their society and remain relevant. To that end, it seems that a book on justice, human rights, and equality as discussed in one of the world's foremost religions is exactly what we should be looking toward. In Pursuit of Justice is just one such book.
In In Pursuit of Justice, Hathout dives into these issues and the challenges that arise as a result from the perspective of Islam, its scholars and its prophets. He often goes straight to the source, using the Quran, Sahih hadiths, and many of the limitations classical scholars recognized that many contemporary Muslims ignore. With sixteen chapters covered over more than 500 pages, this isn't an easy read filled with easy answers. Topics are investigated and various different aspects exposed. He even looks at those aspects that were just relevant to the Prophet's time and those that are/were more general. It is a read that might help with the religious aspects of many of these big questions as we all try to come to a new normal, whatever that might look like.
Founded in 2010, the Islamic Resource Center (IRC) is the first Islamic public lending library in Wisconsin. The IRC aims to provide resources to educators, students, health professionals, interfaith groups, and any members of the Milwaukee community that want an accurate understanding of the Islamic faith, its practices, and its people.