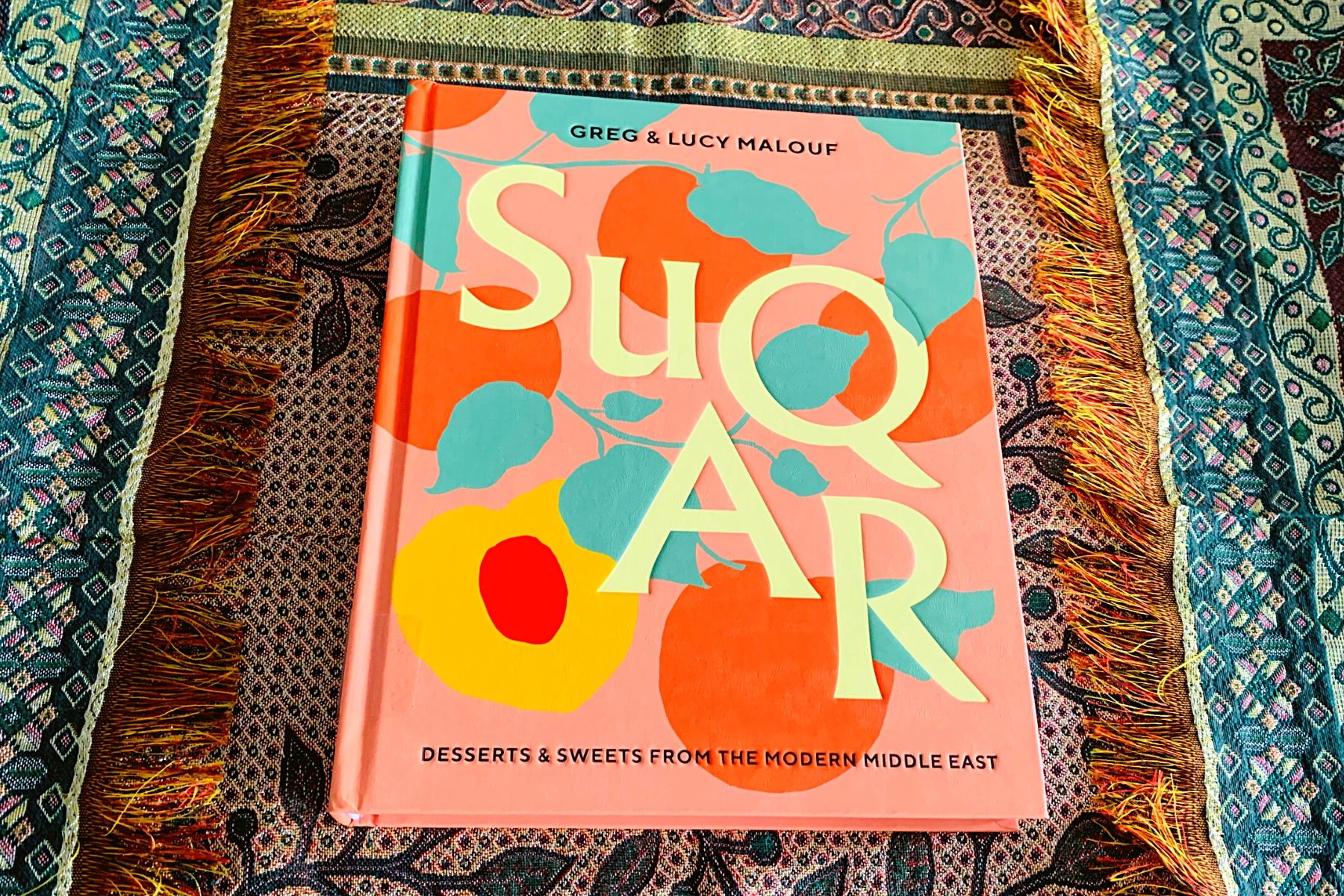 Elise Bellin, Librarian of the Islamic Resource Center, wrote this book review as part of an ongoing series that focuses on a range of books within the IRC collection as a service to the community.
Suqar by Greg & Lucy Malouf (2018)
ISBN: 9781743794135
It seems everyone loves sugar. If you're like many people, the end of a meal requires just a little something sweet to feel complete. And while there are many Middle Eastern cookbooks out there cover a lot of types of food, one of those areas they often lack in is deserts. Some of this is cultural, some of it is not. As Greg Malouf writes, "When… I asked for pudding, [my mother] would push over the fruit bowl– and this is still the way that most Middle Eastern families will end a meal." And yet, deserts aren't altogether unheard of or unknown. Technically cannoli originated in the Middle East and was adopted by Sicilians in the 9 th and 10 th centuries, when ruled by the Moors. As with so many other things, it's complicated; politics are involved; and books often don't get the full picture, try as they might. This beautiful book is an answer to that vacuum, or at least a start.
Filled with full-page photography of many if not all of the recipes, clear instructions, and wonderful flavor palates, Suqar is a wonderful addition to any cook's library. The recipes within cover both new takes on the traditional (i.e. Bay Butterscotch Baklava with Caramel Pears) and recipes from elsewhere with Middle Eastern flairs carefully thought out and executed (i.e. Choc Chip-Tahini Cookies), along with the aforementioned traditional fruit dishes (i.e. Classic Citrus-Date Salad with Cinnamon Dust), sweet drinks (i.e. Apple-Mint Tea, Spiced Arabic Coffee, and Iftar Jallab) and added homemade ice cream flavors. Of the 116 recipes within its pages, only one recipe seemed problematic for Muslims – the homemade Chocolate Marshmallows, as it uses the modern practice of using gelatin and sugar rather than pulp from the mallow plant, and one recipe that contained a misattributed page number for an image of a recipe. Not bad considering what often makes it through the editing process. The end result is a wonderfully well-rounded book that speaks to the sweet tooth in all of us, Muslim or not.
Founded in 2010, the Islamic Resource Center (IRC) is the first Islamic public lending library in Wisconsin. The IRC aims to provide resources to educators, students, health professionals, interfaith groups, and any members of the Milwaukee community that want an accurate understanding of the Islamic faith, its practices, and its people.