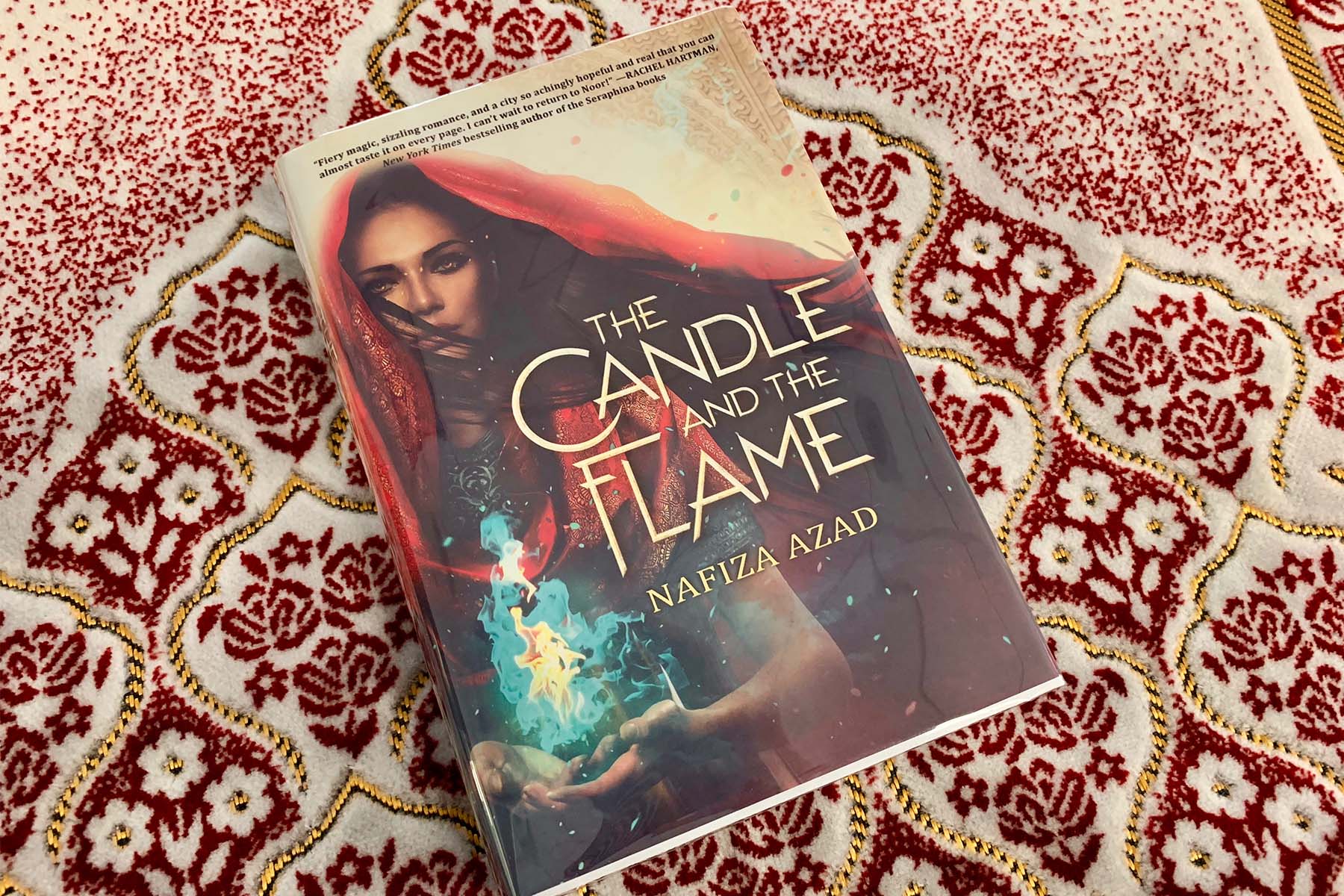 Elise Bellin, Librarian of the Islamic Resource Center, wrote this book review as part of an ongoing series that focuses on a range of books within the IRC collection as a service to the community.
The Candle And The Flame by Nafiza Azad © 2019 – ISBN: 9781338306040
It started with massacres perpetrated by a tribe of chaotic djinn known as the Shayateen. All of those Fatima traveled with were killed on the way to the human city of Noor. Fatimah, herself was gravely wounded and would have died but for the ultimate sacrifice of a grieving Ifrit. The city itself was later leveled and all its inhabitants killed but for Fatimah, her adoptive sister and grandmother.
Years later the city once more thrives. In the city's hour of need, a new maharajah turned to the Ifrit, powerful djinn of order and reason, to help protect the city from the Shayateen. Now, humans and djinn live side by side in harmony. But something is in the air.
These days, Fatima works as a messenger. One day she delivers a message to the city's most powerful Ifrit, the Name Giver, who has been almost like a father to her. But words have power and there is something evil in this seemingly harmless message that corrupts him. To save the city, he destroys himself and, like the Ifrit at the gates all those years before, do the forbidden and pass on his power to Fatima. Now it is up to Fatima to unravel the mysteries hidden deep within the pages of this city's history to uncover the true reason for The Name Giver's fate and figure out where she truly fits in.
The Candle and the Flame is a rich tapestry of Middle Eastern mythology with strong Muslim overtones and undercurrents interwoven into a multicultural city with vibrant and complex characters. As a debut novel, Azad shows a lot of promise. A few readers have commented on certain temporary lags in the novel's forward momentum, but if Azad keeps up at this pace, she will be a voice to look forward to in the future.
Founded in 2010, the Islamic Resource Center (IRC) is the first Islamic public lending library in Wisconsin. The IRC aims to provide resources to educators, students, health professionals, interfaith groups, and any members of the Milwaukee community that want an accurate understanding of the Islamic faith, its practices, and its people.