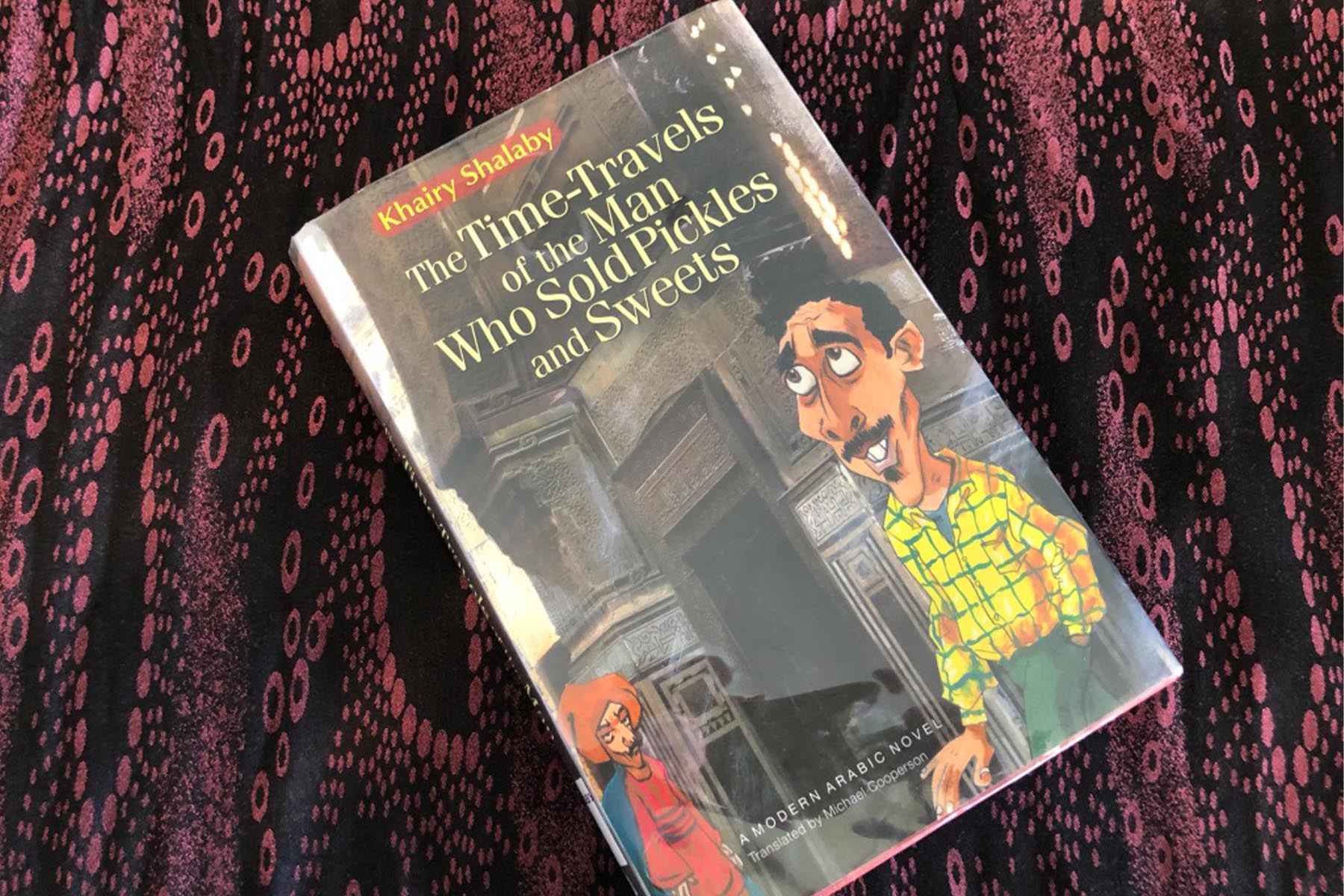 Elise Bellin, Librarian of the Islamic Resource Center, wrote this book review as part of an ongoing series that focuses on a range of books within the IRC collection as a service to the community.
The Time-Travels of the Man Who Sold Pickles and Sweets
by Khairy Shalaby, translated by Michael Cooperson © 2016 – ISBN:9789774163913
Egyptians have a penchant for pickles with sweets, the idea being that the sour of the pickle tastes better with a little bit of something sweet to temper it. Much as the Egyptians do with their sweet and sour, we need to find a way to temper our global view. With so much seriousness going on in the world and our backyard, sometimes we just need to take a break with something light with a little bit of satire.That is where the Egyptian book, The Time-Travels of the Man Who Sold Pickles and Sweets, by KhairyShalaby falls into place.
Taking nothing too seriously, even himself, the main character tramps through Cairo both in modern and more ancient (primarily 12th and 14th century) times. Filled with interesting characters and historical situations that the main character inevitably finds himself in the thick of, our erstwhile time-traveler bumbles into situations in which he meets caliphs and hobnobs with Cairo historians, gets tossed about throughout Cairo's history (despite claiming to have control over the situation), and though one might assume he would be more of a pure observer, avoiding paradoxes and changing history, he is as much at home interacting with individuals (who for some odd reason don't even seem to recognize the anachronisms of things like 20th century clothing or a Walkman that can't take the travel), never feeling all that out of place no matter the time or situation.
Through it all, Shalaby finds a way to incorporate wit and satire into the interactions of our "hero." Although sometimes some of the references get a little bit lost on Western audiences, the book is worth a read with plenty of heart and a nice light look at a history that the author quite obviously has a love of, perhaps because of his irreverence.
Founded in 2010, the Islamic Resource Center (IRC) is the first Islamic public lending library in Wisconsin. The IRC aims to provide resources to educators, students, health professionals, interfaith groups, and any members of the Milwaukee community that want an accurate understanding of the Islamic faith, its practices, and its people.