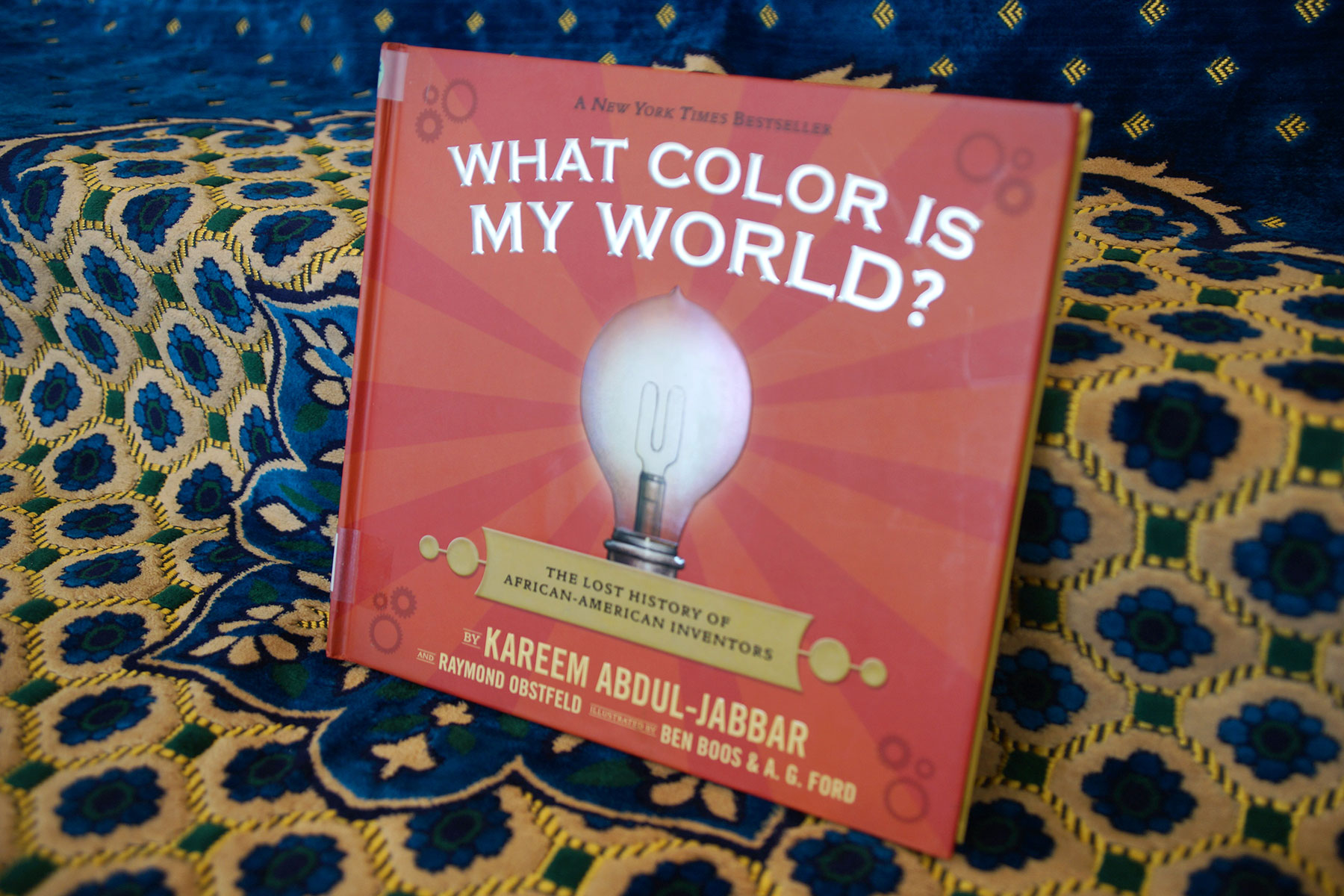 Elise Bellin, MLIS is the IRC Librarian and this book review is part of an ongoing series that focuses on a range of books within the IRC collection as a service to the community.
What Color Is My World?: The Lost History of African-American Inventors
by Kareem Abdul-Jabbar, illustrated by Ben Boos and A.G. Ford, © 2013 – ISBN: 9780763645649
Did you know that the man who invented color graphics for computers was an African American? What about the inventors of the potato chip, bread machines, open-heart surgery, or, get this, the Super Soaker!? Yep, each one of these wonderful inventions that changed our lives came to us by way of an African American inventor.
If learning more about these inventors and others that have shaped our lives is of interest to you or your child, I would heartily suggest reading What Color is My World by Kareem Abdul-Jabbar. That's right, that Kareem Abdul-Jabbar, the basketball-playing social activist turned children's book writer.
In his book "What Color is My World," Abdul-Jabbar leads us to an understanding of all the wonderful inventions and the amazing impact African Americans have had on our culture, our technology and our world by way of a handyman narrating to two young African American siblings all of the wondrous inventions their ancestors have created.
"What Color is My World" is filled with tidbits of this person and that are combined with full-paged illustration by two talented artists. Third-page fold-outs allow for readers to discover new and interesting facts as if they were just discovered by the children that are listening to the narrator discuss their heritage. Readers leave with a feeling of wonderment and excitement at all of these often overlooked members of African-American descent, realizing just how much more vibrant and exhilarating their world is because of these men and women.
Even after February's Black History Month gives way to March, books that highlight black achievements remain on our shelves all year. Visit the Islamic Resource Center's library if you are searching for inspiration and insight into African American heritage.
About the IRC Library
Founded in 2011, the Islamic Resource Library (IRC) is the first Islamic library in Wisconsin. The IRC aims to provide resources to educators, students, health professionals, interfaith groups, and any members of the Milwaukee community that want an accurate understanding of the Islamic faith, its practices, and its people.