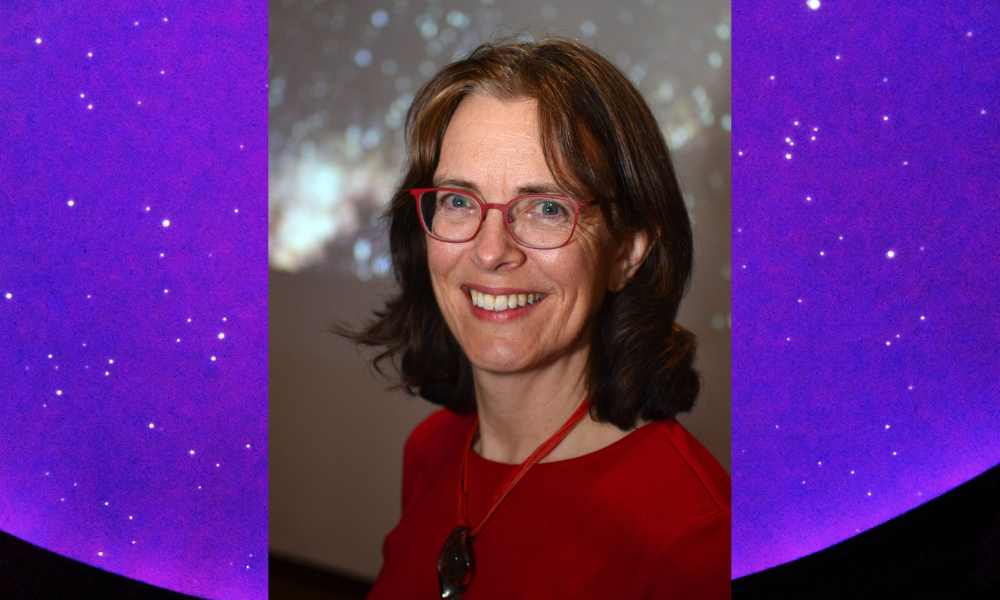 Astronomer Jean Creighton, Ph.D., will present  "Signs in the Heavens: Islam and Astronomy," Thursday, Sept. 15, at the University of Wisconsin-Milwaukee's planetarium.
"What I appreciate about the golden ages of history is that people felt it was their duty to understand how the universe works," said Jean Creighton, Ph.D., director of the Manfred Olson Planetarium at the University of Wisconsin-Milwaukee. "This is our world. I think that's a healthy place to be—curious about what's around you and not being afraid to try and understand it."
Creighton, an astronomer and astrophysics scholar, will be the featured speaker Thursday at Signs in the Heavens: Islam and Astronomy at UWM's Manfred Olson Planetarium, 1900 E. Kenwood Blvd #139, Milwaukee. The program is sponsored by the Milwaukee Muslim Women's Coalition, UWM's Muslim Student Association, Marquette University's Muslim Student Association, MU's Students for Justice in Palestine, Taqwa Bakery & Restaurant, Lebnani House and Holy Land Deli.
Creighton plans to help attendees explore intersections between astronomy and Islam, both scientific and cultural, she said in an interview yesterday with Wisconsin Muslim Journal. 
"We'll introduce stars that have Arabic names, talk about how the lunar calendar is set up and how Ramadan, the month of fasting, is determined, and about some Islamic scientists who have done very important work but may not be as well known in the West."
For example, Creighton plans to mention the contributions of 8th century Islamic scholar Jafar al-Sadiq. "He is one of the people who understood the nature of lights and therefore made possible things like a camera and a telescope," she said.
MMWC president Janan Najeeb, one of the organizers of the event, explained, "Our mission is to promote understanding of Islam and Muslims. This includes contributions to science and astronomy that are still relevant today."
The event is open to the public. It starts at 6 p.m. with food from two of Milwaukee's Middle Eastern restaurants, followed by Creighton's talk at 7 p.m. Tickets for the general public are $15 and for students $10. Advance registration is required.  Register and purchase tickets here.
A unique vantage point
"Frankly, I think the principal reason you should come (to this event) is because in the planetarium you have the luxury of seeing a very dark sky without mosquitoes or the chance of precipitation," Creighton said. "And you get a guided tour of the night sky."
Housed in the Department of Physics, the planetarium is equipped with an optomechanical projector that projects stars, planets, the sun and moon on its 30-foot dome. Four digital projectors and other separate special projectors create visual effects, such as a rotating Milky Way and the Aurora Borealis, commonly known as the "polar lights." In addition, it has RGB LED cove lights and constellation projectors, and an observatory deck with a powerful telescope.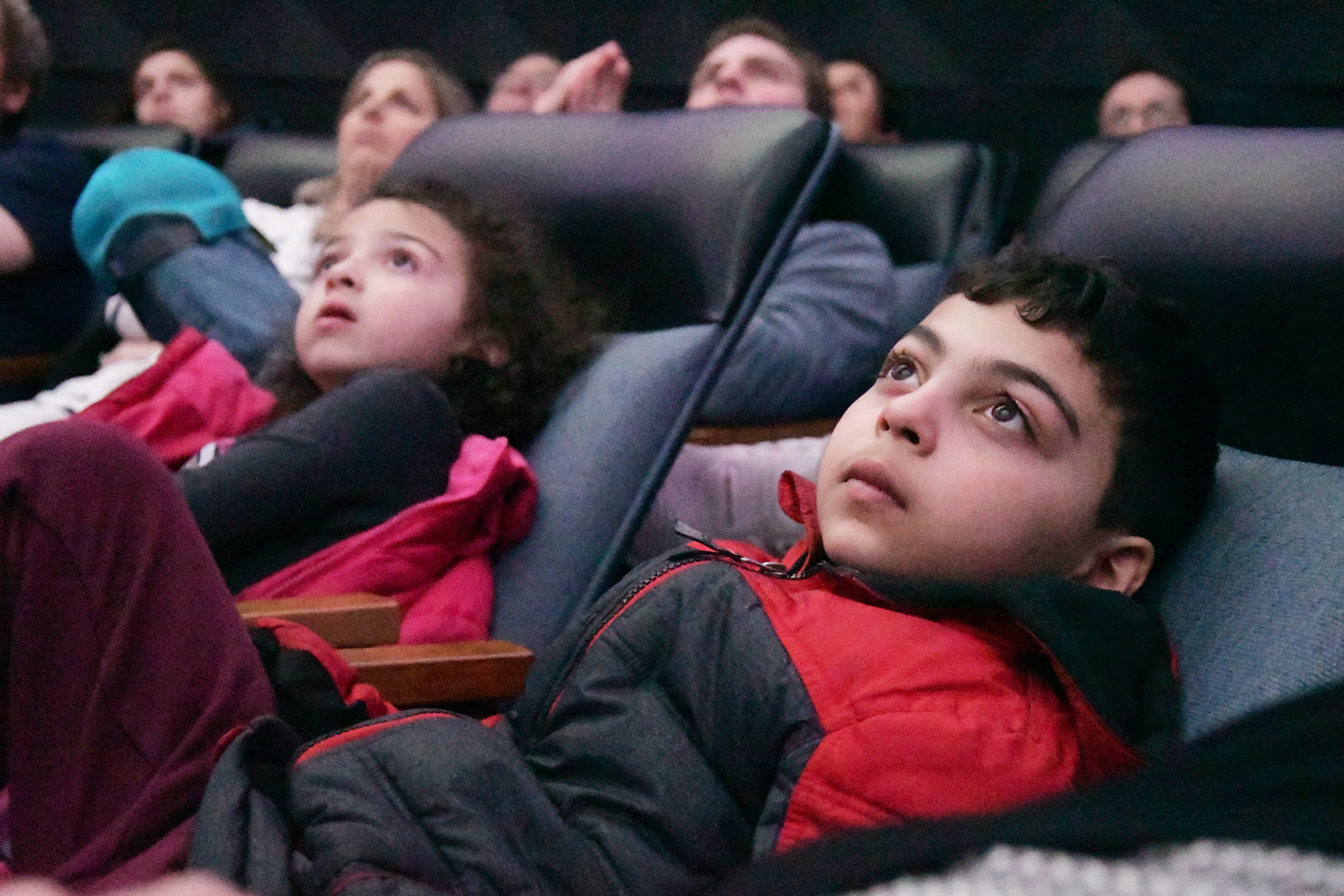 Children observe projections of stars and planets during "Arabian Nights," a 2019 presentation about Arab culture and contributions to astronomy at UWM's planetarium.
Creighton, who will serve as guide, has been inspired by the cosmos since an early age, says her bio on the UWM website. She studied physics at the University of Athens, earned a master's degree from Saint Mary's University in Halifax, Nova Scotia and a doctorate degree in astrophysics from the University of Waterloo. She began teaching astronomy at UWM in 1999 and, in 2007, became director of UWM's planetarium. 
She had her own close encounter with the stars in 2014 when NASA selected her to be an Airborne Astronomy Ambassador and to spend 20 hours in the stratosphere on SOFIA, the largest moving observatory in the world.
Thursday's event will also offer an opportunity to spend time with people from different cultural backgrounds, Creighton said. "It is not only for people who are Muslim. Anyone can attend. And there will likely be people from different parts of the globe attending who have had their own experience of the night sky, and who can talk about their culture."
Creighton recalled the Arabian Nights event held at the planetarium in 2019. A student from Algeria and a Palestinian student both spoke about their cultures, their favorite foods and festivities.  For the 2019 event, Creighton learned to tell one of the Arabian Nights stories. "I learned while there are some common bones, there are so many variations of these stories. 
"I love the idea of breaking stereotypes, which are very strong in the U.S. I like to think that as people meet people who don't have the same cultural background or physical appearance, when we coexist in spaces like this and learn more about each other, we come to understand each other better. You get a very different sense of people when you meet them one on one."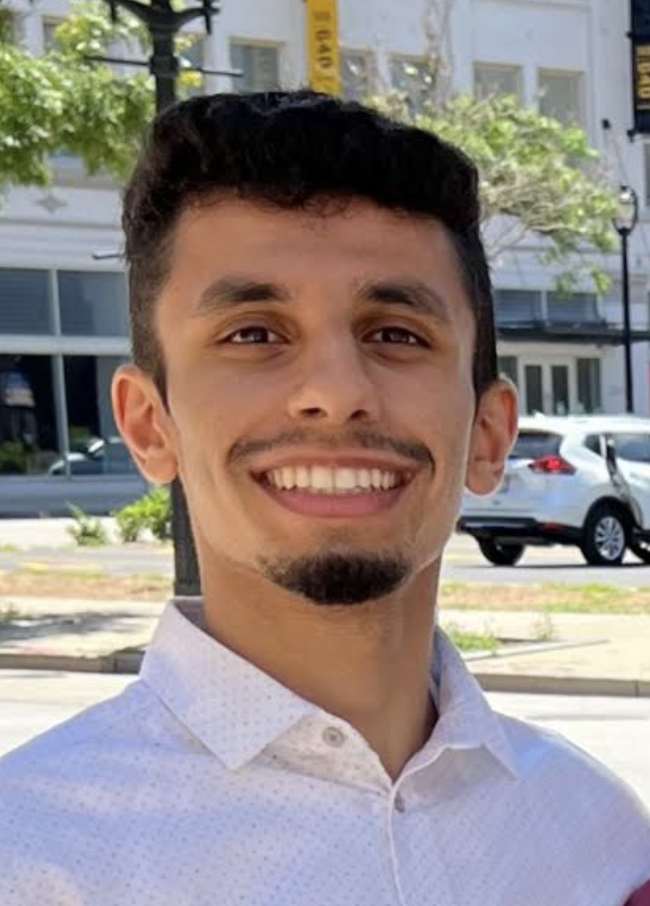 Salam Salous, vice president of UWM's Muslim Student Association
UWM's Muslim Student Association is happy to be one of the co-sponsors of this event because it is an opportunity to show non-Muslims who Muslims really are, said Salam Salous, 20, a UWM junior who serves as vice president of UWM's MSA board. 
It's also important the event will also highlight the contributions of Muslims to astronomy, he added. "We can't depend on textbooks to introduce the impact of Muslims," he said.
Salous recalled the corner of a page in one of his middle or high school textbooks mentioning the astrolabe, an instrument originally created by ancient Greeks, then further developed by Muslim scientists in the 10th century. 
"We are blessed to have a really cool planetarium, a special environment at UWM, and a large Muslim community on campus," Salous said. To learn about Islamic scientists' contributions to astronomy at the planetarium "is something to take pride in."
Leen Mortada, president of Marquette University's MSA, said, "This event demonstrates in a beautiful way the worldly knowledge that our religion holds and preaches. We appreciate the Muslim Women Coalition of Milwaukee's creative way of connecting people through the love of our universe to see Islam in a new perspective. I think it offers those who aren't Muslim a way to view Islam in a manner they can relate to (i.e. science and research) that other events don't offer. We are honored to help in this event and can't wait to see what becomes of it!"