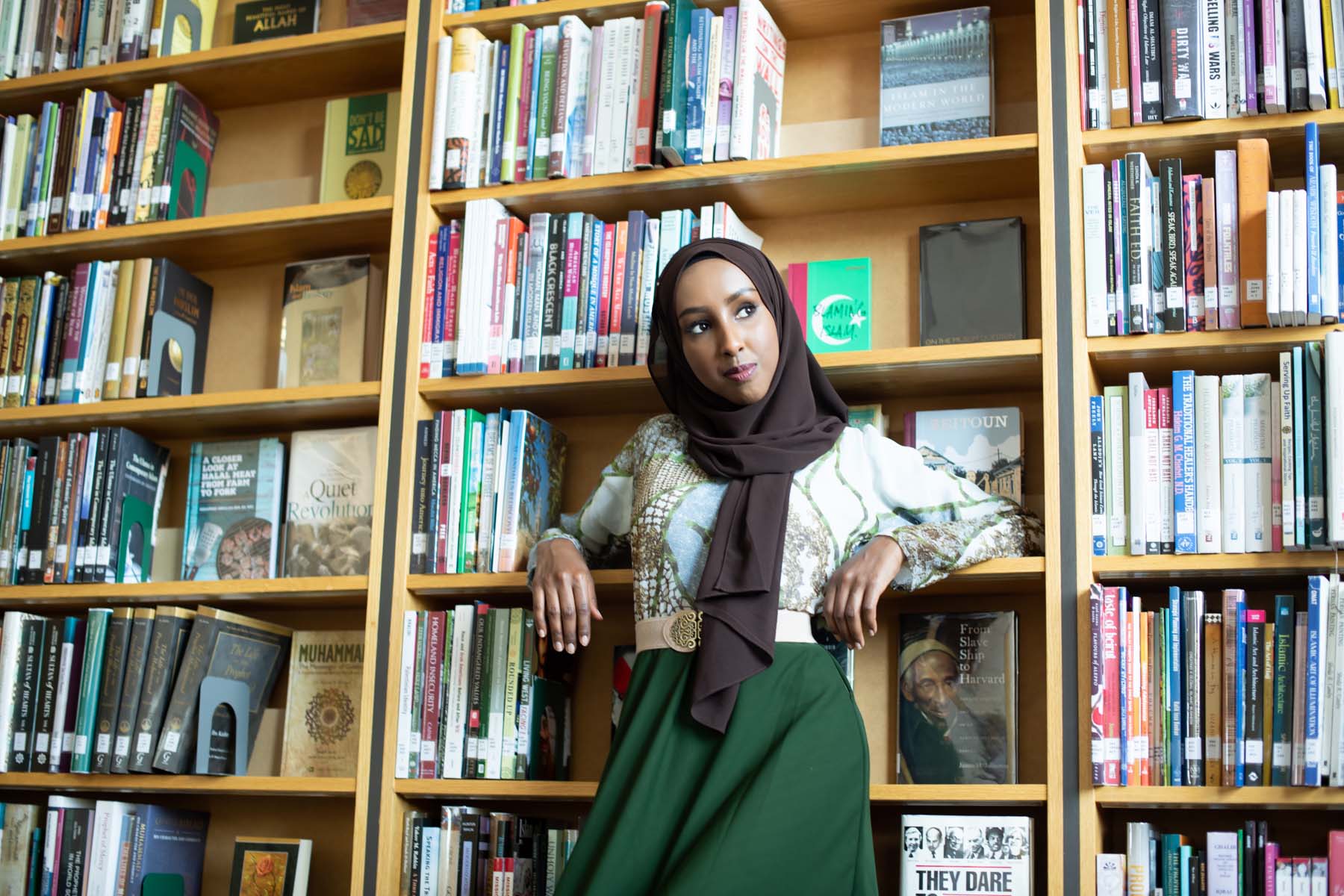 © Photo
Mouna Photography for Wisconsin Muslim Journal
On July 18, Madison's Rahma Mohamed will be one of fifteen contestants vying for the title Miss Muslimah USA when the third annual pageant is held at Dearborn, Michigan's Ford Community and Performing Arts Center.
The 17-year-old UW-Madison freshman is already a remarkable woman, and her ambitious goals are supported by other remarkable women, like Fartun Osman, her mother, and Maghrib Shahid, CEO of the Miss Muslimah pageant.
Rahma decided to participate in the pageant for young Muslim women because it "is the first of its kind" and will "bring positive change to the image of Muslim women in America and provide a platform that gives Muslim women the opportunity to change misconceptions about them," she says.
Rahma has always been that kind of role model. "I get a lot of my values from my religion, how I should be helping others and giving charity or even advocating for others."
Part of her advocacy is her involvement with the gun control movement. She is part of the organization Save our Students and gave a speech to a crowd of about 6,000 on the Madison campus as part of last winter's March for Our Lives.
At the rally, Rahma spoke about how her mother brought her young family to the United States to escape the violence at home in Somalia. "She brought her children here to give them a better, safer life. But even in the U.S., people still face gun violence like that in Somalia."
At the Miss Muslimah pageant, Rahma will give a five-minute speech about how "Muslim women are phenomenal and very capable of doing anything they put their minds to, just like any other woman." She firmly believes that "the hijab is not a barrier but rather a motivator to succeed while representing who I am fully."
To prove her point, Rahma plans to start a non-profit organization to educate women in Somalia and help them start businesses and careers.
But rather than making this one of her future, post-graduation dreams, Rahma is already taking steps. "I took a semester off," she says, and "went to Somalia . . . to survey their needs." Rahma plans to open her non-profit in the summer of 2020. "We're going to start a project in a region away from the capital – a training school for women in Galmudug," an autonomous region in Somalia.
To become a remarkable young woman like Rahma takes support and the right kind of nurturing. Fartun Osman, Rahma's mother, initially emigrated to the United States to study, first at San Diego Community College and then San Diego State. She majored in international business and conflict resolution and worked for a time training welfare case managers in how to minimize conflict.
She says she had "never been to a snow place" before moving to Green Bay when her oldest child, her daughter Buruj, was accepted into college there at the age of 15½.
Fartun's children have a way of being academically accelerated. Rahma's acceptance into UW at age 16 prompted the family's move to Madison. Buruj is currently teaching and studying in Spain.
"I believe that if you have education, you can contribute a lot to your community – and that's what we have done, my daughters and I," says Fartun, who also has a son, Nasrudin, 13.
"I actually sacrifice for [my children]. I think about their education and well-being," Fartun says. She moved to the U.S. to study while pregnant with Rahma, nine-month-old Buruj in tow. Being a single mother completely on her own (her own mother remains in Somalia; her seven siblings live in Europe) was not easy, but she was sustained by her faith, by being "a religion person, connected with our defined creator."
Rahma, she says, is a "gift from God." Her name means "mercy" in Arabic. "She's very sweet and kind. She's very intelligent – more than me and my other kids," Fartun says with a smile. "Everything she does is complete and amazingly perfect."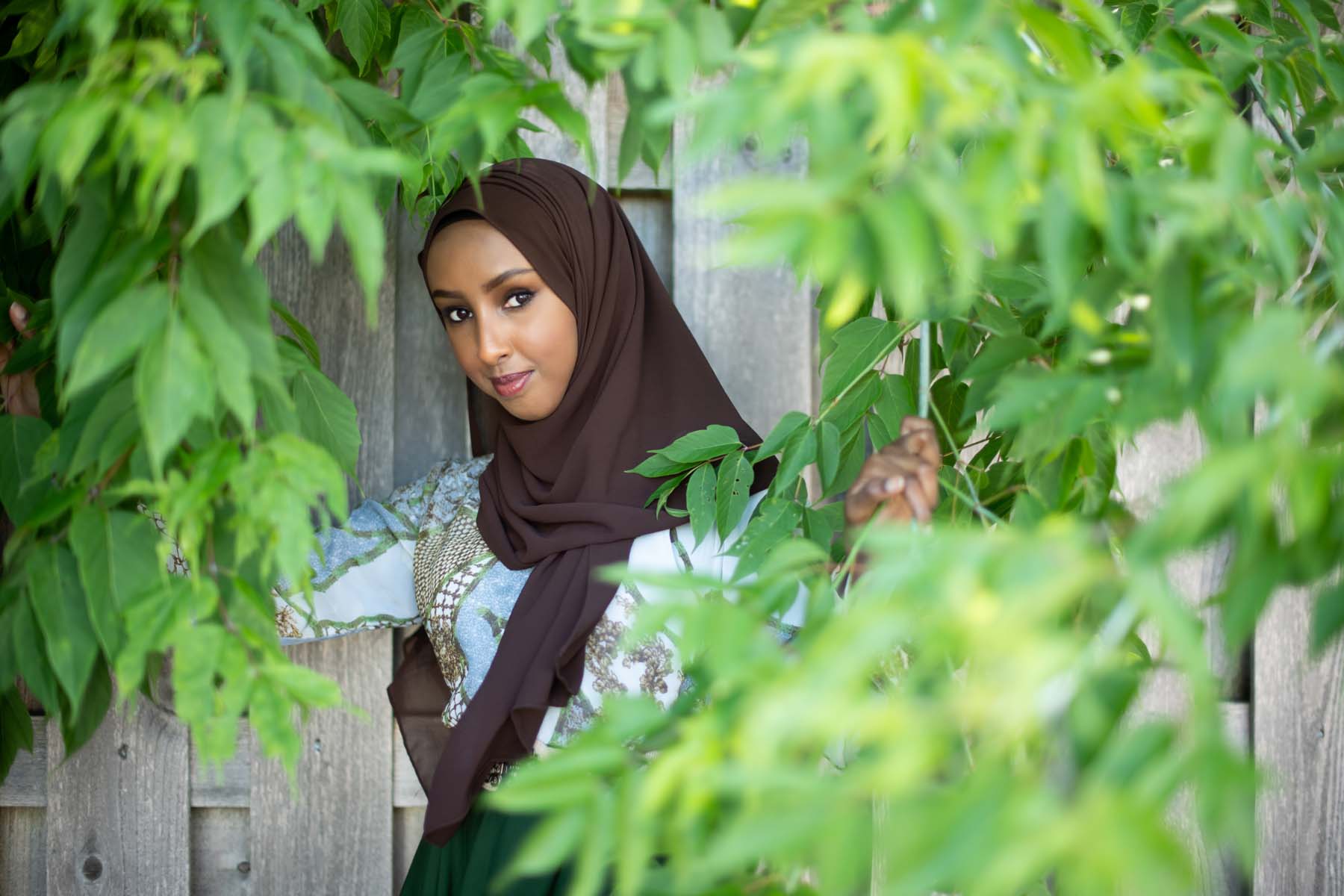 A remarkable young woman also needs a showcase for her talents and accomplishments. That is why another important woman in Rahma's life is Maghrib Shahid, the Miss Muslimah Pageant CEO and founder. "Rahma Mohamed has been amazing," Maghrib says. "She's very professional. If we ask for an assignment, she turns it in before the deadline. She's very compassionate. She has a strong passion" for her mission of starting an organization to help Somali women to become educated and achieve.
Maghrib is the founder of the Chimiwear line of modest women's clothing. She started Chimiwear in 2013 because of the lack of plus-sized, modest fashions, "or modest fashion, period," she says. All the clothes were custom made. "I had so many orders I was doing, like, 60 garments a week," mostly special occasion dresses, Maghrib says.
And then in 2016 came the Trump presidency, and everything seemed to change.
"As a Muslim woman and a hijabi, I was being harassed," Maghrib says. At her local Kroger's supermarket, "this Caucasian lady cut right in front of me" in the checkout line and said, '"I'm tired of seeing people like you in this type of dress.'"
And Maghrib knew she was not alone in experiencing a change in attitude toward Muslims. In Dearborn, which has the largest Muslim population in the United States, "women were getting their hijabs pulled off in grocery stories. So it was coming very hard."
Maghrib decided to create the Miss Muslimah USA pageant as a platform for Muslim women, that says, "We have your back. We are here for you," that both "celebrates Muslim women" and "changes misconceptions about them."
The pageant's slogan, Maghrib says, is "modesty and inner beauty." It's about "your character, your personality, how you carry yourself." Contestants compete in five categories: best abaya; burkini; special-occasion modest dress; a talent portion to consist of Koran recitation or singing, a women's empowerment poem or cultural dance; and finally, a speech. There will also be a Q&A on how each contestant would use her title if she were named Miss Muslimah.
This year, the pageant will include entertainment from two celebrity guests, Karter Zaher from Deen Squad and Zak Baalbaki. "This is allowing us to sell more tickets, faster," Maghrib says. Sponsors are still being sought for stage sets and decorations.
The Ford Community and Performing Arts Center holds table seating for 1,200. General admission for the pageant is $40, including dinner, desert, and beverages. Attendees in the past have been mostly women with a handful of brothers and fathers. And, Maghrib says, there are three "amazing judges – all women. They're not celebrities," but "very professional women in their field."
Though the pageant's emphasis is on modesty and inner beauty, Rahma Mohamed is clearly a beautiful young woman. When I met her at the Islamic Resource Center in Milwaukee, she was wearing an outfit she had made, including a long, green, belted skirt that made her look both modest and business-like. But what struck me about Rahma Mohamed, especially in contrast to her extroverted, light-hearted mother, is her seriousness. Rahma creates the impression that what she sets her mind to, she will achieve.