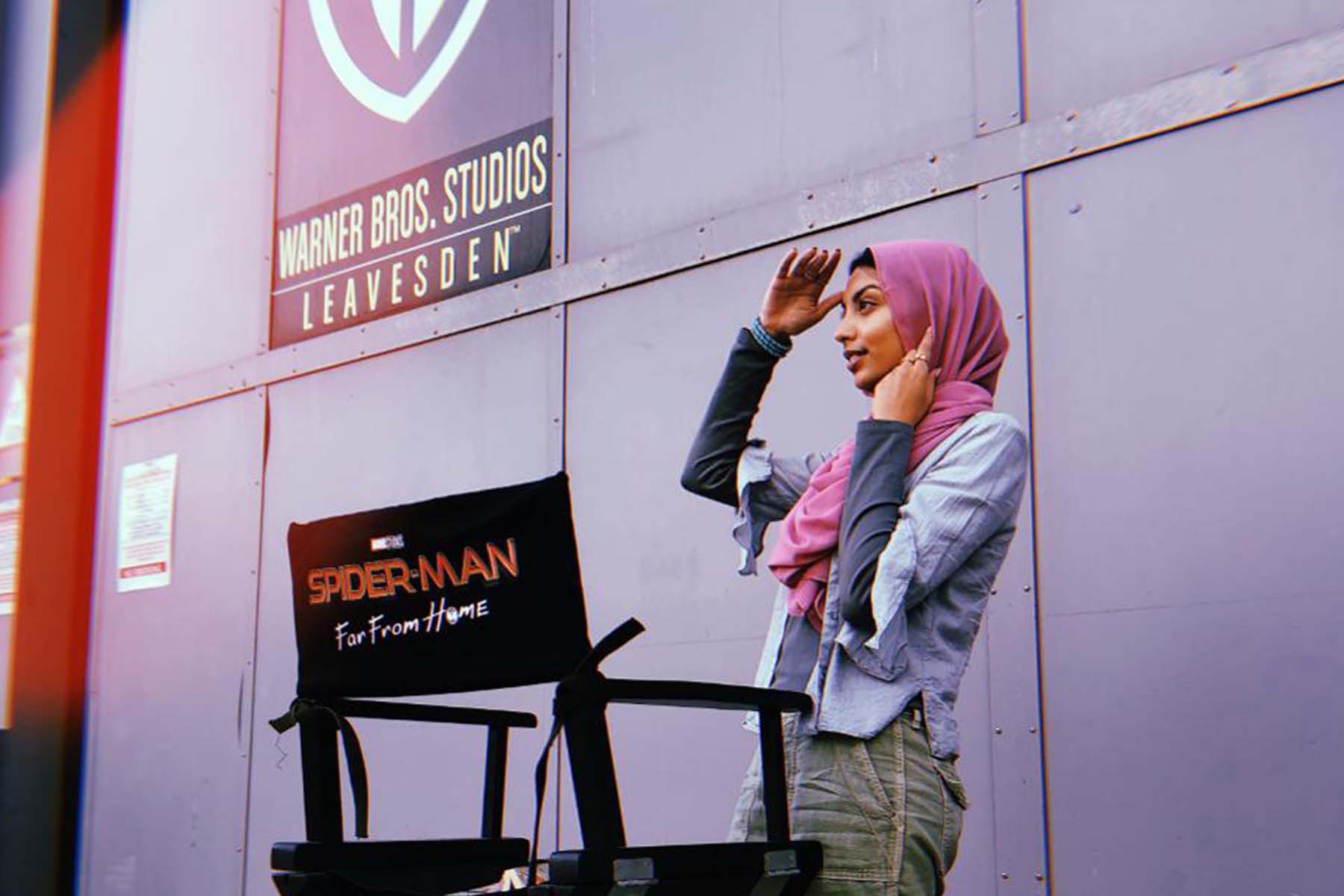 Originally Published By
Anhar Karim as "Zoha Rahman Breaks Barriers For Muslim Representation In 'Spider-Man: Far From Home'" for Forbes
Two years ago, British actress and model Zoha Rahman sat in a dark theater, excited to watch Sony's Spider-Man: Homecoming. But when the film played, one moment took her by surprise.
"I thought about it for days after that," said Rahman. "I was like— I've never seen that before."
There, in the background of Peter Parker's math class, Rahman noticed a Muslim student wearing a hijab. This blockbuster film had just depicted a Muslim character as not odd or foreign, but a regular part of American life. Rahman saw this as what it was: a huge step forward for Muslim representation.
And now, Rahman herself is taking the next step after.
In the upcoming sequel Spider-Man: Far From Home, Zoha Rahman plays Spider-Man's classmate joining him on a field trip across Europe. And since the student in the first film was just an extra, Rahman is now officially the first hijab wearing character in the Marvel Cinematic Universe.
"I didn't actually know what I was auditioning for until I was in the audition room," said Rahman about getting the role. It was only after signing a non-disclosure agreement that she received a script with the hero's name front and center. Despite feeling a flurry of still-processing emotions, Rahman stepped forward just five minutes later to perform.
Luckily, the production team liked what they saw.
When she got the call, she slid down to the floor in shock. "Oh my gosh," she thought, "I'm going to be in a Marvel movie."
At this point, though, no one mentioned anything about her wearing a hijab. It was much later, in a second call from production, that the team asked if Rahman would be willing to make this addition.
Immediately, she tied on her mother's scarf and sent pictures back to them.
"It meant so much to me," said Rahman, "for me to have the opportunity to play a character and represent so many girls that I know personally and that I love and admire."
While Rahman has had a deep passion for acting from a young age, central to her work is the need for better representation of South Asians and Muslims in entertainment.
"We grow up watching television and blockbuster movies," she said. "And if we don't see ourselves on those screens, then we don't really exist, do we?"
Rahman believes the things we watch shape our lives and who we are. Because of this, seeing characters that look and act like on us on screen, playing normal roles, is a crucial validating experience, especially for children.
But unfortunately, Rahman sees the entertainment industry as very, very far behind. While she's happy to see projects like Black Panther make huge strides for Black representation, she knows South Asians and Muslims have a long road ahead.
"We are still stuck in that little caricature stage," said Rahman. "I call it the 'Trio of Ts.' We're either the techie, the terrorist, or the taxi driver."
That is, when South Asians and Muslims do appear on screen, they are forced into these few, stereotypical roles. And thus, the whole breadth and complexity of the South Asian and Muslim experiences are diminished into a few cartoonish images. And though Rahman is thankful for the fan receptionto her role in Spider-Man, she sees this very excitement as a sign of what is wrong.
"We shouldn't be this excited about something that I'm doing because this should have happened a very long time ago," argued Rahman. "Everybody knows someone [who wears the hijab] in their real life. So why aren't we seeing those characters on screen?"
Historically, even Marvel films have not been immune to this. The first Iron Man features wild-eyed Muslim terrorists kidnapping Tony Stark. Iron Man 3 shows War Machine accidentally rescuing a room full of oppressed, Muslim women in niqabs. And even Black Panther features a scene where the heroes clash with Muslim militants.
While Rahman doesn't think Marvel is actively trying to make up for this past, she does believe they are adapting to the times.
"They are realizing that the climate is changing around them and they have to cater to it," explained Rahman. "This is the world that we live in and this is our audience, and we want all our audience members to feel included."
Still, Rahman feels that much of the responsibility falls on South Asians and Muslims themselves. It is true that there are few roles out there for these groups, but that is all the reason more, she argued, that South Asian and Muslim creatives should enter the industry. She noted a few successful personalities, such as Riz Ahmed and Mindy Kaling, who are already doing this, but wished even more would come forward.
Making sure to take her own advice, Rahman is already working on becoming one of those people. When asked what projects she will be busy with after Spider-Man, Rahman said she is currently writing her own superhero film, one in which she can star as a South Asian, Muslim hero.
"We don't have a lot of colored women empowering young girls in our communities," she said. "So being able to be a South Asian superhero would be incredible. I think that would top everything for me."
Of course, there already is a quite popular Marvel hero fitting that same description: Kamala Khan. But while Rahman waits for Marvel to call her about everyone's favorite polymorph, she'll be hard at work crafting other stories to share with the world.
On her fourth day on the set of Spider-Man: Far From Home, Rahman noticed that one of the film's security guards wore a hijab herself. When the guard saw Rahman in costume, she walked over and asked if Rahman was in the film.
After Rahman explained her role, the woman threw out her arms and embraced her in a tight hug.
"She just hugged me so tight. This woman I've never met before," said Rahman. "And she was like, 'I'm so proud of you.'"
The woman told Rahman how much it meant for her, as a Muslim who wears the hijab, to see Rahman on set. She looked on at Rahman with pride, and said that both she and her young daughters would be eager to watch her when the film comes to theaters.
After this, Rahman returned to her trailer. She took a moment. She sat down. And then she broke into tears. After so many years of fighting, of demanding better representation, and of giving this cause everything she had, she finally felt the impact of her work.
And for her, this was only the beginning.
Spider-Man: Far From Home comes to theaters July 2nd, 2019. The film is directed by Jon Watts and stars Tom Holland, Zendaya, and Jake Gyllenhaal.