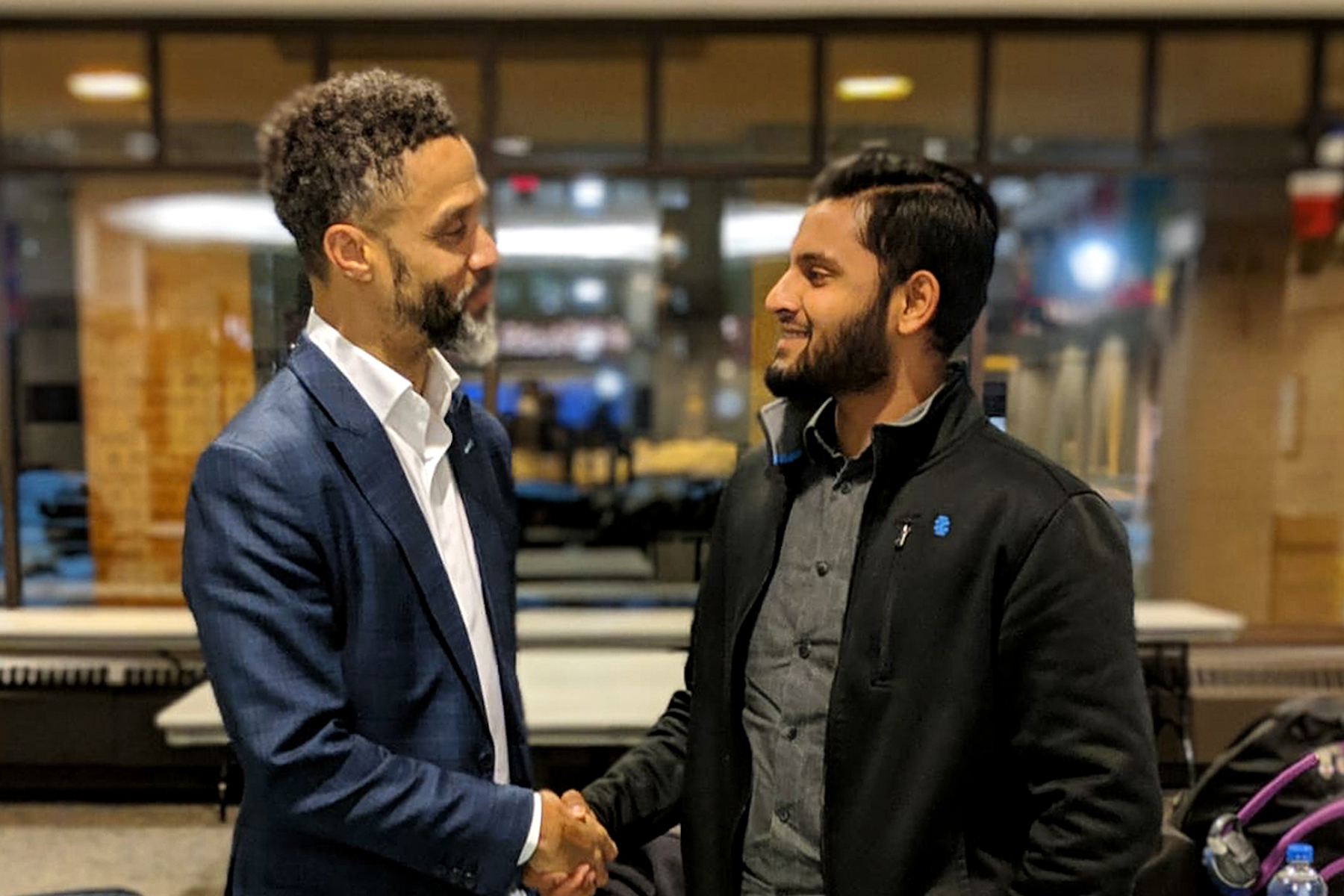 On February 27 at 6 pm in the evening, former NBA player Mahmoud Abdul-Rauf spoke in Marquette University's Alumni Memorial Union to a large crowd of students, faculty and staff.
Faezh Dalieh, president of the Muslim Student's Association and her board came up with the idea of inviting Abdul-Rauf to speak at Marquette, as part of the MSA theme for the year, "the different faces of Islam."  When Abdul-Rauf agreed to come speak, Dalieh and her team reached out to a number of organizations on campus to co-sponsor with them, these included the African Students Association, the Black Justice Council, Student Government, the Office of Diversity and Inclusion, Campus Ministry and Amnesty International.
Abdul-Rauf was one of the top scorers in the NBA, known for his amazing skill and speed.  His career was sidelined when he refused to stand for the national anthem in protest of the way blacks continued to be treated in this country, decades after the civil rights movement.  He considered his refusal to stand a first amendment right and a peaceful way to bring attention to the continued plight of black Americans.  Noting that Kaepernick's protest of "taking a knee" during the anthem decades after him showed that "nothing has changed." The difference now is that social media has a role in the conversation, during his time, the main media outlets determined what the conversation would be and helped form public opinion. Abdul-Rauf travels around the country, talking to people about overcoming difficulties, standing for social and racial justice and encouraging people to stand for what they believe in.  If it was not for those who risk everything to stand for justice, injustice would prevail.
Born into a Christian family with the given name Chris Jackson, he adopted the name Mahmoud Abdul-Rauf in 1991 when he converted to Islam during his first year in the NBA, he had just been recruited by the Denver Nuggets.  Abdul-Rauf shared his inspiring story of growing up in poverty and being raised by a hardworking single mother who struggled to put food on the table but gave a lot of support and love to her sons. He talked about channeling a disability,  he has Tourette's,  into basketball and reading, eventually becoming one of the top NBA players.
Although Abdul-Rauf spoke about his life, his achievements in the NBA, and the controversy regarding his refusal to stand for the national anthem that eventually ended his very promising career, his main message to the students was about having a passion for knowledge, reading and learning.  He said every decision he made in his life was not haphazard but was a well thought out decision founded in knowledge. For Faezh Dalieh, the message was "the more you know, the more you can do, that gaining knowledge through meeting people and reading books is the key to success in life.  If you ever feel that you have stopped being a student, then you are not living life right."
Aamna Javed, currently the vice-president of the MSA, was impressed with how incredibly humble and kind Abdul-Rauf was.  He did not harbor ill feelings about anything in his life and he felt there is a purpose in everything.  "He spoke of how he felt his Tourettes was a blessing for him, it pushed him to work harder and it helped him get this far. He turned his disability into a strength."  Yasmeen Atta, a sophomore added that "Abdul-Rauf was an incredible patriot because patriotism is not just standing to sing an anthem or wave a flag, so many supposed patriots don't even know the words to the anthem!  Patriotism is pushing your country to be a better version of itself, even if it costs you everything."