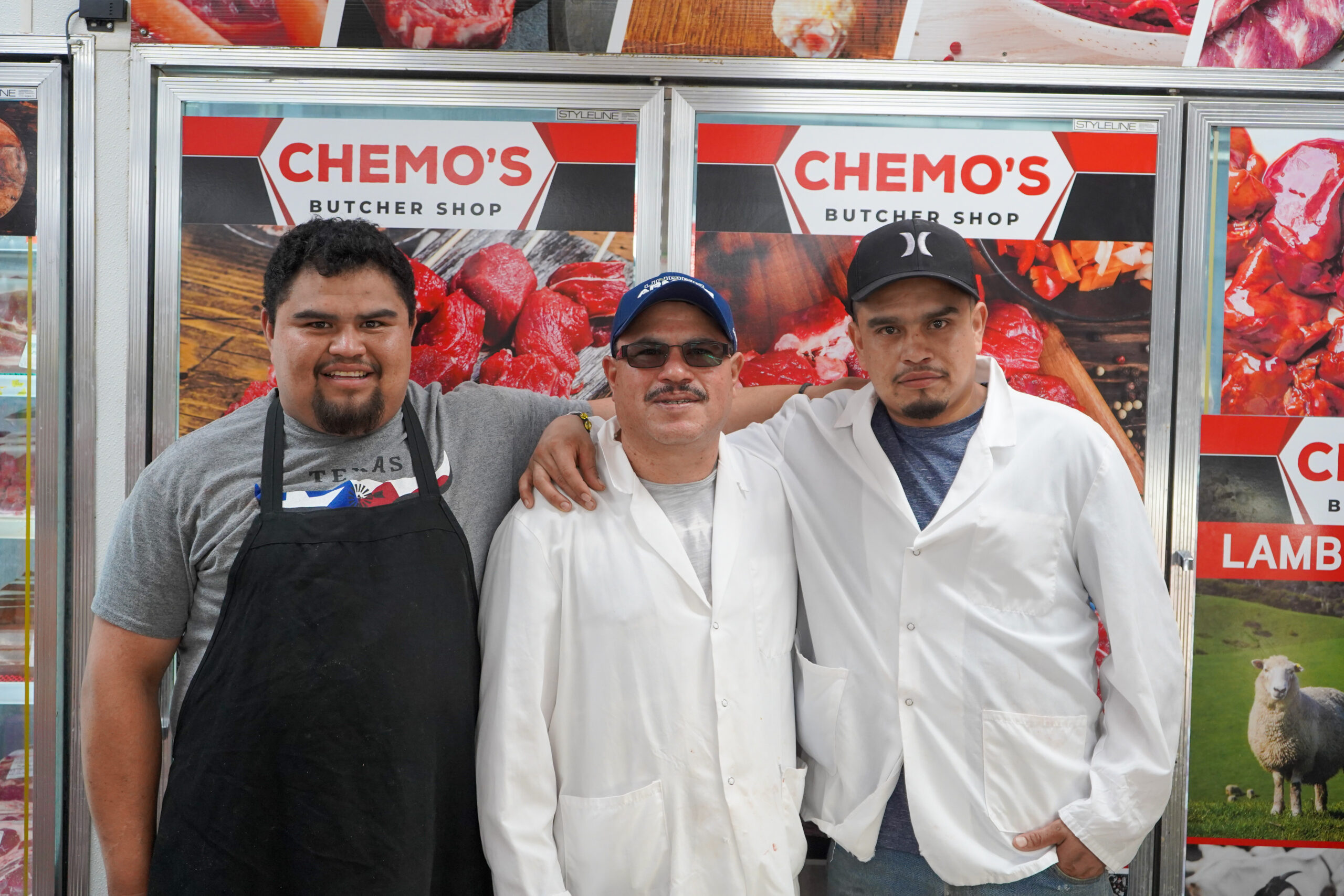 Photos by Kamal Shkoukani
Anselmo Lopez Andrade (center) and his sons, Salvador Lopez (left) and Rafael Lopez (right) work together at his butcher shop located inside Amanah Food Mart.
Four years ago, Anselmo "Chemo" Lopez Andrade opened Chemo's Butcher Shop inside Amanah Food Mart, 1301 W. Edgerton Ave. Amanah Food Mart is located in the heart of Milwaukee's Muslim community and specializes in Arabic and Turkish products, making it the perfect spot for Andrade to sell his quality meats.
Opening his own butcher shop was a dream fulfilled for Andrade, who worked in two South Side Milwaukee meat departments, Attari Supermarket on South 13th Street and Gardens of Eden on Mitchell Street, prior to operating his own business.
"I was working at Gardens of Eden for $5 an hour – taking out the garbage and cleaning and doing whatever they needed – and one day the butcher didn't show up for work so they put me in there. And I liked it immediately," says Andrade.
At the time, Jamal Amro, now an IRS tax preparer at Dura Services, owned the Gardens of Eden and served as Andrade's boss. He later became Andrade's mentor and friend.
"He was a super boss and a very good man. He always treated me with so much respect," says Andrade. "He was a very good role model for me when I needed one."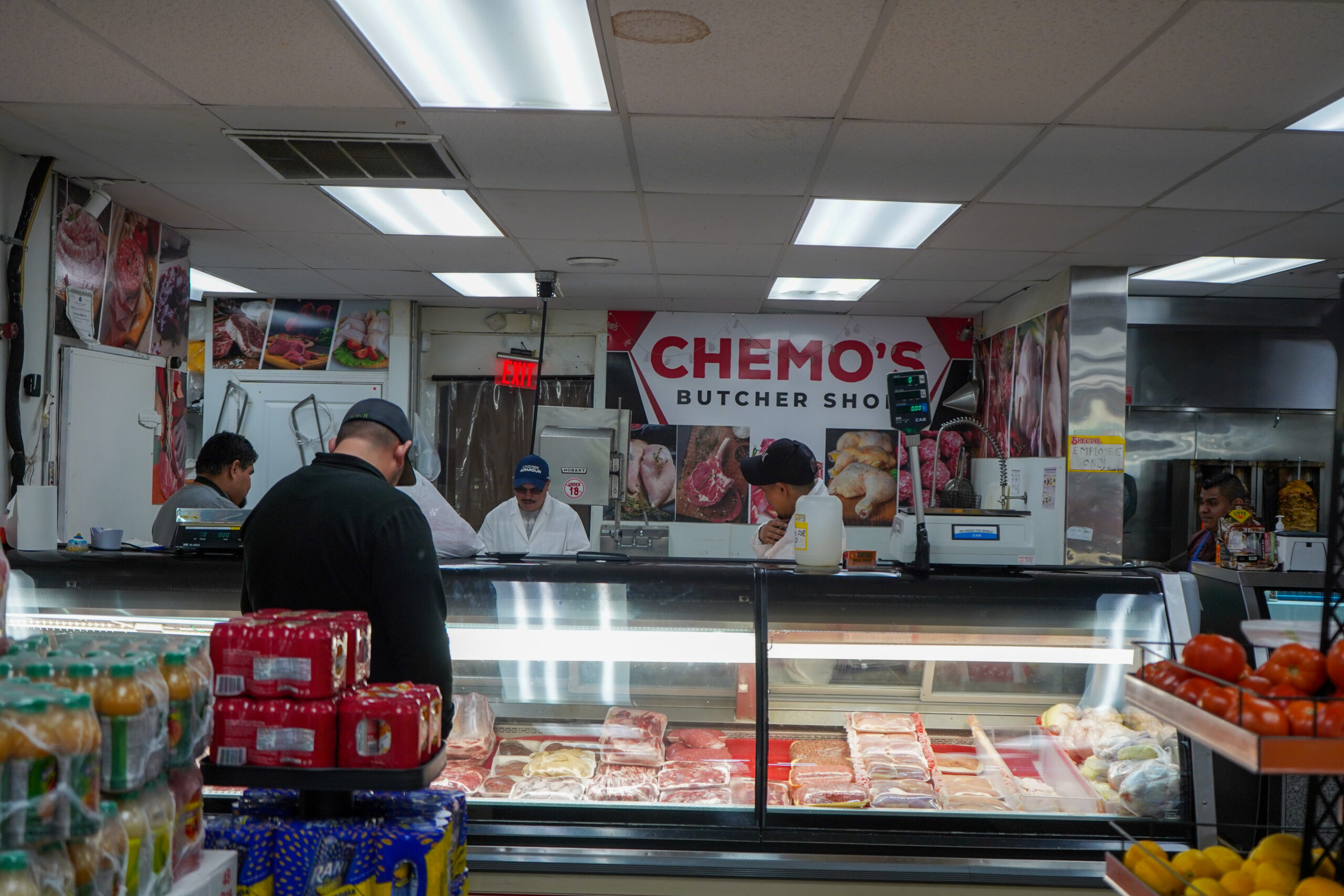 Andrade was born in Guanajuato, Mexico and moved to the United States when he was 25. He left behind a wife and three children whom he continued to support and eventually earned enough money to move them to Milwaukee.
A Catholic since birth, Andrade had no intention of converting to Islam, but after years of working in the Arab community, he began to connect with the doctrine shared with him by coworkers.
"After I heard Mohammad's life story I knew I had to be Muslim," says Andrade. "I didn't even know how to pray yet, but I knew I wanted to be Muslim."
Andrade purchased the Qur'an on cassette tapes in Spanish. He wanted to understand exactly what the prayers meant before he memorized them. And the more he learned, the more he knew this was the right religion for him.
Eight years ago, Andrade officially converted and says he's never felt more at peace. Every Friday night, he attends prayer at the nearby mosque with men in his community.
"I am not afraid of death anymore," says Andrade. "It feels so good to be blessed and able to have my family here with me. I am a better man now."
Andrade's three children, now grown, all work at Chemo's Butcher Shop. Andrade works 13 hours a day, often seven days a week. However, he says it's manageable because he takes time out of every day for prayer, food and family.
"I liked being a butcher on the first day, and I still like my job today. When I see really nice meat, I feel good," says Andrade. "I get to work with my family and that is important to me."
Andrade also co-owns a food truck, "Chemo's Halal Tacos," and would like to open a halal restaurant someday. For now, he is focusing on his butcher shop.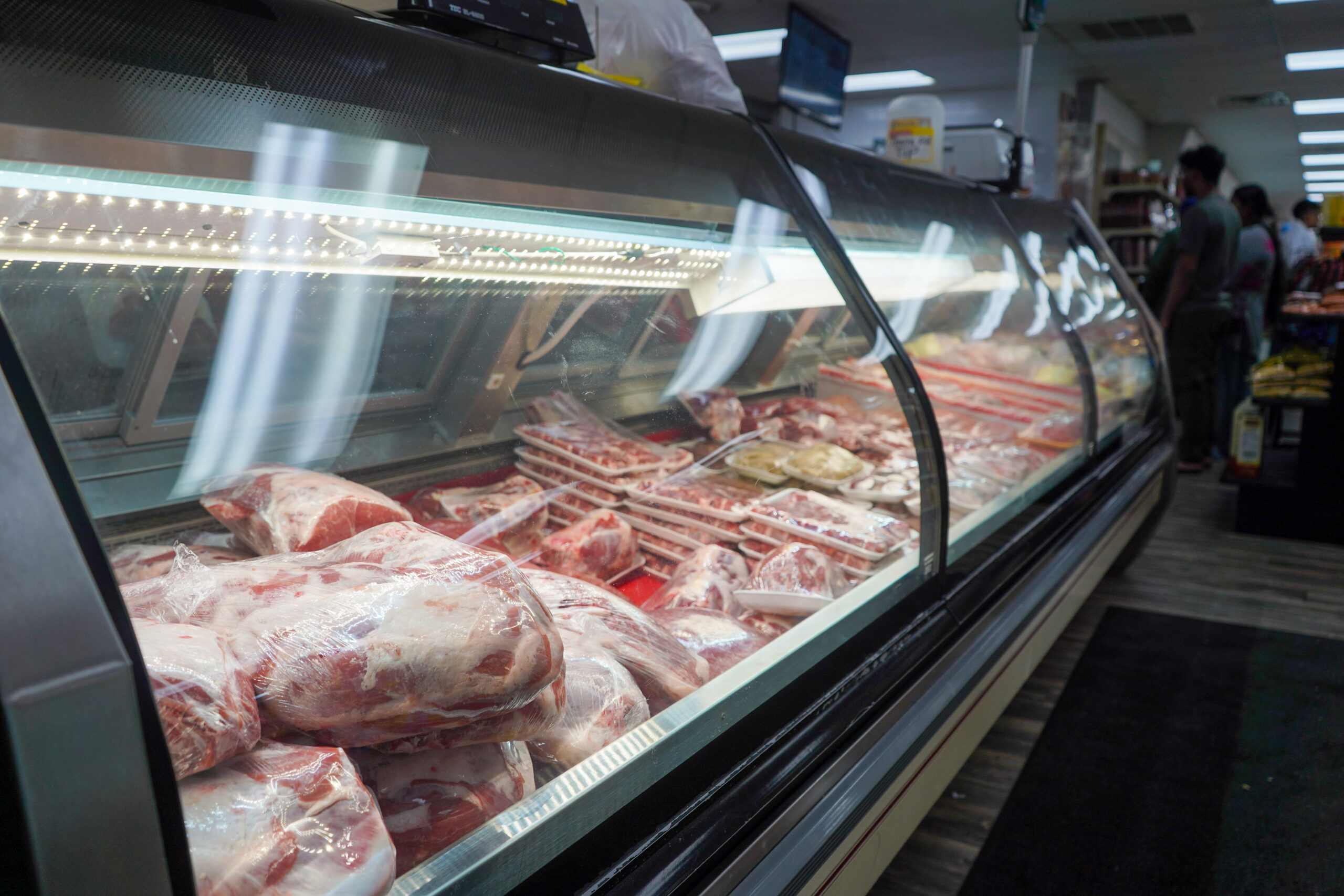 "I love my work. My customers love my meat. That makes me very happy," says Andrade, who also donates meat to many food support efforts locally and internationally.
Chemo's serves fresh zabiha, halal meat, including lamb, goat, beef and chicken. Before preparing the meat for sale, Andrade slaughters the animals himself in a facility located about an hour from his butcher shop. Andrade believes the quality of food he feeds the animals while they are alive and the humane nature of their death, which includes prayer, is why his meat is so high in quality.
"I care about my meat very, very much," says Andrade. "And my customers know that."
Amanah Food Mart is open from 10 a.m. to 10 p.m. daily.