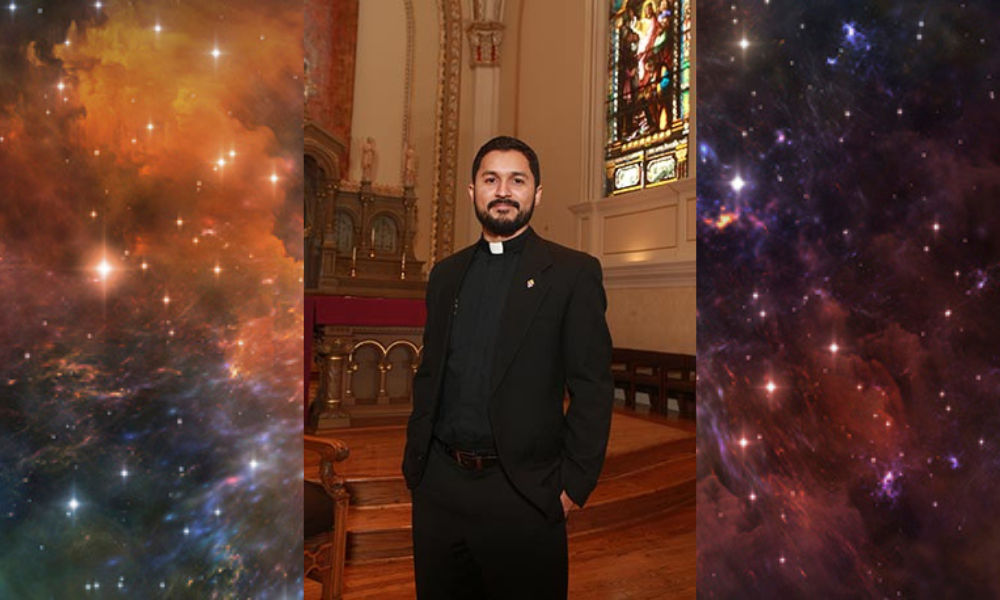 Photo by Allen Fredrickson
Fr. Jose Mario Nieto, associate pastor for the Catholic Community in Central Racine, will speak Friday at MMWC's Networking Brunch on science and faith. 
"People today are dismissive of both science and religion," says Father Jose Mario Nieto, and he says he knows why. 
The associate pastor of the Catholic Community in Central Racine wouldn't reveal why in an interview yesterday with the Wisconsin Muslim Journal but promises to share the answer Friday at the Milwaukee Muslim Women's Coalition's Networking Brunch.
With degrees in both theology and engineering, experience serving in missions in the Dominican Republic and being an archeologist and astrophotographer, he said everyone can benefit from both science and faith perspectives. Yet, "both science and faith have been displaced in our times," adding, "I believe it's part of the same trend."
Father Jose will be the featured speaker at MMWC's October Networking Brunch, 10 a.m. – 12 p.m., Friday at the Islamic Resource Center, 5235 S. 27 St., Greenfield. His talk, "Science and Faith: Seeing with Analytical Eyes, Contemplating with Awe-filled Hearts," will address what he calls a false dichotomy between science and faith, and how a current wave of anti-intellectualism robs people today of the joys of both.
MMWC's monthly Networking Brunch invites people of all faiths and persuasions to come together to hear an interesting speaker, and to share a meal and thoughts on a timely topic. Registration is required. The $15 fee includes an Arabic buffet lunch from Taqwa Restaurant and Bakery. Register here.
Talking science and faith with Father Jose Mario Nieto
Father Jose, originally from a small town on Colombia's Caribbean coast, came to Wisconsin in 2007 to pursue a master's degree in theology at the Saint Francis de Sales Seminary. In June, he marked the end of his first year as associate pastor for the Catholic Community in Racine, which includes Saint Richard, Saint Edward and Saint Patrick Parishes.
Before joining the priesthood, he finished a degree in civil engineering.  At the invitation of priests from the Community of Saint Paul, Nieto moved to the Dominican Republic in 2004, where he worked in a parish close to the border of Haiti. He joined the Community of Saint Paul and moved to the Dominican Republic in 2004, where he worked in a parish close to the border of Haiti.
In an interview Monday with WMJ, Father Jose talked about the ways science and faith have always intermingled in his life. Here are the highlights.
Have you always had an interest in both science and faith?
Yes. My interest in science came to me from early on in my life because my dad was a mathematician. My dad was really into science. In our house, there were a lot of books about space exploration. 
At the same time, we were a very devotion-driven family. My mom went to mass every Sunday. We prayed the rosary. So I had both science and faith nurtured in me from early on. Both of them helped me understand the world I was living in. Science helped me see how things work. What science could not explain, I could contemplate through the way of faith. There is a complementary relationship between the two.
Please give us some examples
Sure. Science can give us insight into how we and the world came into existence. It might be a problem to understand how the Book of Genesis says God created the world in seven days, but in my family, we never took that in a literal sense. What we understood from the Bible was that we have been given a purpose.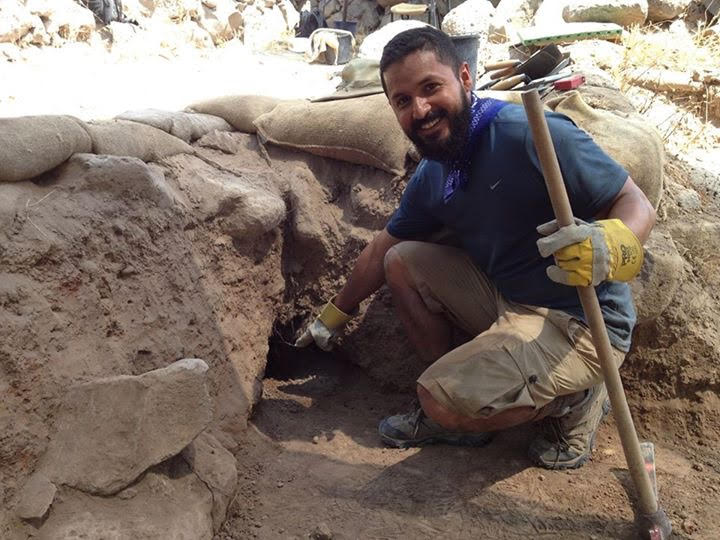 Fr. Jose Mario Nieto has participated in several archeological digs in the Middle East.
Something even more impactful on a personal level would be understanding illnesses. Both of my parents died of cancer. So, understanding how we have a God who cares for us, something faith allows me to see, was important. But science helps us understand the processes that a person goes through with an illness like cancer. There are some things about our bodies, about our lives, that have to run their course, but our life still has meaning even in the middle of pain or death. You need both perspectives to make sense of what is going on in your life. Knowing science helps you not be naive about how the world works.
At the same time, faith plays an important role in moments like that. Faith allows you to live that dichotomy of life, to have your feet on earth and know that this is part of life, but at the same time to know this is not going to be the end, that our lives will have an impact beyond death. In the Christian faith, we believe in the resurrection. That means we are going to be able to see this person again. 
And I always like to share the example of my grandma that shows how faith should not be blind to the things science can explain. I love her. She died at 102 years old.
So, I might tell her about a person you know who is depressed. "She's really having a rough time," I'd say.
Grandma would answer, "Well, that's because she doesn't pray often."
I'd say, "No, Grandma, that's not the reason." But it was a challenge for her, and for many people, to think faith is the answer to everything and forget the role science has in our lives. That complementary relationship between faith and science is crucial to understanding the world.
What are your thoughts about Islam and other faith traditions' approaches to science and faith?
As a Christian, I feel strongly connected to Islam and Judaism. We can't deny what we Christians have inherited from these religions. 
Even those not from the Abrahamic religions, whatever strain of faith you profess, there is one thing that touches us all–the idea of contemplation. Contemplation is a strong tool for understanding the relationship between faith and science. In admiring God's creation, we see that God has already given us a hint about the harmony between natural reason and divine revelation.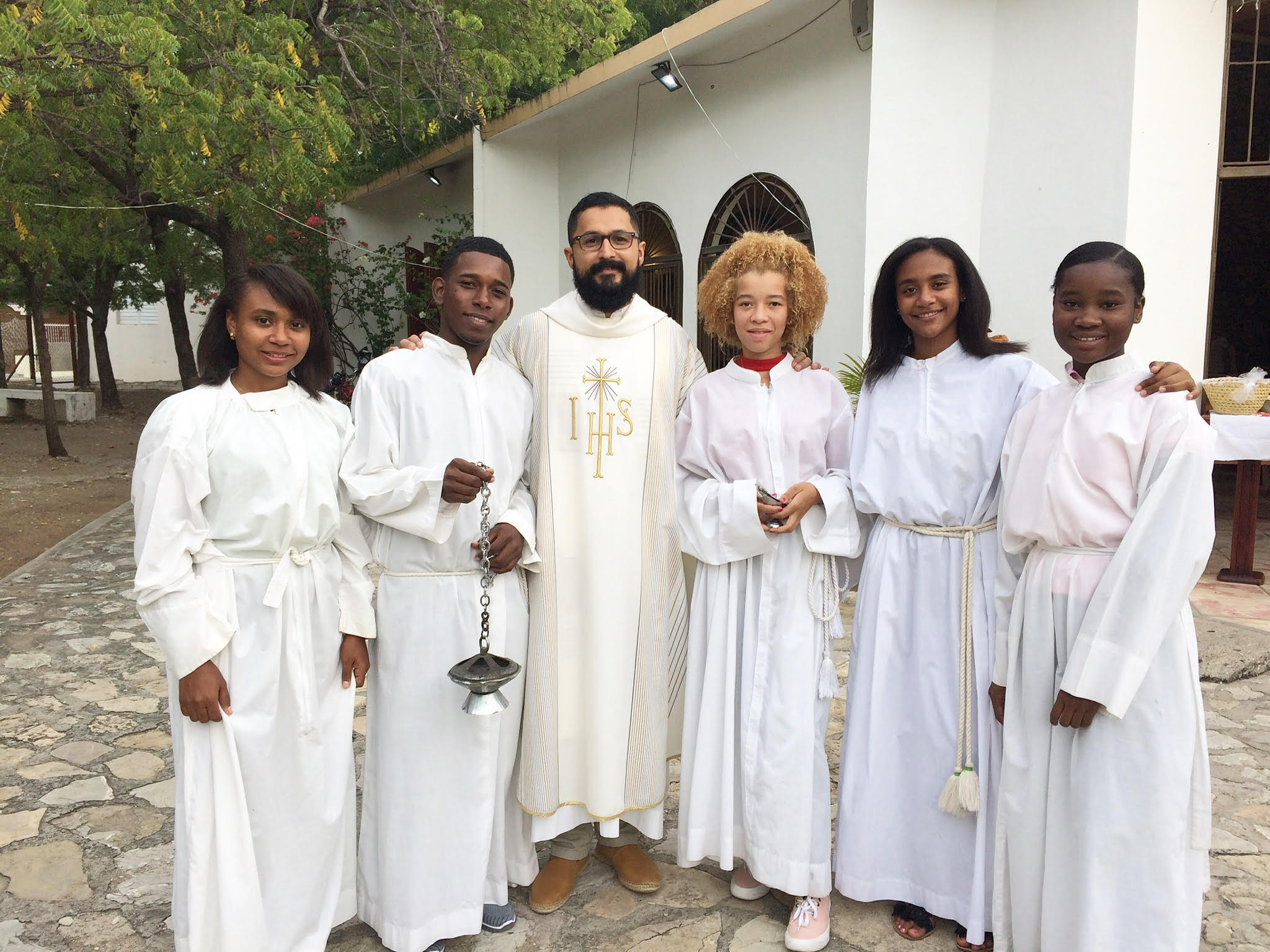 A native of Columbia, Fr. Jose Mario Nieto finished an engineering degree and worked in missions in the Dominican Republic before coming to Milwaukee to study theology.
I do a lot of astrophotography. Whenever I'm using my telescope, that's a prayer I'm doing. I am contemplating creation; it is a way of prayer. And when you pray via science, it is a beautiful thing. You're acknowledging that there are some things about our world that will need our reason to be explained, but at the same time, it will need our faith to be grasped. That's when you can take in the whole picture.
Please tell our readers a bit more about you. What brought you to Milwaukee?
I was born and raised in Columbia, and I went to college where I studied civil engineering. While I was studying engineering, I became curious about the idea of being a priest. A friend who was a priest talked to me about the missions and about how I could help with my background as an engineer. He introduced me to a community of priests based in Milwaukee who worked in the Dominican Republic, the Community of St. Paul. They invited me to work with them in the missions. I did that for five years. That convinced me that I wanted to be a priest. But it turned out that when I wanted to become a priest, they told me they would be sending me to Milwaukee.
The only thing I knew about Milwaukee was the Brewers. In the Caribbean, we watch baseball. It is one of our favorite sports. So when I got here in January, when it was freezing, it was a shock.
Did you already know English?
No, just the basics. That was a huge challenge in seminary. I was recording every class with a tape recorder. That turned out to be a good way for me to learn how to pronounce words, just listening to the lessons again and again.
After seminary, you stayed in Milwaukee. Was that your choice?
I went to the seminary for five years. When I became a priest, it was my hope to go back to the missions but I have been asked to stay here.
I have the good fortune that my boss, the pastor, Father Juan, is one of my best friends. We work very well together. That's something that makes all the challenges easy to address. We do them together.
What is your role as an associate pastor?
I help with the pastoral needs of the community–everything from caring for the seek, to doing weddings and funerals, services and prayers the sacramental life of the church. I spend a lot of time with people. We have done a lot of visiting the sick and funerals because of the pandemic. It has been a privilege but also a challenge to be able to accompany people going through this.
I have also been involved in the teaching of the faith, especially with the Hispanic community. We have a large bilingual community here in Racine and there is a need for teaching, especially a lot of the new thought coming from Pope Francis. I am very committed to making sure we as a church continue to grow in understanding of the role we have in the world. 
What do you hope people at the Networking Brunch will take away from your talk?
I'm hoping people can come to a new understanding of what seem to be apparent contradictions between faith and religion, to consider that each on has a role that complements the other. I hope people will see how developing scientific understanding can be part of their prayer life. 
You said people today dismiss both faith and science perspectives? What do you mean?
It is surprising in our century that people are dismissive of science. There is definitely a lot of anti-intellectualism today. 
When I started serving as a priest, working in a parish, I began experiencing the political reality in the U.S. I had expected that because I value science and faith, I would have a good opportunity to get into aspects of our faith that draw on science. Recently Pope Francis has been a great advocate for caring for the environment and understanding how climate change affects the poor. Talking about science and faith is not only talking about the universe and planets, it is also talking about the poor and politics, about how all these things affect the everyday life of a person. 
In recent years, there has been a lot of anti-science rhetoric that I'm worried about. At the same time, people are disregarding the role of faith. I think it is for the same reason.
Can you tell us the reason?
I will—-at the Networking Brunch.