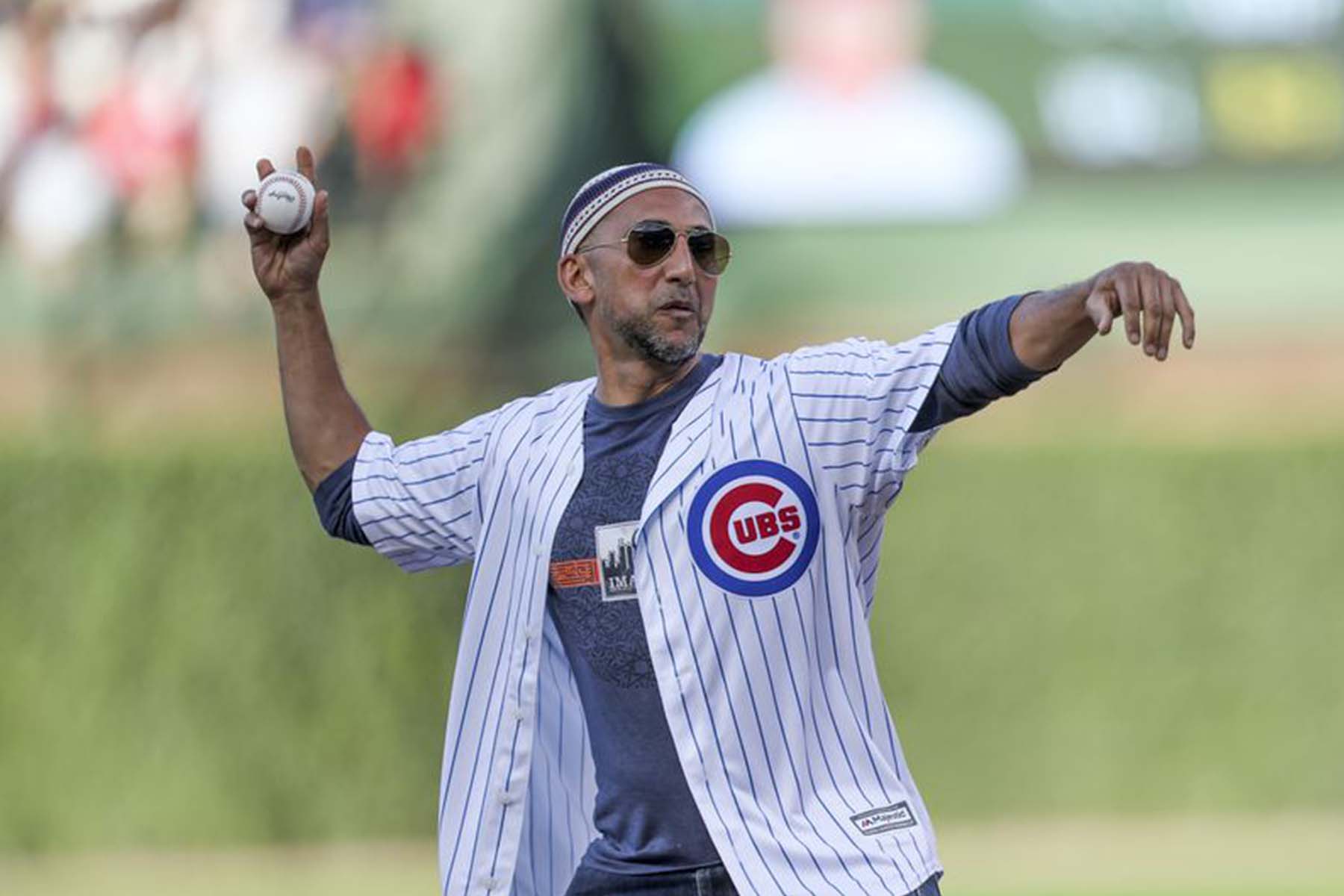 Originally Published By
Annie Sweeney as "Muslim community leader throws out first pitch at Cubs game as team continues outreach" for Chicago Tribune
© Photo
Armando L. Sanchez / Chicago Tribune
Some five months after racist and anti-Muslim emails from the Ricketts family patriarch surfaced, a leader in Chicago's Muslim community threw the ceremonial first pitch at the Cubs game Monday night at Wrigley Field.
The invitation from the Cubs for Rami Nashashibi, executive director of the Inner-City Muslim Action Network, to take part in the tradition presented two problems — one more easily dealt with than the other.
First was Nashashibi's 8-year-old son, an avowed White Sox fan who made it clear he didn't want to see his dad wearing a Cubs jersey.
More seriously, Nashashibi, a MacArthur Foundation genius grant fellow, told the Chicago Tribune of his concern that his appearance would come off as "just a symbolic effort" and serve as more of a distraction from the real work required to end the xenophobia and the fearmongering tactics reflected in the emails in which Joe Ricketts endorsed racist jokes and conspiracy theories.
In the end, Nashashibi decided to participate because, he said, the Cubs organization has taken the issue seriously by meeting directly with Muslim organizations and individuals, committing to public service announcements and dedicating resources to anti-bullying campaigns.
Besides, Nashashibi's decades of work as a community organizer told him to seize the opportunity to "bridge divides."
"As someone who loves this city, I think the power of Chicago is that we continue to show up, even when we profoundly disagree with each other," he said. "We will get in other's faces and challenge one another and occasionally even inspire one another to do better and be better."
Cubs spokesman Julian Green said the organization has had several "thoughtful conversations" with members of the Muslim community and is planning workshops and training to combat racism.
"Even something which may be considered fan-friendly and fun speaks a great deal, as far as what we stand for in terms of inclusion," Green said, referring to the first pitch.
Nashashibi founded the Inner-City Muslim Action Network in 1997 to provide services and outreach as well as address injustice in Chicago's marginalized neighborhoods. The organization runs a health center and provides job training and transitional housing for former inmates and high-risk youth.
Nashashibi pointed to an increase in hate crimes, expected immigration raids in Chicago and President Donald Trump's tweets at U.S. congresswomen of color as examples of how much work around racism remains to be done — and why the stakes are so high.
"That sentiment is not only fueling bigotry among billionaires sharing emails, but it drives policy," he told the Tribune.
After the controversy broke in February, the Cubs announced a partnership with several Muslim groups to fight Islamophobia and bigotry. Cubs Chairman Tom Ricketts called his father's emails "unacceptable" and stressed that Joe Ricketts has no direct role or economic interest in the team. He also said he had never heard his father say anything racist.