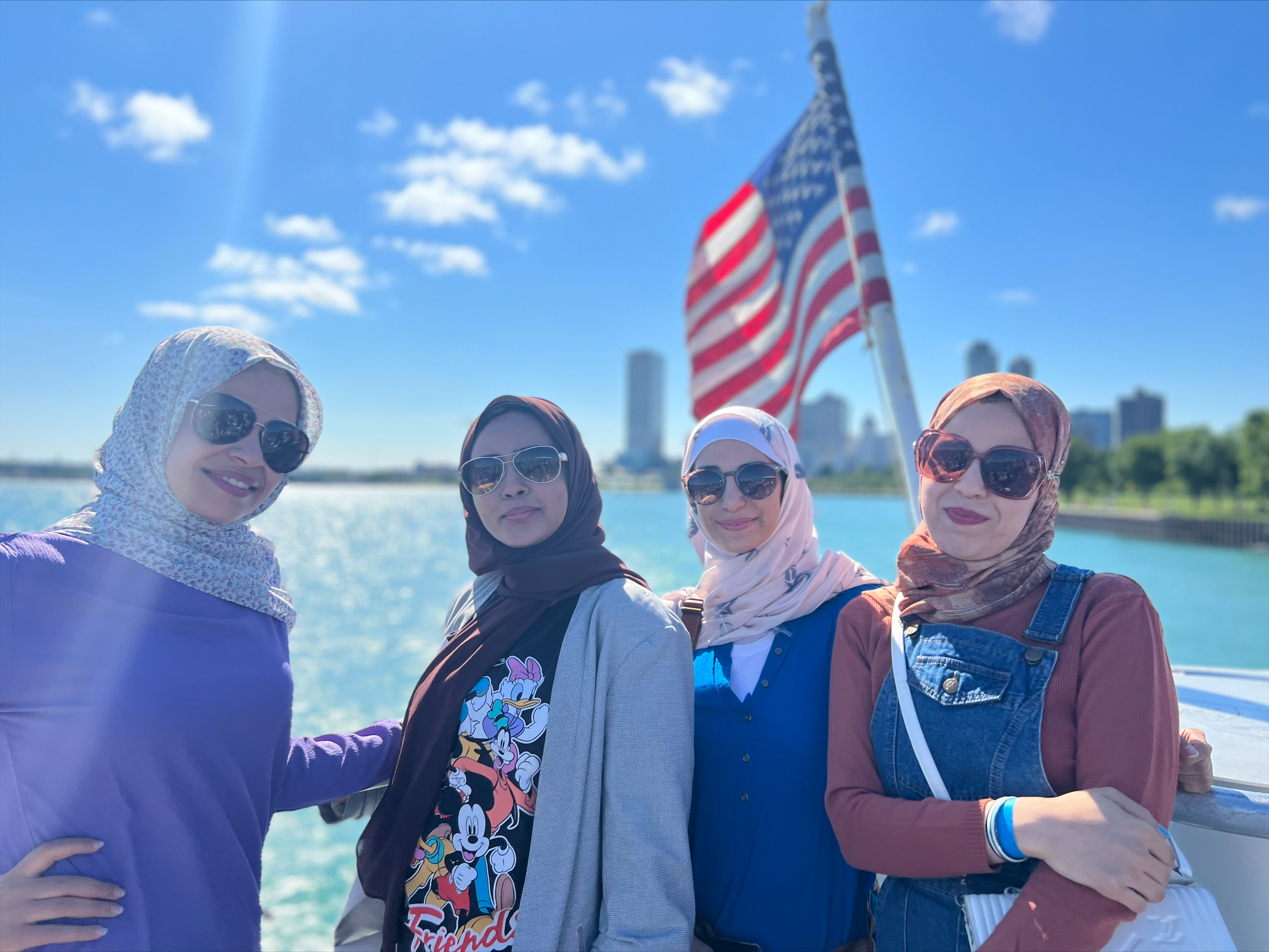 UWM PhD nursing students Hanan Abdallah Mahmoud Abusbaitan, Amani Mobarki, Hiba Alsghaier (computer science) and Anwar Eyadat enjoying a sail on Lake Michigan.
The University of Wisconsin-Milwaukee's (UWM) doctoral nursing program integrates science, theory and research and is widely recognized for its innovation and leadership in the profession of nursing, including an extensive collaboration with diverse community agencies. Their program is consistently ranked in the top 15% of nursing schools with graduate programs by U.S. News & World Report.
"UWM has the best and brightest students in the world in our program," says Dr. Lucy Mkandawire-Valhmu, a professor in nursing at the University of Minnesota who worked at UWM for 15 years. "They are innovative, creative and extremely smart. They are absolute stars."
Many of the students in this program are Muslim, like Hanan Abdallah Mahmoud Abusbaitan.
After receiving a bachelor's and master's degree in her homeland of Jordan, Abusbaitan traveled 6,200 miles to the Midwest region of the United States to earn a doctorate degree in nursing at UWM.
"I have a lot of friends who came here before me and they encouraged me to come to UWM because it was a very supportive environment and a place where I could learn a lot more," says Abusbaitan.
Abusbaitan looked into the program online and was drawn to Mkandawire-Valhmu.
"I looked up the faculty members and I connected with Dr. Lucy before I applied. I immediately knew I wanted her to be my major professor – and she agreed," says Abusbaitan.
Originally, Abusbaitan envisioned herself becoming a doctor of medicine, but chose nursing because of her love for community health and, specifically, women's physical and mental health. She is committed to curbing violence against women, something common in many communities throughout the world.
"My plan for the future is to work in violence against women – specifically refugee women and women who live in rural areas – and help them with emotional abuse," says Abusbaitan. "If we can predict this first, we can often prevent physical violence. This is very important for abused women. So many need help to navigate through what they suffered and are suffering."
Anwar Eyadat is also a female Muslim student from Jordan in UWM's doctorate nursing program. Eyadat grew up in a family and community with numerous nurses, and she decided at a young age that this was a suitable path for her, too.
"By the time I was 18 or 19, I knew I would love to be a nurse someday," says Eyadat. "From the beginning of my journey of nursing I always knew I wanted to complete the master's and PhD."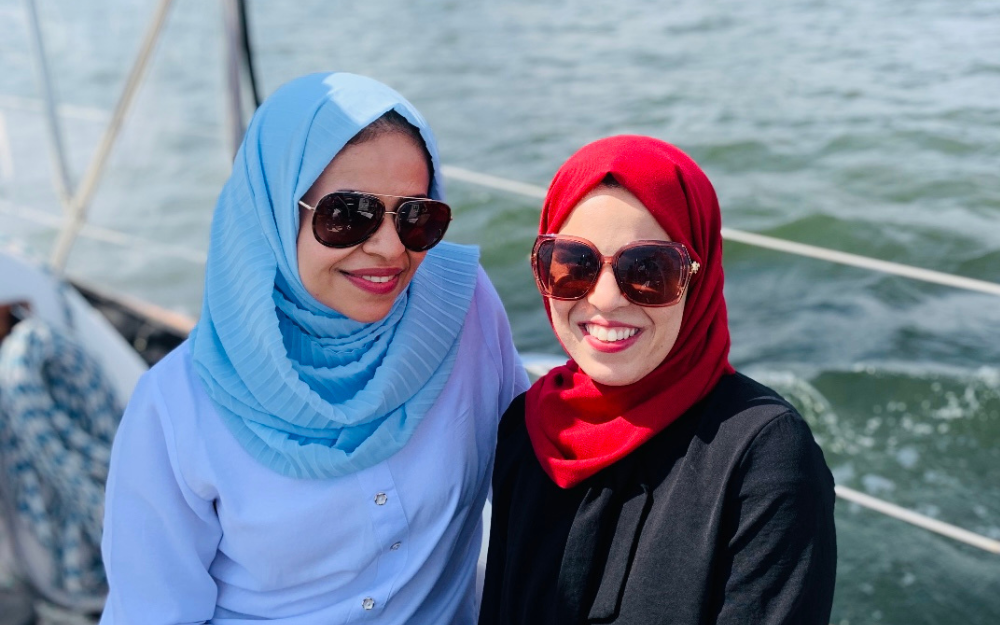 Hanan Abdallah Mahmoud Abusbaitan and Anwar Eyadat both came from Jordan to the United States to earn a doctorate degree in nursing at UWM.
Both Abusbaitan and Eyadat have the choice of returning to Jordan to write their thesis, or staying in Milwaukee. At this point, Abusbaitan plans to return to Jordan temporarily and Eyadat is still undecided.
Dr. Mkandawire-Valhmu a Fellow of AAN
"It is so nice to see them grow in scholarly activities and then be able to contribute meaningfully to the health of women in other countries based on what they've learned here," says Mkandawire-Valhmu.
After graduating from the doctorate program, Eyadat plans to enter the academic field and start teaching whereas Abusbaitan will work through organizations to further promote women's emotional health and personal safety.
"I think it's incredibly important to fight against intimate partner violence. There certainly has been a history of women experiencing violence – especially among marginalized populations – which makes their work incredibly significant," says Julia Snethen, professor and PhD program director for UWM's Nursing Department. "It will make a difference in women's lives who are experiencing violence."
So what attracts Muslim students to the nursing program at UWM? 
Snethen says much of the reason why Muslim students enjoy studying at UWM is because of the unity among all of the students.
"I am so impressed by how the students take care of each other. Many have described (being in the program) as having extended family," says Snethen. "We don't want any of our students to ever feel like they are alone."
The Muslim students in this program live off-campus, primarily in apartments on Milwaukee's East Side neighborhood. 
"I almost feel like I'm in Jordan, not the U.S. I have great support from my professors and friends who are like family here," says Abusbaitan. "If I need anything when I'm in my apartment my neighbors are from Jordan and there's a family from Jordan on the ground floor, too. It makes me feel like I'm really at home."
Eyadat says she enjoys living within walking distance to Lake Michigan and that life in the U.S. is easier and more flexible.
"There are options for everything. I have access to everything so easily. There is always a solution here," says Eyadat.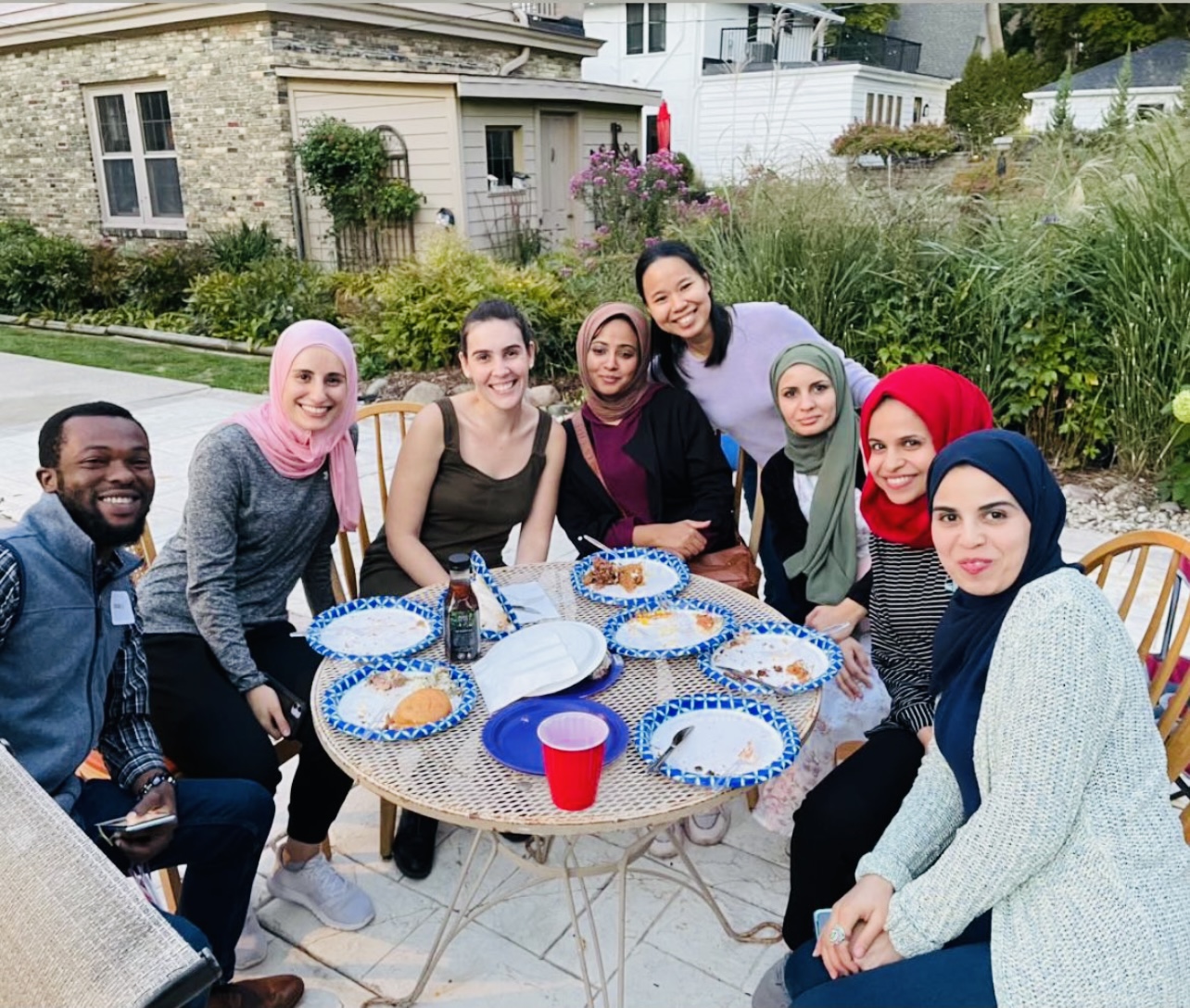 Although their full schedules don't leave a lot of time for socializing, the Muslim nursing students do get together for lunch and dinners – often with their non-Muslim peers as well – and occasionally travel to Chicago or celebrate a life milestone together.
"Recently they had a baby shower for one of the students. That was really great," says Mkandawire-Valhmu. "Most students in the PhD program don't have family and friends who understand what they are going through. This is a whole new experience and it can be daunting. Students thrive when they feel welcomed and supported."
Both Abusbaitan and Eyadat deeply appreciate the opportunity to openly express their thoughts and opinions and work side-by-side with the students and faculty.
"There are not strict boundaries between professors and students," says Mkandawire-Valhmu. "We all work as a team. I think it makes it a richer environment for learning."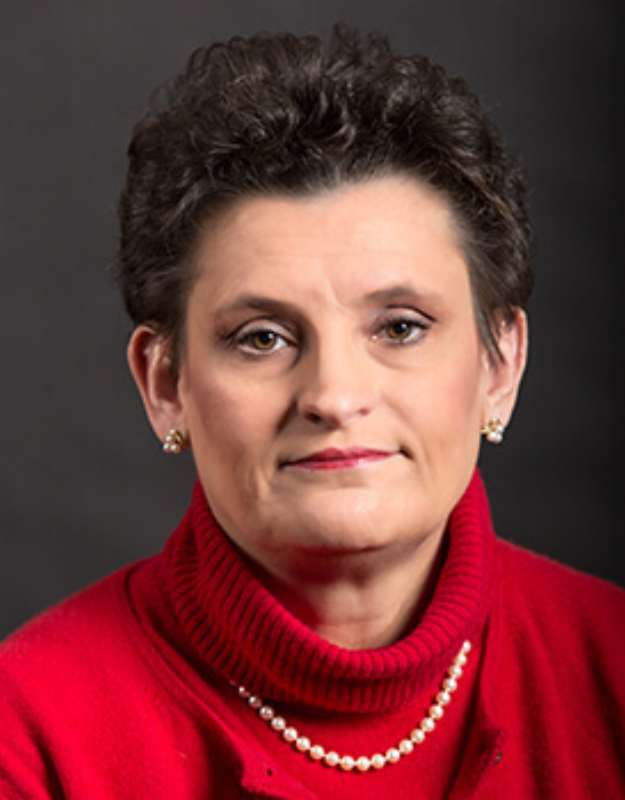 Julia Snethen, PhD, RN, FAAN
Snethen seconds the importance of collaboration between faculty and students within the program.
"We don't want our students always working individually, in silos. In real life, that's not how it works. We have to work in teams to improve and accomplish science. What kind of improvements would you make in science if you only worked with yourself? We learn from each other," says Snethen. 
The availability of financial aid also makes UWM attractive to overseas students. The institution offers over $500,000 in nursing scholarships and funding annually and has particularly generous aid options for students seeking to become nurse educators or nurse faculty.
"Our students represent what nursing is supposed to be about: a very diverse community of people working together to advance medicine," says Mkandawire-Valhmu.