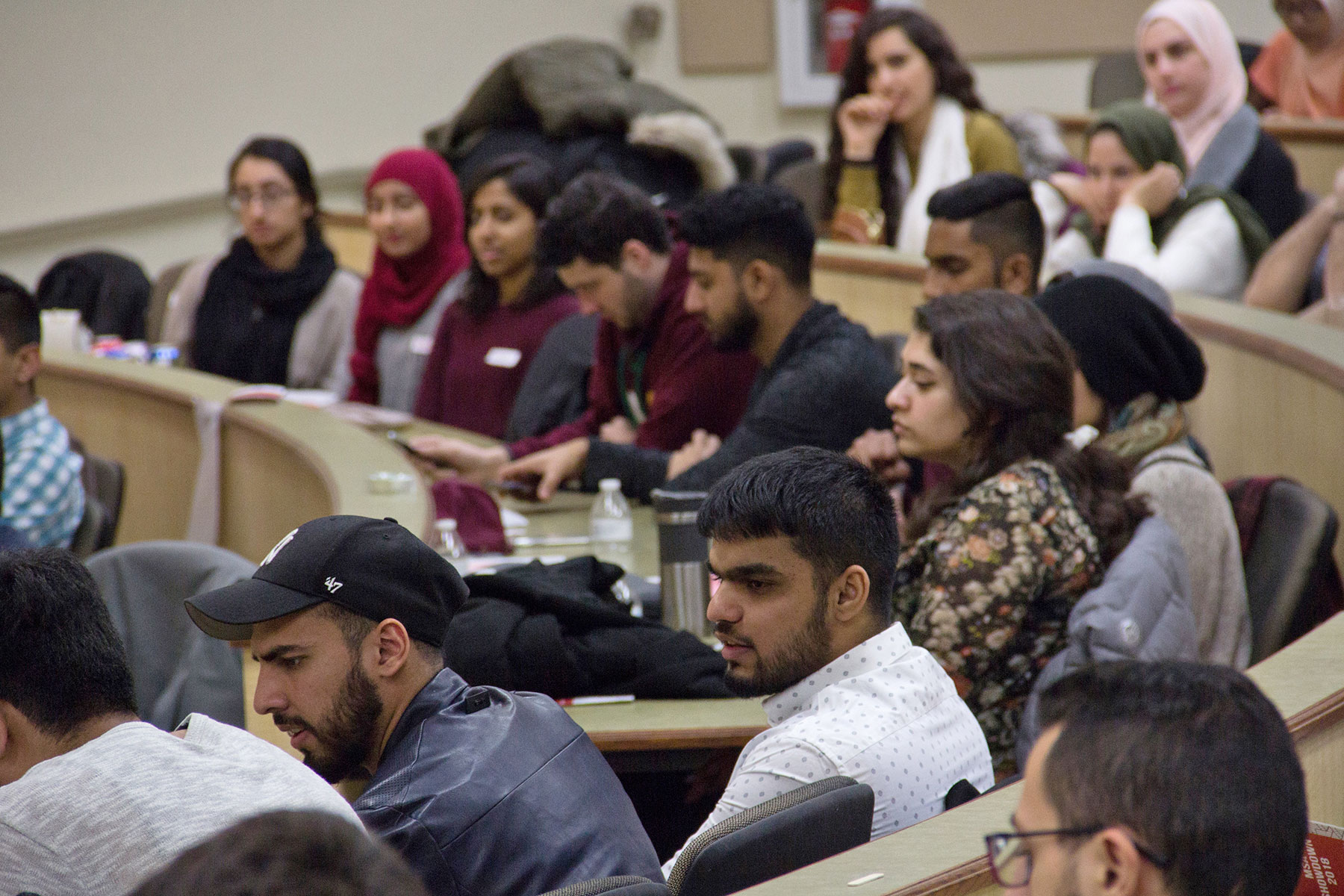 The University of Wisconsin-Madison hosted the first ever Muslim Student Association (MSA) Showdown, which brought together the MSA groups from Madison, Marquette, and UW-Milwaukee over the weekend of February 3 and 4.
More than one hundred students participated in the inaugural event, in spite of inclement weather. The showdown was designed to bring together groups from the three educational institutions to form relationships through sharing and competition. Activities included Spoken Word performances, a Tug of War, trivia games, a basketball tournament, discussions, and prayer groups.
The idea for the event evolved from the feeling of disconnect between Muslim students in Wisconsin. When a university holds its functions, usually only the students from that school attend or participate. With the statewide Muslim population being so small, students need ways to get outside their isolated silos.
"We hope that this fun, friendly showdown will create lasting bonds between the three associations, and revive the spirit of activism in the MSA by its members, said Shaykh Noman Hussain, Imam and Resident Scholar at Islamic Society of Masjid al-Noor. "By working together on a state level, MSA hopes to unify their affairs and become more connected in form and function."
Shaykh Noman Hussain was a speaker at the event, and has also served as an advisor to the organizers. He felt the opportunity allowed students the chance to build bridges as they go on to form the next generation of Muslim leaders across Wisconsin.
The problem of isolation is not unique to Muslims or ethnic groups. Many students who go to Madison grew up in Milwaukee, and they have a lot of friends who attend schools in Milwaukee. But the distance means there is rarely a chance to connect. The two day gathering helped rekindle old bonds and created new relationships.
It also provided some Muslim students who did not know many people to venture out of their comfort zone and make friends. One student in attendance, for example, had just moved from Iran recently and decided to visit Madison. After the weekend together, he felt as close to students in Milwaukee and Madison as if he had grown up with them.
As a result of the positive response from those who attended, organizers hope to hold the event each year at the start of the fall semester. The showdown helped facilitate conversations, relationship building, and a sense of unity.
"My Persian rug
Spread across
my living room floor
With each handwoven design
Tells stories of my people
I ask myself:
Will it tell mine?"
– Spoken Word by Ali Khan (Junior)
"How is it that my confusion
about my religion and my identity
Only becomes clear to me
when under fire
Headlines read: Terrorist
Affiliated with
An attack against America."
– Spoken Word by Saja Abuhakmeh (Sophomore)
Established in 1963, the Muslim Student Association has chapters in colleges across North America. With the current climate of fear, inflated as a political tool against Muslims and Islamic institutions, MSA and other related organizations have been targeted by governmental departments for surveillance.
Some of the attending students felt that if MSA was the subject of these questionable monitoring programs, then it was hoped that those federal agencies would use the information to become self-educated about Islam and Muslims, rather than blindly use the data to reinforce their preconceived stereotypes.
The Wisconsin chapters of MSA were founded to provide Muslim students of all backgrounds a safe space that installs the foundation for a unified and proactive community. Their mission is to embody the core tenets of Islam by promoting and fighting for social justice, living a balanced and ethical lifestyle, and helping those in need.
MSA is focused to provide an opportunity for both Muslims and non-Muslims to learn more about Islam and its teachings, in order to build upon prior knowledge and to dispel misconceptions regarding the faith and its teachings.