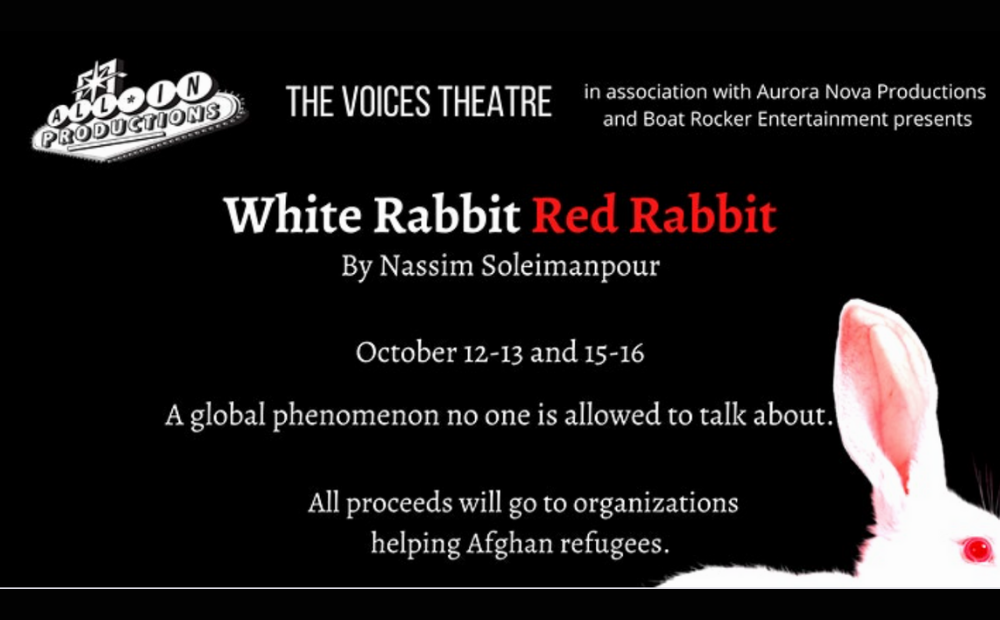 Spoiler Alert: Actors, if you ever wish to perform in Nassim Soleimanpour's White Rabbit Red Rabbit, DO NOT READ THIS STORY!
Friday night Milwaukee actor Adam Qutaishat, 32, will perform in White Rabbit Red Rabbit, an experimental show written by Iranian playwright Nassim Soleimanpour. Qutaishat has never seen the script; he doesn't know the story. He will not have a director. There is no rehearsal. His performance will be streamed live from his home, where he will find the props he needs once the play begins. 
Why will he do it? Why should we see it? Qutaishat shared compelling reasons in an interview Monday with the Wisconsin Muslim Journal.
Playwright Nassim Soleimanpour couldn't leave Iran so he sent his play out into the world.
About the play
All In Productions in Milwaukee and The Voice Theatre Project in Madison have teamed up to produce White Rabbit Red Rabbit, in association with Aurora Nova Productions and Boat Rocker Entertainment,  and will donate 100% of the proceeds to support Afghans relocated in Wisconsin after the fall of their country to the Taliban at the end of August.
White Rabbit Red Rabbit is a global phenomenon that no one is allowed to talk about. Actors may not perform if they've ever seen the show before; the script will be handed to them in a sealed envelope as they take the stage. They can only perform it once. 
Nassim Soleimanpour, an Iranian native who was not permitted to leave Iran, wrote this play he sent out into the world so actors and audiences could all take a journey with him. 
The play has been performed by many celebrated actors, including Nathan Lane, Alan Cumming, Whoopi Goldberg, Laura Linney, Martin Short, Sinead Cusack, F. Murray Abraham, Cynthia Nixon, Stephen Rea and John Hurt, among many others. It has been translated into more than 30 languages and performed over 3,000 times.
This week's performances in Wisconsin will be virtual. Two actors from Milwaukee and two from Madison will each perform solo on separate evenings this week. Each is an experienced actor with multiple credits in local and regional professional theatre. 
October 12: Karen Estrada of Milwaukee
October 13: Casem AbuLughod of Madison
October 15: Adam Qutaishat of Milwaukee
October 16: Jaime England of Madison
Tickets are available with donations appreciated.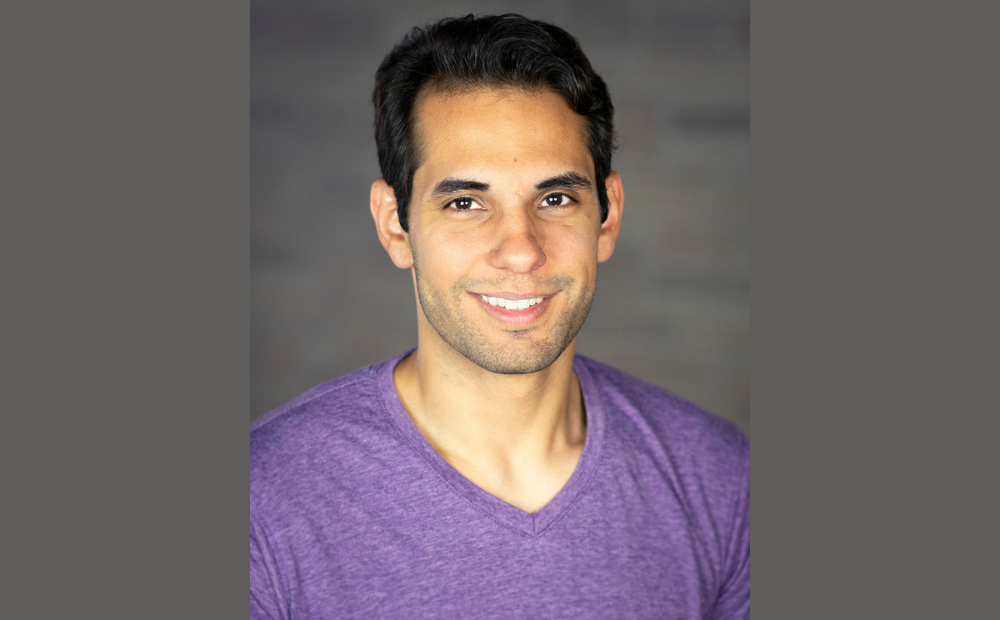 Adam Qutaishat, a Milwaukee-based music and theatre professional, performs in White Rabbit Red Rabbit Friday.
About Adam Qutaishat
Qutaishat is a music and theatre professional located in Milwaukee. Originally from Buffalo, New York, he came to Wisconsin to study at the University of Wisconsin – Stevens Point. After graduating in music education and working for four years as a high school choir director, he decided to build a career in theatre and is now based in Milwaukee. He is the associate artistic director of Music Theatre of Madison and an artistic associate of All In Productions.
As an actor, Qutaishat has performed with Next Act Theatre, Skylight Music Theatre, Milwaukee Opera Theatre, Music Theatre of Madison, Milwaukee Chamber Theatre, Renaissance Theaterworks, The House Theatre of Chicago, All In Productions, Playwrights Center, American Gothic Performing Arts Festival, the Central Wisconsin Symphony Orchestra and more in the Twin Cities, Madison, Chicago and Milwaukee.
He also does writing, directing, audio editing and production, lighting and podcasts. He offers private voice lessons and coaches acting. "I do a bit of everything, whatever is needed," he said.
The right time for the right cause
At the top of Qutaishat's list of reasons for performing in this production of White Rabbit Red Rabbit is the fact that 100% of the proceeds will support Afghan evacuees, he said. 
About 13,000 of the 90,000 Afghans the United States military airlifted out of Afghanistan when the country fell to the Taliban are temporarily housed at Ft. McCoy in Wisconsin. Most brought no more with them than the clothes on their backs. Soon they will move to communities to start life again in a new country. 
All costs of the production have been donated by two theatre companies sponsoring the show, All In Productions in Milwaukee and The Voices Theatre Project in Madison. 
"The two companies have paid for the production pieces upfront. Every dollar, every cent, we get is going to organizations serving Afghan refugees," Qutaishat said. 
Proceeds from ticket sales will be split between the Milwaukee Muslim Women's Coalition and Wisconsin Jewish Services in Madison. These organizations will apply the money directly to meeting the needs of the Afghans, he said.
The Voices Theatre Project and All In Productions came together with the aim of putting the show together in a timely manner "to make sure people are taken care of.  That, for me, is the biggest piece. We are going to have fun, do something different, unique and meaningful, and also the work is being used for something important. 
"The reason I chose to do this now—because each actor can only do this performance one time in their life—is because of what it is being done for. All the actors feel this way. For me, it is the right time because it is the right cause."
A personal connection
"To connect this Iranian playwright to myself—I am Arab and Kurdish on my father's side— and then to Afghan refugees, there were a lot of pieces of things I'm passionate about and people I want to be helping. 
"I want their voices to be heard. I want to make sure they are safe and taken care of. There was definitely a piece that connected with me personally when I took this on."
Qutaishat said he is, "very excited to discover what the playwright wants to say. These are voices we want to listen to. How often do we even get to hear from (someone who wrote from inside Iran who was not allowed to leave)? Any opportunity we can take to learn more about their experiences is really important."
When playwright Nassim Soleimanpour wrote his best-known play White Rabbit Red Rabbit, he was not able to leave Iran because he had not served in the military. He was permitted to travel for the first time in 2013 and is now residing in Berlin, where he is the artistic director of the Berlin-based Nassim Soleimanpour Productions. His plays have been performed to acclaim around the world.
White Rabbit Red Rabbit has been performed by theatre companies around the world.
What can the audience expect?
"One of the big hooks that really fascinated me was that a man who could not leave his country wrote this story," Qutaishat said. "In this specific instance, it was Iran, but it happens in so many places. 
"The actors don't rehearse. Audience members are seeing an actor touch this for the first time. We are used to seeing actors who have prepared and prepared and prepared.
"Something that inspired me to be involved is it invites the playwright into the room with you and the audience, even though they can't be there. That to me is so fascinating and such an interesting way of telling stories. It is theatre in a way most theatregoers have never experienced before.
"Because the actor doesn't have a way to really practice, you are getting the words through that actor completely unfiltered," he explained. "There is no director, there's no lighting, there's no sound, there's no blocking. It is just the actor and the playwright's words. It's a relationship that is not often seen in theatre. You are watching theatre at a very intimate stage in the process. 
"You are going to see mistakes, see us miss a word and address it on the fly. You get to see what an actor goes through; you get a glimpse into the process."
"I know a lot of people when they watch films, their favorite thing to watch is the bloopers. There will likely be bloopers. You get to see a little bit behind the scene, see the wheels turn and the fun that is had in the creation."
Tickets are available now: