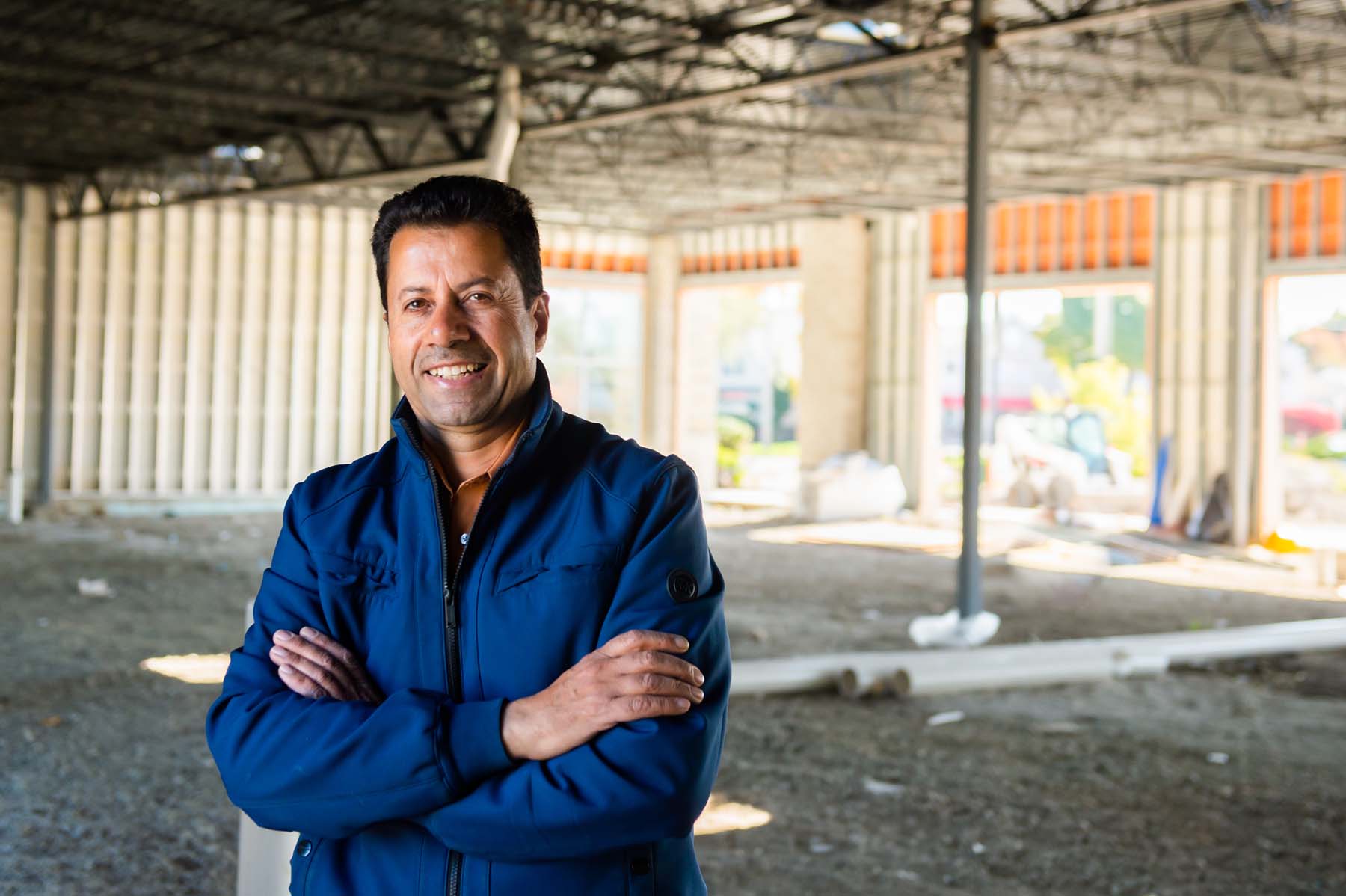 A thriving southeastern Wisconsin Muslim community of about 25,000 has seen rapid growth in its institutions matched by growth in its businesses. That has injected a vital new element into Milwaukee's Southside economy. With this growth has come construction, both new and repurposed.
Nabil Salous, 57, who came to Milwaukee from Palestine in 1990, was soon immersed in this building boom.
Salous had already earned a degree in civil engineering from An-Najah University, in Nablus, Palestine. But "there was hardly any opportunity for us Palestinian youth . . . the Israeli occupation made it very difficult for individuals to survive and thrive there."
Salous's brother Basman, a physician, lived in Milwaukee at the time, and "he did the paperwork" for Nabil to emigrate to the U.S. Upon arriving here, Nabil Salous did try to "reconnect with my construction background," but initially, those jobs were not forthcoming for someone trained on foreign soil.
So instead, Nabil started Salous Tailoring, also known as Salous Men's Wear and Tailoring, aka Salous Formal Wear and Tailoring, depending on client needs. The shop is located on South 60th Street. Tailoring was a family business in Palestine, a skill passed down through generations, and Salous is a master tailor.
But within a few years of his arrival on the western shore of Lake Michigan, Salous had also started Salous Construction Management, a word-of-mouth business based on his management of the Islamic Society of Milwaukee renovation in the mid-1990s.
A devoted group of Muslims from diverse communities had bought the New Road School building at 13th and Layton from MPS and were using it as both a prayer hall and gathering space, one they soon outgrew. "The community is grounded in family," said Salous. "They gather socially, they pray, and they provide support to each other. And the community was growing."
ISM's leadership, which included Mahmoud Atta, a former board president and father to Salous's wife, Bayan, encouraged him to donate his time to the construction of a 24,000 square foot expansion from which the current mosque evolved in stages.
Today, not a trace of the old red brick school is visible from the outside. The mosque's smooth exterior features a prominent minaret. Inside, a large prayer hall and prayer balcony can accommodate 1,500 people. Salam High School (grades 7-12) is located in the space that used to be the New Road school, which includes a gymnasium where sports teams, including a girls basketball team, practice and compete.
"He took on a huge challenge," said Salous's wife and business partner Bayan. "The responsibility was on his shoulders." The ISM project took two years and had to be slowed down at some points, awaiting financing. "That building still has a special space in my heart," Salous said. "I did it for the sake of helping out." Ultimately, the project also had a positive impact on Salous's work in construction management, but initially, "I wasn't even thinking of that," he said. "But people saw this building going up, and I started to get calls from people who wanted to do a project here and there."
Salam Elementary School at 8th and Layton in a former Pick 'n' Save location was Salous's second project for ISM. The school project was completed in 2007. Since then, Salous has been in charge of a spate of other renovation and building projects, including ISM University, across from the UWM Union on Kenwood, and the Islamic Resource Center on South 27th Street, completed in 2011. Most importantly, all of these projects were done free of charge, as a donation to the community.  In spite of the fact that these projects took years and tremendous effort, on top of dipping into valuable family time, Salous wouldn't have it any other way.  He sees this as a contribution not only to the community and city he loves but also to the next generation, including his children, who he hopes will one day build upon his work.
Janan Najeeb, president of the Milwaukee Muslim Women's Coalition, said MMWC  "needed a home besides the small rented offices we had been using. We realized that one of the great needs was a lending library where Muslim children could find books with characters that looked like them and the public could come and find accurate resources on Muslim beliefs and practices."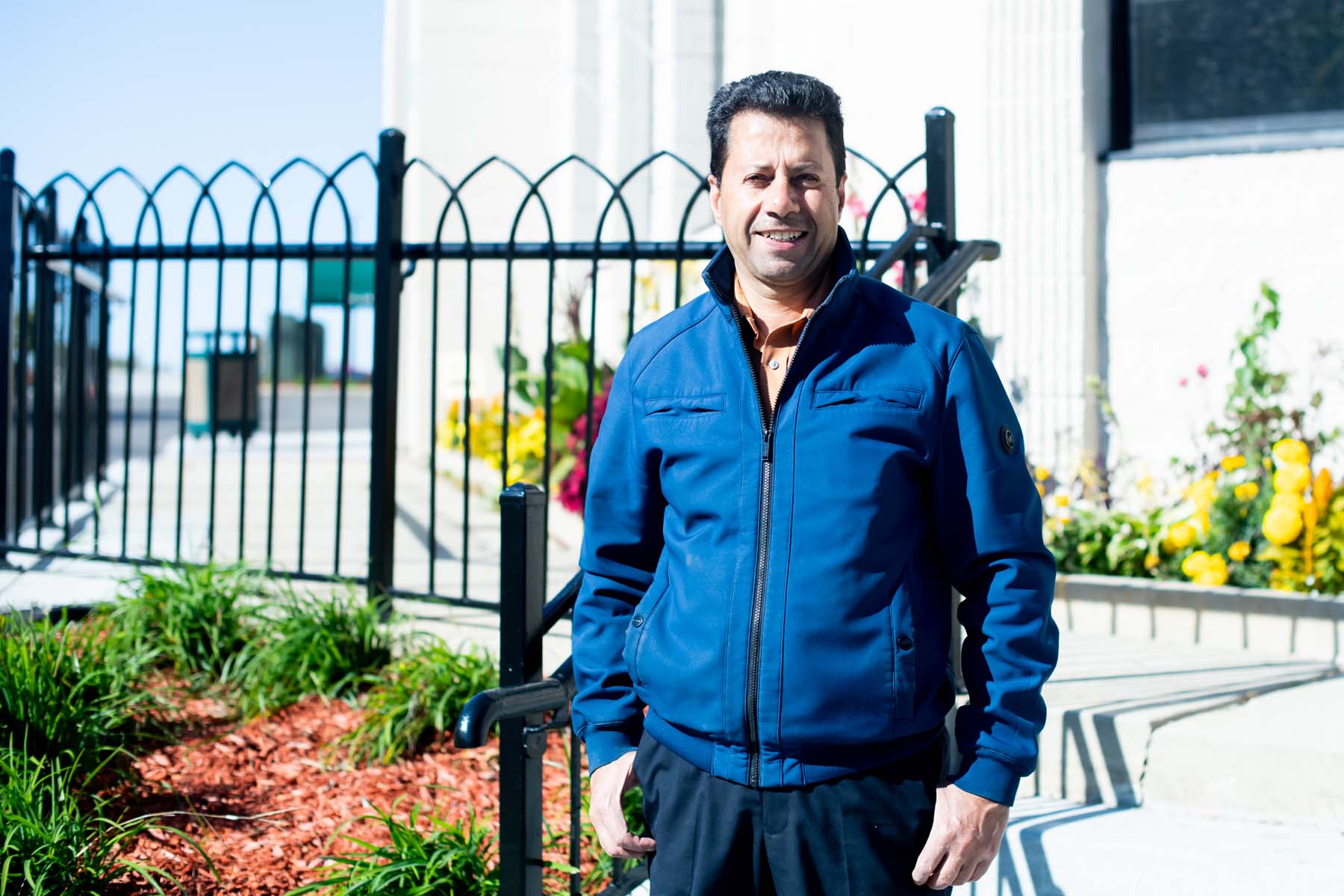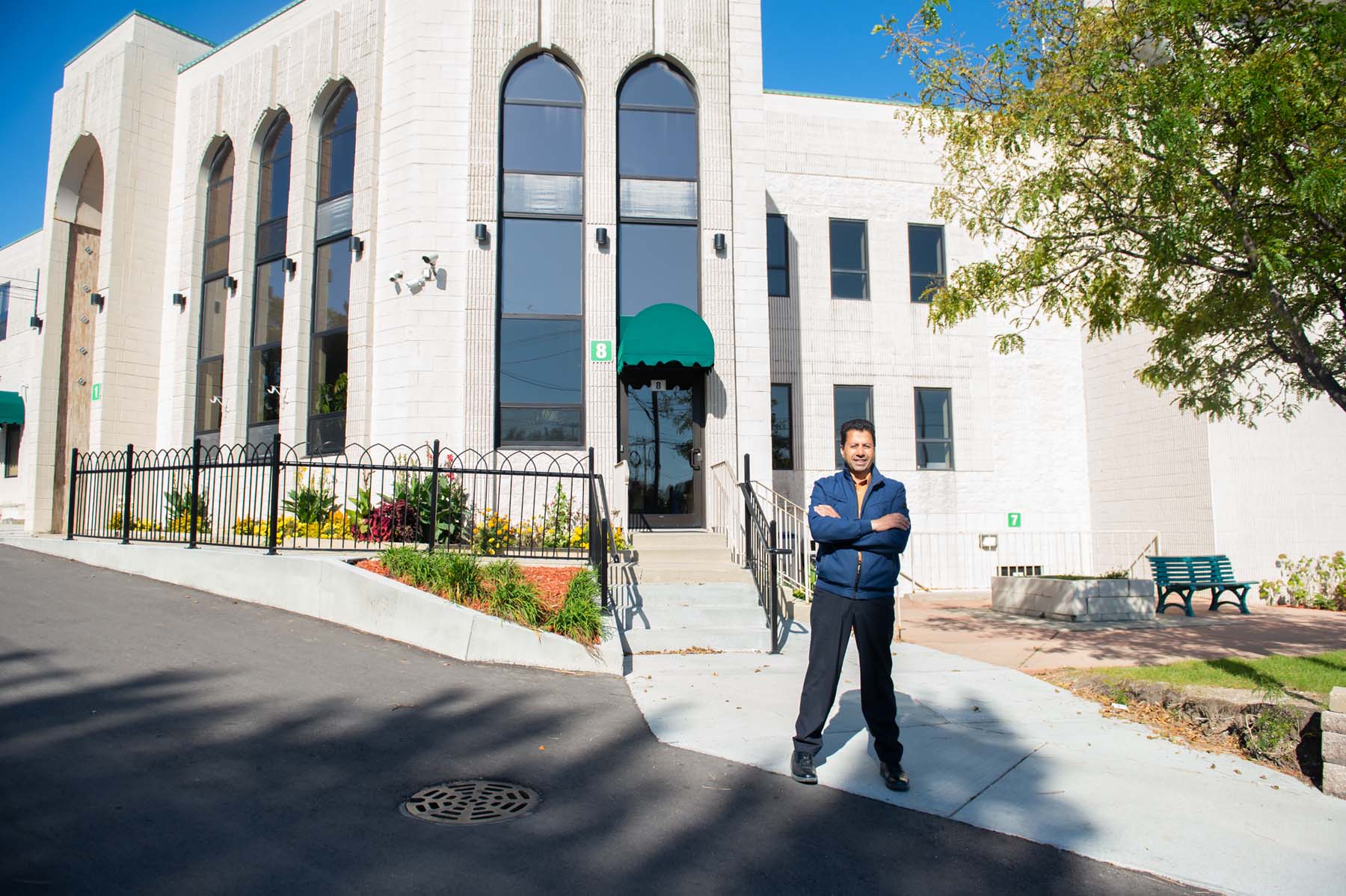 And, Najeeb said, "We knew exactly what we wanted the inside to look like." The IRC renovation was begun, she said, "by working with a very capable architect, Isaac Menyoli. Nabil was the general contractor who oversaw the renovation" and he "volunteered his services overseeing the project. This made for interesting family get togethers, because we were often talking about the project."
The IRC building, completed in 2011 and so modern and up-to-date it looks brand new, "used to be a billiard shop," Salous said.
Then came ISM West in Brookfield, where Salous said, "My engineering background made me a better contractor." Salous believes the Masjid Al-Noor mosque was the best building possible in Brookfield when it was proposed in 2012. The mosque, a modern building with a gorgeous, arched façade, needed to be relocated on its site with some additional modifications to the arches, Salous said. ISM West was a $3.5 million dollar project, according to Dr. Iftekhar Khan, the current ISM board president.
Dr. Khan praised Salous for being "sincere, honest, hardworking, and he has a vision." Then, said Dr. Khan, Salous "gets the best material at a very good cost and has very good people working for him. He is particular about the amount of money that we spend. He's a perfectionist."
By the time ISM West came along, Salous was a known contractor and project manager who played a significant role in the construction boom that came to surround ISM in its southside neighborhood. Sometimes his clients even consult with Salous before they buy a piece of land, he said.
Today, in addition to running the still thriving Salous Tailoring business on South 60th Street, Salous spends his mornings working on construction projects. He builds mostly commercial spaces, but he did show me one residence he's built, a large mansion in the Milwaukee suburbs.
Salous Construction currently has a project underway at 38th and Michigan, the former Coakley Bros. warehouse. Like many Salous's projects, the future home of Procare Medical Clinic, combines construction with community redevelopment, in this case, a medical clinic founded and staffed by Muslim doctors west of downtown Milwaukee. "The Muslim doctors have not abandoned the inner city," Salous said. He is supervising the teardown of two buildings at the site and the renovation of a third,
Would Salous have been able to build these things if he'd remained in Palestine, with the ongoing occupation? Probably not. But in the States, his career has undergone some interesting developments. Nabil and Bayan joke about the mathematical similarities between tailoring and building construction. It's all a matter of scale.