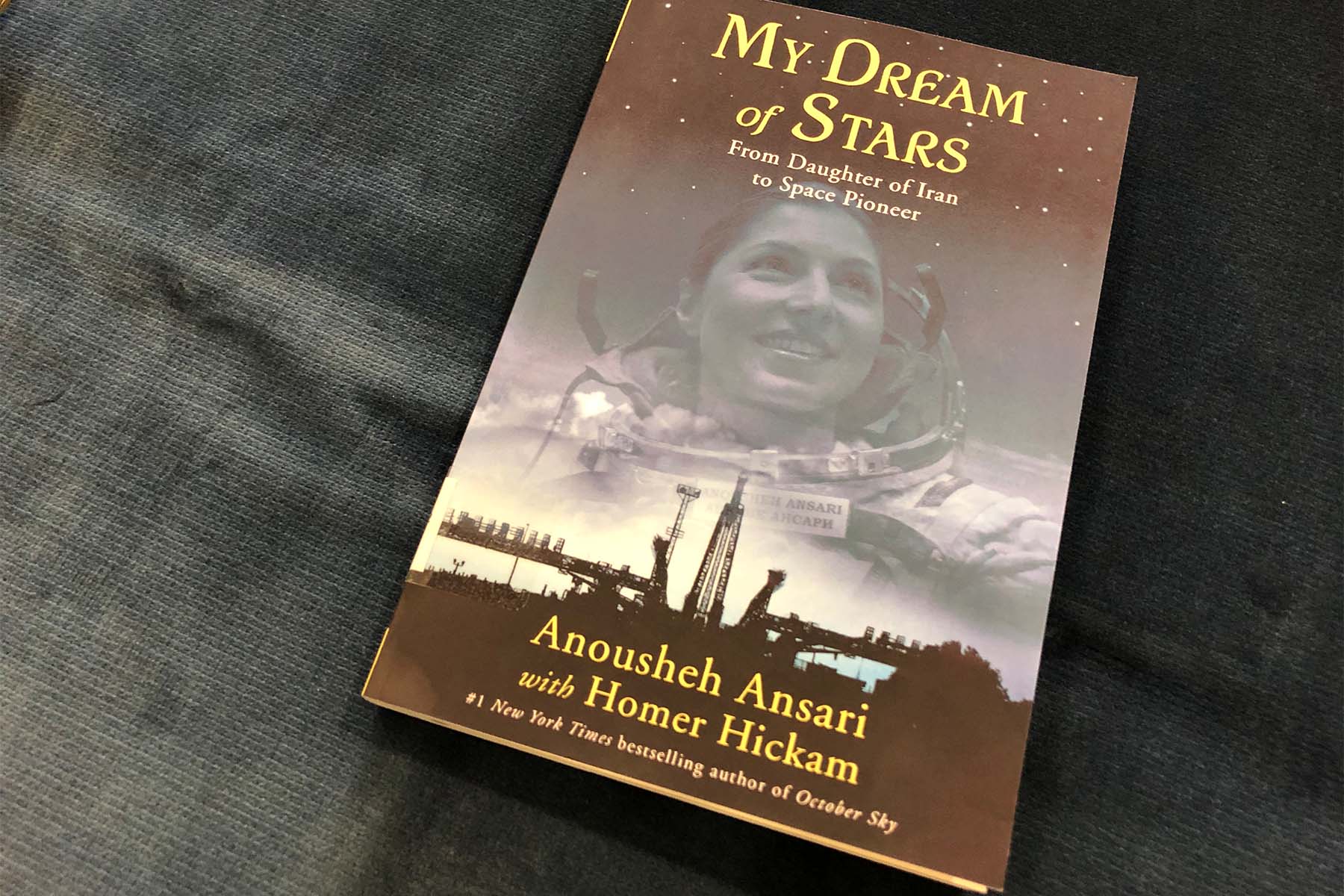 Elise Bellin, Librarian of the Islamic Resource Center, wrote this book review as part of an ongoing series that focuses on a range of books within the IRC collection as a service to the community.
My Dream of Stars: From Daughter of Iran to Space Pioneer
My Dream of Stars: From Daughter of Iran to Space Pioneer by Anousheh Ansari with Homer  Hickman © 2010 ISBN: 9780230112216
Ansari's story is that of the realized American Dream. She grew up in a turbulent time in Iran where her favorite escape from the troubles of everyday life was looking up at the stars. Eventually leaving the upheaval of the Iranian revolution with her family while in her teens, she finishes high school and goes on to college here, in the United States, despite hardly speaking the dominant language. This leads her to her future husband and in the same breath, her career in telecommunications and small-to-medium-to- large-business ownership which leads them to become millionaires and allows her to fulfil her childhood dream of going into space.
It isn't a simple story and certainly not an easy journey. Those worth taking seldom are. There is all the red tape and dysfunction of the American green-card system, the relatives in Germany that don't speak the same language, the racial tensions in Germany, not to mention her forced hiatus from school due to her uncertain immigration status, the racial tensions in American high schools, the space flight that almost didn't happen because she was an alternate… But there were also the Caucasian American Uncle who made sure she and her family had the tools necessary to succeed, the scholastic success, and eventually personal as well. Her life is full of plenty of ups and downs. It all is leading her towards space. Along the way she even manages to bring her countrymen, both adopted and otherwise, along for the ride, being not only the first Muslim in space, but also the first blogger there as well.
In a way, her partnering with Hickman to write her story makes sense. In his own way, he had a very similar story decades earlier. He was born in small-town coal mining America where the only way out was a football scholarship but made it out on his determination and his brain. She left her place of birth with her family and little more than determination and her brain. Both were seemingly set up by society to not go far (if we go by stereotypes and television). Both defied their status and followed their dream. In the end, both showed the true determination and drive that truly makes them American. In the end, while Iran might still be working on achieving some of its goals, but the not-so-poor Iranian-American girl who loved nothing so much as looking up at the stars showed the whole world how its done.
Founded in 2010, the Islamic Resource Center (IRC) is the first Islamic public lending library in Wisconsin. The IRC aims to provide resources to educators, students, health professionals, interfaith groups, and any members of the Milwaukee community that want an accurate understanding of the Islamic faith, its practices, and its people.