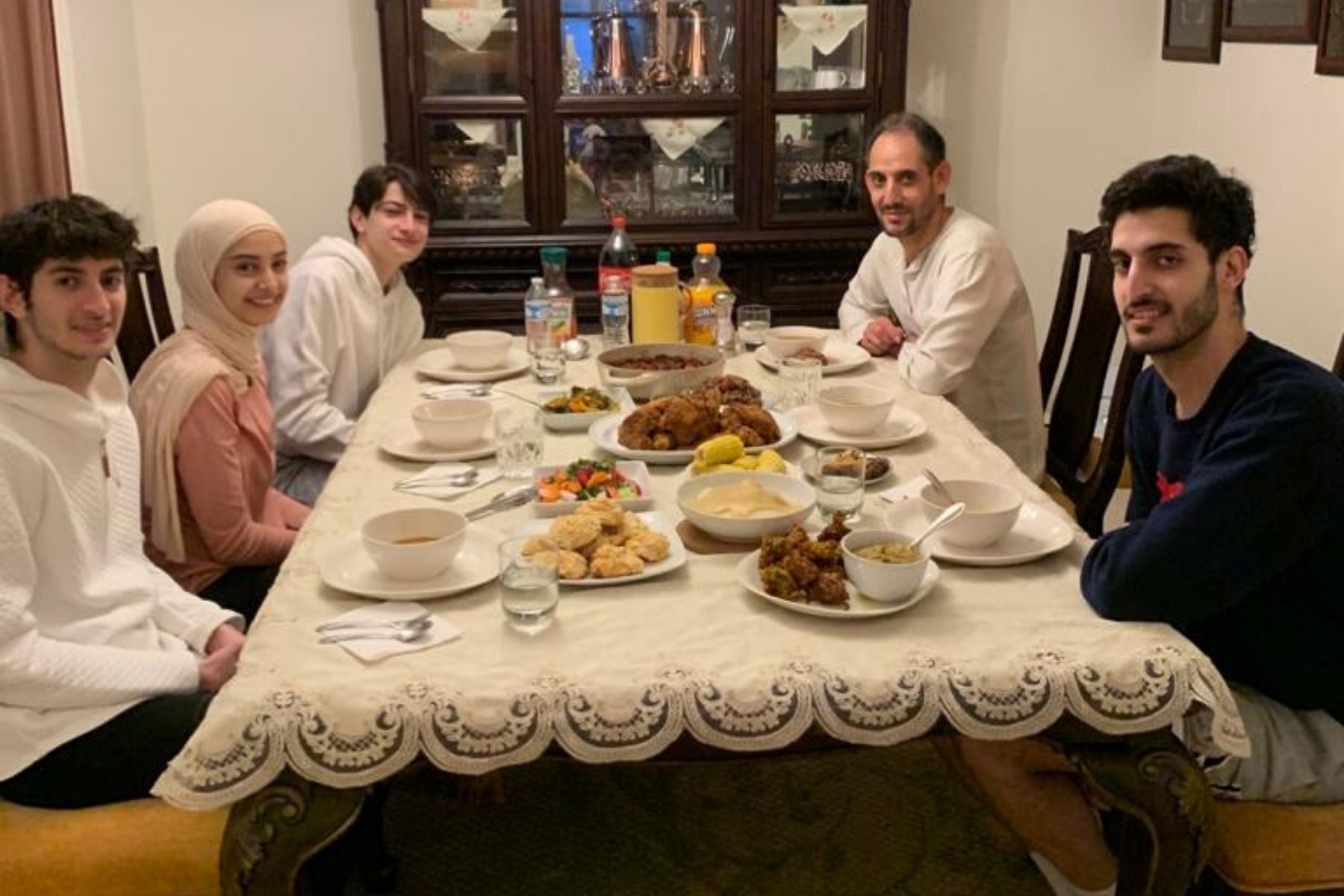 Manasrah family, Fond du Lac, WI
Ramadan 2020 began at sunset on Thursday, April 23 and ends on the evening of Saturday, May 23. This late-spring Ramadan began with approximately fifteen hours of daylight and that means fifteen hours of fasting between dawn and sunset. And those hours of daylight are getting longer with each passing day.
This year, in addition to that long daily fast, many people are sheltering at home with their families, so the fast is something that, more than ever, they are undertaking together. For many, this year's Ramadan during the Covid-19 shelter-at -home orders from Wisconsin's governor is seen as a special test or challenge, but one that they have been well-prepared for by local imams.
Tahseen Husseini, who is usually kept busy during Ramadan as the facilities chair at ISM West in Brookfield, said, "Before Ramadan began, we did a number of online discussions with our imam," Shaykh Noman Hussain, "on the trials and tribulations and benefits" of sheltering-at-home, and "how can we make this Ramadan very special since it's going to be very different."
Husseini said she has been "preparing myself mentally on how I was going to make this meaningful" because 2020 is bringing what is "more than likely a once in a lifetime experience of having Ramadan at home."
"The last four days have been a very different experience," of Ramadan, she said, "but so far I'm finding it very rewarding." Like other shelter-at-homers, Husseini has built her life around a structured schedule. "I start cooking the evening meal in the afternoon, do a little bit of exercise. Then I tend to go back to reading Qu'ran and doing du'a (supplication) prayer. "I go on a long walk every day, and I do zikr (reflect on Allah's blessings) then." Husseini said she is trying to "make everything I'm doing worship."
Sheltering-at-home with family, "has made me realize that this is such an opportunity to spend time alone with my children," Husseini said. Normally, Ramadan is the time when the family "would run out the door and go to the mosque for evening prayer." Instead, Shaykh Hussain has been posting the evening Qu'ranic recitation on Facebook.
And the time normally spent traveling back and forth to mosque has "now become the time when we spend a little more time with the kids, do a board game." And then, Husseini said, "I go back to my du'a and my prayers late at night.
"The best time to pray is at night," advises Shaykh Abdullah Waheed in an online talk shared by Imam Hussain on Facebook. The du'a that is most accepted is made "in the middle of the night" Shaykh Waheed said. "Imagine the nights of Ramadan. Imagine the nights of someone who's fasting during the day and praying during the night and supplicating to Allah. The secrets happen at night. The changes happen at night."
During Ramadan, morning arrives while it is still dark outside. Husseini said she got up to prepare suhoor at 3:45 a.m. on the first night of Ramadan, but that has now become 3:40. "The fast becomes longer, each day starts a little bit earlier," she said. However, "it's a very nice time in the morning. Everyone starts a little sleepy, but by the time the food is prepared everyone is in a joking mood. When we open our fast too, it's a very special time."
Husseini family earlier this year
Nariman Manasrah of Fond du Lac said she and her family find that a Ramadan spent sheltering-at-home is "not bad actually. It was a little bit of an adjustment at the beginning but we got used to it pretty quickly."
Manasrah is a biology professor at UW-Fox Valley who has been recording lectures, posting online quizzes, and grading labs. Like many other members of the Muslim community, Manasrah has found that working remotely does not mean more free time. And in addition, she said, "it's definitely a different Ramadan because of the lack of a social network, not being able to go to the mosque for community iftars every weekend, which was a staple. Sometimes there were potlucks on either Fridays or Sundays" at the Islamic Center of Wisconsin, located in Appleton.
"What is highlighting my month is the family atmosphere," Manasrah said. "Working from home I can manage my time between work and cooking." Besides two college-age children, who are now at home, Manasrah has two other children, a middle-schooler and a high-schooler who are also now able to do homework on their own time. "So I'm looking at things in a positive way; it's actually not bad. It's convenient. We make the best out of it."
And spiritually, Manasrah said, "It's actually pretty neat. I'm not thinking about the Covid crisis anymore." Instead, she is "doing a lot of du'a and asking Allah for help getting through it."
As Shaykh Waheed points out, the fundamentals of the Month of Ramadan are always the same. It is "a month of many things. It is a month of fasting. It is a month of charity. It is a month of patience. We'll be tolerating our spouse, our family . . . all the inconvenient things that are happening around us, we are not going to say anything negative. Because we believe that a fasting person should be much more conscious of Allah's [presence] while they're observing their fast. At the same time, this month is a month of supplication, and we should not shy away from making du'a to Allah while we are making the fast."