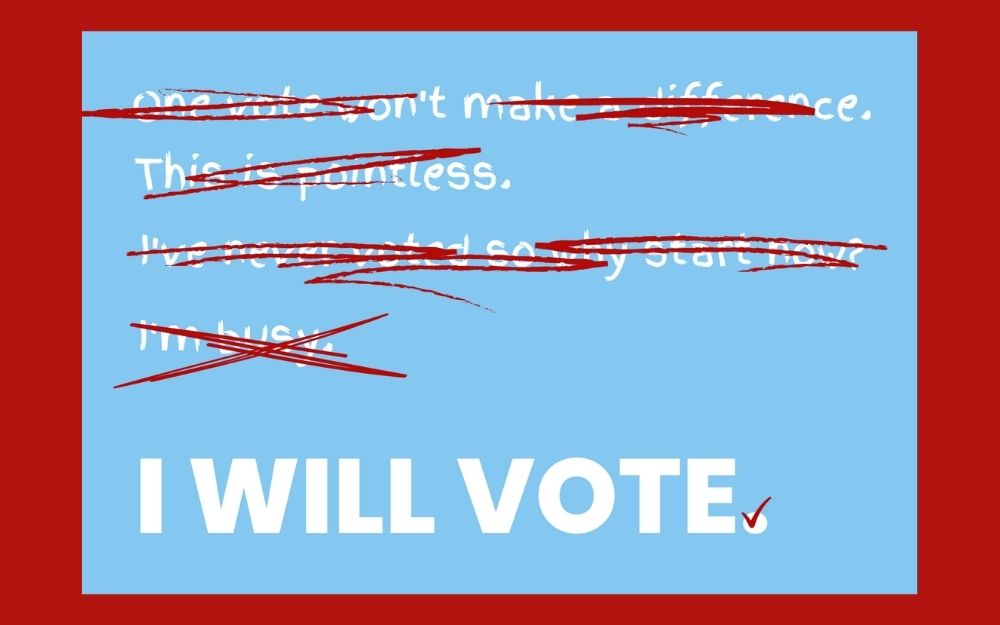 WMCA sent fliers to underrepresented voters, Muslim and nonMuslim, encouraging them to vote on April 5.
Wisconsin Muslim Civic Alliance endorses Cavalier Johnson for Milwaukee mayor, Steve Ponto for Brookfield mayor, Eric Rorholm for a Milwaukee County Board seat, Deborah Davis and Marcelino Rivera III to Franklin's Common Council and 10 school board candidates in Greendale, Franklin, Elmbrook and Mequon-Thiensville school districts.
WMCA Executive Director Wassim Malas confirmed the endorsements in an interview Thursday with Wisconsin Muslim Journal and said the WMCA encourages Wisconsin Muslim to vote in the April 5 elections.
Beginning with the Spring 2020 elections, WMCA has endorsed more than 40 candidates. It reaches out to voters across the state through photo banking, events and social media. WMCA formed in October 2019 "to advance Muslim rights at the local, state and federal levels," according to its website. It "informs the community about elections and pressing issues" and "encourages participation in the electoral process."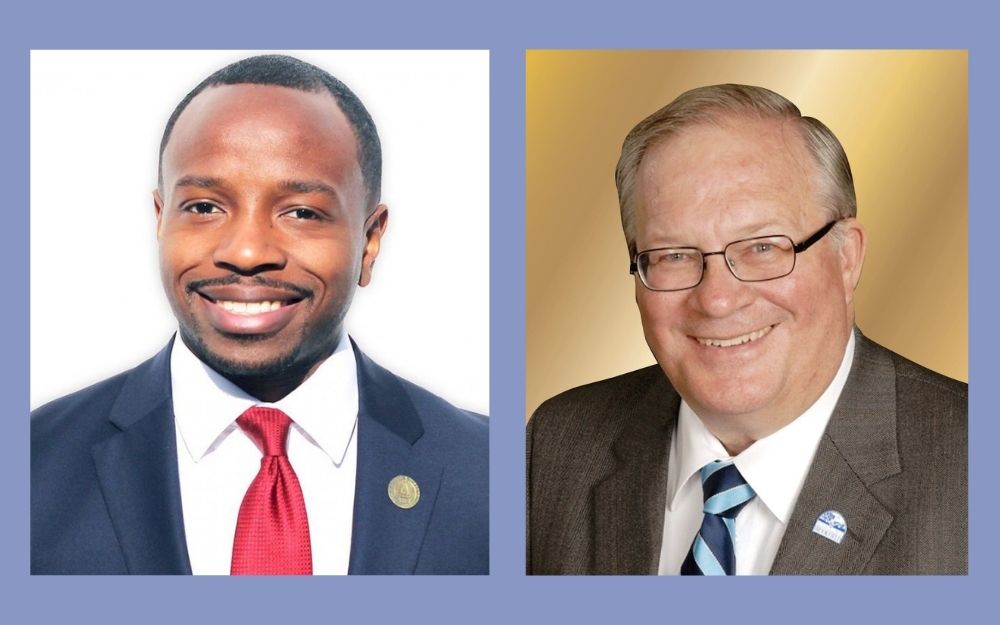 WMCA endorsed two mayoral candidates, Cavalier Johnson in Milwaukee and Steve Ponto in Brookfield.
A goal of WMCA is to elect leaders who will "safeguard the rights of all Wisconsin Muslims," the website states.
"In addition to the standard qualifications for office like integrity, service and respect for justice, we expect endorsed candidates to protect Muslims from discrimination, unwarranted suspicion, and guilt by association," Malas said. He reaches out to endorsed candidates to make them aware of the endorsement and asks about their commitment to ensure the rights of the Muslim community. "The candidates I conversed with generally pledged accordingly," he said. 
Candidates endorsed by WMCA are people who are open-minded, understand the need for inclusiveness and, in some cases, has worked with and shown support for the Muslim community in the past, Malas added. "One common thread uniting all our endorsed candidates is that we ultimately believe their heart and mind are in the right place."  
For example, Deborah Davis, who is running for a Franklin Common Council seat, participated in Milwaukee's 2020 EID Drive-through celebration during the COVID pandemic. She dressed as the Statue of Liberty and walked around the festivities on stilts, a gesture widely appreciated in the community. Davis is also a volunteer with the Hanan Refugee Relief Group. 
"Debbie is awesome," said Hanan's Milwaukee lead Sheila Badwan, who confirmed Davis' volunteer work with the refugee relief organization.
School board endorsements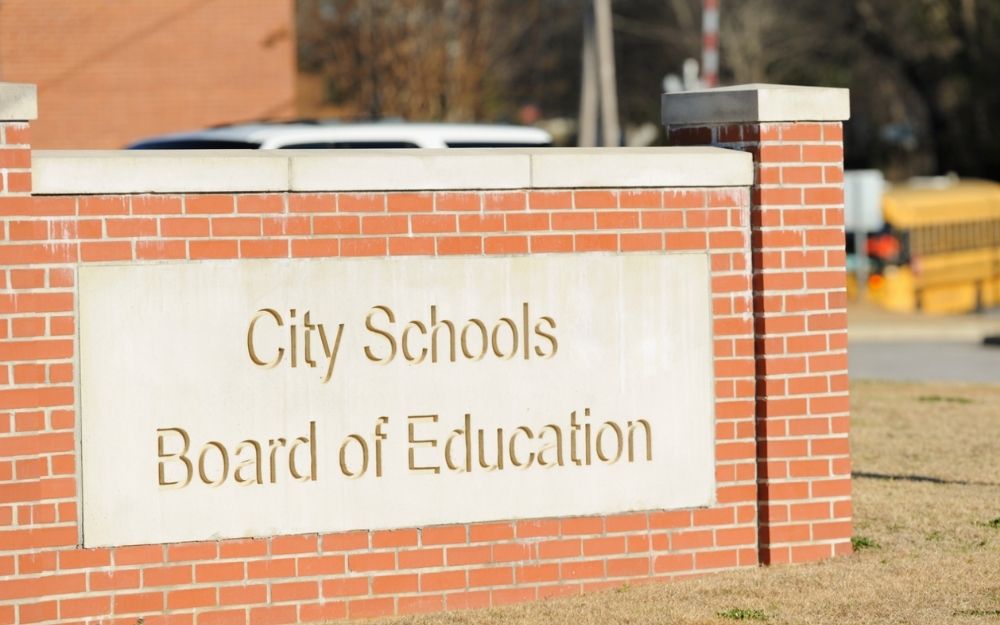 WMCA endorsed 10 school board candidates in Milwaukee's suburban races.
School boards have become important political battlegrounds, Malas noted. COVID restrictions, online school, mask mandates, critical race theory, book bans and other important topics are hotly debated in local school boards.
WMCA made the following endorsements for school board seats:
Milwaukee County:
Greendale School Board: Brian Bock and Tassia Hughes

Franklin School Board: Dr. Jeffrey Hall
Waukesha County:
Elmbrook School Board: Katie Rosoul and Daniel Medeiros

New Berlin School Board: Meg McKenzie, Scott Jentsch and Kate Unger
Ozaukee County:
Mequon-Thiensville School Board: Paul Buzzell and Jason Lavash
Getting out the vote
In a statement to the Muslim community on WMCA's website, WMCA President Will Perry encourages Muslims to be "examples of what good stewardship looks like."
"We have an obligation to humanity to do what is right and correct what is wrong that is within our ability," he wrote. "Voting is a way we support what is right and combat what causes harm." 
Dr. Maqsood Khan, a member of WMCA Leadership Council, agreed. "It is the time for every Muslim to increase our civic engagement. As citizens of the United States, it is our obligatory duty to vote, for local as well as national elections.
"We must vote to address policies that affect us. If we don't address Islamophobia at the city, county and state levels, it will not change on the national level. 
"It's important our voices are heard, especially after 9/11. One way we can address Islamophobia is to show we are responsible citizens," said Khan, who serves on the Franklin School Board. 
"And if we want our voices to be heard, we have to vote."
The endorsement process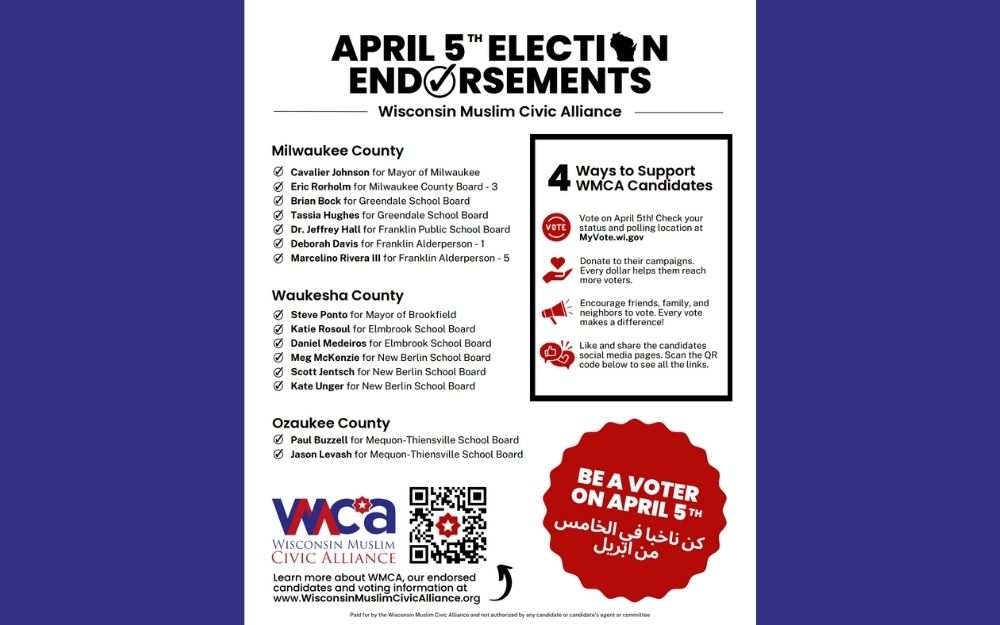 WMCA has endorsed more than 40 candidates since it formed in 2019.
WMCA's endorsements are made by its four-member board and 15-member Leadership Council. For local elections, the group engages in informal discussions, relying on members from various districts sharing their views and experiences with the candidates.
"We settled on some endorsements quickly and unanimously, others required lengthy discussions," Malas said. As executive director, Malas' role is to facilitate communication, not take part in the selection of endorsed candidates. He makes sure there is ample opportunity for any of the participants to raise objections to a nomination, he said.
"Al hamdulillah, WMCA has been unanimous in its endorsements," he added.
Now in its third year, WMCA is working on revising its bylaws and formalizing its processes, Malas said. 
In addition, Malas aims to expand WMCA's endorsements in local elections beyond Southeast Wisconsin. "We need to branch out. We are a statewide organization. As a next step, engaging in Madison is the obvious choice."