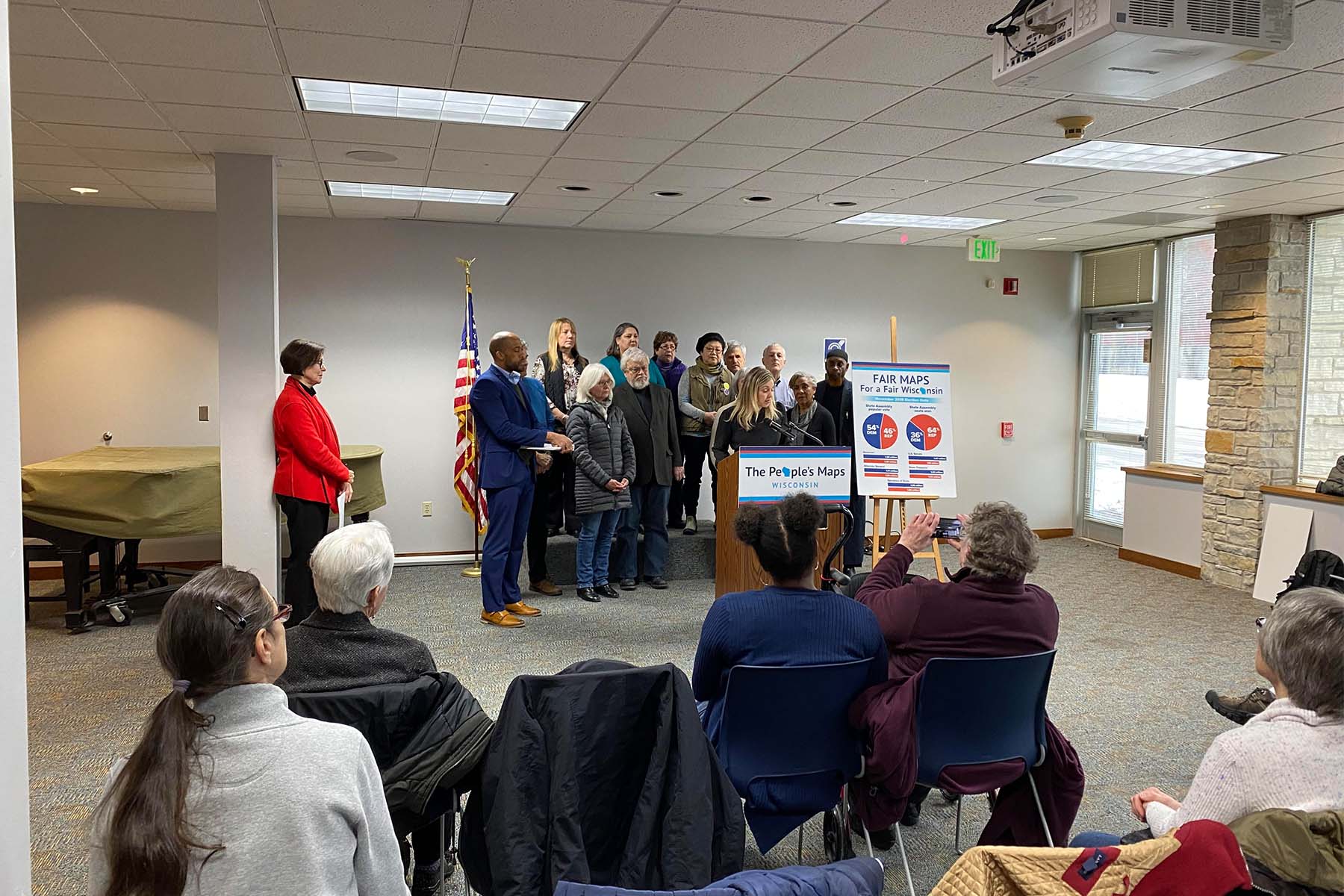 Wisconsin Muslim Civic Alliance leaders stood with Lt. Gov. Mandela Barnes and State Rep. Robyn Vining (D-Wauwatosa) at a press conference last week at the Wauwatosa Public Library, 7635 W. North Ave., to promote nonpartisan redistricting.
WMCA President Will Perry and Executive Director Kristin Hansen joined a group of citizens on stage with Barnes, Vining and Wauwatosa Mayor Kathy Ehley Jan. 27 before a gathering of about 50 people. They were there to show support for the fight against gerrymandering, the practice of drawing election district boundaries in a way that advantages one political party.
The press conference followed Gov. Tony Evers' signing of an executive order earlier that same day that created a nonpartisan redistricting commission he said will give Wisconsinites a say in their government.
In his second State-of-the-State address on Jan. 22, Evers said the commission will consist of citizens from across the state who will work together to create and present district maps to the Legislature for consideration when maps are redrawn in 2021, after the 2020 census.
"When more than 80% of our state supports medical marijuana, 80% supports universal background checks and extreme risk protection orders, and 70% supports expanding Medicaid, and elected officials can ignore those numbers without consequences, something is wrong," Evers said in his address.
"We agree with Gov. Evers that electoral districts should be drawn by a non-partisan commission working with true representatives of the people – all of the people – not just those in power," said Hansen. "We were honored to be present at the press conference with Lt. Gov. Mandela Barnes and Assembly Rep. Robyn Vining as they announced the plans for The People's Map."
"The people are very clear. They want nonpartisan, no nonsense maps," said Barnes, during his third press conference of the day (after Madison and Kenosha) to promote the initiative.
The issue of fair maps is timely because the Wisconsin Legislature redraws district legislative lines every 10 years following the completion of the U.S. Census. Federal law requires that districts are drawn of approximately equal size that do not discriminate on the basis of race or ethnicity.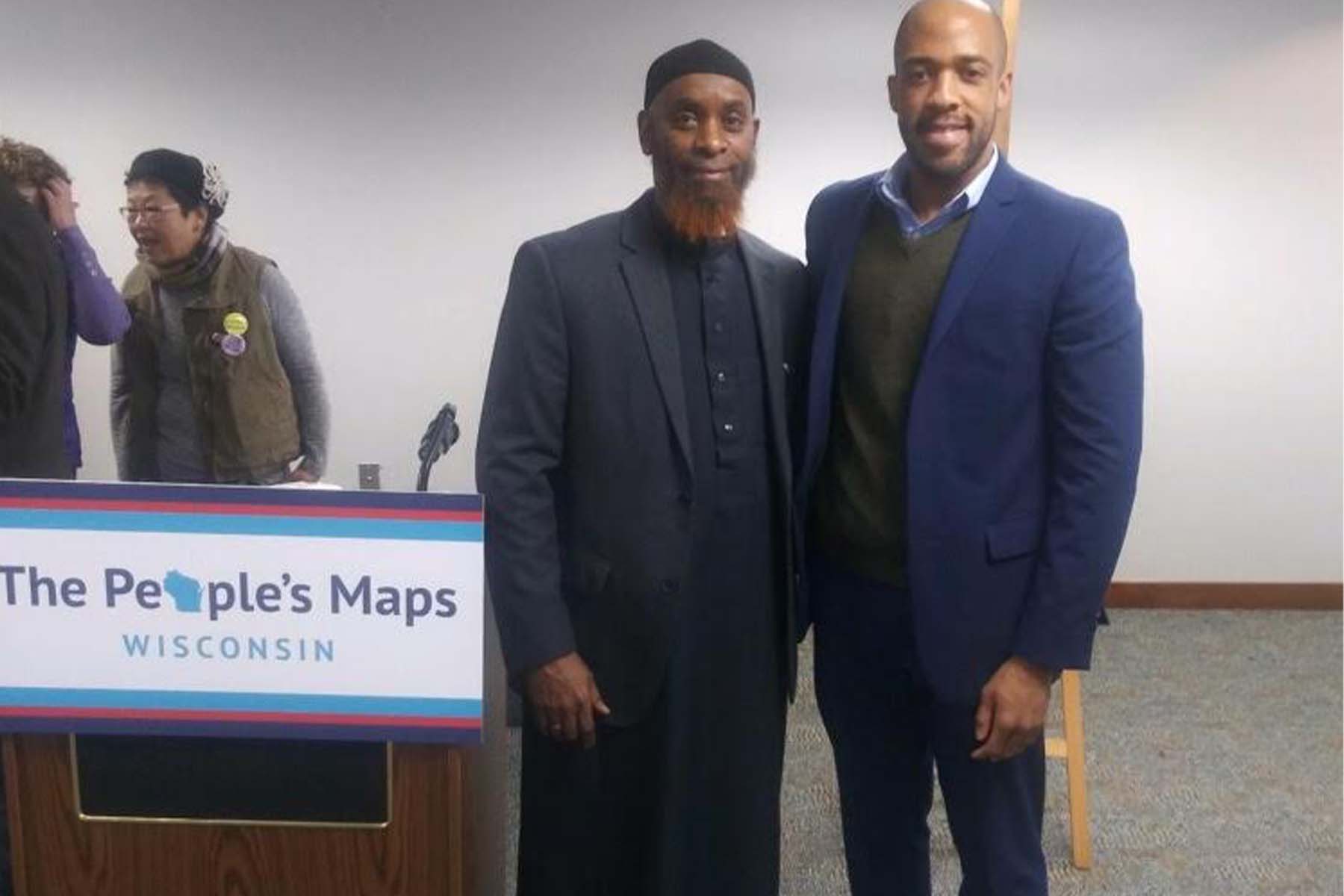 The fight for nonpartisan redistricting
Redistricting in Wisconsin in 2011 created "a Republican-friendly legislative map" with ongoing impacts, said longtime Milwaukee Journal Sentinel political writer Craig Gilbert in a 2018 article. This is demonstrated in the fact that Scott Walker lost the governorship with 49% of the vote but carried 63 of the 99 Assembly districts, "illustrating how the districts are more Republican than the state as a whole," he noted. The mapping "all but ensures Republican control of the State Assembly in 'good' years or 'bad' for the GOP."
A case regarding the constitutionality of the 2011 redistricting rose through the courts. In November 2016, a United States District Court found the district maps of the Wisconsin State Assembly constituted illegal gerrymandering "intended to burden the representational rights of Democratic voters by impeding their ability to translate their votes into legislative seats."
The U.S. Supreme Court heard the case, Gill v. Whitford, in June and ruled that partisan gerrymandering is beyond the reach of the federal courts. But that did not stop the struggle, said Vining (D-Wauwatosa), who represents northern Brookfield, northern Wauwatosa and part of Milwaukee. The call for nonpartisan redistricting has been gaining momentum around Wisconsin and around the country, she said.
By 72%, Wisconsin voters say they prefer redistricting of legislative and congressional districts to be done by a nonpartisan commission, according to a 2019 Marquette Law Poll. Majorities in each party favor a nonpartisan commission for redistricting.
Vining, along with State Sen. Dave Hansen (D-Green Bay), introduced legislation in July that would create nonpartisan redistricting reform in Wisconsin. Although it has bipartisan support, that legislation has never been brought to a vote.
Both Vining and Barnes said they do not expect the Republican-controlled Assembly to take any action on the proposed bill. That is why Gov. Evers signed the executive ordering creating the People's Map Commission, Barnes said.
The nonpartisan commission is charged with creating nonpartisan maps that will serve as a comparison to "partisan maps drawn behind closed doors," said Vining. "We will have a standard to show the difference.
"It costs far less taxpayer dollars than the millions spent on private lawyers who signed secrecy agreements and drew partisan maps in dark rooms behind closed doors," she said. "In fact, the difference is about $10,000 for the People's Maps compared to $2 million taxpayer dollars spent last time.
"We have watched as legislators protected by partisan gerrymandering block legislation because they are insulated," she said. "And the American value of frequent and fair elections is not capable of holding them accountable."
Said Barnes: "We know that to ensure the integrity of the democratic process, Wisconsin has to look to the people, not to the politicians, to assist in drawing maps that fairly and accurately represent the state and our population. In recent years, those in power here in Wisconsin have worked diligently to disenfranchise people of color and so many other underrepresented communities by gerrymandering our districts.
"As elected officials, we have a responsibility to make sure opportunities exist in every part of our state for every person," he added. "The governor understands that everyone in our state should be able to choose our elected officials, not the other way around."
"The Wisconsin Muslim Civic Alliance works to advance principles of democracy, and that includes fair elections," said Hansen. "Elections are not fair when the politicians in one party meet in secret and draw maps that secure power for their party for years to come so they can ignore the will of the voters."