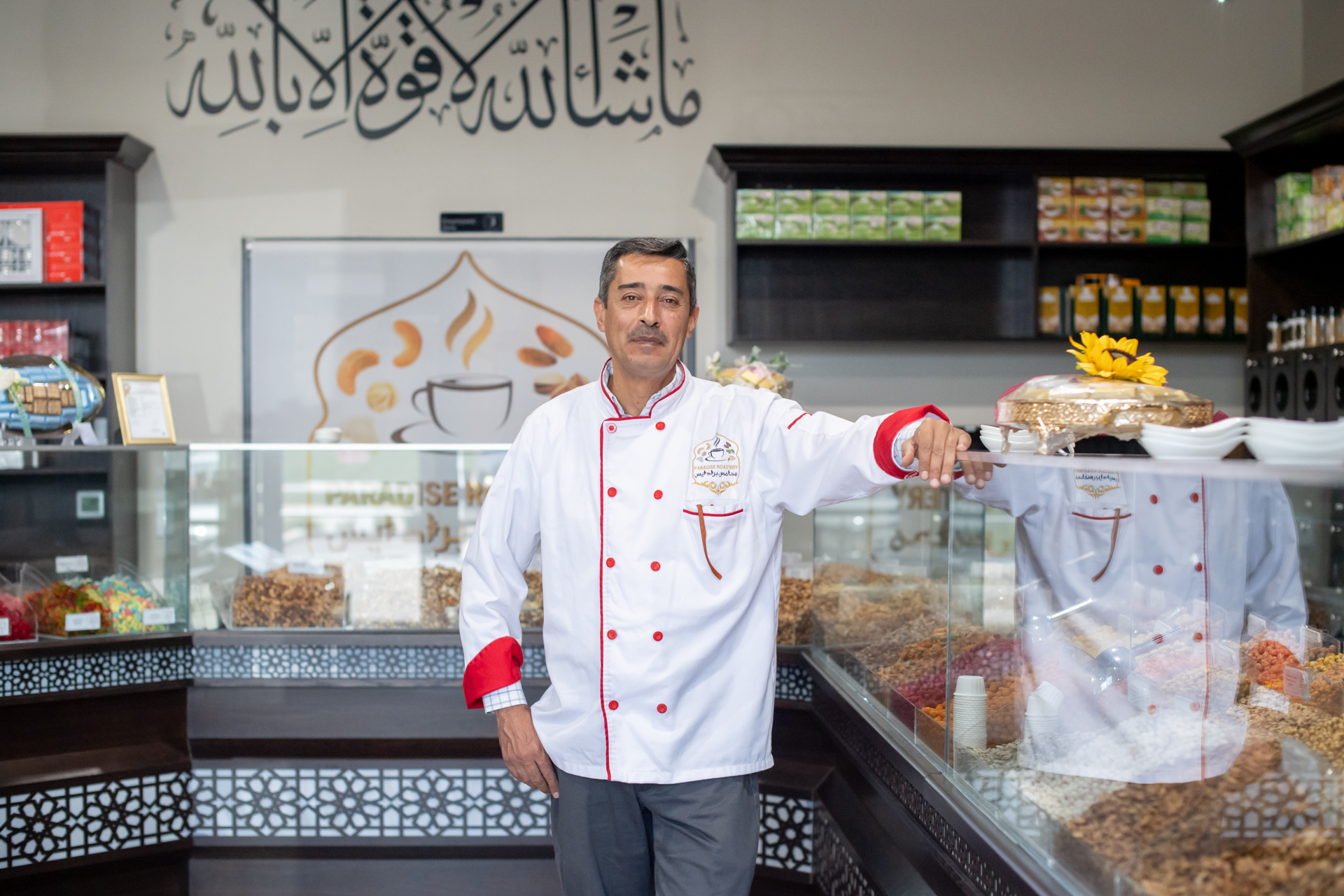 Ayman Saif opened Wisconsin's first Arabic roastery. 
"Welcome. Welcome."
Soft-spoken Ayman Saif, owner of Paradise Roastery, greets customers and guests to Wisconsin's first Arabic-style roastery. 
His shop at 814 W. Layton Ave. in Milwaukee roasts coffee, nuts and seeds in stainless steel drums on site. The only Arabic roaster in the state also offers chocolate, Turkish delights and other sweets, as well as spices and zaatar, a savory blend of spices and sesame seeds.
Step in and suddenly you could be anywhere in the Levant. A horseshoe-shaped counter of dark wood is decorated with a mother of pearl inlaid mosaic reminiscent of Syria, Palestine and Jordan. The counter is topped by a tall, pristine glass case. Inside are square containers, which down one side hold white pumpkin seeds, tan cashews and hazelnuts, brown almonds, and dark green and brown pistachios.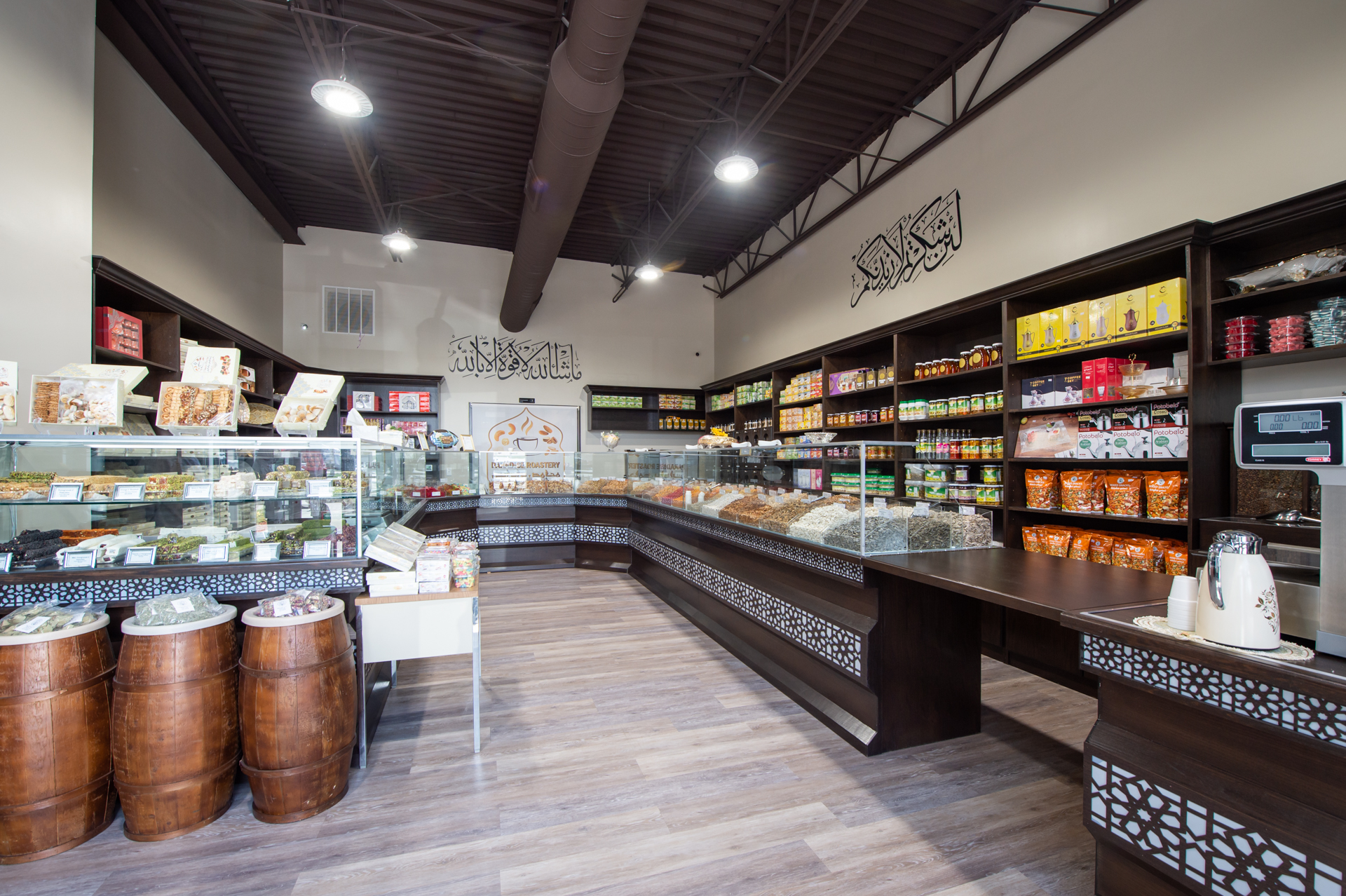 On the other is a colorful patchwork of candies— bright gummies, chewy cubes of sugar-powdered raha, dark and milk chocolates. Some sparkle, individually wrapped in cellophane.
Tall shelves line the walls behind the counter with rows of jams, tidy stacks of Arabic teas and containers of halawa, a traditional treat made with sesame and tahini, flavored with pistachio. 
At the front of the shop to one side, a wall of built-in, dark wood shelves displays quality chocolates, each piece individually wrapped in foil of dark green or gold, sealed with a gold Paradise Roastery logo sticker. Facing the door is a display featuring a variety of Turkish delights. Below it sit wooden barrels filled with packages of fresh spices.
You'll be handed a petite paper cup of fresh roasted coffee and see high on the back wall Arabic calligraphy. It says: "Mashallah, la quwa illa billah." "Mashallah" means "what God has willed" and is used to express that something good has happened. "La quwa illa billah" means there is no power except in God.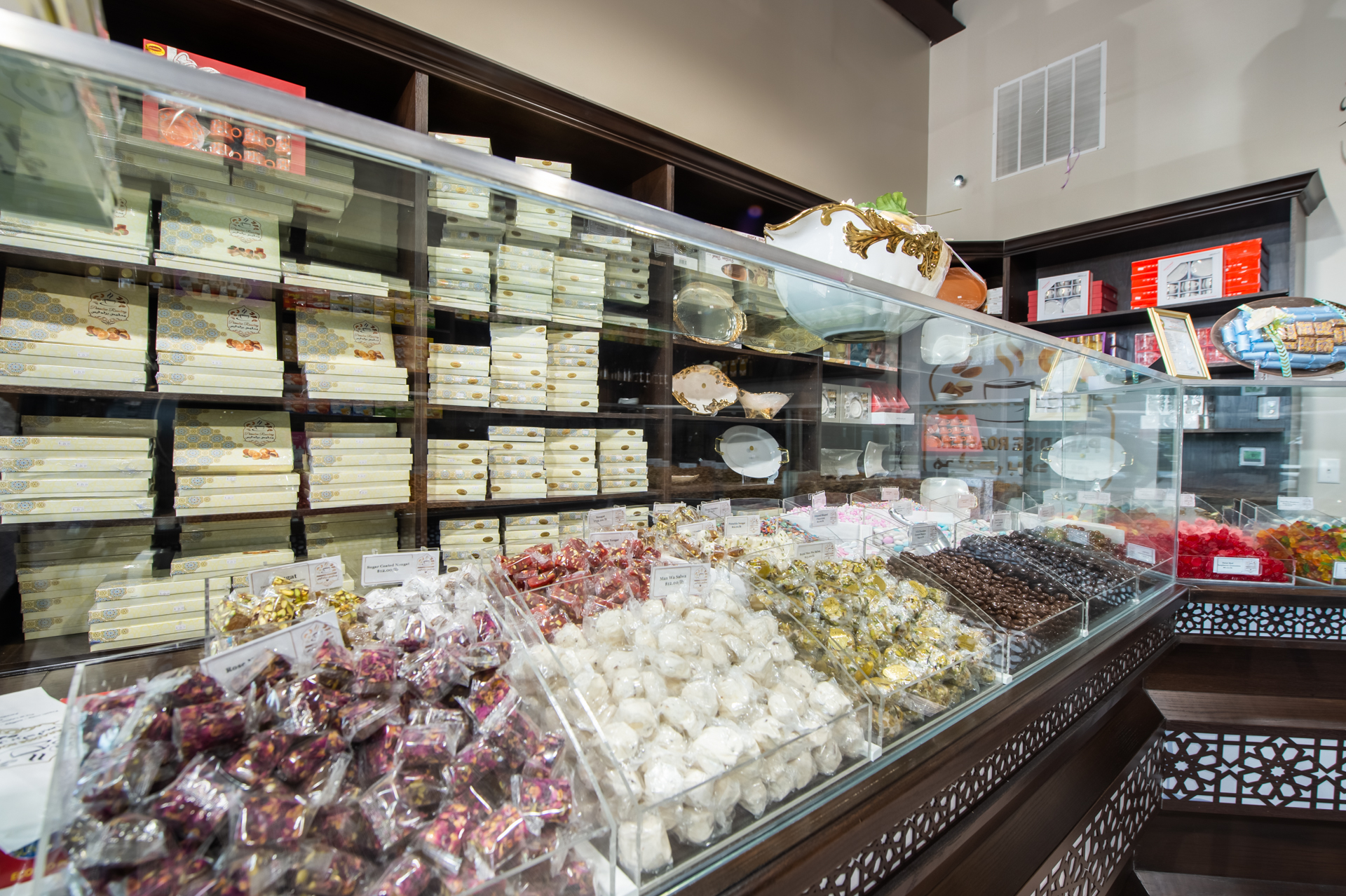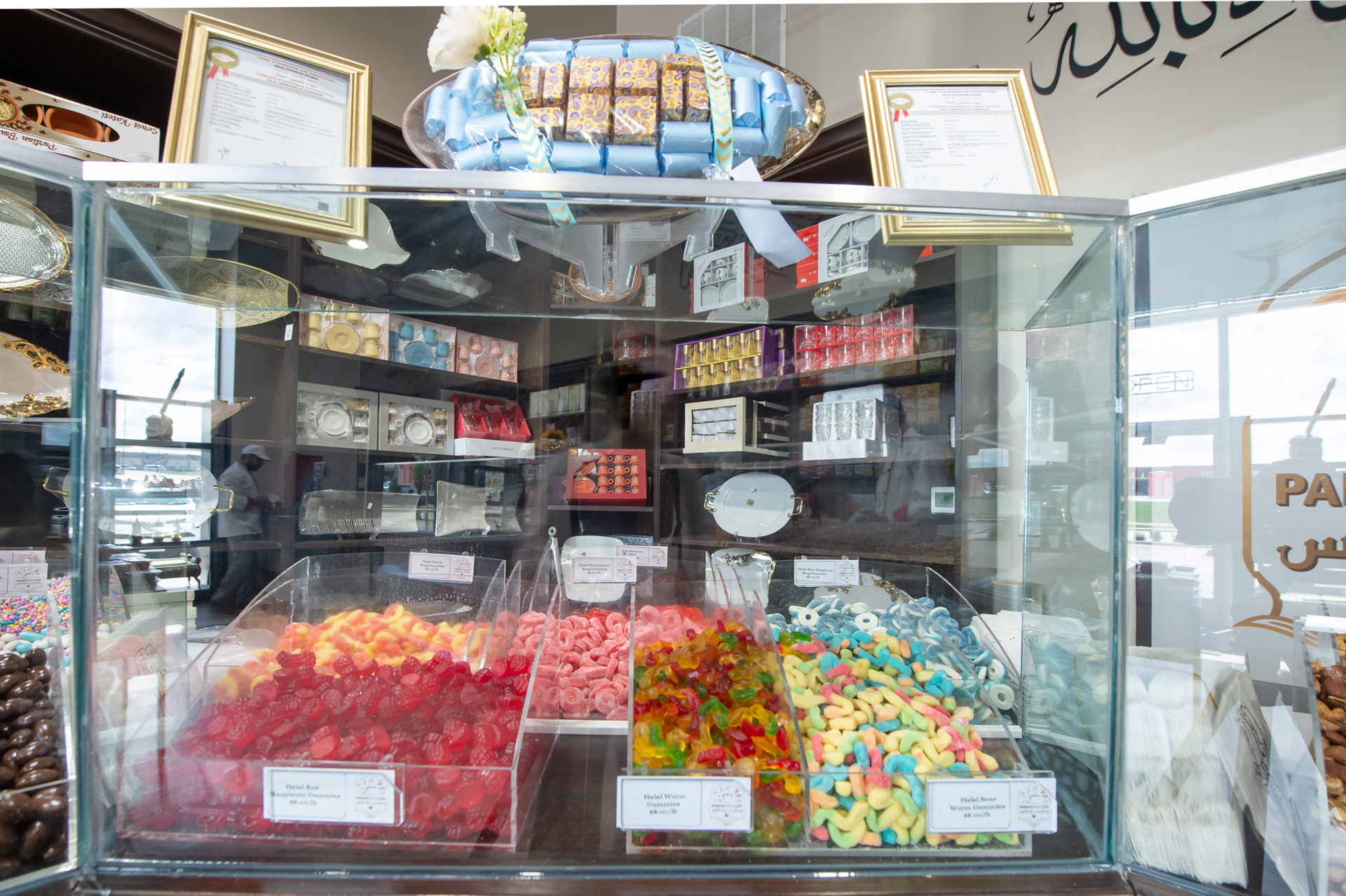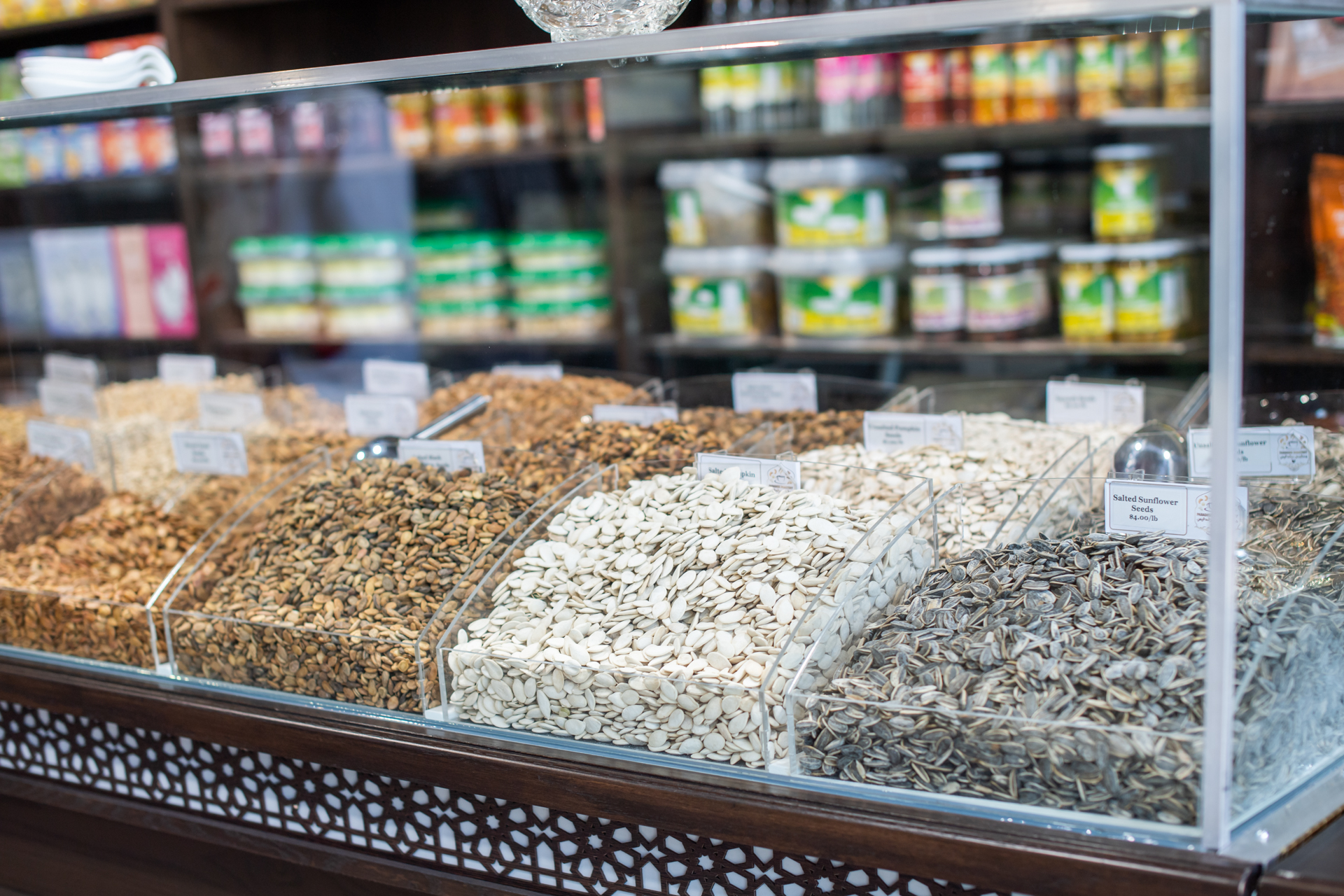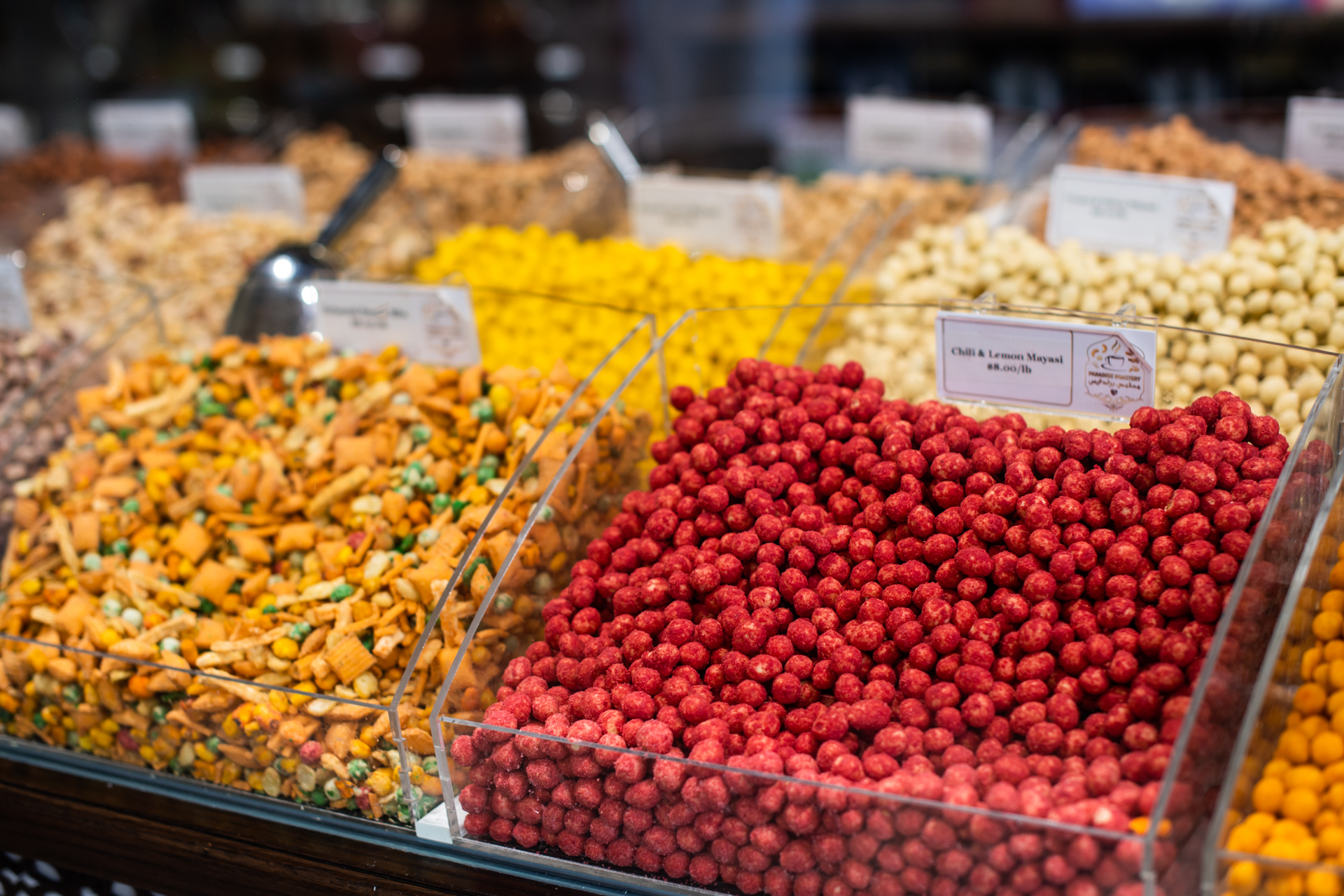 A lifetime of experience
Saif stands behind the counter, wearing a classic chef jacket that was handmade in Jordan, white with red trim, red cuffs and a double row of red buttons down the front. A logo above the chest pocket features a steaming cup of coffee and golden nuts above Paradise Roastery written in English and Arabic, embroidered in gold thread.
Now 48, Saif began honing his skills at 17, when he worked in a roaster in Amman, Jordan, during high school summers. At Best Nuts, he learned the Lebanese method of roasting from an old Lebanese man. Gradually, he learned to recreate the flavors appreciated by their customers. 
"He taught me everything," Saif said with warm appreciation. 
In an interview with the Wisconsin Muslim Journal Wednesday, Saif described his journey as a roaster, from his part-time job as a teen to creating a successful wholesale business in Amman, then selling it to start over in America.
After five years at Best Nuts in Amman, he moved to another roaster, then returned to Best Nuts. The Lebanese man had left and the owner advertised for other roasters who came to work there. Saif learned from them all – Syrians, Iraqis, Jordanians, Palestinians.
"We tried them. Each had their strengths but none of them were the best at everything," he recalled. "Some were good at seeds; some were good at hazelnuts or peanuts or cashews. I collected ideas from each of them—the best from everyone— and put it in our path, creating my own way." Eventually, Saif was in charge.
In 1999, Saif opened his wholesale business in Amman, Lily Roasters and Mills. He stayed there almost two decades, providing products to 600 retail stores.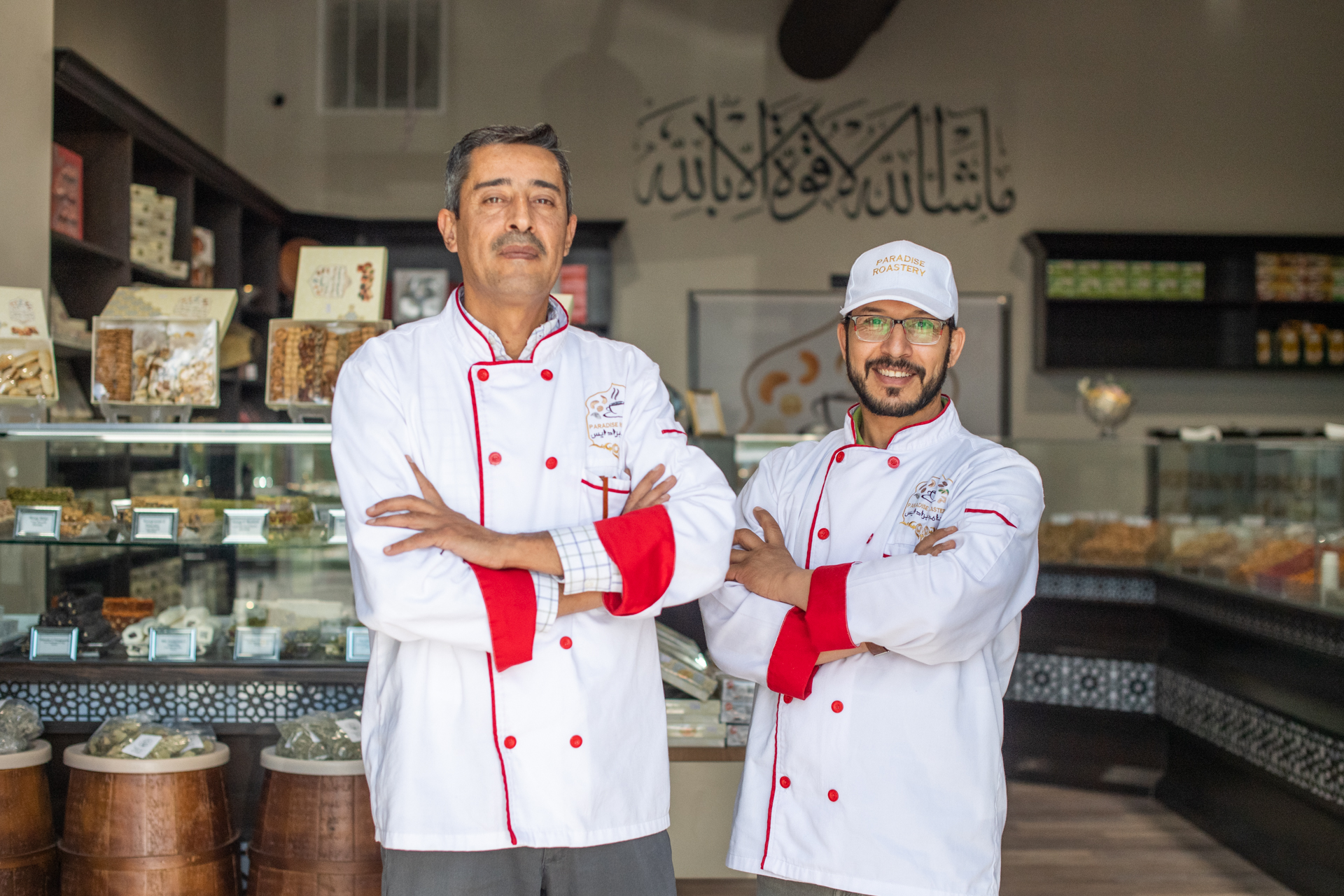 Starting over in America
In 2017, he decided to move with his wife Safa Abdulaziz to the Milwaukee area where her family lives. His oldest daughter would soon apply to universities and her siblings would follow. They had decided the United States offered their children more opportunities.
"It was a big step," he said. "I miss everything. I left my mom and my siblings. I have four brothers and six sisters. I miss them a lot, especially my mother. I had my business. We still have our house there. But for our children, their education, for their careers, for their future, it is better here.
"I came in 2011 and 2012. I saw the elementary school here would be good for my children. I saw the nature, mashallah, deer in the streets, lakes. It's green everywhere."
When he stayed here for six months in 2012, Saif "remembered my office in Jordan and my work." He went back and stayed five years.
Saif finally decided to move in 2017. "It wasn't easy," he said.
He sold his share of the wholesale business to his partners and moved to Franklin. "We are here for our children, for their education and their future," he said. "I am grateful to be here."
At the time, Saif thought he might retire, but the father of seven thought to himself, "I have a big family! When you are used to working all your life and you have a big family, you want to feed them!" He smiled.
He knew his experience in roasting and his knowledge of the best sources for products from the Middle East would be strengths.
His products are made custom to his specifications, Saif explained. "I spent 46 days working in the factory in Amman to choose what is best for this shop." He orders top-grade products, using his know-how to ask suppliers to "make this one saltier, that one sweeter, smaller, larger" until everything is just right.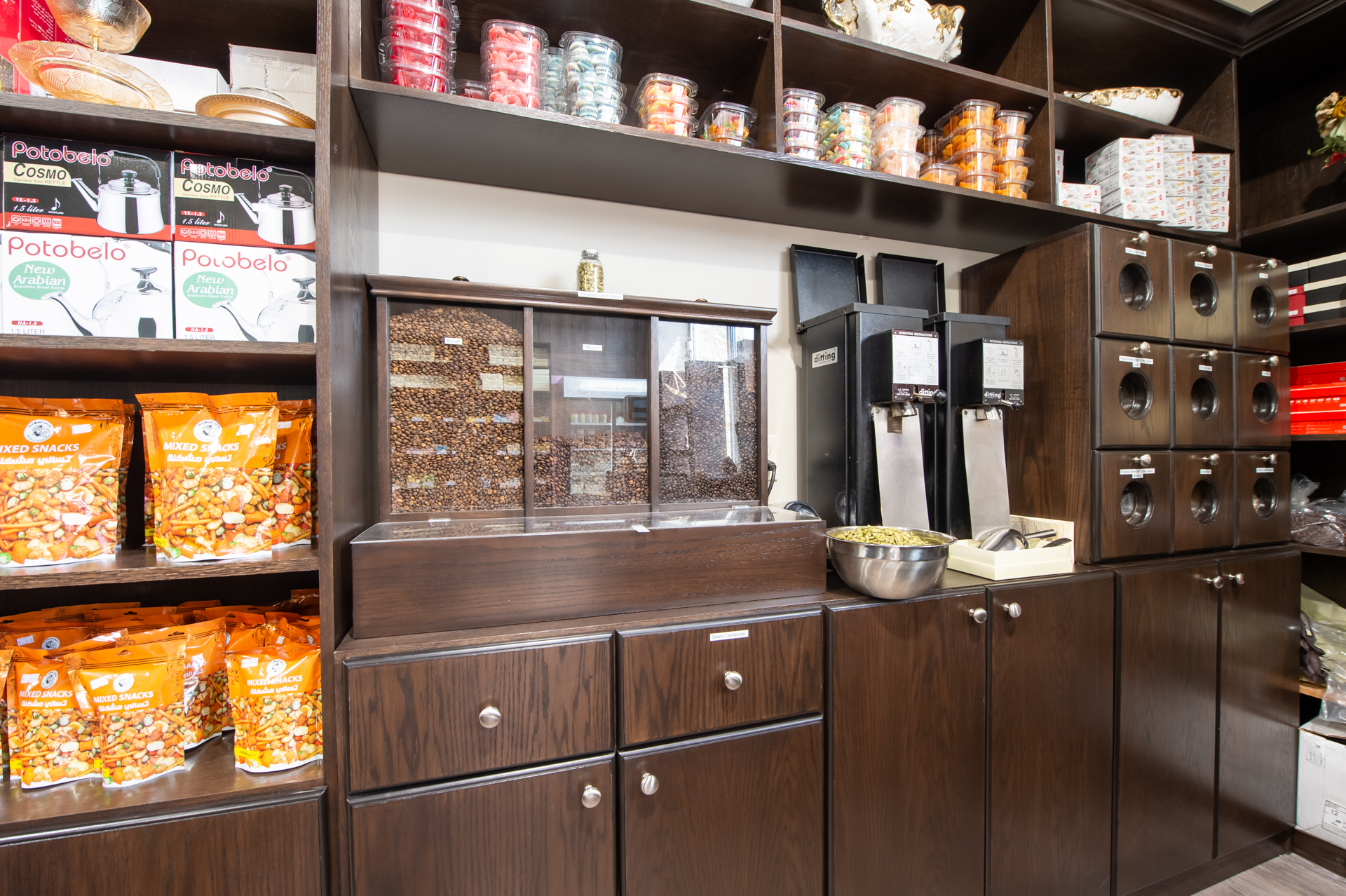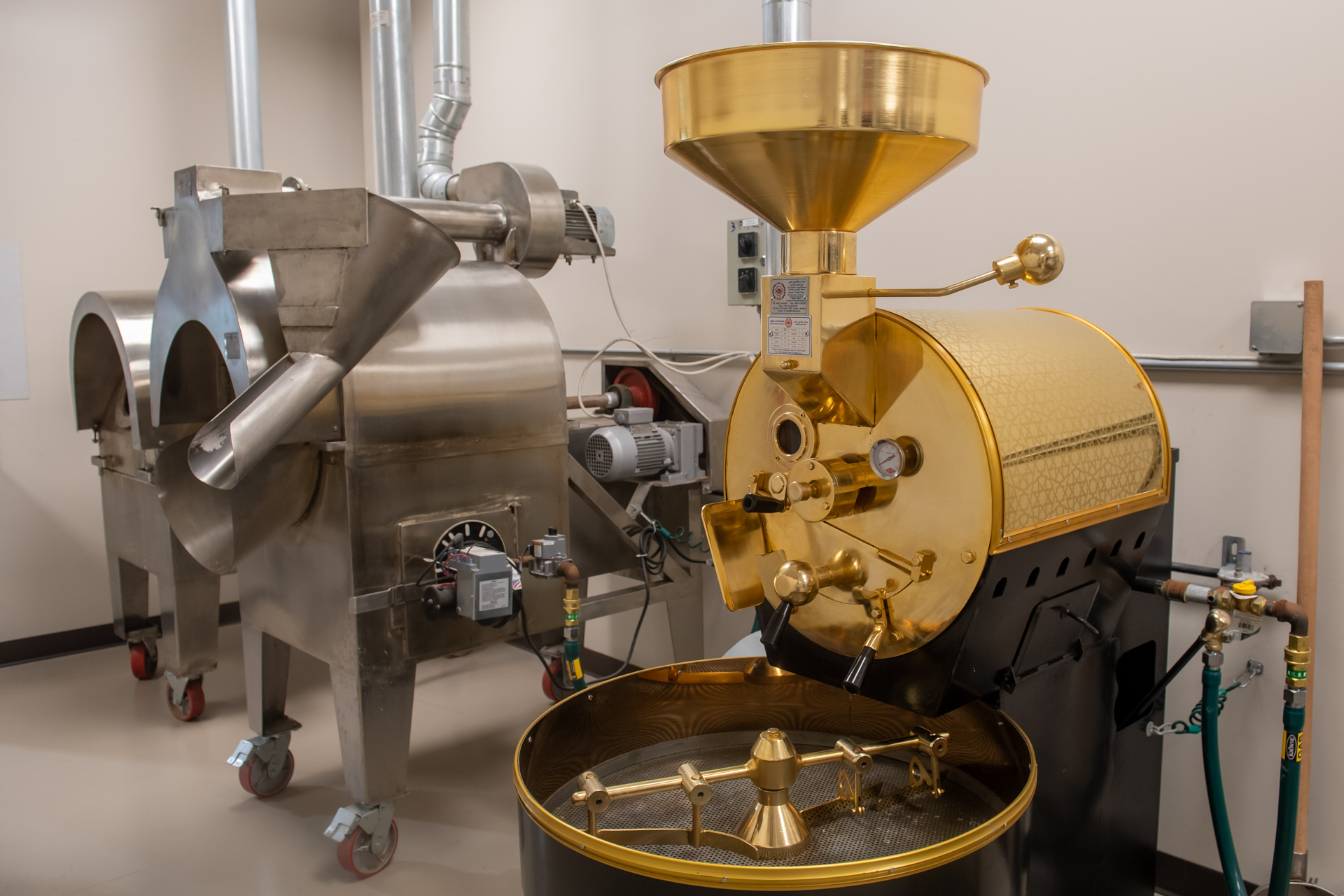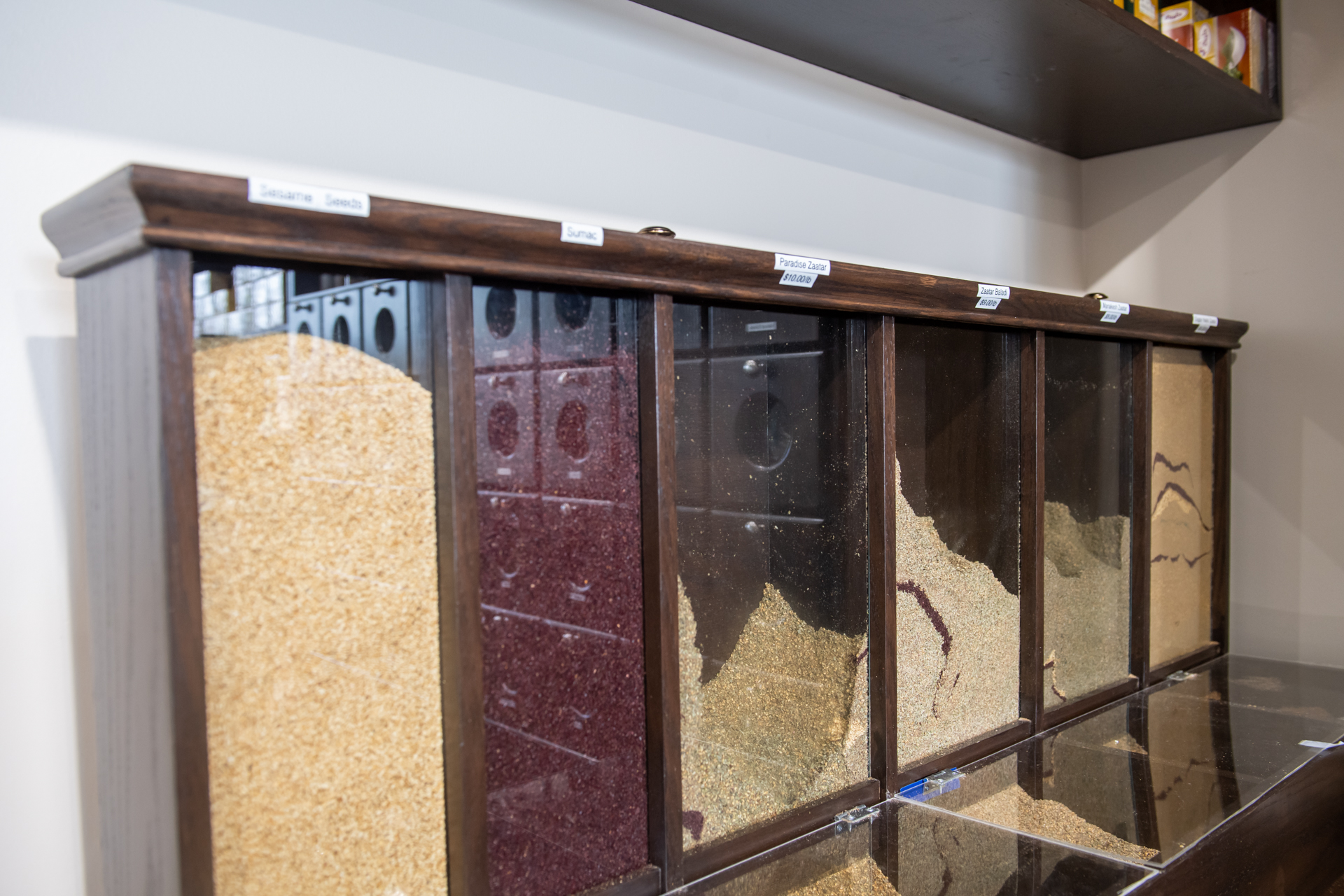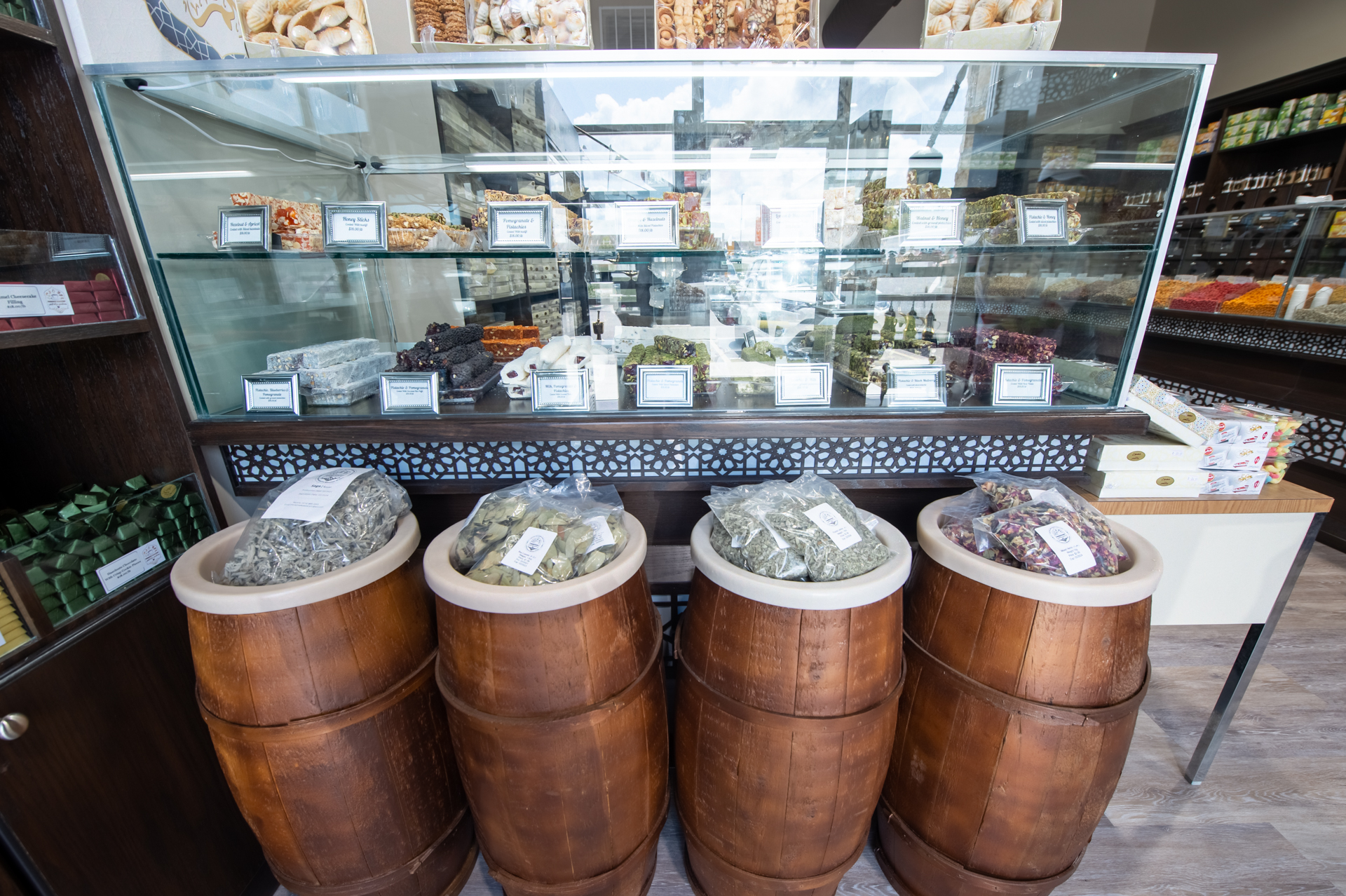 Launching Paradise Roastery
Saif spent the past year preparing to launch. He went back to Amman in January to purchase machines. He had chef jackets made to order and embroidered with the logo. 
Back in the United States, he started the licensing process and found locations near the Islamic Center of Milwaukee for his shop and warehouse. He hopes to attract customers who crave flavors from "back home" and find a supportive community.
The shop's Arabic-style interior was designed and built. Bags, tags and boxes were printed with the new logo. Trays of chocolates and nuts, and a variety of packaging styles were designed. Every detail was carefully considered.
"We've been opened three weeks now," Saif said. "Inshallah it is working well." 
Saif is proud to create the first Arabic-style roaster in Wisconsin. "Everyone has been going to Chicago to find these things," he said. 
"It's just like back home," a visitor in his shop commented.
"Everybody is saying that," Saif said. "We have a lot of American customers who like it, too," he added. 
Saif hopes Paradise Roastery will be big someday "inshallah," selling products online around the country. But that is not his main concern.
"My big concern is to take care of my family," he declared. "The business is a tool. My family is everything."
His greatest satisfaction comes from seeing his oldest daughter began her pre-med studies at Marquette University and in knowing that her siblings are in "good schools," Saif said.