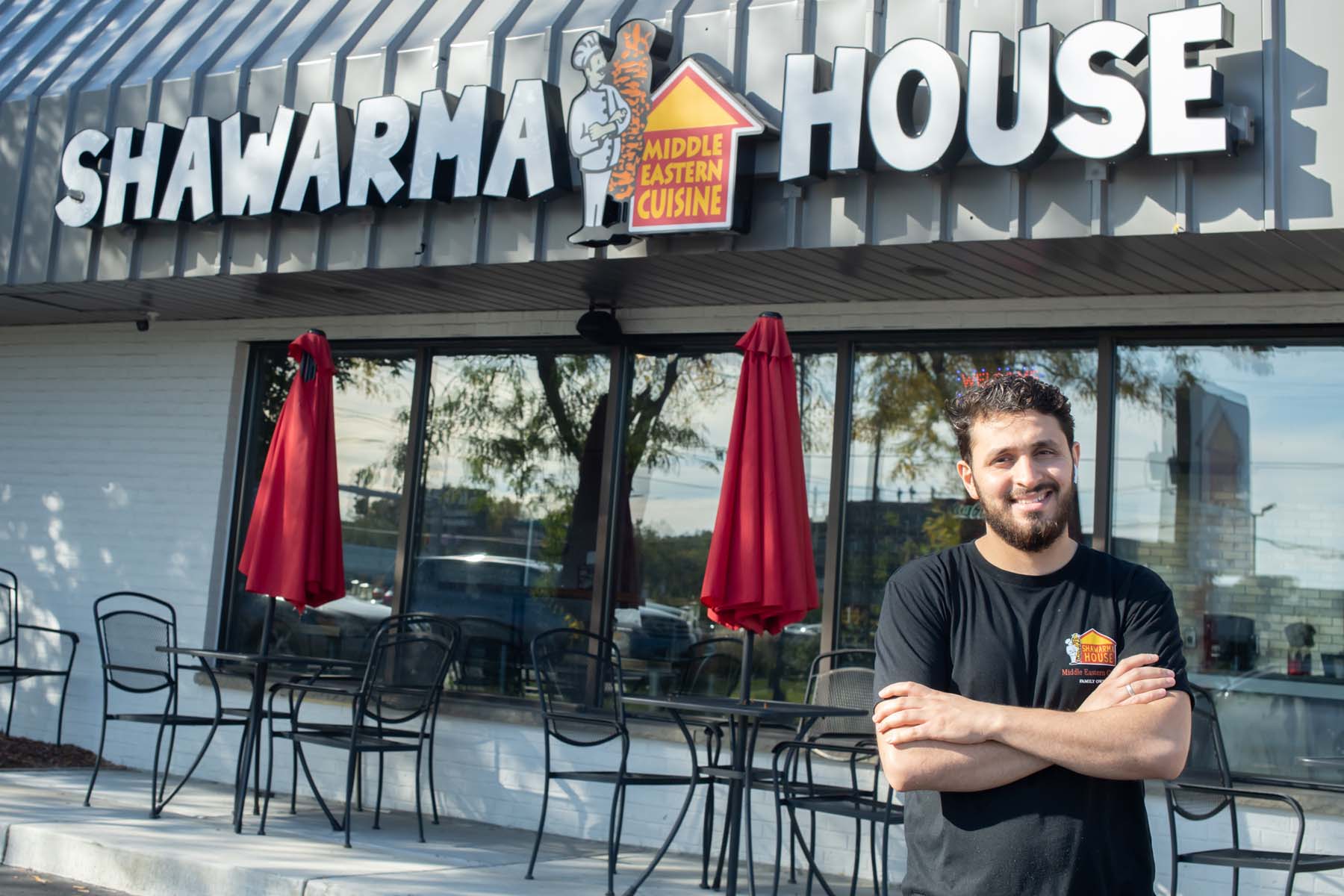 © Photo
Mouna Photography for the Wisconsin Muslim Journal
Every business has an origin story, and that's particularly true of family businesses like Shawarma House, now in three locations around the greater Milwaukee area.
I spoke with Mahmoud Saed, one of the owners, at the Brookfield restaurant, and he explained that he and his co-owners are really, "a bunch of brothers."
The youngest Saed brother, Bara, is the primary chef. "He used to work in a kitchen at one of the Arabic grocery stores," Mahmoud said. At the time, Mahmoud was earning his MBA at Cardinal Stritch. To graduate, he had the choice of writing either a dissertation or a business plan. He chose the business plan, which happened to be written for a Middle Eastern restaurant. 
The oldest brother, Saleh, was already the owner of several area businesses. Mahmoud describes Saleh as a "father figure" for the group and said, "He takes care of us all the time." After reading the business plan, Saleh brought the brothers together and said, "I'll get the money." His confidence was contagious.
And "that's exactly how we started," Mahmoud said.
The first Shawarma House opened in 2014 at 2921 N. Oakland Avenue on Milwaukee's East Side. The Brookfield location, at 17385 W. Bluemound Road, opened in 2016. The newest Shawarma House, located in Greenfield, opened in 2018 at 7510 W. Layton Avenue.
"Before we opened the Brookfield location, we used to get a lot of catering orders from Brookfield and Menomonee Falls," Mahmoud said. "And then the mosque (Masjid Al-Noor) opened in Brookfield. And that was another motivation for us to come here and serve the Muslim community."
But today, Shawarma House's Brookfield customer base reaches well beyond the Muslim community, largely driven by the many corporate offices and shops in the area.
At each of the casual-dining restaurants, "the food that we serve is exactly what we eat at home," Mahmoud said. In fact, the lentil soup served at the restaurants year-round is "exactly how my mom makes it. She told us, and we do it," Mahmoud said.
The story of Shawarma House doesn't really begin with the brothers. It is an international story that begins with Fathi and Inaam Saed, a Palestinian couple now living in Oak Creek who are the parents of 15 children. "Within the year, they travel three times," Mahmoud said, visiting their children who live overseas. To date, the couple have 35 grandchildren.
Mahmoud was born in Kuwait in 1987. The family moved to Jordan in 1990, prior to the Gulf War. In 2010, Mahmoud came to the United States, to Milwaukee, where his brother Saleh and sisters Maha and Mona were already living. All three were married and had their own homes. "Our youngest brother followed six months later, and then another, and another," Mahmoud said. Today there are six Saed brothers and three sisters living in Oak Creek and Franklin. The others live in Jordan and Kuwait.
"Everybody's healthy, everybody's doing good for themselves, everybody's married," said Mahmoud.
He points to a composite of photographs, each one indicating some aspect of the family's international heritage. A photograph of children jumping rope with tents in the background was taken at a Jordanian refugee camp during the Syrian war. Also pictured are black olives, and another photo of the green olives that are used to make olive oil. Still another depicts Petra, Jordan, one of the wonders of the world, where tombs and a temple dating from 300 BC are carved out of sandstone cliffs. And there's a photo of a female hand elaborately decorated with henna. 
But the visual appeal of the Shawarma House doesn't end there. Near the entrance are individual photos of menu items, Falafel, Yogurt Salad, Half Chicken, Tabbouleh, All Inn Grill, Hummus Beef Shawarma, All Inn Shawarma, Lentil Soup, and Go Green (a vegetarian plate).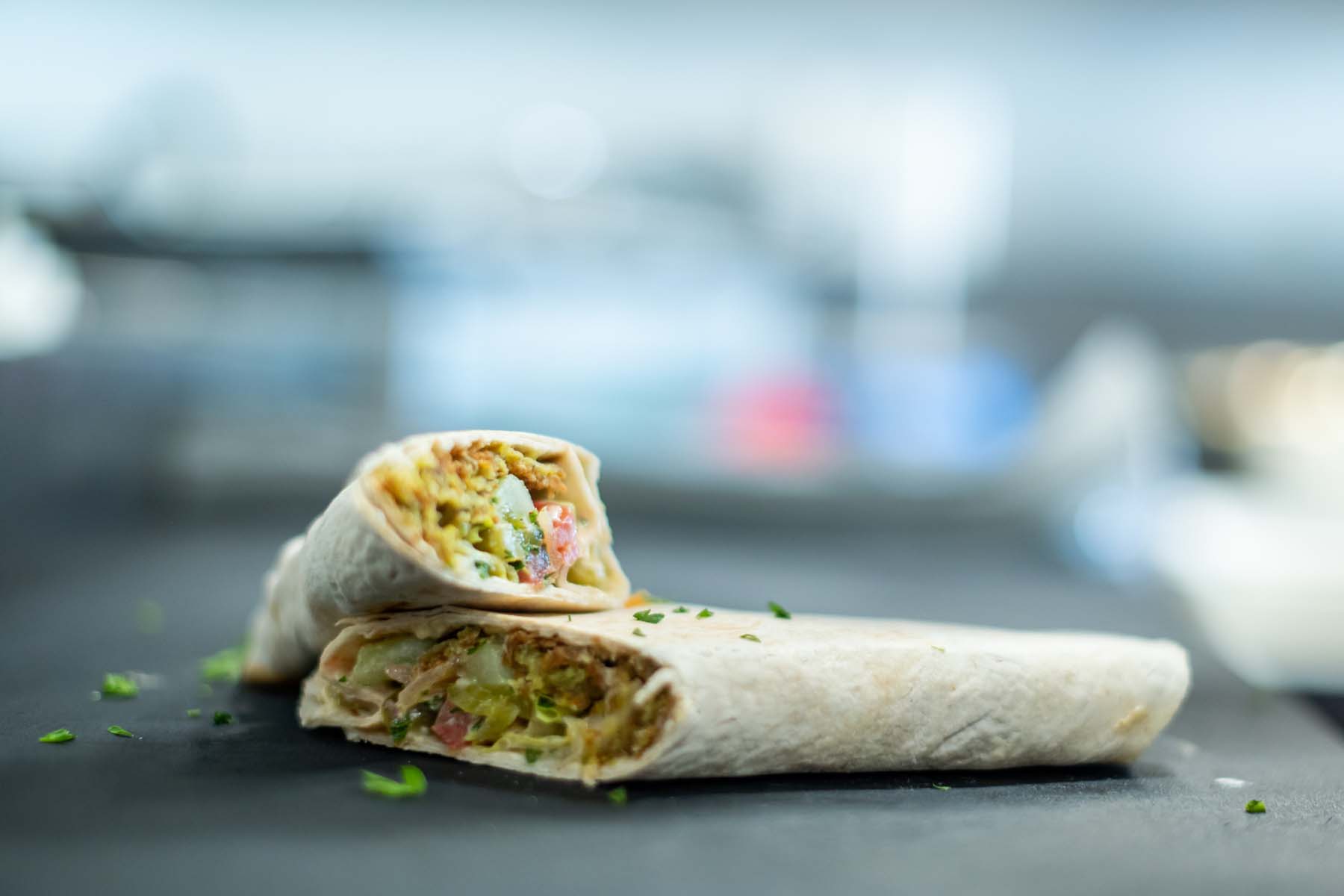 In a nearby corner stands a mannequin in an Iron Man helmet and Shawarma House hoodie – a reference to what is known as "the shawarma scene" that closes The Avengers. An Our Community bulletin board features business cards and thank you notes. 
The restaurant, which has seating for 58 inside and another 30 on the patio, practically sparkles as the grill is being cleaned following the lunch rush. 
According to restaurant manager Ariana Castillo, all the meat served at Shawarma House is "zabiha halal." Mahmoud explains how shawarma is made, by slicing chicken or beef very thin, marinating it in a cooler, and then stacking the slices on top of each other on a spit for slow grilling. 
"It's the same cooking process as gyro, but the big difference is, gyro is processed meat, ground like dough and then shaped on the spit. But when you [grill] shawarma, it comes off as small pieces because it's steaks on top of each other."
While he described the process, a customer seated nearby decided to chime in. "I come all the way from the North Shore to eat here," she said. The staff, she said, "always recognizes us when we come in." The customer, a businesswoman, said she stops by "whenever I'm on this side of town. I really like this restaurant."
No matter how appealing the origin story, when it comes to restaurants, it's really about the food – and the service.
The Brookfield Shawarma House is open daily from 11:00 a.m. to 9:00 p.m., weekends till 11:00. The East Side location near UWM, is open till midnight. The Greenfield location closes at 10:30. Deliveries are available through DoorDash.