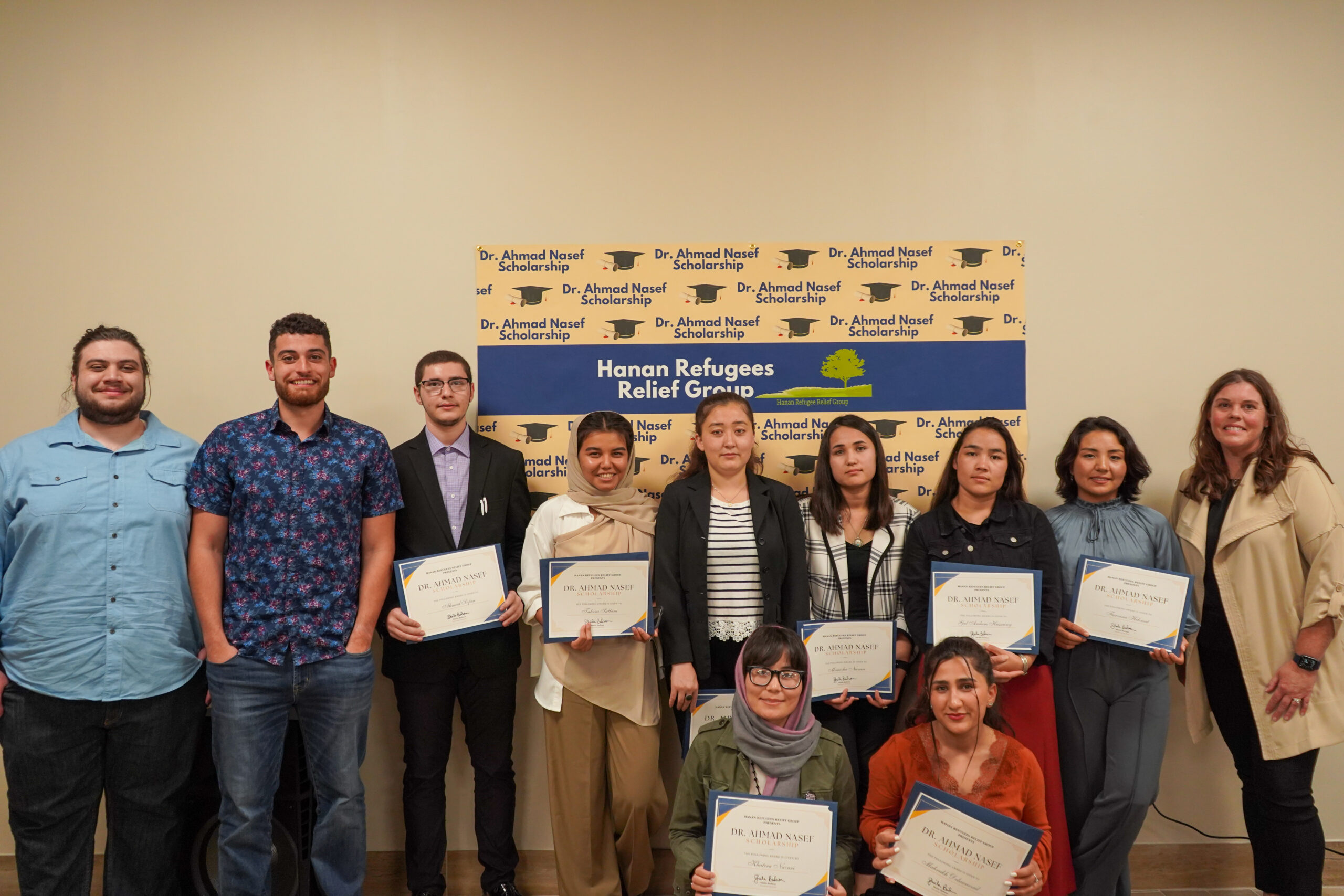 Photos by Kamal Shkoukani
(Front row, left to right) Scholarship winners Khatera and Makruh; (back row, left to right) Dr. Nasef's sons Omar and Mohamad Nasef, scholarship winners Ahmad Sofan, Tahera, Shekiba, Maniza, Gul Andam and Farzana, and Charlotte Nasef, Dr. Nasef's wife.
Note: Afghan awardees' last names are not used for the safety of their families.
No one in the Hanan Refugee Relief Group planned for its Dr. Ahmad Nasef Scholarships to be given to seven young Afghan women exactly one year since the fall of Afghanistan to the Taliban. But that's exactly what happened.
"Not to take anything away from well-deserving Ahmad Sofan (an 18-year-old Syrian who is among the 2022 Nasef Scholars), but the award ceremony turned into a celebration of Afghan women," said HRRG's Wisconsin Chapter lead Sheila Badwan in an interview yesterday.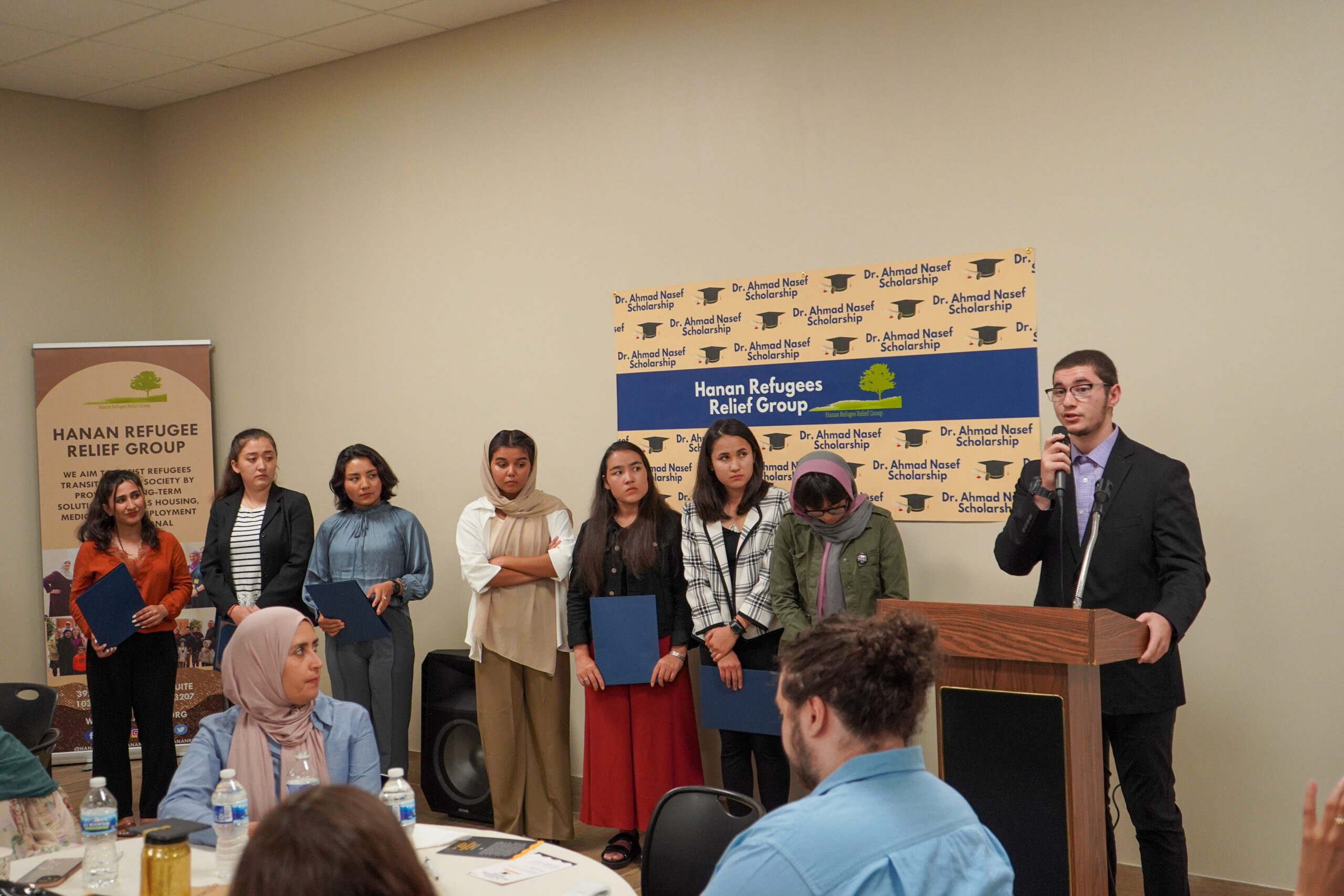 Ahmad Sofan, 18, (speaking) plans to study biology at the University of Wisconsin – Oshkosh.
Hanan Refugee Relief Group, a humanitarian organization that works to aid refugees as they transition into contributing members of their host communities, presented the second round of Nasef Scholarships Sunday at a ceremony at Salam Elementary School in Milwaukee to eight young people who fled their homelands and resettled in Wisconsin, seven women from Afghanistan and one man from Syria. 
The ceremony was the first held since the scholarship was created in 2021 in honor of Dr. Ahmad Nasef, an early champion and lead supporter of Hanan's Wisconsin Chapter who died in January 2021 of advanced kidney cancer at age 52. HRRG also invited last year's scholarship winners Sunday to the live celebration since the 2021 ceremony was virtual due to the COVID-19 pandemic. "Charlotte (Dr. Ahmad Nasef's wife) wanted them to have the opportunity to be recognized," Badwan said.
HRRG maintains a separate fund for the Dr. Ahmad Nasef Scholarships and invites the public to contribute through a link on its website. Donations through this link all go solely to the Nasef Scholarships, which HRRG plans to award annually to deserving students who came to Wisconsin after escaping war and other calamities in their own countries. HRRG also donates to the Nasef Scholarship Fund from its general fund, Badwan said.
The amount of each scholarship depends on fundraising for the year and the number of winners selected by the scholarship committee, Badwan said. This year each Nasef Scholar will receive $1,500 to help pay academic expenses (tuition, fees, books, laptop, etc.)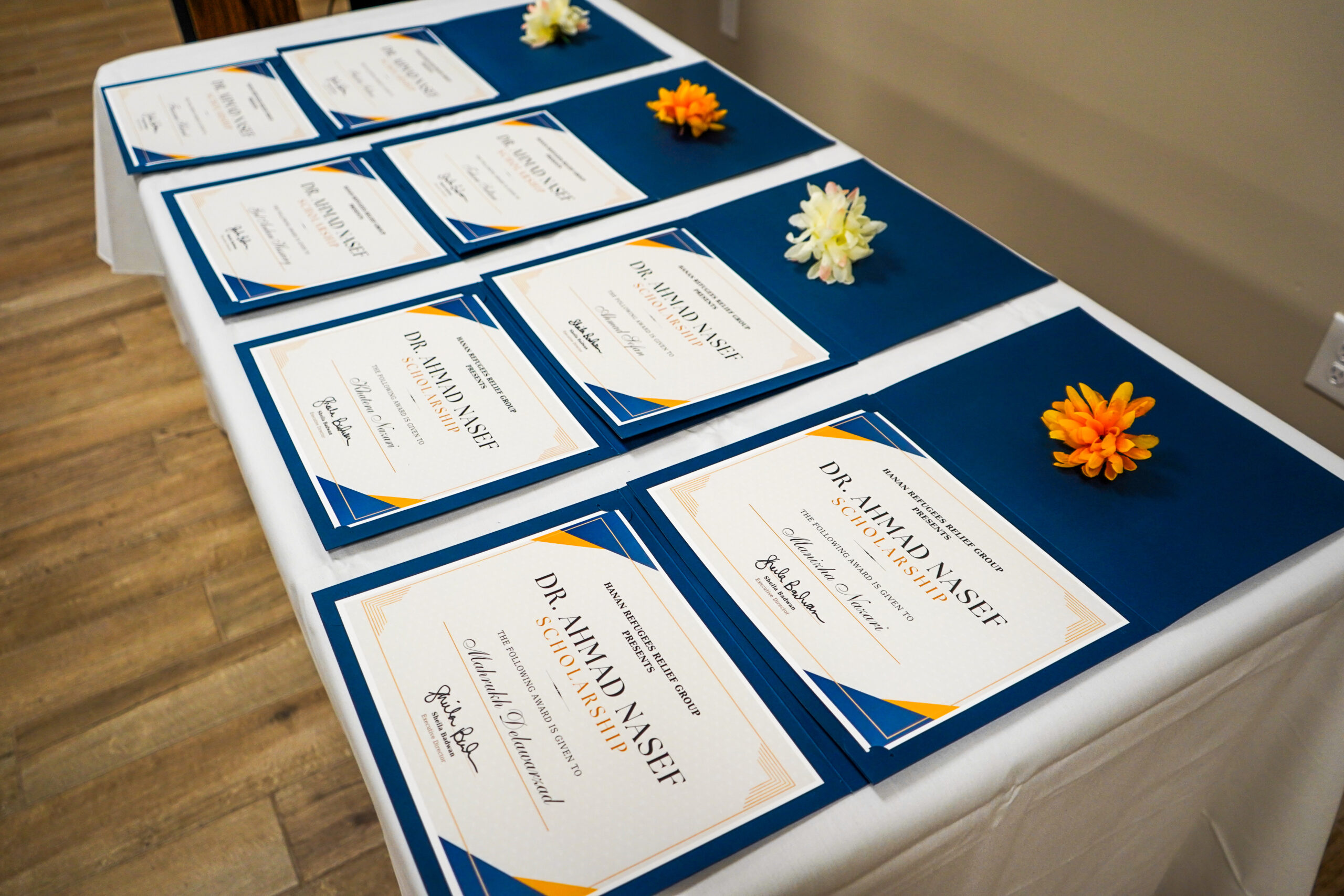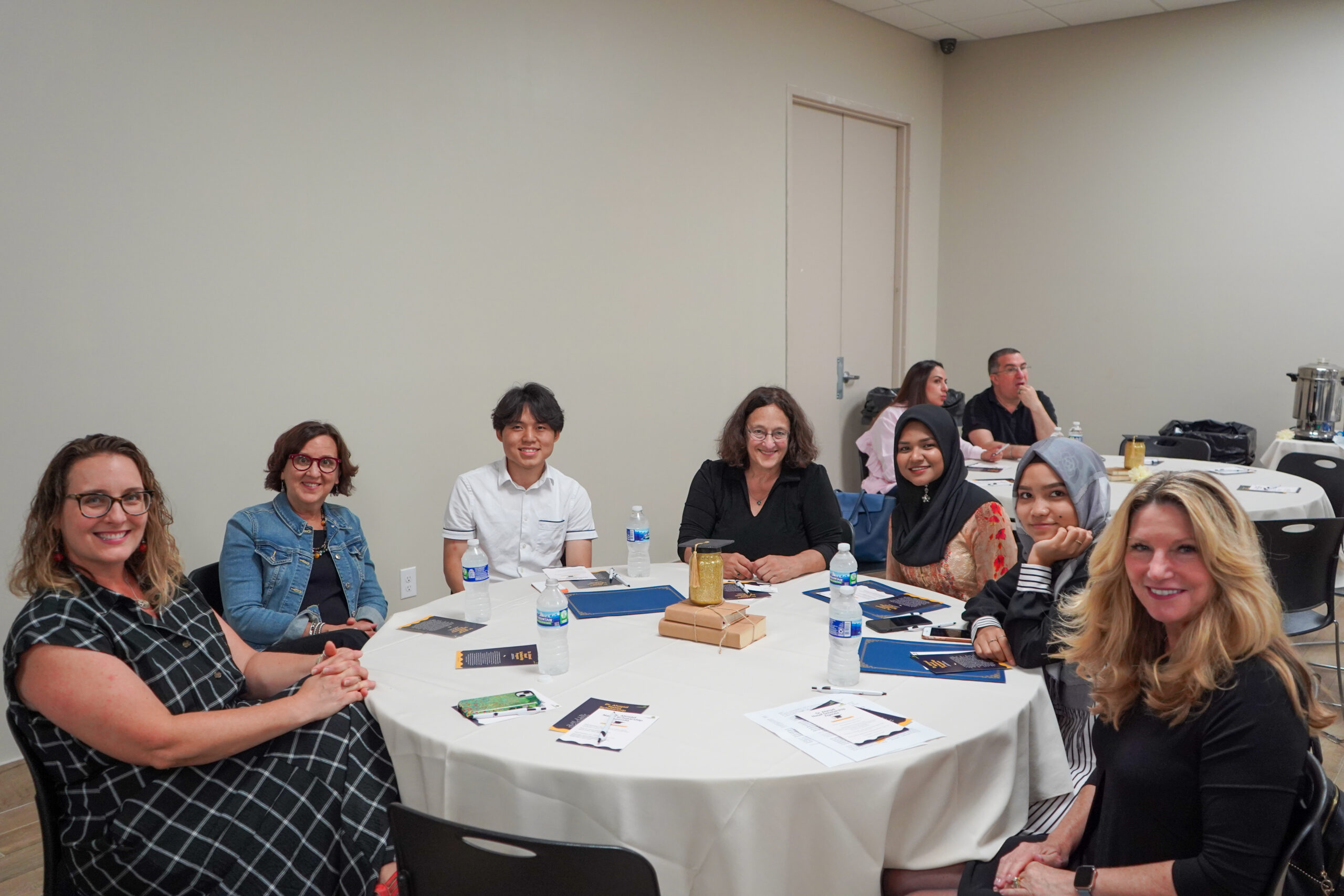 Starting a new life
A year ago, the seven Afghan women receiving scholarships at Sunday's ceremony had just completed a harrowing journey, narrowly escaping capture by the Taliban during five frantic days as they tried to leave Afghanistan. Part of a group from the Asian University for Women, they said goodbye to their families and boarded a U.S. military plane leaving Kabul as Afghanistan fell to Taliban control. They did not know where the plane was headed, but ended up in Ft. McCoy, Wisconsin, and finally in Milwaukee, studying English at UWM.
Among them was Khatera (her last name is being withheld for the safety of her family in Afghanistan) who spoke on behalf of the 2022 Nasef Scholars to the audience of 90 at the scholarship awards ceremony.
"All praise belongs to God … the one who said seeking knowledge is an obligation for both female and male," she began. "I am from Afghanistan where the Taliban is proudly and publicly erasing millions of women from public life."
(Left to right) Khatera, 21, from Afghanistan poses with Charlotte Nasef, wife of the late Dr. Ahmad Nasef in whose name the Nasef Scholarships are given.
She described the rise of violence and regression of human rights in Afghanistan in the past year. "But the Taliban, or any group, that is against education and women's rights doesn't know there is no limit to what we women can accomplish."
She thanked HRRG and the donors to the Dr. Ahmad Nasef Scholarship for supporting the scholars, and pledged, "We will be the voice of women in Afghanistan."
In an interview yesterday, Khatera described the event as both joyful and sad. "It was a good event. The food was delicious," she said. "All the girls were so happy to have Afghan food. We have really missed it."
She expressed gratitude to HRRG, Dr. Nasef and his family, who care about displaced people. Then she talked about the pain. "The most heartbreaking thing for a person is to wish for their rights. That is the true experience for women in Afghanistan.
"I am sad for my family. Now when I want to talk with lawyers about how to bring my family here, they say, "Work on yourself now.'
"When I think about my family and my country, they built my personality and what I am today. Like your mother, they train you. Afghanistan trained me to be brave and fight for women's rights."
Education is key
Acclaimed women's rights activist Maryam Durani, who also escaped Afghanistan one year ago and now works with HRRG as its cultural programs coordinator, spoke to the audience about the importance of education, especially the education of women.
"Education strengthens political stability, improves people's health, generates economic growth and higher wages, and fosters democracy and equality in society. Education is a source of empowerment and independence, especially for girls and women.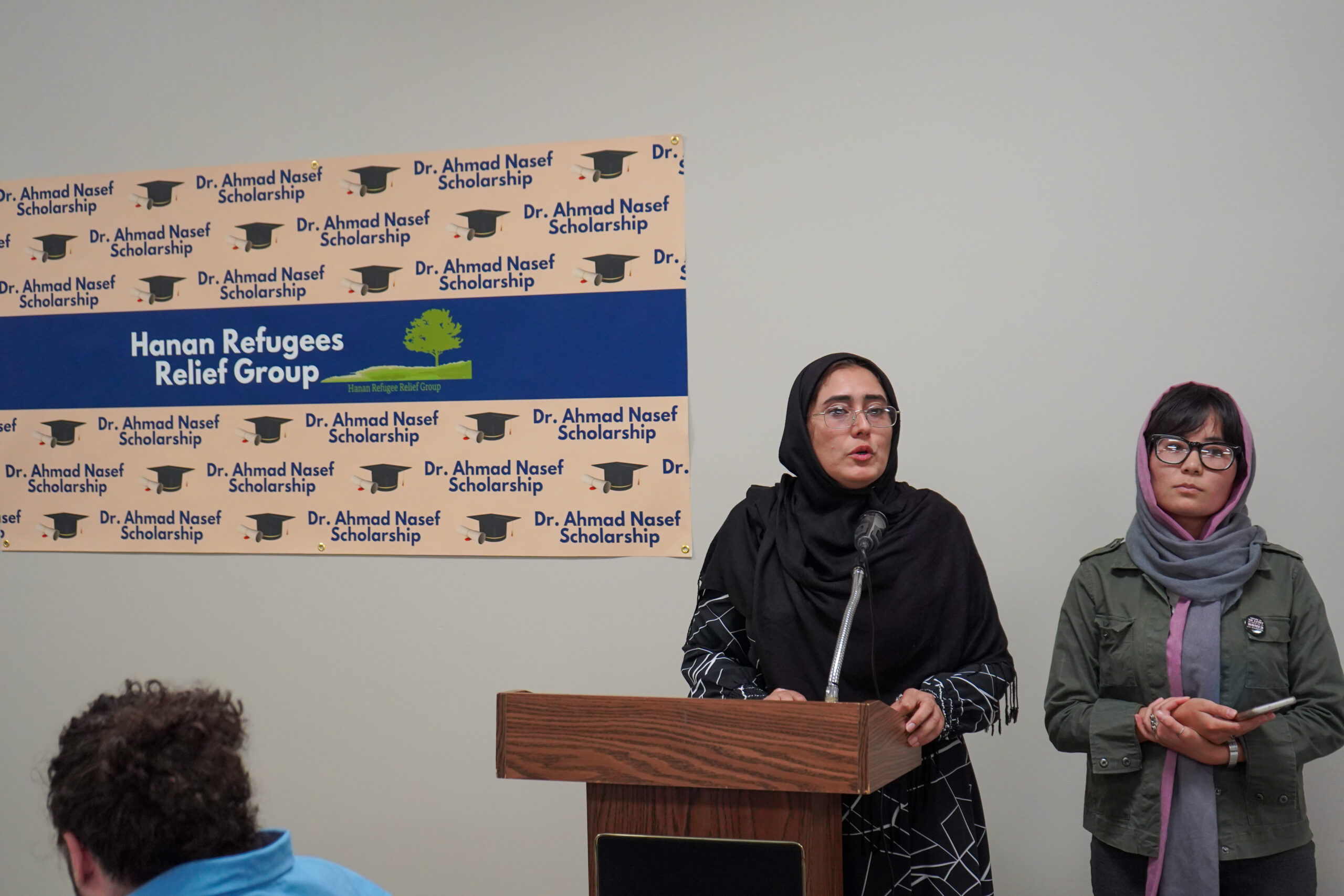 Renowned women's rights activist Maryam Durani stresses the importance of education for all.
"In addition, studies show that investment in girls' and women's education has significant and direct social-economic benefits to families and communities. It has significant positive social effects, including positive changes in performance and reduction of negative social behaviors such as crime and violence.
"When educated women play more effective social and cultural roles, this active participation causes not only development but sustainable development of the country."
Durani thanked "those who created this opportunity for these young people. Most especially for giving this opportunity to the girls of my land and home country, Afghanistan."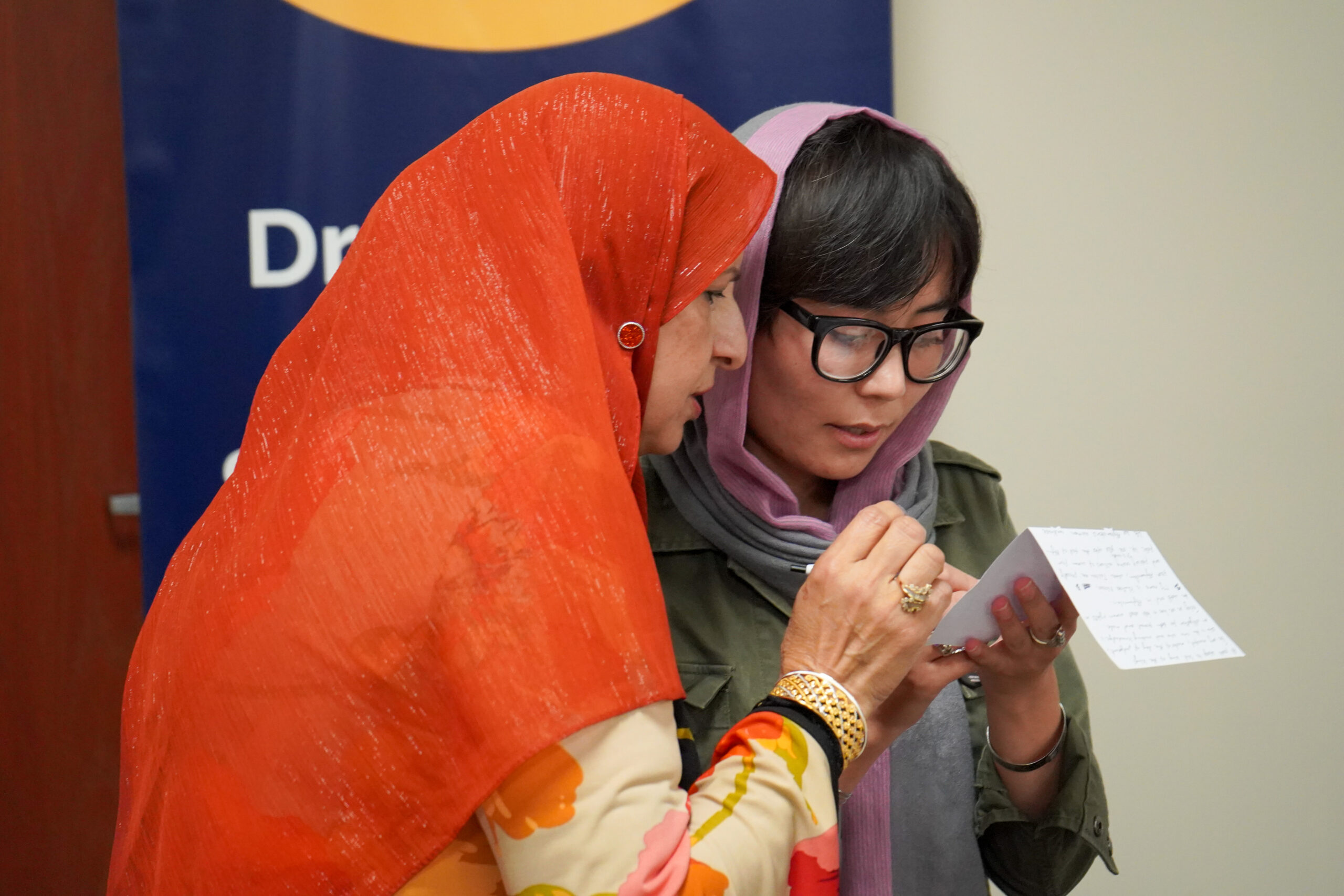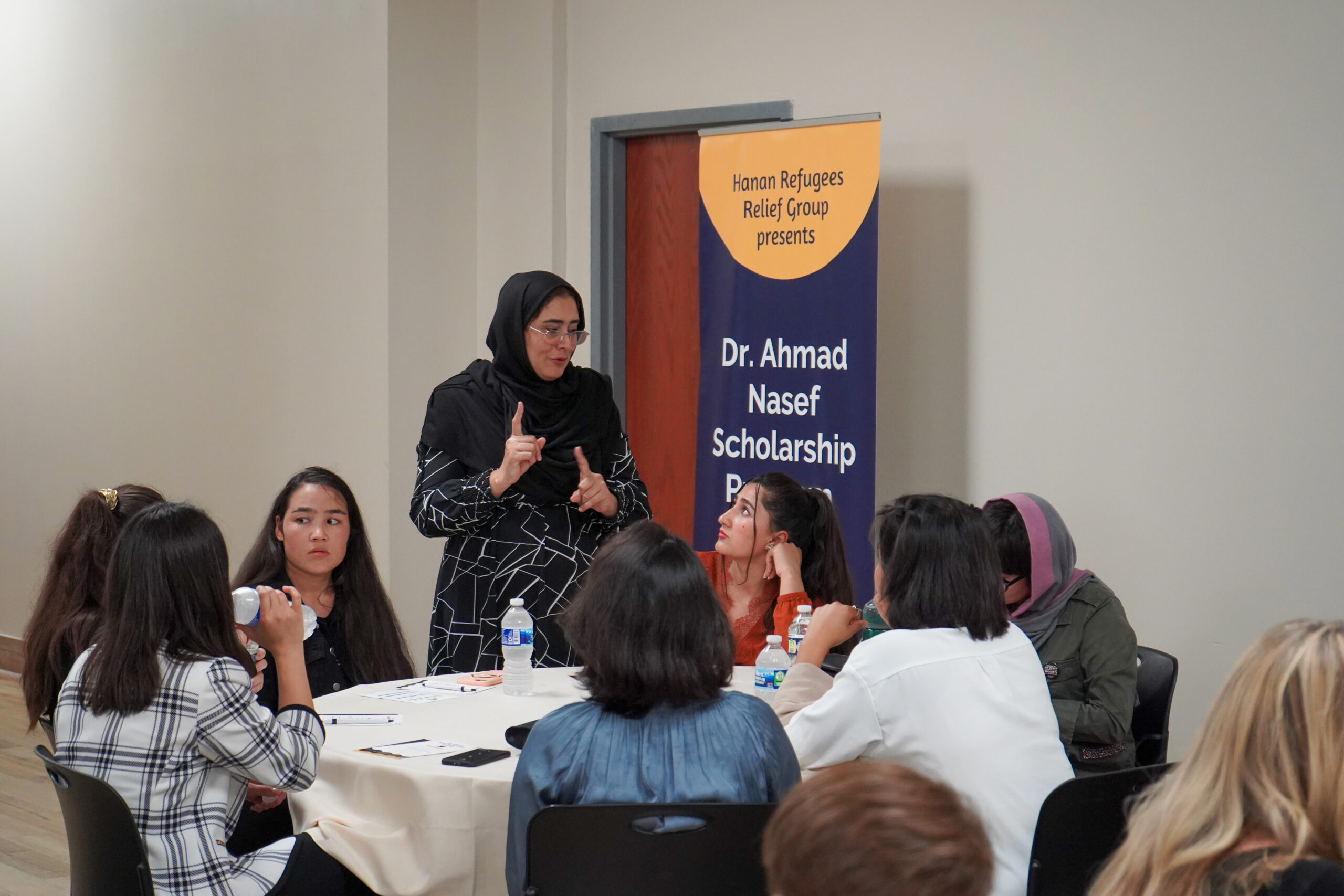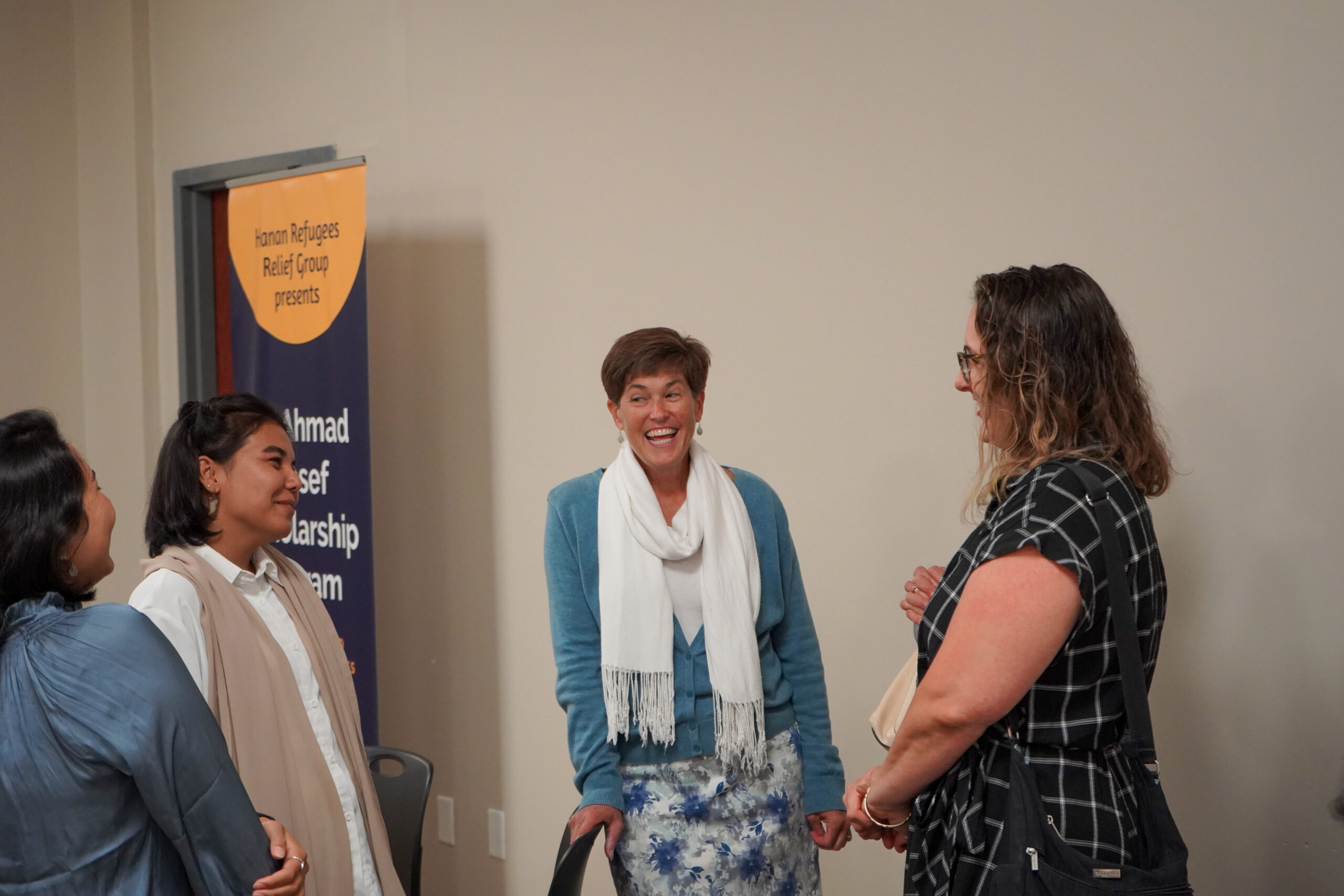 Remembering Ahmad Nasef
Durani never knew Dr. Nasef but said she feels she knows him through conversations with her new friends in Milwaukee, especially at HRRG.
"When I was reflecting on his character, I remembered the words of a woman activist: 'It is the test of life to be able to serve others willingly. My aim is to plant the seed of my thought in the minds of hundreds of other boys and girls in my community. Nothing will change with my inevitable departure and it is natural that hundreds of other characters like me will appear.'
"This applies to the personality of Dr. Ahmad Nasef, and what he did and stood for. Purpose to develop your future generation, especially with your daughters, in both science and spirituality. It will help them to find the right path to goodness, and guarantee the future of your generation and our society."
Dr. Nasef's son Mohamad spoke on behalf of his mother Charlotte and brother Omar. "Thank you to the Hanan organization for their amazing work and congratulations to last year and this year's winners. My baba valued education. He told my brother and me that the best currency is education. Allowing my father's legacy to live on through each and every one of you is a real blessing.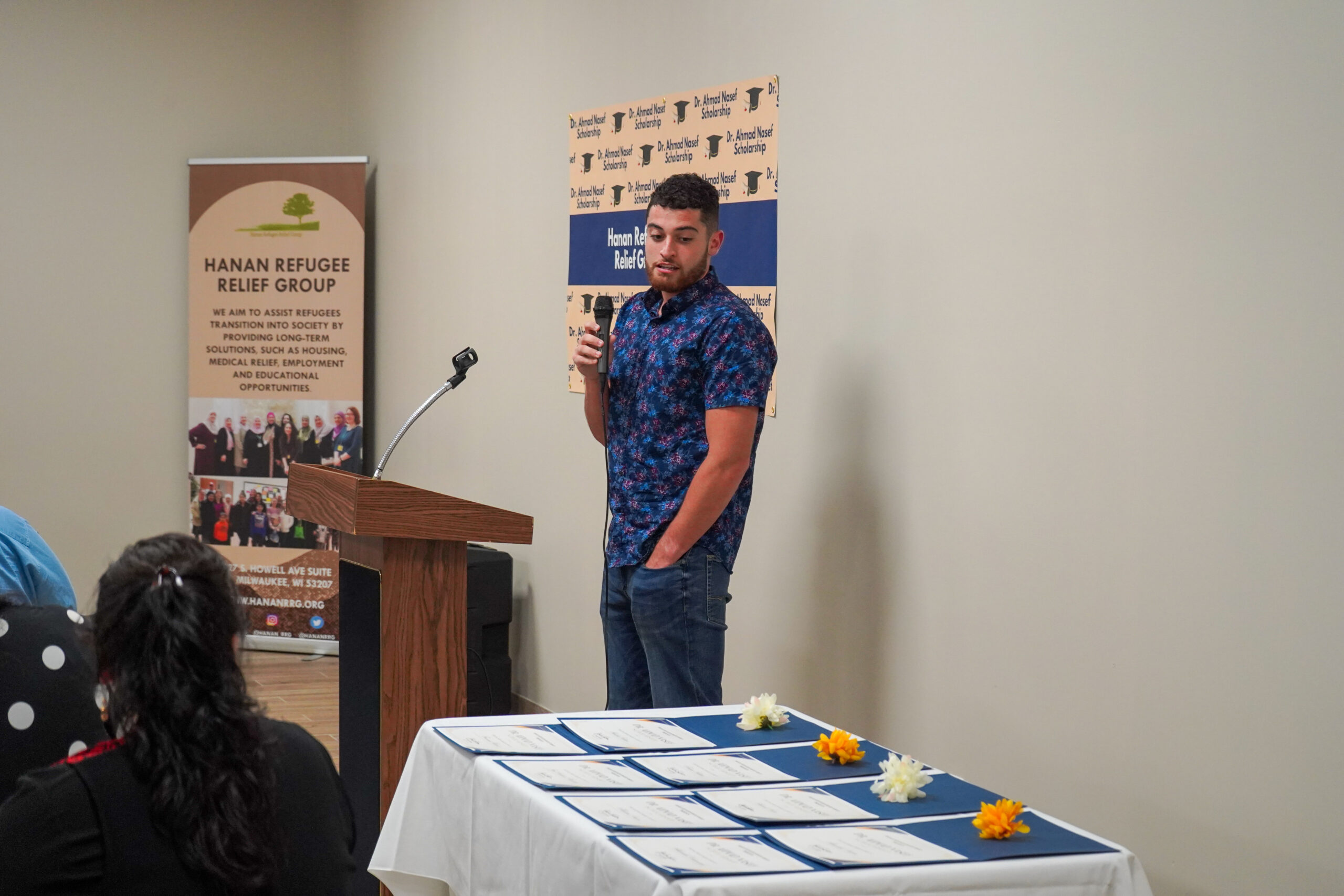 Mohamad Nasef thanked Hanan Refugee Relief for honoring his father's legacy.
In an interview after the ceremony, Charlotte Nasef said, "There are no words to express this feeling. To see these young women and young man continuing their educations is amazing. I hope the scholarship gives them a boost of confidence. It says, 'We believe in you.' 
"That's Ahmad. He would encourage them to continue their educations. He always said, 'You can do anything if you put your mind to it.'
"Ahmad always believed in helping others and being humble about it. He was very passionate about Hanan Refugee Relief. I remember when the first Syrians came in. He was all over it.
"Right before he passed away, another group of refugees were coming and he was so excited. They were planning a 5-K as a fundraiser. He said he was going even if he had to be in a wheelchair. He would be so proud today."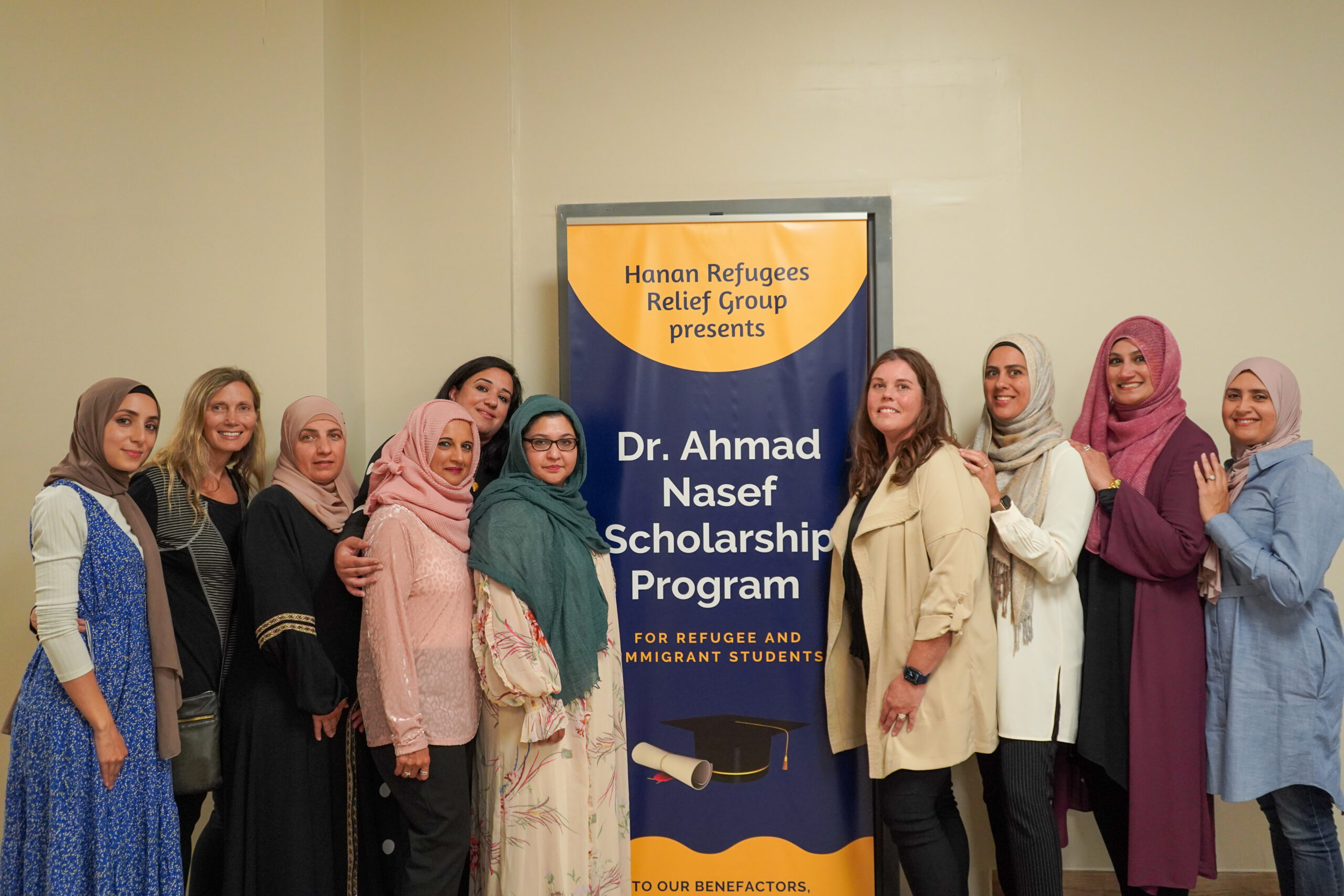 "He was very special to us," Badwan of HRRG said. "He was a founding committee member (of HRRG's Wisconsin Chapter). His love for refugees and his work helping them—this scholarship is a way for us to remember him and the work he did," she said, holding back tears.
"I remember one day at Damascus Gate (a restaurant Nasef and a few friends founded to create work for Syrian refugees). He jumped in his car, saying, 'I'll be right back.' He had all this extra food. He went to hunt for some homeless people and took all the food to them. That's the type of person he was.
"We want to honor him and his legacy, and just continue talking about him. Hopefully, it will inspire the youth. We need more people like him."
The 2022 Dr. Ahmad Nasef Scholars
HRRG reached out to the University of Wisconsin – Milwaukee, South Division High School in Milwaukee, Salam School and SEA Literacy to promote the scholarship to high school seniors from the immigrant community, Badwan said. "We focused on UWM, schools and organizations that see concentrations of refugee and immigrant students." 
SEA Literacy is an organization founded in Milwaukee in 2011 by a landlord who noticed his refugee tenants were largely isolated. It provides tutoring in English as a Second Language and academic subjects, as well as mentoring to refugees. 
Refugees and forcibly displaced immigrants of all ethnic backgrounds and religions are eligible for the Nasef Scholarship. "This year we had enough funding to give scholarships to all those who applied," Badwan said. That was good since the scholarship committee found all of them deserving, she added. 
The scholarship committee is made up of volunteers, including family and friends of Dr. Nasef and members of Greater Milwaukee's Muslim community, Badwan said. They select winners using criteria that includes evidence of diligence and commitment to studies, and activities that show leadership and volunteerism.
The winners include the seven Afghan women who came in as a group through an initiative at UWM, Badwan said. Eastbrook Church has been instrumental in supporting them. They are fundraising now to help them pay their tuition, she added. "Unfortunately, they don't qualify for financial aid because of their immigration status."
In addition to tuition, they will need money for books, a laptop and supplies, Badwan added.
Ahmad Sofan came with his family from Syria to Sheboygan in 2016 or 2017, Badwan said. "He is the first in his family to go to college. When I called his family and told them about this scholarship, they were so emotional."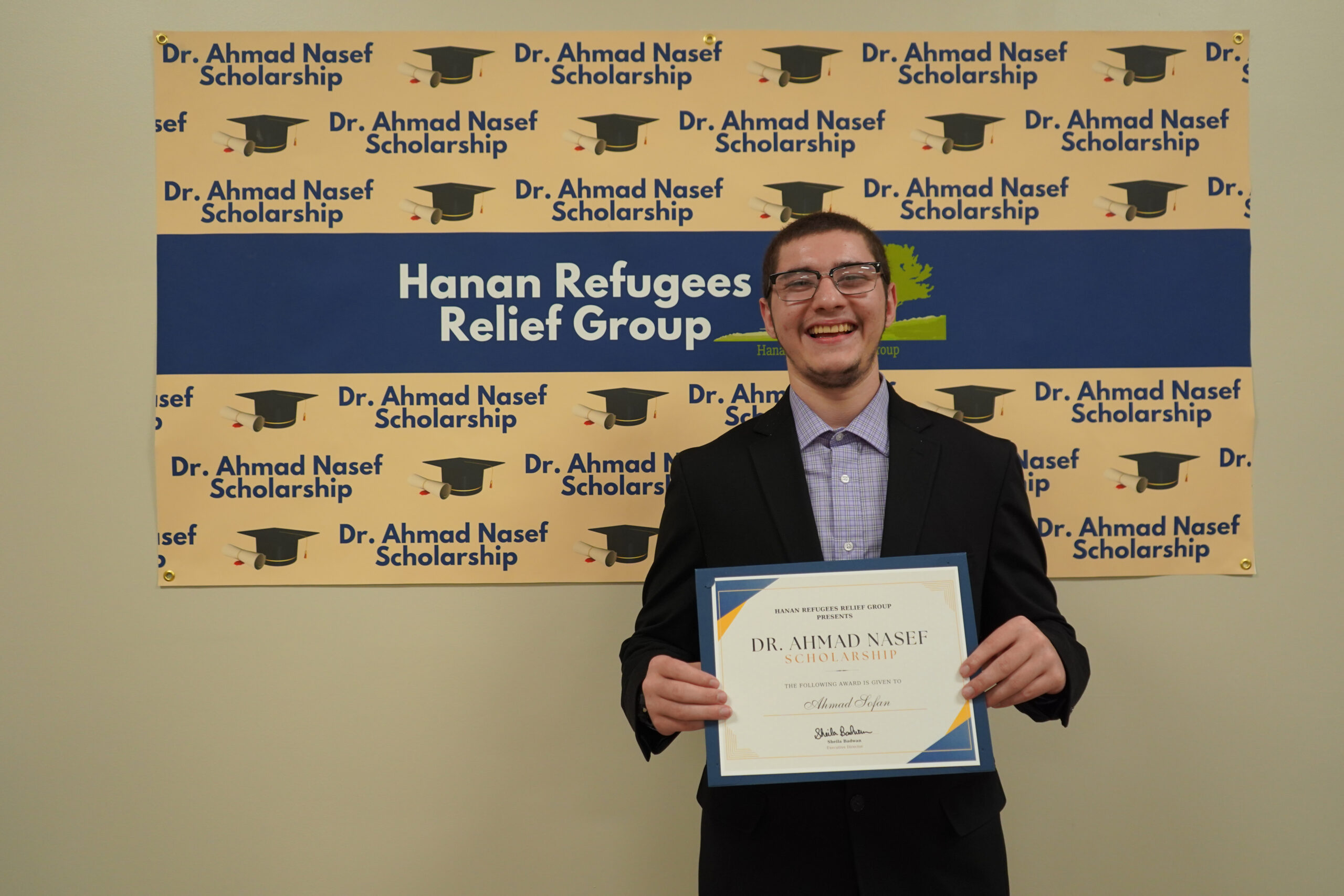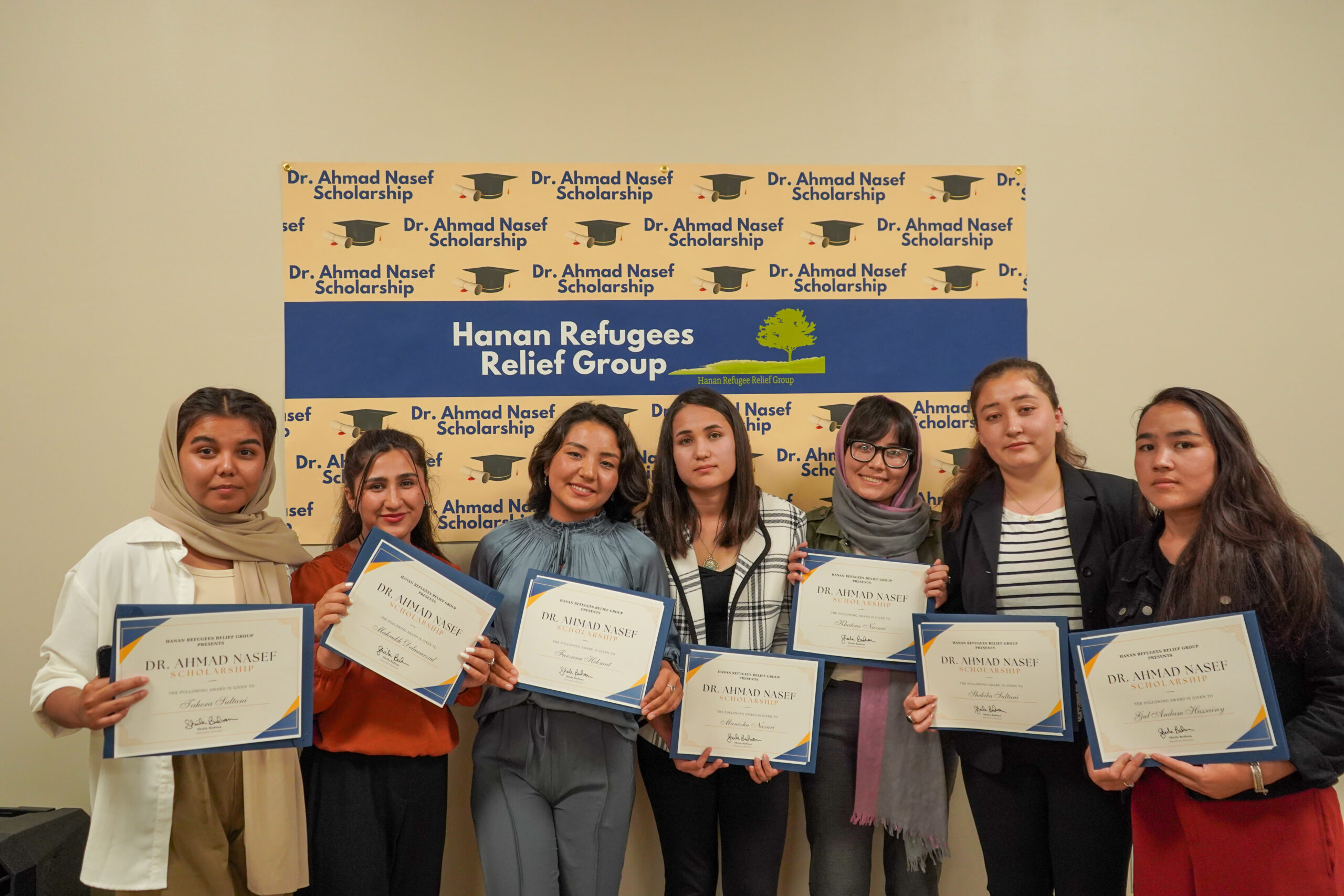 The 2022 Dr. Ahmad Nasef Scholars are:
*Only first names of the Afghan women are used for the safety of their families.
Khatera, 21, plans to study microbiology. She is attending UWM. She enjoys reading, volleyball, swimming and biking. She volunteered when at Fort McCoy during the Afghan crisis, teaching English as a Second Language for four months. She is from Afghanistan.
Farzana, 22, plans to major in International Studies.  She is attending UWM. She is from Afghanistan. 
Tahera, 22, plans to double major in fashion design and computer science. She will attend UWM. While at Fort McCoy for four months, she also volunteered, teaching ESL to children. She enjoys gardening, swimming, running, walking, biking and sewing with friends. She is from Afghanistan.
Mahrukh, 20, plans to major in Public Health at UWM.  She hopes to one day serve with Doctors Without Borders, providing medical humanitarian care to vulnerable populations. She enjoys reading, horseback riding, hiking and talking with family. She is from Afghanistan.
Shekiba, 21, plans to study nursing. She is attending UWM. She enjoys to reading, listening to music, hiking, watching movies and volunteering.  She volunteered some of her time while at Fort McCoy during the Afghan Crisis for 4 months. She is from Afghanistan.
Gul Andam, 22, plans to study computer science. She is attending UWM. She hopes to become a computer engineer. She volunteered while at Fort McCoy for four months during the Afghan crisis. She enjoys walking, watching movies and reading. She is from Afghanistan.
Manizha, 20, plans to study biology. She is attending UWM. She hopes to become a hematologist. She enjoys volunteering, reading, biking, playing basketball and hiking. She is from Afghanistan. 
Ahmad Sofan, 18, plans to study biology at UW-Oshkosh. He is originally from my Homs, Syria. He enjoys volunteering and currently has a part-time job.