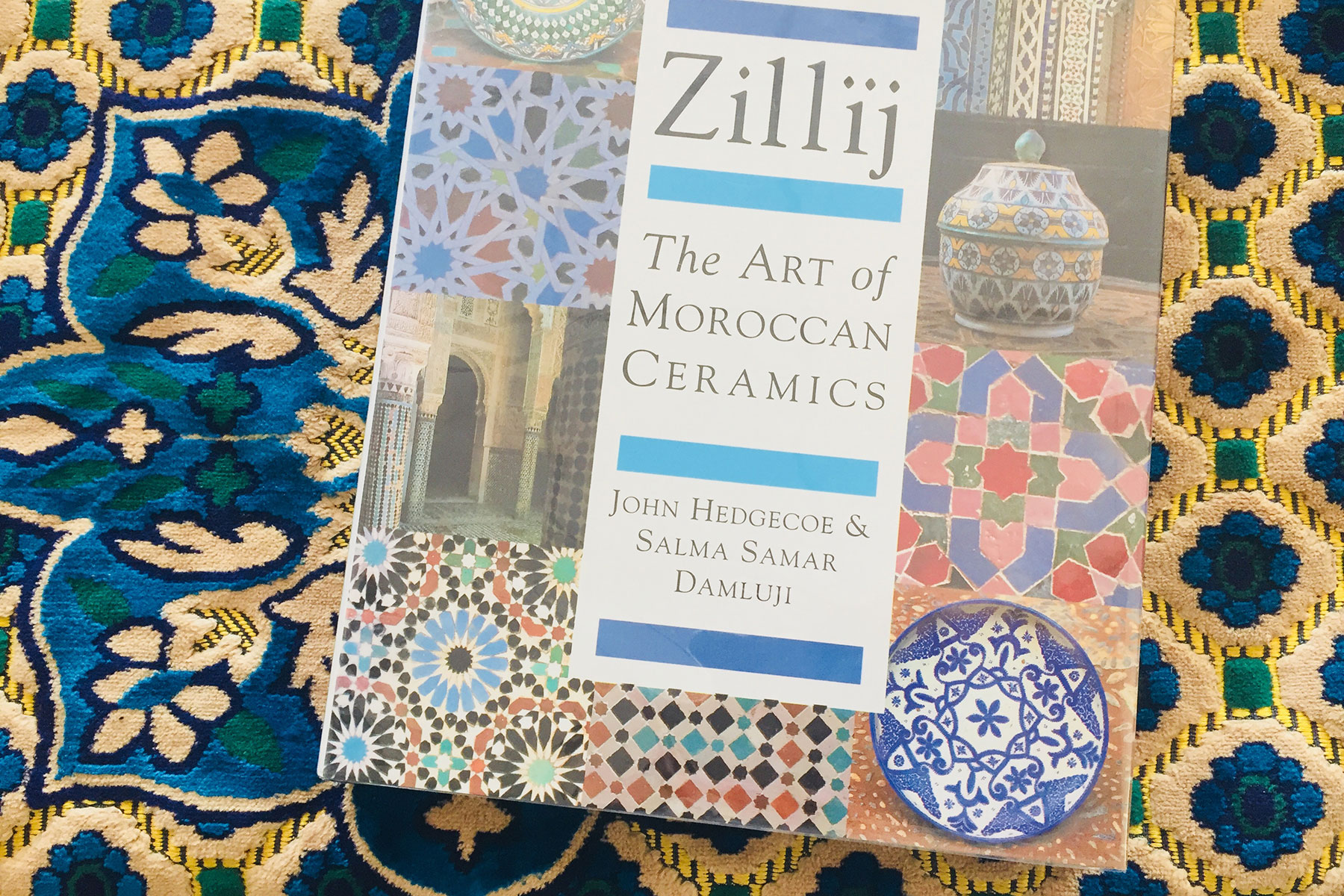 Elise Bellin, Librarian of the Islamic Resource Center, wrote this book review as part of an ongoing series that focuses on a range of books within the IRC collection as a service to the community.
Zillij: The Art of Moroccan Ceramics
by John Hedgecoe nda Salma Samar Damluji, © 1992 ISBN: 1873938020
Zillij (a.k.a. zillige or zellij) is the art of creating individually chiseled geometric tiles set into a plaster base to form intricate mosaics. Traditionally, zillij tile designs repeat in a mathematically precise pattern of single shapes and elaborate rosettes. It became so visually complex and geometrically exact that some even refer to it as a "visual language" in and of itself and so prohibitively expensive due to the time-intensive nature as to be somewhat of a dying (and disappearing) art form.
It is, however, one of the hallmarks of Islamic Moroccan architecture and has become synonymous with both Morrocco and Moorish Spain. Zillij arose from the Islamic precept to avoid depictions of living creatures while searching for an artistic outlet. It is said that zillij arises from the belief that all "life is ordered by cosmic intelligence, even if people cannot always understand it." Therefore in including it within the architecture of a home or building, zillij becomes a form of meditation on the religious beliefs of the area. It is found in walls, ceilings, pools, fountains… pretty much anywhere a decorative flourish is required and always with a great deal of thought to its inclusion.
Historically, such extravagant displays of color and shape were used as a statement of luxury and sophistication. It became so popular that the art form would be imitated on plates and vases or anywhere else decoration was appreciated.
In the early 1990s, the Ministry of Culture in Morocco gave the principle photographer, John Hedgecoe, and editor, Salma Samar Damluji, unprecedented access to sites both public and private throughout Morocco to photograph these spectacular pieces of art history. The results became the book Zillij: The Art of Moroccan Ceramics. Filled with stunning full-color photography and full-page explanations of both the history and significance of the pieces and styles presented, this book is an excellent resource to those interested in discussing the artistic endeavors of the region or the impact of religion on art.
Founded in 2010, the Islamic Resource Center (IRC) is the first Islamic public lending library in Wisconsin. The IRC aims to provide resources to educators, students, health professionals, interfaith groups, and any members of the Milwaukee community that want an accurate understanding of the Islamic faith, its practices, and its people.