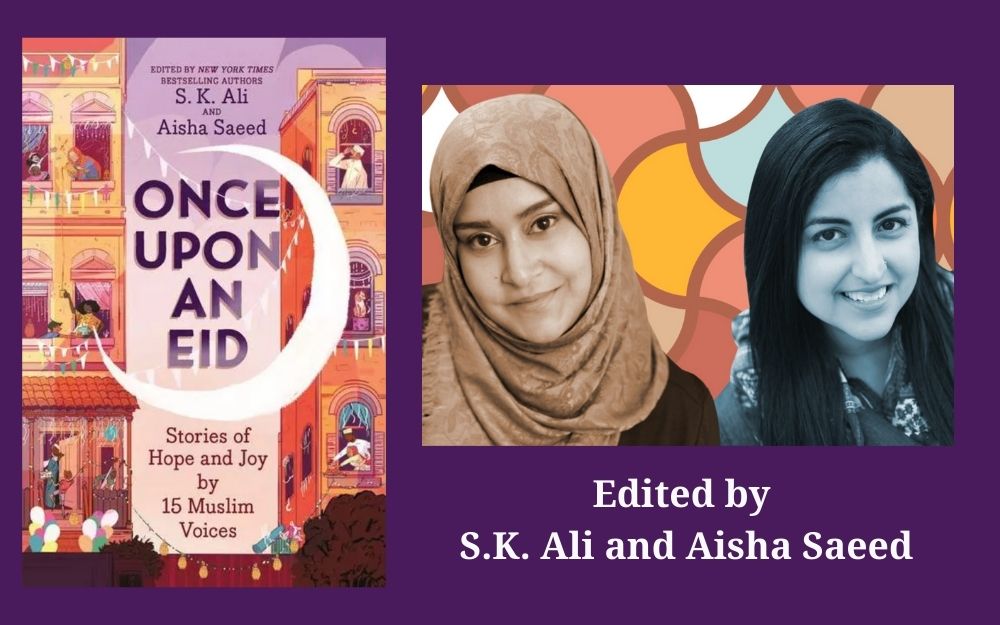 Once Upon an Eid: Stories of Hope and Joy by 15 Muslim Voices (2020) by S.K. Ali and Aisha Saeed
Illustrated by Sara Alfageeh
ISBN: 9781079710090
Eid is an exciting time for many in the Muslim community. It is a religious holiday to reflect, worship, and gather with family. Whether sharing a meal or wearing that special outfit, Eid is a day Muslim children will hold dear. It is truly the most joyful holiday for all Muslims. There are many that can put their feelings into words when they think about Eid, but being able to publish that is even more incredible. That happened in, Once Upon An Eid. 
The book, edited by New York Times, bestselling authors, S. K. Ali and Aisha Saeed, is a compilation of fifteen Eid stories by other well-known authors, G. Willow Wilson (Alif the Unseen, Ms. Marvel), Hena Khan (Amina's Voice, More to the Story), N. H. Senzai (Shooting Kabul, Escape from Aleppo), Hanna Alkaf (The Weight of Our Sky), Rukhsana Khan (Big Red Lollipop), Randa Abdel-Fattah (Does My Head Look Big in This?), Ashley Franklin (Not Quite Snow White), Jamilah Thompkins-Bigelow (Mommy's Khimar), Candice Montgomery (Home and Away, By Any Means Necessary), Huda Al-Marashi (First Comes Marriage), Ayesha Mattu ( Love, InshAllah: The Secret Love Lives of American Muslim and Salaam), Asmaa Hussein (A Temporary Gift: Reflections on Love, Loss and Healing), and Sara Alfageeh ( Star Wars Women of the Galaxy).
The anthology of Eid stories includes a graphic novel chapter, poems, and spot illustration. Every author puts their own spin on their personal experiences. Whether it is Hawa spending Eid in New York learning to get along with her cousin, or Kareem trying to learn about generosity, there is a story for everyone. 
Many of the stories are written about cities that are not predominantly Muslim. This struggle reveals many identity issues, as the contributors navigate how their family celebrates Eid in a place where it is not widely celebrated.
An intentional structure of the book demonstrates many family dynamics, whether blended or recently converted, for the reader to discover themselves within the different stories.
Between the graphics, the poems, and the lyrical writing, Once Upon An Eid is a showstopper. This is a book that you can read time and time again, and find something new. It is best for middle-grade children, but the whole family can enjoy and read it together. 
PHOTO ©
S.K. Ali, left, photo by Andrea Stenson. Aisha Saeed, right, photo courtesy of the author