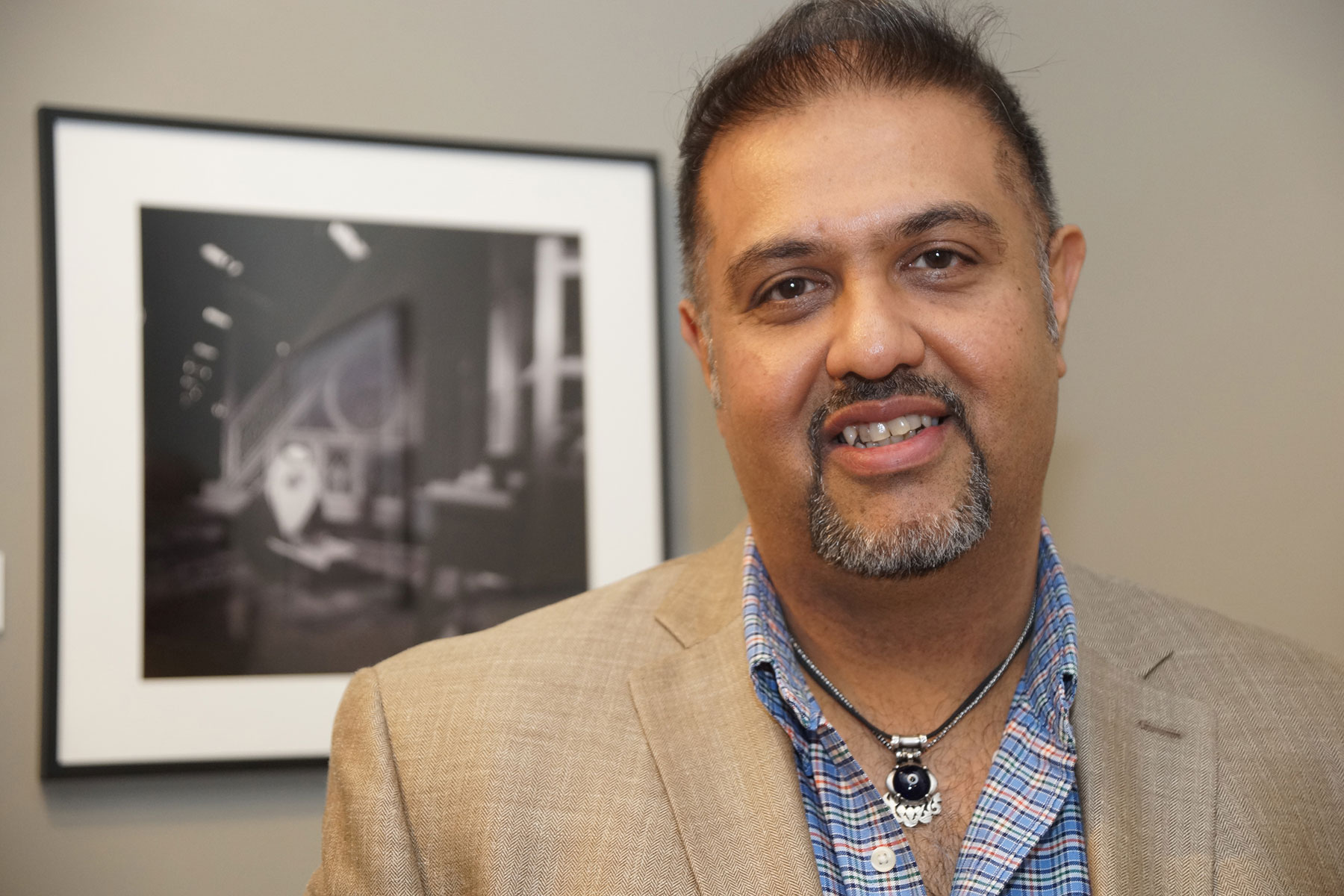 Salim Amin, the son and only child of Mohamed "Mo" Amin, undertook a journey of recollection and reflection into the life of the frequently absent, globe-trotting father he loved, revered, and feared.
Focusing his camera lens across continents, Mo Amin's thirst for breaking news put him repeatedly in harm's way. Over his legendary career, he endured weeks of torture, automatic arms fire, explosives, and the amputation of his left arm, to become one of the most decorated news camera-men of all time.
Salim now runs the vast Camerapix archive of his father's work, preserving and displaying images of Africa through the decades. The collection follows war, political upheaval, famine, and disaster, as seen through the lens of a man dedicated to inciting change by using images. Salim also co-founded A24 Media, Africa's first online agency for video and photographic content. In 2006, he produced a documentary chronicling his father's life entitled "Mo & Me." The film has won 15 awards for best documentary around the world.
The Wisconsin Muslim Journal arranged an interview with Salim in connection with his panel discussion at the Charles Allis Art Museum, during the "Inspiring Change" exhibit, featuring his father's work along with images by Milwaukee-based photographer and award winning filmmaker Chip Duncan.
WMJ: How important is an African voice for reporting the news and telling stories about Africa?
Salim Amin: Africa's story cannot be told by people from outside the Continent. For too long foreign media organizations have been parachuting in journalists to tell the story of Africa. Their stories have often been sensational, focusing on the negative, and they spend too little time on ground to really explain the situation and history of the stories they are covering. African journalists that live in country give stories the benefit of context and try and offer solutions to some of the problems facing the different countries. They give a local perspective drawing on their own experiences. They may not be biased or completely objective but most journalists on the Continent also are not driven by the agenda of a foreign government or foreign media entity …
WMJ: How has Africa24 evolved, what led you to start the news channel, and what has been the most unexpected result of your effort?
Salim Amin: A Pan-African Channel was the vision I had been working on for many years before it was eventually launched in 2008. The original idea of the Channel was not able to become a reality unfortunately but the company, with Camerapix as the umbrella block, morphed into one of the finest content agencies on the Continent. Camerapix continues to do great documentaries and shows that are really showing a new, positive, progressive Continent that is on the move! Camerapix has truly become that vehicle for the story-telling that my father and I always wanted to do, and with Milwaukee's very own Chip Duncan we are now telling African stories on a truly global scale.
WMJ: How is your faith a part of your work, and influence on your career?
Salim Amin: Faith is very important to me. The belief that we are here on this earth for a purpose and that we all need to work to change/better the life of even one other person is a huge motivating factor for me. I saw the difference my father made with his work where he changed the lives of millions of people. I don't expect to have that type of impact but if I can achieve even a fraction of his influence then I will be able to face my Maker proudly!
WMJ: What is the fondest experience or collection of memories you have about your father, Mohamed Amin?
Salim Amin: The best memories I have of him are when we worked together cover the East African Safari Rally. Being able to be in the field with him in what was not a "frontline" situation was amazing. He was completely different in the field to when he was at home. He was much more relaxed and was actually a "proper" father, teaching and mentoring me on photography and life.
WMJ: What was it like growing up in the shadow of your father's pioneering work, and how did you deal with his prolonged absences in your youth?
Salim Amin: I didn't really realize the extent and importance of the work he was doing when I was young. I just knew that he wasn't around a lot and that he really wasn't there as a father to me. I know he loved me very much but we never had those father-son moments as he never had the time. When I started working for him I understood a little more about the work that he did and the passion that he had. My mother and I always knew that we were never going to be first in his life … that position was for his work! I think I used his long absences to get what I wanted from my mother and to guilt him into getting me things that I wanted, but I never quite realized what he was doing on these long absences away from home and how important his work was until I made MO & ME which helped me re-connect with him.
WMJ: What would you like the public to remember about your father, to honor his work and as an inspiration for their own?
Salim Amin: I would like for people to remember him as a courageous, talented, determined, committed and very versatile photo-journalist who, as an African, told his own Continent's stories, his own people's stories and, through his story-telling, helped save the lives of close to 5 million people and changed history. And he did all this with very little education, no formal training as a photo-journalist and just huge passion and commitment. A lesson that ANYONE can achieve what they want if they are willing to work hard and purse their passion!
WMJ: With such a long history of division in America between blacks and whites, and around the world between Christians and Muslims, do you think it is even realistic to hope for peace?
Salim Amin: To achieve any semblance of peace in the world we need leaders with vision and determination to make peace. Religion is being used for political gain, racism is a lack of understanding and appreciation for people of different backgrounds and a fear of what might be due to ignorance. Young people have to take the lead and break down these barriers to connect with each other and change the balance of power at the higher levels of government so that real change can happen.
WMJ: If you could send a message back in time 30 years to the younger version of yourself, what would you say?
Salim Amin: I would say "Enjoy your youth a lot more as you will miss being able to do everything you are doing now! Above all enjoy the people you are with as you never know when they will no longer be around".
WMJ: What could Milwaukee learn from Africa to help address the city's institutional segregation?
Salim Amin: The challenges that Africans have faced with colonialism, and the challenges they are dealing with now half a century after independence, is taking a huge toll on the continent … I think people in Milwaukee have many things they can be very grateful for and need to build on those to bring the different communities together. There is poverty and homelessness and lack of opportunity for too many people in Milwaukee from what I have heard, but there are also some very good people trying to address those through their different organizations … Africa's problems are on a completely different scale to what is happening in Milwaukee but social media and an increased knowledge of the different issues and countries is helping to build bridges.