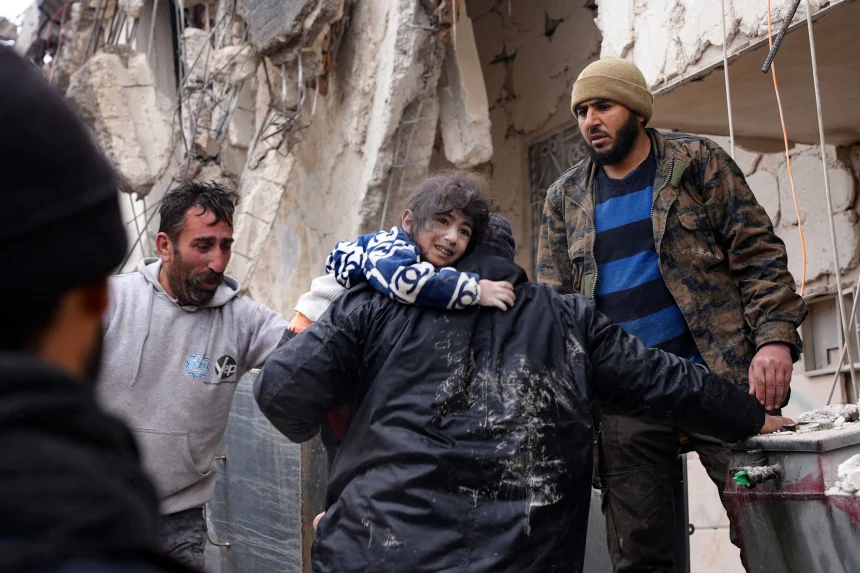 Residents retrieve a child from the rubble of a collapsed building in the town of Jandaris, in the countryside of Syria's northwestern city of Afrin on Monday. Rami Al Sayed / AFP – Getty Images
Around 9:30 p.m. Sunday evening, news broke of a devastating earthquake wreaking havoc on southern Turkey and northern Syria. Turkish and Syrian Wisconsinites began frantically calling relatives on WhatsApp to find out if their loved ones were safe.
Some stayed glued to their television or phone all night, watching reports on Al Jazeera and other international news outlets providing play-by-play coverage. 
The huge earthquake shattered buildings and lives across a vast area. Dramatic scenes played across television screens of children being pulled from the rubble and of survivors crying for loved ones who were buried. Would-be rescuers, many using their hands, coped with frigid temperatures and falling snow. In a northwest Syrian town, residents found a crying newborn, the only member of her family to survive, the Associated Press reported. 
Freezing temperatures and multiple aftershocks, as well as a lack of equipment and resources, were hampering rescue efforts. By sunrise, it was clear that thousands of people need immediate help. (At press time, the death toll is climbing toward 7,500 and is expected to rise further.)
Members of the Council of Wisconsin Islamic Centers Communication Group joined a call right after fajr prayer, the morning prayer before sunrise, to discuss how to respond. CWIC is a statewide network of Islamic organizations.
"It is a catastrophe!" said Islamic Society of Milwaukee president Salah Sarsour. "People need food, shelter, jackets and blankets, and medical supplies, and they need them now."
Taking action
The group decided the best approach would be to focus on the immediate need. "We are looking at this week," Sarsour explained. "What do they need right now?"
The fastest approach, they decided, would be to send money to trustworthy relief organizations that are already working on the ground. 
"And to pray," he added. "We want to pray for those affected and suffering. As believers, we trust that everything is in God's hands." 
ISM-Main, on Milwaukee's Southside, and ISM-Brookfield held Du'aa Qunoot (a humble prayer of asking for God's help and forgiveness) for the victims of the earthquake in Turkey and Syria, at Monday's Isha (evening) prayer. 
"ISM will continue to lead the Du'aa Qunoot prayer every night this week at ISM-Main and ISM-Brookfield," Sarsour said. 
Mosques and organizations affiliated with CWIC are collecting donations through the end of next week, he said. 
"We want what we collect to create a hotline of donation," directly helping those affected, Sarsour said. Therefore, the CWIC sought out organizations channeling funds to this earthquake disaster relief. 
Donations will be sent to four organizations that are directly serving people affected by the earthquake: Islamic Relief USA,  Zakat Foundation, the Syrian American Medical Society (SAMS) Foundation and Mercy Without Limits.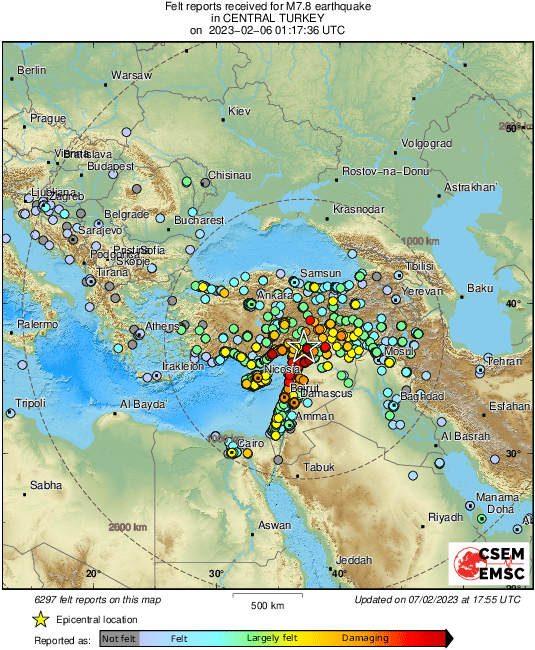 Map felt reports collected for the mainshock (M7.8).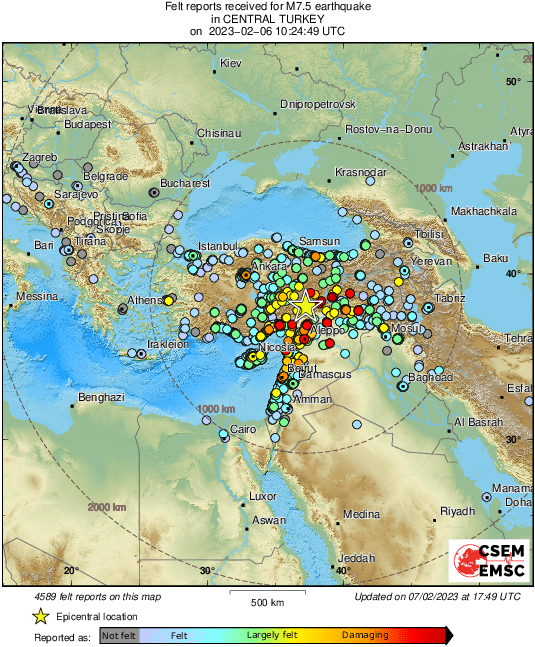 Map felt reports collected for the secondshock (M7.8).
Map courtesy of the European-Mediterranean Seismological Centre  a regional commission of the International Association of Seismology and Physics of the Earth's Interior.
In Madison, Ibrahim Saeed, Ph.D., the president of the Islamic Community of the Madison Area, and a member of the CWIC Communication Group, is helping coordinate the efforts of three Madison-area mosques: Islamic Center of Madison, Islamic Center of East Madison and Medina Center, on the west side of the city.
The Madison community is participating in fund-raising but also exploring how to contribute needed items, Saeed said. He has been in discussions with members of Madison's Muslim community to determine how to deliver winter clothing, tents, blankets, sleeping bags, baby formula and other items needed immediately by people who cannot return to their homes. Working through Turkish organizations and embassies is a possibility, he said.
The Islamic Center of Madison will offer Du'aa Qunoot at Friday's jumu'ah prayer, he said.
Those in the Madison area who want to contribute and help can call the Islamic Center of Madison at (608) 251-9851, Saeed said.
Need is great
Among the most greatly affected are Syrian refugees, Sarsour noted. "It is as if they ran away from the war in Syria only to die in an earthquake in Turkey. Whole families were lost."
The earthquake struck in the early morning hours, when people were sleeping, noted Zulfiqar A. Shah, Ph.D., ISM religious director. "And it was basically two strong earthquakes – the first at 7.8 on the Richter Scale and then a 7.5 aftershock."
Shah had been on Zoom and phone calls with friends in Turkey who told him, "They are afraid to go inside the buildings because they are not safe." One friend spent the night in the car. 
"They have no water, no electricity. And they are afraid of additional tremors."
Shah's friends anticipate food and health issues on the horizon, "but the biggest concern is that there are people still under the rubble."
One of Shah's friends lost an uncle in the quake. "His entire family is under the rubble," he said. "The presumption is that they are gone, but until he gets some kind of confirmation, they are keeping their hopes up.
"The damage is so great that it seems even if the entire world comes to help, it will not be enough," Shah said. Those in Syria are already in an area devastated by war, he added. "The buildings there were already damaged by bombing.
"They are living in a very dire situation. Unfortunately, they do not have the support of a government. No machinery or hospitals. If you look at their hospitals, they do not even have beds. People are lying on the floor without light or water."
Saeed is hopeful that Wisconsin's interfaith community will rally to help. 
"We know that the need will be long-term," he said. "We want to appeal to the larger community in Milwaukee and Madison. Our interfaith community is very responsive and helpful, as we saw in their response to the Afghan refugees.
"I encourage everyone to donate as much as possible," Shah said. "Ten million people are affected."