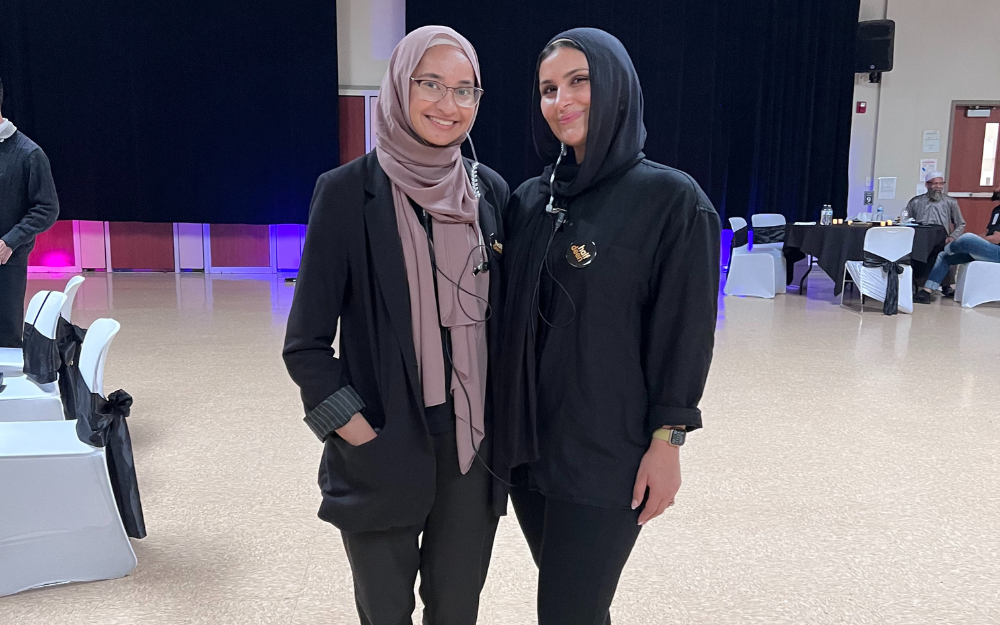 Chaperones Shaiza Anwar and Haleema Ghannam wait for the arrival of 65 participants to the Islamic Society of Milwaukee Core Young Adults & Professionals' Muslims Singles Event. Anwar is a member of the YA & P Leadership Team.
"A lot of young folks from the community are always asking us, 'How can we connect with people across genders and do it in an appropriate way?'" said Anas Alhurani, 27, of Milwaukee, a member of the Islamic Society of Milwaukee Core Young Adults & Professionals Leadership Team. "Finding a good way to build a bridge across genders in a way that is supported by our community is tough."
ISM Core Young Adults & Professionals aimed to solve that problem with a Muslims Singles Event for ages 25 – 40. Many in this age group are working in settings where they rarely meet other Muslims and find few opportunities to meet potential life partners, right at a time when they feel ready to start their own families.
ISM Core Young Adults & Professionals, serving adults ages 25-40, brings together young people interested in life's bigger questions, said the group's advisor and ISM imam Ameer Hamza. 
It meets twice a month for in-person events and connects on social media through a Telegram group, which now has 104 members, added Zeineb Selmane, 26, of Greenfield, the Young Adults & Professionals team leader.
Sixty-five people attended the Muslim Singles Event, June 11, at ISM's Community Center at 8th and Layton Avenue, Milwaukee. Wisconsin Muslim Journal interviewed organizers and participants about their experience.
How it worked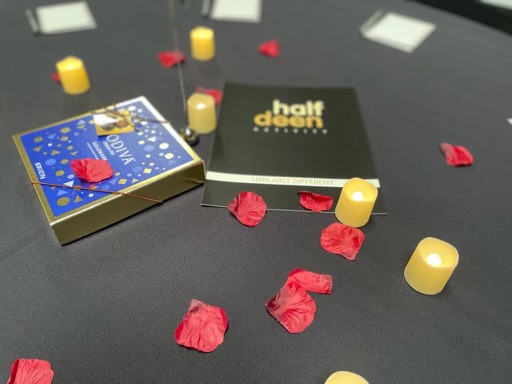 Half Our Deen, a unique Muslim matchmaking service, screened participants, organized activities and provided an app for safe communication for the ISM Muslim Singles Event.
Knowing how to put together a singles event was a challenge, YA & P Leadership Team members said. The two big concerns were privacy and awkwardness.
"Privacy was the main concern," said Alhurani. "In our conservative community, people don't want their private information out there. They also worry about what others might say."
"People don't want to be seen as desperate," Hamza added. "People who are more conservative may worry about their reputation. And they don't want people from the community watching them. That's why we didn't disclose the location before the event and why we didn't take photos."
"When we found out that there is this beautiful company called 'Half Our Deen,' we researched them and were impressed by the level of privacy they provide," Alhurani said. 
According to its website, Half Our Deen "is a private service created specifically to help Muslims find their other half." It uses compatibility tests that focus on "areas that are important to Muslims, including faith, personality, family and social life." Test results are used for screening participants, organizing live events and online communication.
"A matrimonial event takes very specialized skill," Hamza said. "We didn't want people to have an awkward experience. Half Our Deen does programs all over the country."
Surveys completed by participants in advance were used to organize seating arrangements at round tables of eight. People were seated with others who might be matches.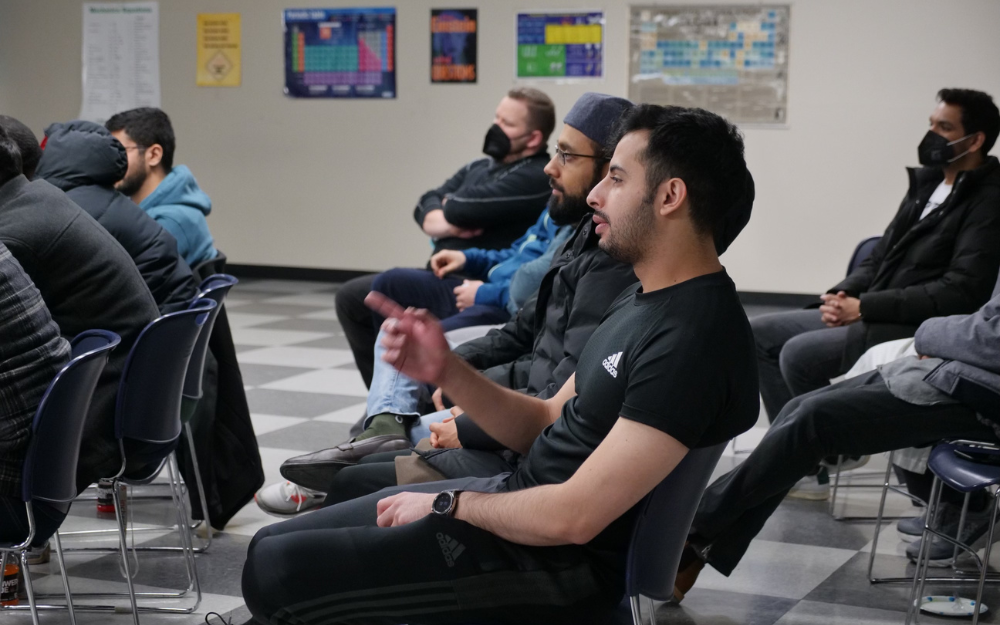 Anas Alhurani, 27, of Milwaukee, a member of the Young Adults & Professionals Leadership Team, says the organization has been the "bridge back to my community."
Half Our Deen used surveys to select participants in a way that increased the chances of matches, Selmane said. The Milwaukee event was advertised on the service's website. They received 189 applications for this event, selected 71 and, of those, 65 attended. Although most participants were from Wisconsin and Illinois, several other states and even other countries were represented. 
Half Our Deen brought their signature activities, designed to avoid awkwardness and bring out people's personalities, Hamza said. Unlike speed dating, "where you are awkwardly conversing about the weather," at the ISM event, participants played games together and saw each other in action, he said.
In one game, participants were given cards with ingredients and sent on a mission to find all the ingredients they needed for their recipe. They had to mingle and negotiate. Another game involved finding unique commonalities among people seated at their table, creating a list of unique characteristics not mentioned by any other group.
In another game, multiple teams competed in a version of charades where all the team members except one are acting out the answer. The first team who successfully gets the right answer across to its member won.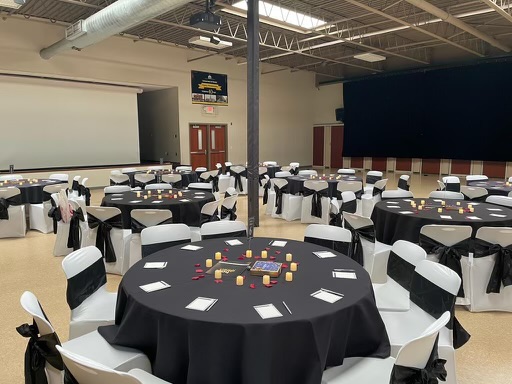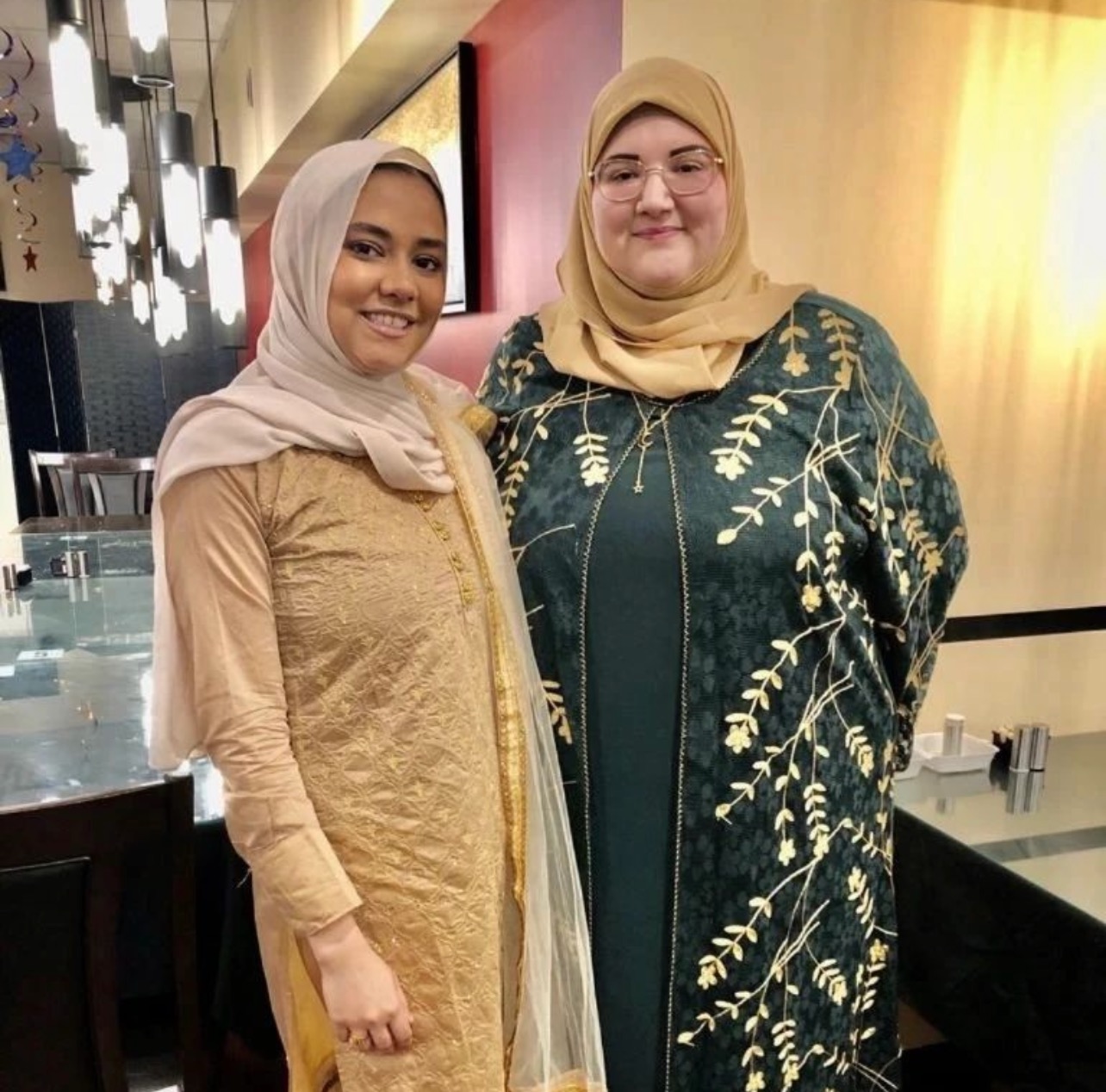 Left: The Young Adults & Professionals Leadership Team decorated the ISM Community Center  for the Muslim Singles Event. Right: Hiba Khan and Zeineb Selmane, members of the YA & P Leadership Team at an ISM Core Ramadan iftar in April.
"The Half Our Deen activity leader dropped gems about the reality of attraction to move the thinking to a more than superficial analysis to things needed in a marriage," Hamza said. "It augmented the experience."
In addition to the professionals, the ISM YA & P Leadership Team worked for months on the event, Selmane said. They created original publicity, selected a location that was kept secret, created a menu of easy-to-eat finger food, decorated and took care of many other details, she said.
The YA & P Leadership Team includes: Zeineb Selmane, Shaiza Anwar, Anas Alhurani, Abdullah Akhtar and Hiba Khan. Imam Ameer Hamza serves as advisor.
One of the first things the YA & P Leadership Team did was change the event's name from "Matrimonial Event" to "Muslim Singles Event" in response to early feedback, Selmane said. They realized that calling it a "matrimonial" event created pressure and high expectations, she said.
"When people asked me about the event, I told them, 'It's not that you'll leave the event with a ring on your finger,'" said Selmane. "It's just an opportunity to talk to people."
Hamza said he was very proud of the YA & P Leadership Team. "They killed it. Hand to heart, it went extremely well. The food, the set-up, presents at the tables."
At the end of the event, participants used Half Our Deen's online app to star people they would like to talk with further. 
"We were encouraged to star several people," Selmane said. "You only know about it when it's mutual (both parties have starred each other). "There was no embarrassment because if someone didn't star you back, they'd never know."
If you do have "matches," then you are able to continue communicating through the app without providing any other personal information like your phone number or social media accounts. That way you can maintain your privacy while learning more about each other, Selmane said. And if you decide to stop communicating, they don't have your number.
The ISM Core Singles Event had a match rate of 51%, which Half Our Deen reported was the second highest match it has had at any event. 
Although the event took four hours, participants said the time flew by. Several said they would have liked more time at the end of the afternoon to talk and chat with others. 
The experience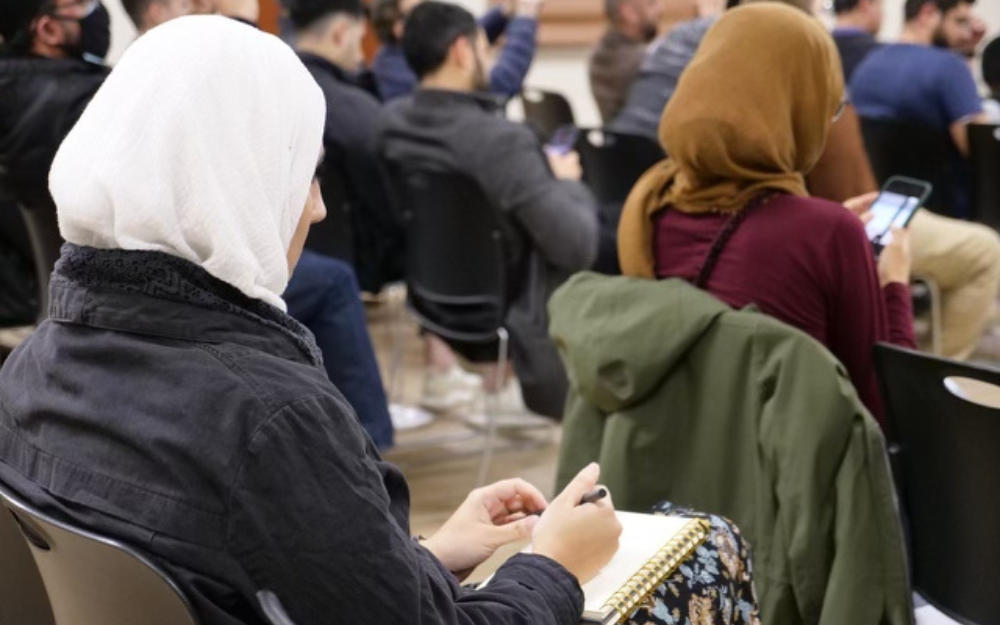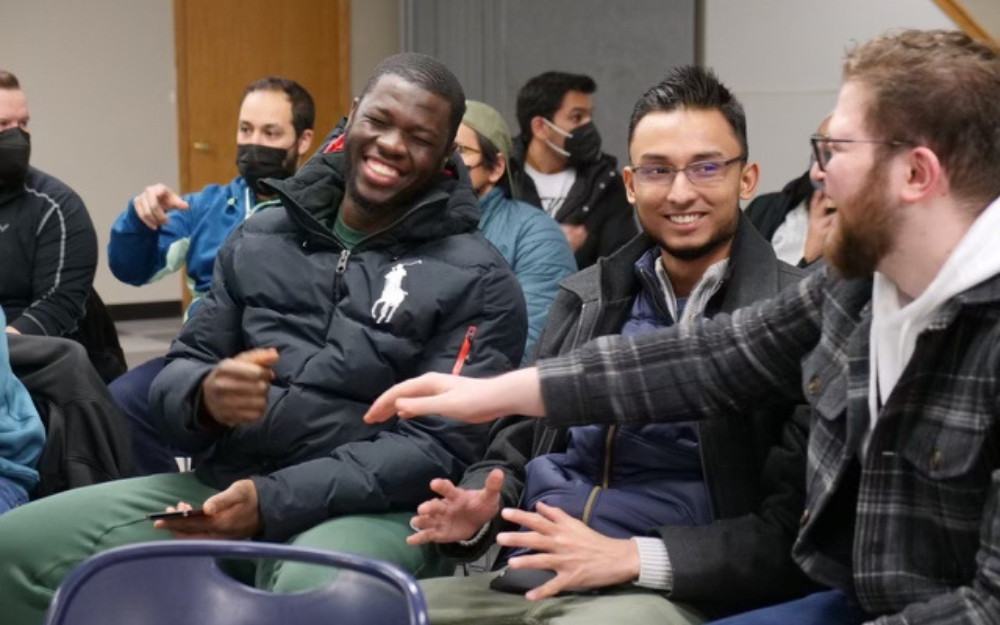 ISM Core Young Adults & Professionals holds two in-person events per month.
Anas Alhurani moved with his family to Milwaukee from Palestine 10 years ago. "I didn't know anyone, literally started from scratch," he said. "I felt like my life circles were limited to school, work and home. We live on Milwaukee's East Side and with a lot of the community located on the South Side. I felt I missed that connection with the community. For me, participating in ISM Core is the bridge that connected me back with my community. It's been a wonderful experience."
But after finishing his master's degree in accounting at the University of Wisconsin – Milwaukee two and a half years ago, it is much harder to meet potential life partners, he said. "At UWM, there was the Muslim Student Association and all these different groups. Now all of these opportunities are limited. Everyone is busy with their life."
When Alhurani told his mother he would participate in the singles event, "she was very excited for me," he said. "Family has always been very important for me. The traditional way of meeting people in our community happens through introductions and who you know. Since we moved here, we haven't been very connected with the South Side community, so this was an exciting opportunity for me."
Alhurani "loved the structure of the event. In a survey before the event, they asked about beliefs and preferences, about personality, things you are willing to compromise on and things you aren't. If they have someone that matches, you are invited to join the event.
"Some people are shy or feel weird or awkward to be at an event like this. But it didn't feel like that. They break it down for you. From the time you come in, there is structure. You follow instructions. And the guy who was the host was super relaxed and laid back. There are transitions where you switch tables and participate with others in a very engaging way.
"At the end of the event, even if you don't find someone, it was entertaining and worth your time to be there. It was a beautiful experience and I met a lot of new people."
A 27-year-old woman from Milwaukee who asked not to be named added, "Leaving aside the whole single aspect, it was a really a good way of meeting new people which I appreciated. Ever since I graduated college, I wasn't able to attend many events where you can meet people." She occasionally attends big events at ISM but they are not conducive to meeting potential matches, she said.
She also liked the games they played because "you see a different side of the person rather than just asking them questions."
She would tell other young women to go to an event like this to enjoy it. "I would say go in with an opened mind. Don't expect anything. Just be yourself and have fun."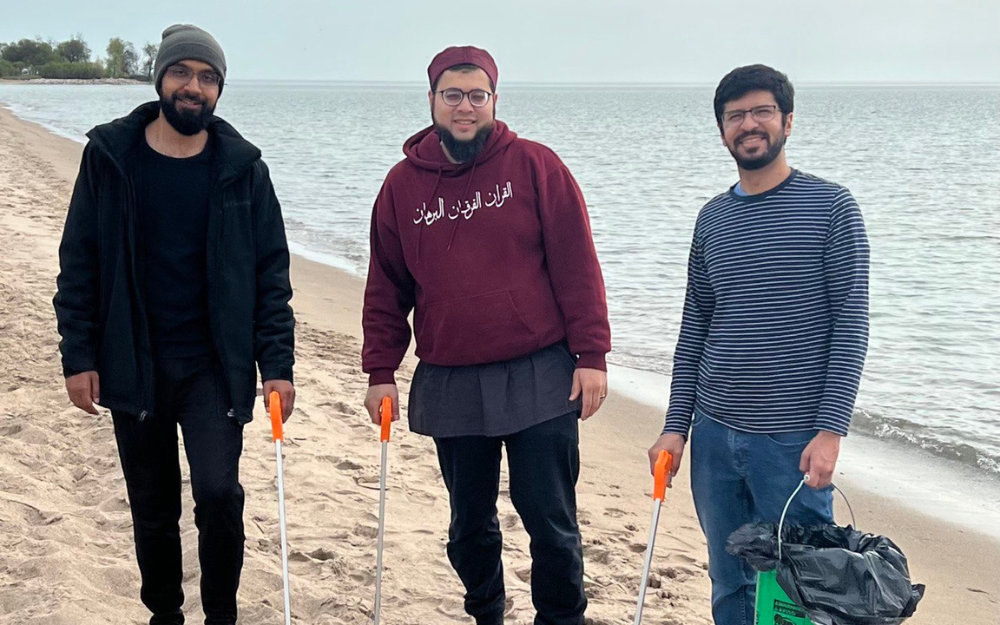 Zeeshan Sabih, Imam Ameer Hamza and Abdullah Akhtar helped clean Milwaukee beaches in one of ISM Young Adults & Professionals' service projects. Akhtar is a member of the YA & P Leadership Team.
A 24-year-old Milwaukee man who asked not to be identified decided to attend because it was "the right time in his life." The mechanical engineer had secured a well-paying position at work, purchased a home and cars. "I'm in a good position, comfortable and ready to take on more responsibility. Friends are getting engaged and married. And on top of it, the parents are asking, 'Hey, is anyone on your mind?'"
Although he didn't meet his match at the event, he says he would definitely participate again. "The event was very well done. I definitely made friends with some guys and we now speak regularly since the event. That is something I didn't anticipate."
He also found it was lots of fun. "I remember the host at the beginning of the event said, 'It's super quiet. I promised us by the end of the night, it's going to be very loud in here. You guys are all going to be talking, and he was spot on."
Will there be another?
The YA & P Leadership Team met after the event to talk about what went well and what could be improved, said Alhurani. "We talked about if it would be worthwhile to do it again. The answer was absolutely yes."
Imam Hamza said he hopes they can host singles events once a year.
"I think people were pleased with how above board it was," Selmane said. "We had chaperones, the imam was there, group activities. Everything was very appropriate."
"This was the first one," Alhurani said. "People found out how relaxed and respectful it was. We are hearing a lot of positivity from the people who attended. There was a very good vibe."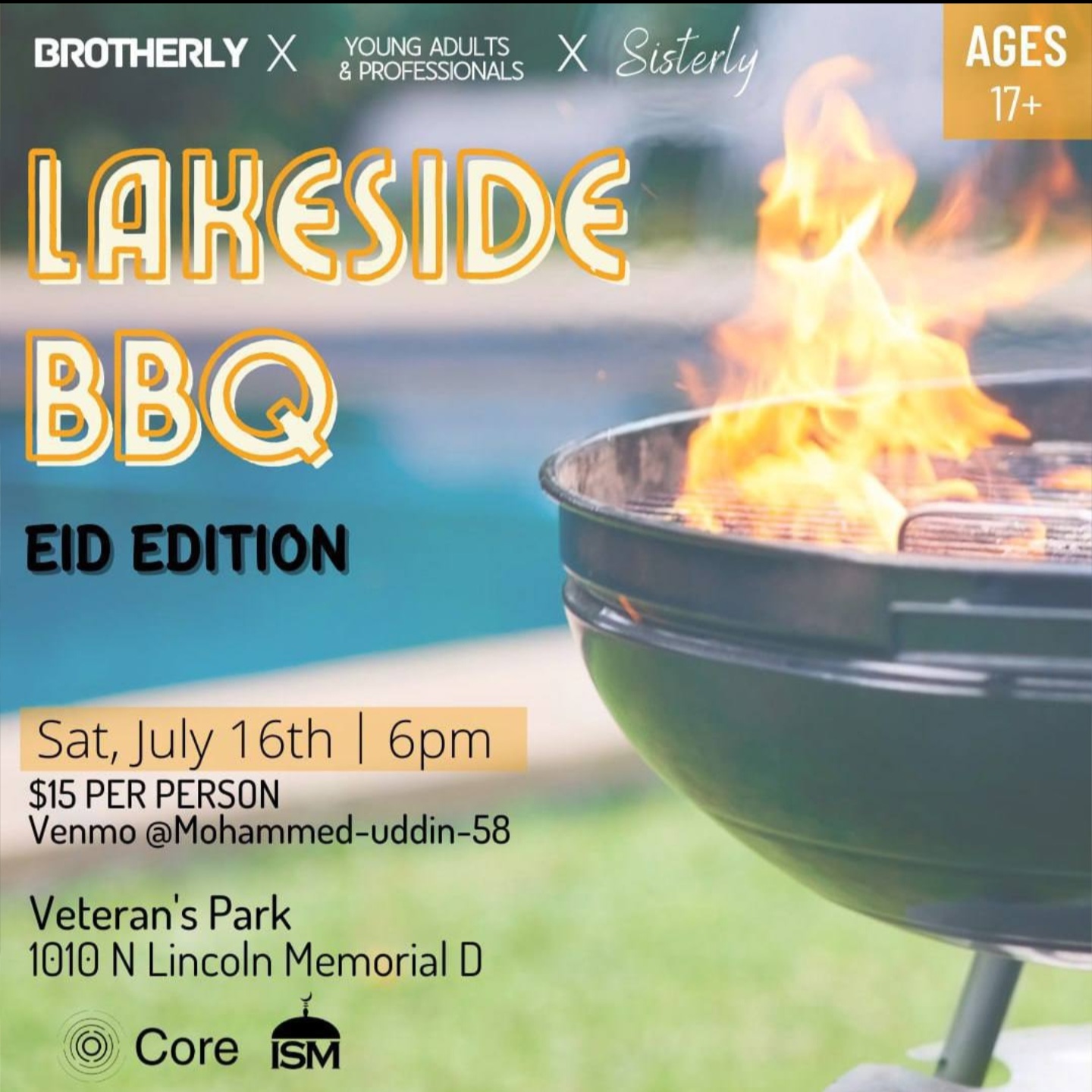 Three ISM Core Youth branches unite this Saturday for a BBQ for ages 17 – 40 at Veterans' Park in Milwaukee.